Vue Storefront accelerating enterprise commerce initiatives with commercetools

Przemek Rakowski
•
The Vue Storefront ecosystem is expanding and now it becomes a crucial part of commercetools Accelerator as a recommended, open-source frontend for commercetools. Check out why it is win-win cooperation, and why it was an inevitable step forward for us.
"commercetools is a next-generation software company" is the claim in the "About Us" section of the website. Such talk is often marketing bluster but, in this case, it is more than just a hollow claim.
Unlike other competitors which have been on the market some time, commercetools firmly believed in the headless approach from the very beginning. The commercetools developers didn't even bother building a downloadable piece of software, forcing customers to install it on their own. Instead, they created an entirely cloud-hosted eCommerce and powerful API. All of this enables users to get access to the platform without worrying about any infrastructure-related issues; it's enough to create an account and then freely integrate your store with any third-party tools.
Vue Storefront is part of commercetools Accelerator
This headless-oriented approach makes it possible for retailers to empower their eCommerce businesses—and Vue Storefront a perfect tool for that. This is why Vue Storefront became one of the most significant partners in Accelerator, the program aiming to enable the enterprises to roll out commerce initiatives within just two weeks!
Many of our customers are seeing surges in online sales, and we are working to help them be as fast, flexible and responsive as this challenging situation requires, which is what our platform is built to do. While protecting colleagues and customers are primary goals, this is not the time to pull back on finding new ways to prepare a business for the months ahead and beyond this crisis.
Commercetools are doing an outstanding job of focusing on a eCommerce backend and an API-first approach. Vue Storefront is great at giving developers a framework on which they can build amazing frontend experiences. What connects us is the awareness that headless is the future of eCommerce. By joining forces, we are giving merchants the opportunity to quickly adapt to the new era of eCommerce, that is future-proof.
The primary goal of the Accelerator is to shorten the path that commercetools users must follow to build a fully functional web store, but the partnership Vue Storefront with commercetools is not a spontaneous initiative.
We have been looking at commercetools for quite a time. It was evident for us that it is not only earmarked for success but also that it is a natural fit to Vue Storefront. commercetools puts great emphasis on the quality and speed of its APIs, which makes us able to fully highlight all the strengths of Vue Storefront without having to worry that the backend will limit it in any way. The current integration was therefore only a matter of time.
Vue Storefront, based on Storefront UI and Nuxt.js libraries, provides access to hundreds of free modules created by the open-source community. These make customization a piece of cake, but it is not only about the beautiful look. 
The customers who were willing to use commercetools as a backend platform were forced to build a frontend from scratch. It gives them flexibility but takes time. We decided to handle these two issues. Thanks to our integrations, the PWA-based business logic will be provided out-of-the-box, but customers remain in full control of how their store will look. I 'd also like to thank for the support we received. Without LoveCrafts, being our sponsor and the first power-user, this integration could not see the light of day.
Vue Storefront in commercetools ​Integration Marketplace​
The cooperation between Vue Storefront and commercetools is, however, not limited to Accelerator...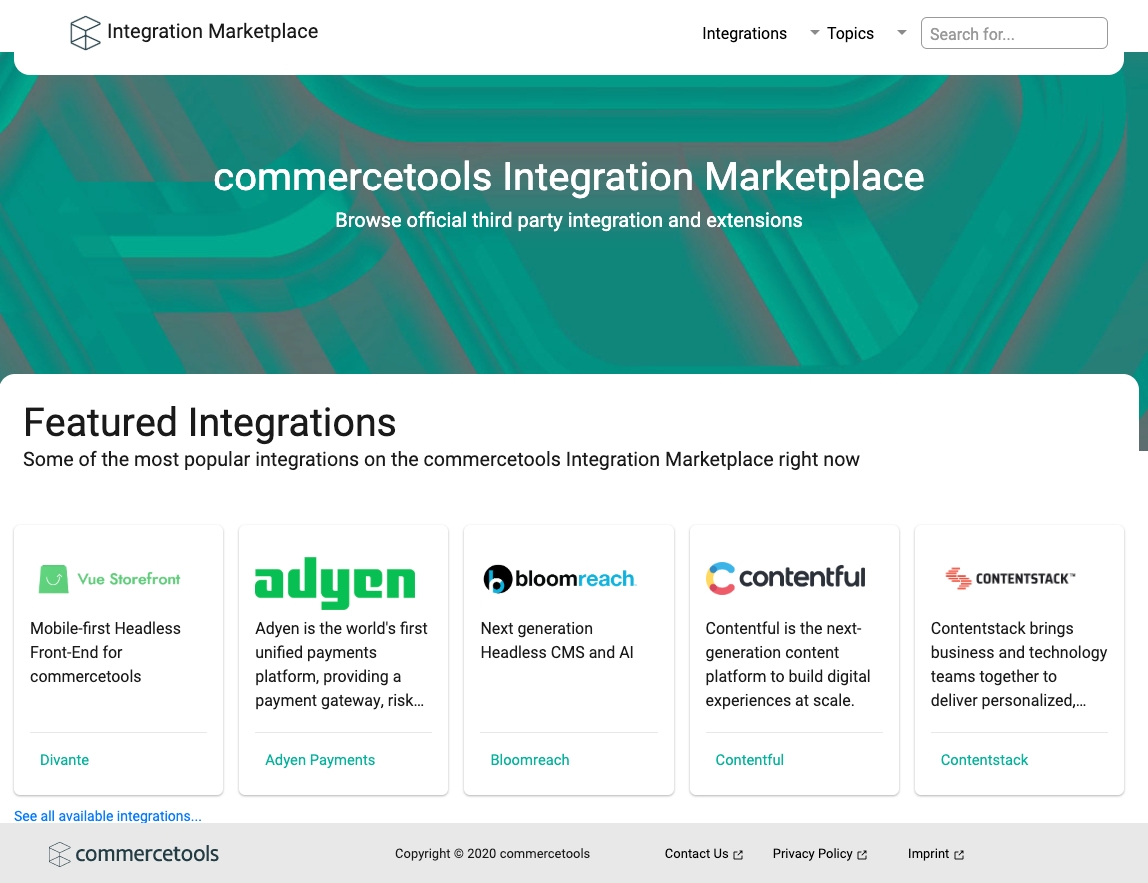 Vue Storefront is also a basic open-source frontend for commercetools recommended in their newly launched ​ Integration Marketplace​ .
The goal of this Marketplace goal is to simplify the way customers discover and access the reliable integrations able to enhance the possibilities of their eCommerce platforms.

The Integration Marketplace​ provides customers, prospects, and partners with a wide and growing selection of supported third-party integrations and extensions in one place.

 The Vue Storefront integration with commercetools couldn't be done without LoveCrafts' trust and financing. They shared our belief in Headless Architecture, and perceived the joined forces of Vue Storefront and commercetools as combination able to cover the gap existing in eCommerce market. They supported us all the way long not only with kind words but also in more pragmatic ways. We couldn't be more grateful for their help.
At LoveCrafts we are weaving together commerce, community and content for the world of makers. We needed the flexibility of a truly Headless Architecture that CommerceTools provides to stitch all of the different elements together to make unique making experiences for crafters everywhere on any device. We had searched for a modern PWA framework to match with CommerceTools and were thrilled to find VueStorefont and the world class engineering team behind the framework. Not only were they producing the most advanced solution we could find, fast, flexible, capable but it was also the most tested in the market. We've been thrilled to see the powerful combination that CommerceTools and VueStorefront provide.
The Vue Storefront integration with commercetools is part of a broader trend that will soon dominate software development, and not only in the eCommerce domain. Headless architecture will be a must-have in the fast-paced, omnichannel world because it makes the technology serve the business, not the other way around. It gives the flexibility to adapt the content for any channels and devices to deliver the best possible UX, and the possibility to use third-party analytics tools with no interference with the backend.
If you have any questions regarding commercetools integration or Vue Storefront in general, check our GitHub repo. Also, don't hesitate to Contact Us
Ready to dive in? Schedule a demo
Get a live, personalised demo with one of our awesome product specialists.