Lightning-Fast Storefront for Your BigCommerce Headless Stack
Use the composable approach and pre-built frontend architecture to save repetitive work and cut frontend development time with Vue Storefront setup 2.0. for BigCommerce.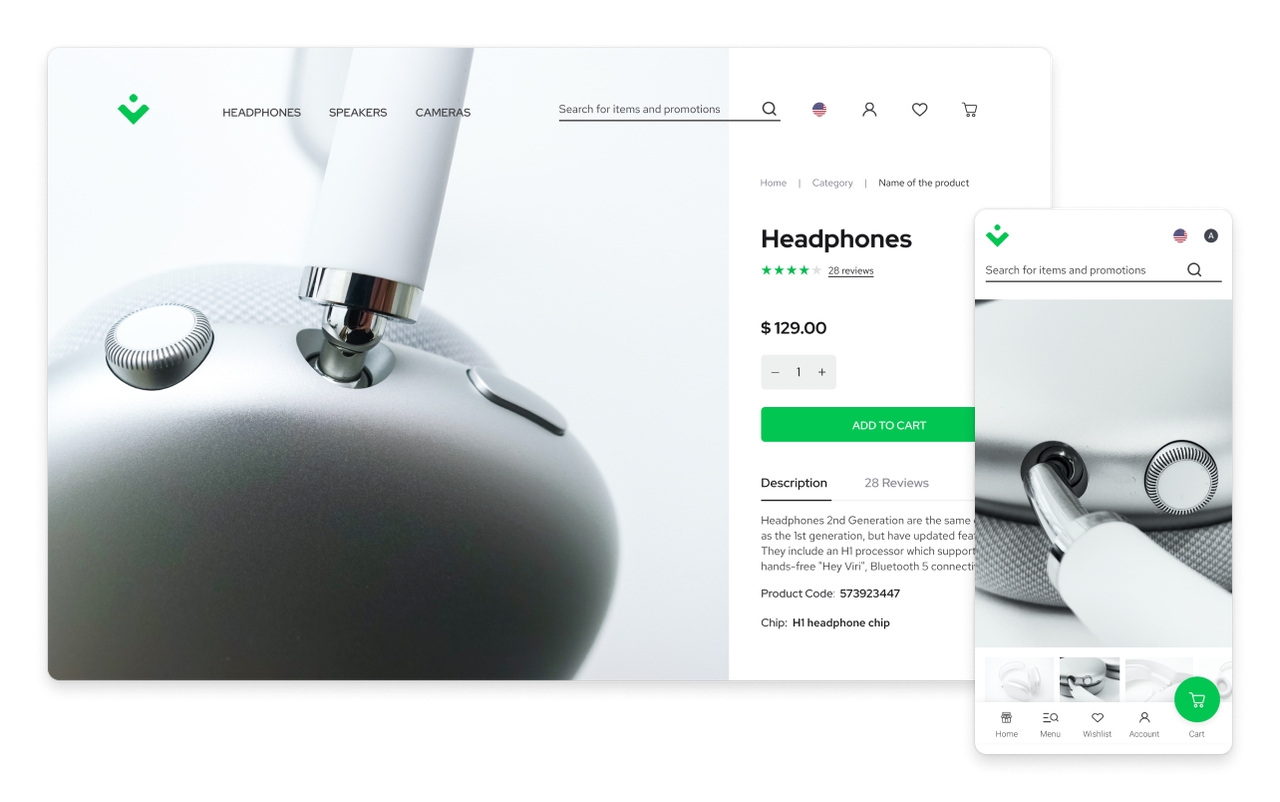 Fast way to headless: BigCommerce and Vue Storefront
Reduced Time-to-Market

Apply fully customizable templates and out-of-the-box integrations with market-proven CMSes, payment, analytics & search tools to speed up deployment and drive ROI with your composable stack.

Lower Total Cost of Ownership

Cut the costs by putting focus on customization, not on development from scratch. Benefit from the framework built on best practices and scale to multiple markets while limiting manual work.

Supercharged web performance

Create scalable storefronts with Vue Storefront simple codebase and agnostic approach to boost conversion rates, uplift web performance, and supercharge customer experience.
Best-of-breed solutions drive your customer experience and uplift sales
Start your composable commerce transformation with Frontend as a Service to ensure a mobile-first experience and higher revenue.
Frontend as a Service
Choose a proven frontend solution to build custom storefronts at a fraction of the cost and time.
Lightning-fast
Uplift web performance to get high conversion rates and revenue.
API-focused
Create a flexible and scalable eCommerce ecosystem by using API connections.
Progressive Web App
Apply the PWA approach to create mobile-first experiences and achieve better web performance.
Managed hosting
Let Vue Storefront take care of your hosting to ensure the uninterrupted operation of your webstores.
Technical support
Our 100% performance-focused team supports you along the entire headless commerce journey.
Vue Storefront & BigCommerce is an excellent choice for the developers and merchants looking for a powerful and modern tech stack for online retail. It's the perfect combination of a superior headless eCommerce platform with a lightning-fast Frontend as a Service for headless commerce.
Best starting point for your headless commerce journey
50+ customizable and scalable templates

30+ out-of-the-box integrations

99,8% SLA guarantee

5x faster Time-to-Market
Cut development costs and time with Vue Storefront & BigCommerce integration
Enterprises like yours can now benefit from the wide capabilities of Frontend as a Service to assemble and customize their frontends with one tool in one place. Use well-designed architecture and over 30 out-of-the-box integrations with proven CMSes, payment methods, search, and analytics tools to build an efficient commerce stack. Frontend as a Service allows you to roll out mobile-first storefronts faster and increase ROI dramatically.
Create highly-performant BigCommerce PWA storefronts
Drive excellent customer experience and high revenue across touchpoints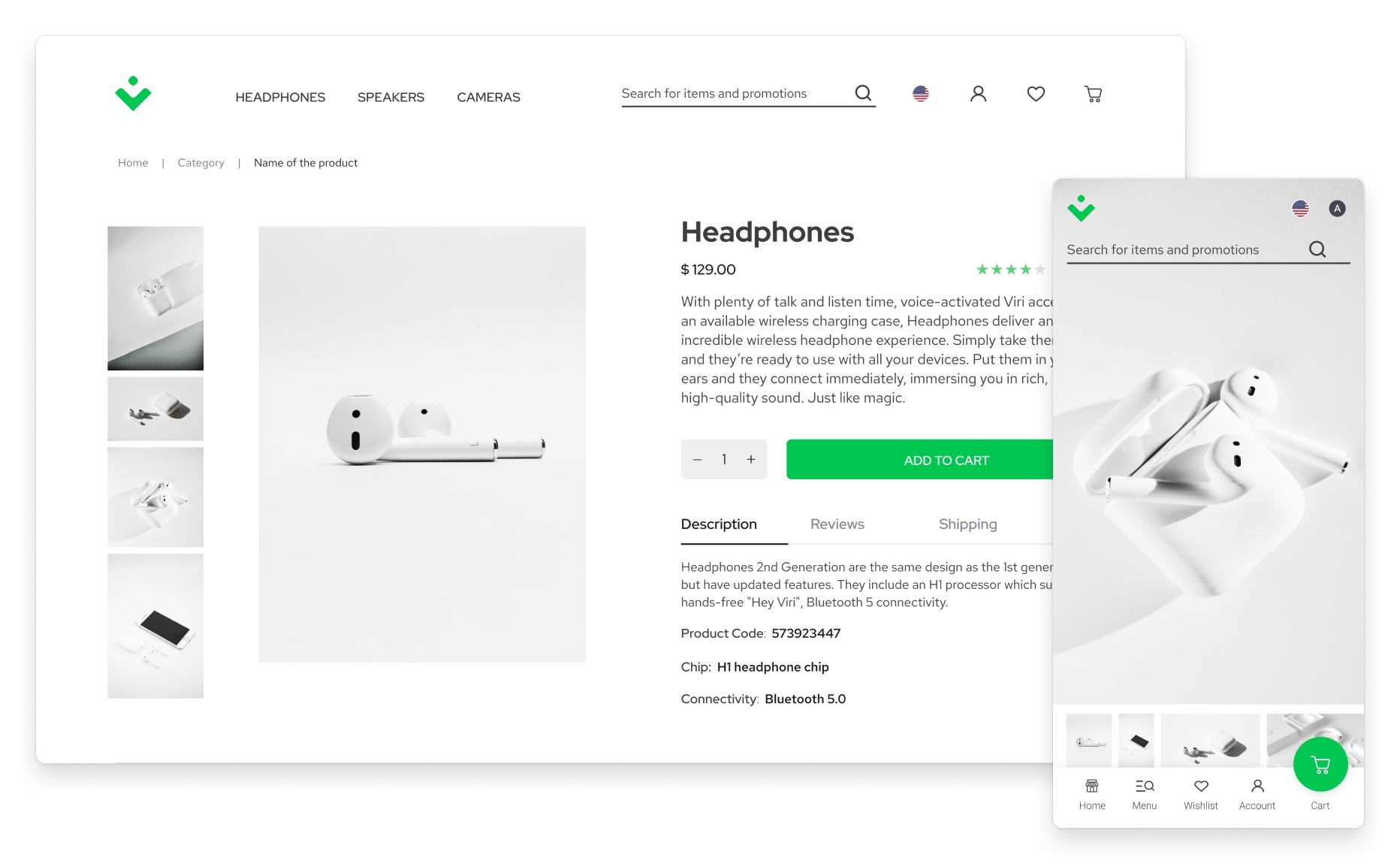 Frontend as a Service setup 2.0 for your headless BigCommerce path
Multi-store

Manage multiple stores using a single BigCommerce platform. Apply storefronts with customized components to satisfy your audience worldwide.

Exposed code

The setup opens even more opportunities to work with a codebase conveniently. Inspect and modify the code easily to benefit from unlimited customization.

Robust software basis

API middleware was separated from the Vue Storefront app. They are rolled out as separate instances handling more load and providing better web performance.

Improved documentation

The new integration enables cutting a development cycle with well-designed and streamlined documentation convenient for developers.
BigCommerce: trusted B2C and B2B commerce solution provider
BigCommerce is an eCommerce platform for B2B and B2C businesses that strive to build composable commerce. It allows merchants of all sizes, from small startups to large enterprises, to sell more at every stage of their development. As a leading open SaaS solution, BigCommerce empowers tens of thousands of retailers to build, innovate and grow their businesses online. The eCommerce platform provides various useful features, including Multi-Storefront, Multi-Currency, and Global CDN, to simplify scaling.
Ready to dive in? Schedule a demo
Get a live, personalised demo with one of our product specialists.