Zenni Optical
The online eyewear pioneer accelerates time-to-market by 50% with Vue Storefront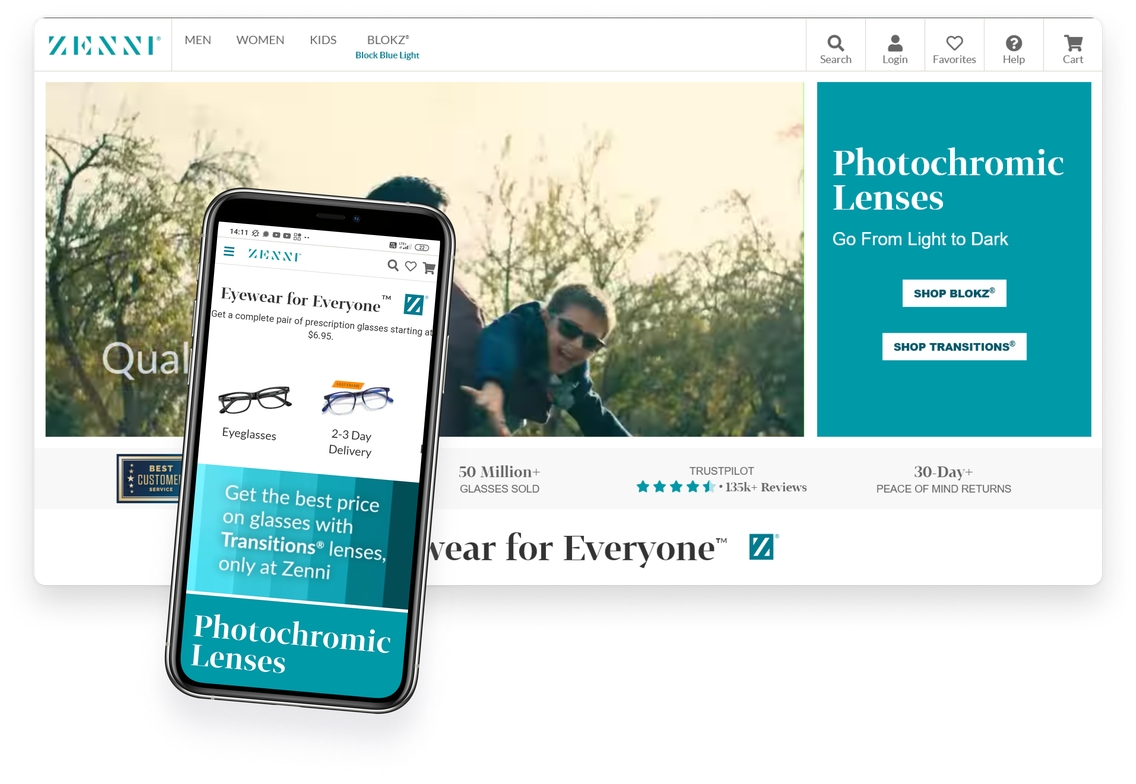 About Zenni Optical
Zenni Optical pioneered the online eyewear business in 2003 to make prescription eyewear accessible to everyone. Based in Marin County, California, Zenni Optical lets its customers express their style and individuality through high-quality prescription glasses and sunglasses. With its curated collections and thousands of frames, Zenni has already sold over 25 million pairs of glasses worldwide. 
Watch the full interview with David Ting, CTO at Zenni Optical, talking about Zenni's composable commerce journey assisted by Vue Storefront:
The Challenge
Before making the composable shift, Zenni Optical was on Oracle's all-in-one monolithic platform, ATG Web Commerce. Over time, the fast-growing company started feeling a lack of scalability, flexibility, and digital resources. Meanwhile, Oracle stopped supporting ATG and announced the end of its lifecycle, which became the key catalyst for Zenni Optical to make the shift globally from the ATG monolith to a truly composable commerce stack.
Zenni Optical was facing the following challenges:
Slow page loads, lack of scalability and flexibility.

Bad developer experience on the old stack made hiring great people hard.

Optionality - needed a futureproof frontend with ability to integrate with new services.

Developer velocity - needed infinitely customizable solution with prebuilt components.

Oracle stopped supporting ATG Web Commerce (End of Life).

Needed a composable frontend as a service with enterprise level support and service.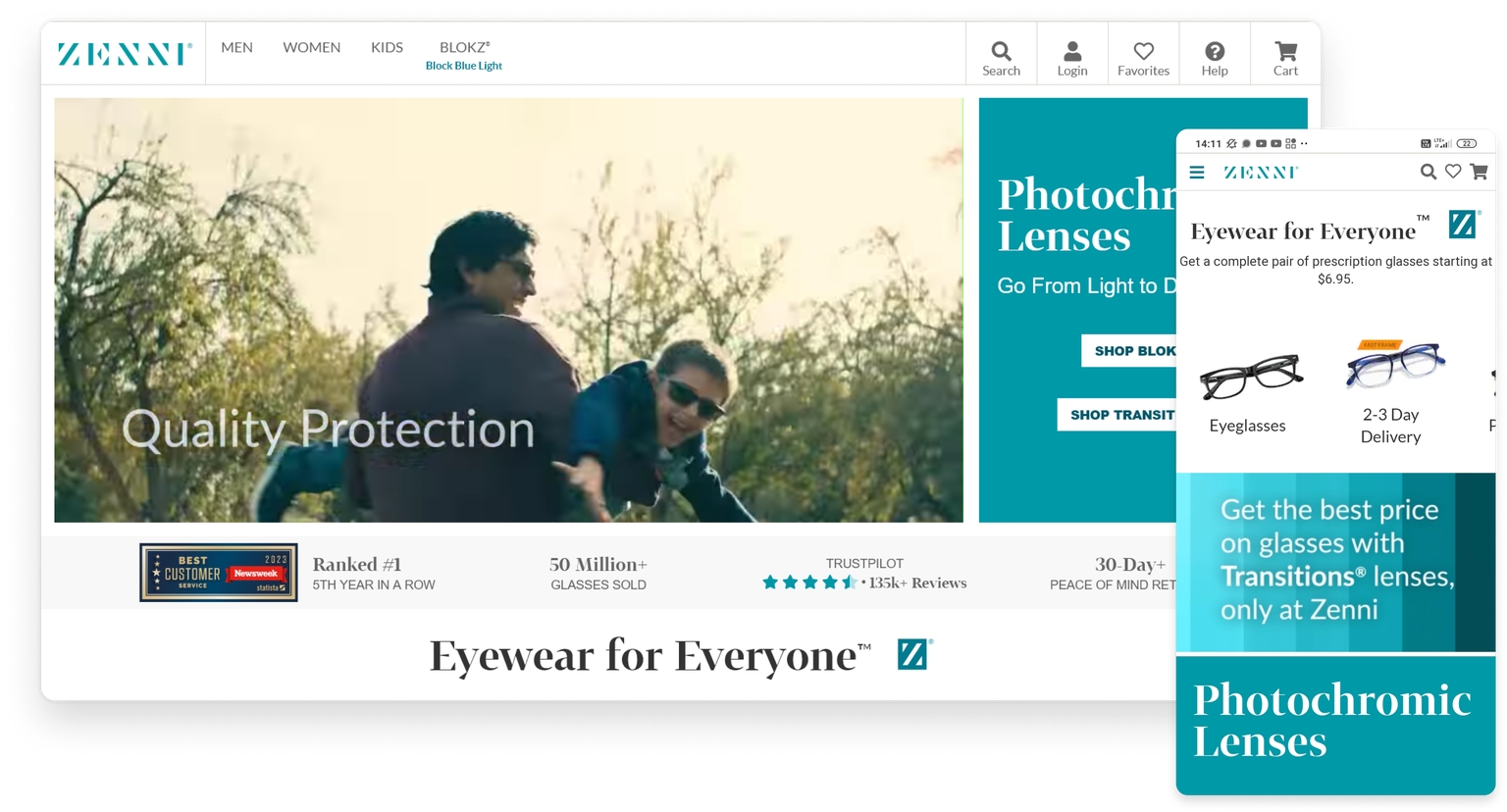 Despite these obstacles, Zenni Optical decided to expand its business model by engaging with health insurance companies that offer vision coverage to their patients and help them access special pricing on glasses. This approach required launching a completely new B2B experience on a tight schedule.
The company then faced a significant challenge: it needed to build a robust and highly scalable digital foundation for B2B operations in an extremely short time frame while mitigating potential risks. Given the company's ambitious goal of achieving $1 billion in revenue by 2025, cooperation with market-proven vendors and adopting a composable commerce approach became the clear path forward.
Solution
"We're not held hostage to any eCommerce platform" – API orchestration & portability
Zenni Optical opted for composable commerce architecture, and needed to choose the most suitable products for its commerce stack. They ended up making the decision to pull together the new stack with a frontend first approach. They asked Vue Storefront to help drive the evaluation by building a proof of concept focused on getting a product detail page for a new B2B experience live with Vue Storefront (frontend), Algolia (Search), Contentful (CMS), and commercetools (ecommerce platform) in as little time as possible. 
Thanks to Vue Storefront's backend-agnostic and frontend-as-a-service capabilities, which include a suite of ready-to-use commerce, content, search, and payment integrations, Zenni Optical was able to seamlessly integrate and evaluate Shopify, CommerceTools, and Magento in a matter of weeks.
Vue Storefront's API orchestration provided Zenni with the flexibility to integrate multiple best-in-class services while preserving the customer experience. After successfully completing a four-week proof of concept, Zenni concluded their evaluation and made the decision to proceed with a composable stack that incorporated Vue Storefront, Algolia, Contentful, and Magento .
"By starting with Vue Storefront, we were able to integrate and evaluate Shopify, commercetools and Magento on the backend while leaving the experience layer untouched. We are not held hostage to any eCommerce platform. That speaks to the power of Vue Storefront. Frontend as a Service enables us to move components in and out while the customer experience remains untouched. With Vue Storefront, we have portability on the backend, so we can focus our future on innovating the best customer experiences."
David Ting
CTO, Zenni Optical
"Vue Storefront shaved at least 50% of our dev timeline" - faster Time-to-Market
Operation with Vue Storefront helped accelerate ZenniOptical.com's developer velocity by 50% while dramatically decreasing replatform risk and time to market.
"High velocity is another part of the availability of resources. Developers are hard to find, so that affects the time-to-market. But Vue Storefront's simple and clear code and its developer-friendly environment make them more engaged. If you can develop 2x faster, it's a competitive advantage. That velocity is going throughout the performance. It speeds up the development cycle and leads to pretty fast load times. The Vue Storefront specialists are doing well with website speed. And if you look at our B2B website load time, it's better than our main site metrics right now."
David Ting
CTO, Zenni Optical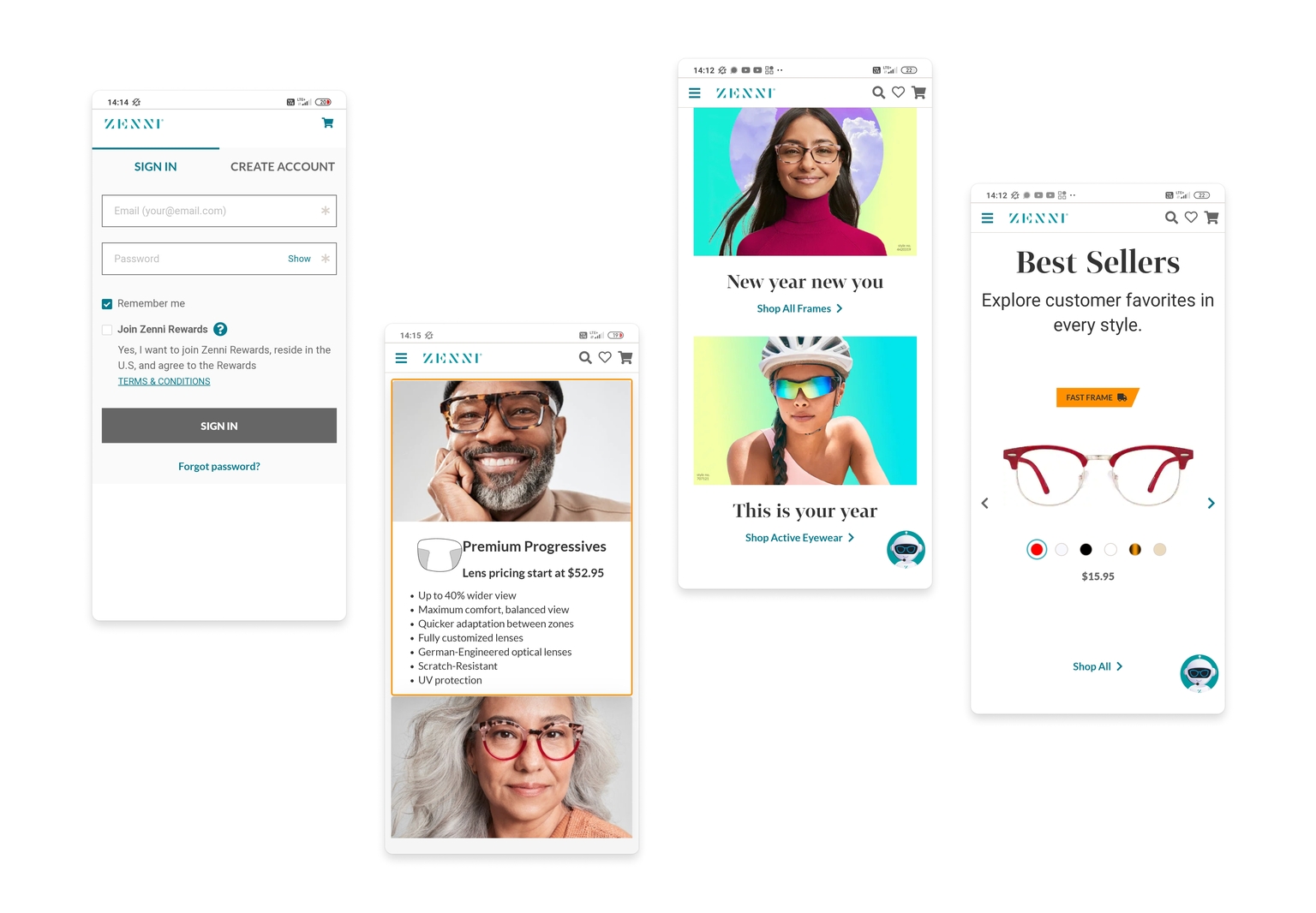 Advanced multi-tenancy - better data security and lower TCO
During its composable commerce journey, Zenni Optical decided to use Vue Storefront Cloud to ensure better data security and reduce the total cost of ownership. 
"We decided to host our website in the Vue Storefront Cloud, which was evaluated by the customers via electronic patient records. We need to have an isolated environment and do everything to ensure total customer isolation from each other. In this case, multi-tenant was not a thing, but Vue Storefront Cloud became a good option."
David Ting
CTO, Zenni Optical
"It's really Frontend as a Service" – Broad integration ecosystem
Another advantage of Frontend as a Service that made it the obvious choice for Zenni Optical was the wide range of ready-to-use integrations. These integrations allowed the company to adopt a truly agnostic approach and build a robust commerce stack at a fraction of the cost and time.
"It's really Frontend as a Service. Microservices in the backend are really treating the frontend the same way and allowing more developers to make that code accessible, which is key. It's very little code and very simple code to get started. Ready-to-use integrations are a huge key. For example, going from ATG Commerce to Magento in ordinary conditions would be like a 6-month project. But we can cope with it for pretty much a week and a half. It's amazing! We have portability which is good for me as a leader and this eCommerce platform."
David Ting
CTO, Zenni Optical
Results
While the Zenni Optical project is still in progress, the promising results of using Vue Storefront Frontend as a Service were evident from day one. As a result, by choosing Frontend as a Service, Zenni Optical has managed to:
cut the development timeline

get portability on the backend side

achieve faster load time and better web performance

build a scalable frontend for a mobile-first experience
The company reported achieving more in just a couple of weeks while working with the Vue Storefront team and technology than it had expected to accomplish in the next several months. This real-life success story demonstrates that beginning with the frontend and gradually addressing other elements step by step is the correct strategy for embarking on a composable commerce journey.
"I think most eCommerce companies miss this opportunity. They don't understand the economics of operating eCommerce. Luckily, we went composable and jumped into the right carriage, partially owing to the Vue Storefront. We have good chemistry when working with each other."
David Ting
CTO, Zenni Optical
Ready to dive in? Schedule a demo
Get a live, personalised demo with one of our product specialists.