Life at VSF: Anna Musiał, Frontend Developer
Vue Storefront
•
In the first of a series of Q&As with Vue Storefront team members, we get introduced to frontend developer Anna Musiał. Among other things, Anna imparts advice to would-be developers, explains what dev life is like at Vue Storefront, and gives her thoughts on the best part of the job.
Hi Anna! How did you get into coding/programming?
It was thanks to my older brother. When I was younger, he worked as a programmer for Ruby on Rails. I liked how passionate he was about coding and that he could work flexible hours — what we call "partly-remote" today. It seemed like a really nice career to me and I was always good at math, so I went for it! My first programming job was as a Swift Developer in a small company. I was still studying computer science back then.
What do you enjoy the most about your role?
The toughest part is multitasking, with new threads popping up like crazy each day. Keeping track can sometimes be really hard and you have to take full responsibility for your decisions. My team is amazing, though, and I really enjoy working with the product, too. I learn a lot from the whole process of developing new features. It's something clients will use in the future, so it needs to be well thought through.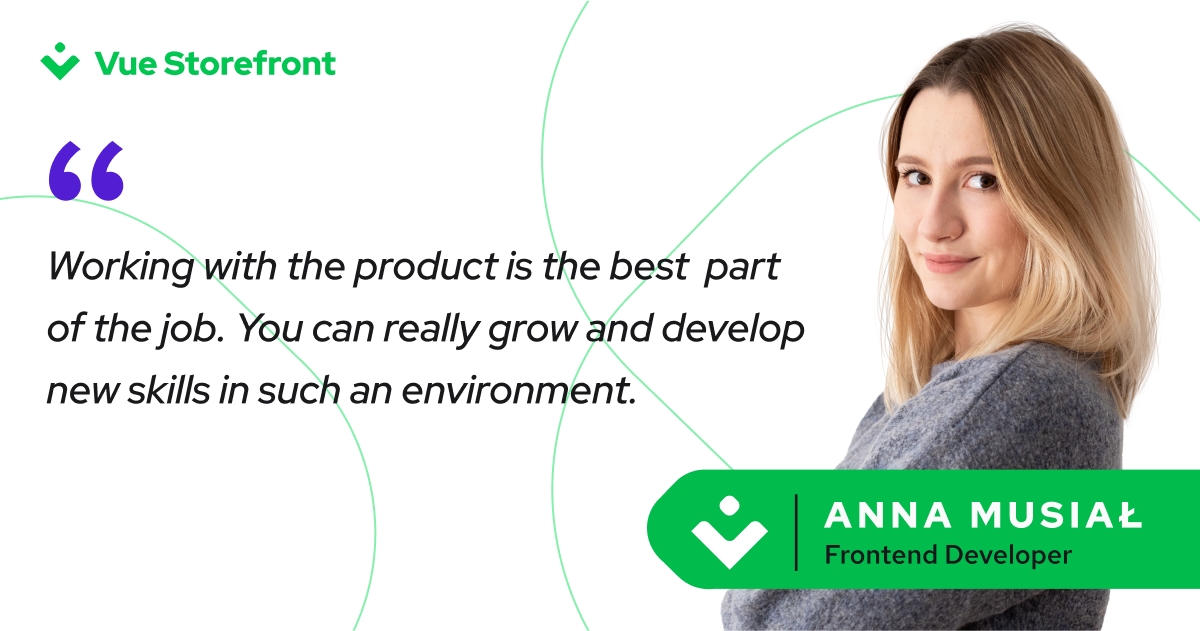 How do you find life at Vue Storefront?
I'm loving it so far. It's been over a year, but it feels like my first day was just a few months ago. The people are great, and I really like having colleagues from all over the world. But the best part is definitely the possibility to work with the product, not just setting up another eCommerce platform for different clients. You can really grow in such an environment and develop new skills. 
What advice would you give to someone who wants to become a developer?
Start with the basics, even before you dig into code or choose to work on frontend. You need to know how computers process your code, in order to provide quality in the future. You can learn this in university, so that's one of the options. Or you can put a lot of work into self-development. Also: books. You can learn a lot from them, even if some are outdated. 
But the key is to just code a lot. There are plenty of websites that are ugly and badly designed. If you want to go with the frontend dev path, you can just rebuild them as an exercise. Even if you don't have experience, good code will defend itself and there is a chance you'll get your first job. From that moment you'll just keep on learning. It's not a job for someone who has no desire for self-development. 
How does it feel to be a female in what many associate to be a male-dominated profession?
It's not as bad as it seems. It really depends on the company. I've had some unpleasant experiences and comments in the past because of my gender, but I've never felt discriminated against in any way in Vue Storefront. Everyone treats me like part of the crew and I appreciate that.
It also motivates me to constantly improve, to show my skills, to be a better professional. I want to show the world that girls can code, too. And the look of surprise on other peoples faces when I tell them about my profession is pure gold!
Away from Vue Storefront, you're the co-founder and tech lead of Piggypeg, a website that analyzes ingredients contained in skincare products. What's the inspiration behind it?
I was always a bit of a healthy-lifestyle freak, eating healthy and exercising. This interest quickly evolved into using the best possible skincare too, then a website, then social media. We never expected it to be successful and the interest outgrew our expectations. It was a fun challenge to use our technical skills to build your own business. 
What do you like doing in your free time?
Frisbee with my dog, gym, hanging out with my friends and family or just chilling on the couch with a book or some movie or TV series. I recently signed up for a Muay Thai class and I love it so far. 
Tell us something surprising about yourself.
I saw a Die Hard movie for the first time just two years ago (my family was always team Home Alone for Christmas). It was a special screening night in a cinema, everyone obviously already knew the movie — but I was genuinely sitting on the edge of my seat to find out if John McClane was going to make it…
To learn more about Vue Storefront, visit our About Us section. Interested in working with us? Check out our open roles .
Ready to dive in? Schedule a demo
Get a live, personalised demo with one of our awesome product specialists.