Vue Storefront launches Magento 2 integration
Vue Storefront launches Magento 2 integration
New integration provides Magento 2 with first fully agnostic and native headless frontend 
Magento 2 joins partner community that includes commercetools, BigCommerce & Bloomreach
Release unlocks ecosystem of new tools that boost online stores' web performance
Vue Storefront, the global market-leading frontend solution for faster, higher-quality and customer-focused online shopping experiences, today announced its integration with Magento 2, one of the world's largest eCommerce platforms.
The release enables hundreds of thousands of online stores on Magento 2 to use Vue Storefront's open-source frontend solution for headless commerce — which integrates a limitless number of new and existing state-of-the-art digital tools that businesses can use to speed up page loads, boost web performance and increase conversion rates.
j
We're delighted to announce Vue Storefront's integration with Magento 2, and to have something exciting to show the eCommerce developer community after months of hard work by our great team
First native headless & agnostic frontend solution available with Magento 2
Unlike other frontend technologies available with Magento 2 (such as ScandiPWA and Front-Commerce), Vue Storefront is the only truly agnostic native frontend solution on offer. This means that, rather than locking a merchant into a specific software vendor's ecosystem, it gives them the freedom to choose from an almost-unlimited number of best-of-breed technologies.
The new integration covers Magento 2's key platform features, checkout flow, customer authorization and customer accounts — and offers vastly more coverage than Magento's official frontend, PWA Studio. It also adds Magento 2 to the large number of eCommerce platforms, headless content management systems, payment systems, search providers, and other third party services that connect seamlessly with Vue Storefront — such as commercetools, BigCommerce and Bloomreach, among others.
Rakowski continues:
Our focus when designing our products is providing simplicity for developers of eCommerce websites, not creating custom frameworks that require weeks of learning. This integration gives a fully customizable starter kit for Magento 2 developers so they can work on tasks specific to their project instead of wasting months on repetitive groundwork. It's a win both for them and the business as a whole.
Pioneering Frontend-as-a-Service solution used by 1,200+ businesses
Created in 2021, Vue Storefront's frontend technology — whether through its open-source code or the paid product version — is used by over 1,200 international businesses including Lufthansa, Fortnum & Mason and Zadig&Voltaire.
This release takes us back to our roots, we started life as an open-source frontend technology for Magento. Its developer community embraced us back then and played a crucial role in our further growth and evolution. This integration is our way of thanking them.
Since its inception, Vue Storefront has played a pioneering role as a Frontend-as-a-Service (FEaaS) and is part of the non-profit MACH Alliance , a wider movement of tech firms reimagining how online stores are built following the accelerated global digital transformation of the last two years.
The MACH Alliance advocates for an enterprise technology system that is Microservices based, API-first, Cloud-native SaaS and Headless (MACH). It provides resources, education and guidance to support commerce businesses through the transition from monolithic legacy infrastructure to MACH architecture . Vue Storefront is currently the only Alliance member offering integration with Magento.
Read  Filip's blog post  for a more detailed look at the Magento 2 integration and its benefits.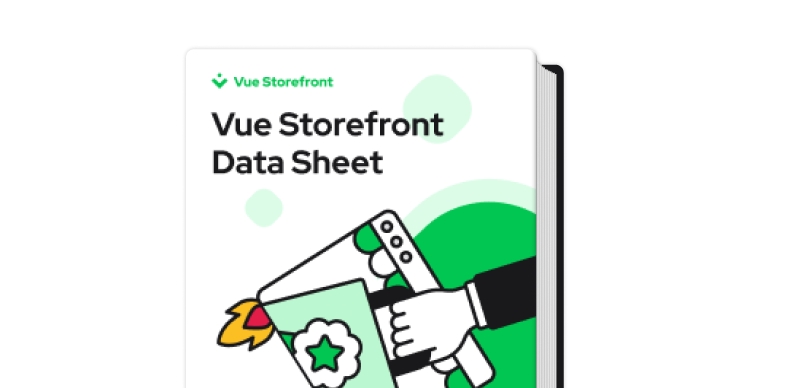 Vue Storefront Data Sheet
This datasheet provides an introduction to Vue Storefront's approach to building headless commerce Frontend as a Service