Vue Storefront and Sylius partner up for the upcoming SyliusCon on November 3rd in Poznań!
Vue Storefront and Sylius partner up for the upcoming SyliusCon on November 3rd in Poznań!
The upcoming SyliusCon, scheduled for November 3rd, 2023, at the MTP - Poznań Congress Center, marks the second edition of this conference fully dedicated to Sylius.
This gathering beckons Sylius enthusiasts globally to converge in Poznań, Poland, providing a rich platform for learning from industry experts, networking with like-minded individuals, and celebrating the Sylius community.
Building on the success of the inaugural SyliusCon in 2022, which featured insightful presentations by top Sylius and Symfony specialists, this event promises to foster deeper connections and knowledge sharing among attendees, with a lineup of 22 speakers and support from 12 sponsors and partners​.
Vue Storefront will take a seat in this elite table as a bronze conference sponsor and Filip Rakowski, our CTO, will give an insightful speech on the "What you need to know about building headless Storefront?" subject. Due to our conference partnership, for the VUE_STOREFRONT_4_SYLIUS_CON, you will get 25% off the ticket price. Hurry up, the number of places is limited!
Why so Sylius?
Exceptional Developer Experience (DX)
The Developer Experience (DX) in Sylius is incomparable to other platforms. Its clean, intuitive structure and well-designed architecture make working with Sylius a true pleasure.
For developers familiar with Symfony, learning Sylius will be smooth, and the benefits of using this platform will materialize quickly. Sylius is renowned for its high-quality code, as well as the application of good practices such as textbook utilization of SOLID principles, Behavioral-Driven Development (BDD), and Test-Driven Development (TDD).
The tool utilizes standard testing tools like PHPUnit, PHPSpec, and Behat, which significantly enhance the robustness and reliability of the entire system. Proper use of SOLID patterns enables ease of maintenance and extension of code, greatly facilitating the work of development teams.
Headless with API Platform
Sylius offers a headless approach, meaning you can use eCommerce by connecting to it any communication interface, not just a browser. Thanks to integration with API Platform, a popular tool for creating APIs in PHP, Sylius provides powerful tools for building modern e-commerce applications capable of handling multiple sales channels and communication interfaces.
Flexibility
Sylius is suitable for virtually any type of e-commerce, and its flexibility allows for adjusting the platform to individual business needs. Of course, due to the fact that its deployment requires developer work, it may not be the best solution for companies that are just starting out in eCommerce.
Nonetheless, out of the box, you get a simple online store that, in the name of the 80/20 rule, fulfills 80% of the basic functions of any e-com, leaving the remaining 20% to developers for any arrangement. You can easily change every single service using, overwrite the template or implement new events based on the state machine or triggered events.
Moreover, there are projects that use Sylius as an engine for commercial products, such as OpenMarketplace, an open-source fork of Sylius designed for building marketplaces, which by principle, are the most complex type of online sales system. Practice shows that Sylius is also very well suited for this type of project.
Customer success stories of Sylius & Vue Storefront
Artnight.com
ArtNight, a German company specializing in creative experiences, replaced its initial WooCommerce system with more scalable and efficient solutions: Vue Storefront for the front end and Sylius for the backend, integrated with Pimcore for product information and digital asset management. This technological overhaul carried out in collaboration with BitBag, significantly improved page loading speed and user experience while also enabling easy scalability and integration with various external services such as multiple payment methods and gift card systems. The company is now able to effectively manage multiple brands and is planning further expansions.
Trobos.lt
Trobos.lt, a Lithuanian e-commerce venture, aims to replicate the physical shopping mall experience online, offering a wide range of products from groceries to gadgets. As a subsidiary of Vilniaus Prekyba, Lithuania's largest company, Trobos emerged during the pandemic to fill a market gap for a unified e-commerce platform across the parent company's diverse businesses. Developed by Adeo Web using the flexible Sylius e-commerce framework and Vue Storefront for the user interface, the platform supports a variety of vendor integrations and can scale to meet growing demand. Trobos has achieved significant growth, expanding its vendor list from 10 to 25 and offering over 62k unique products in less than six months. The platform is also noted for its backend complexity, incorporating various technologies like Google Cloud and offering seamless, same-day delivery services.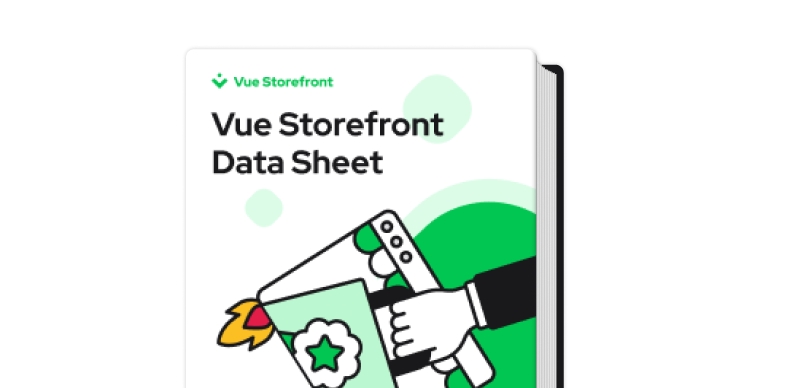 Vue Storefront Data Sheet
This datasheet provides an introduction to Vue Storefront's approach to building headless commerce Frontend as a Service