Vue Storefront's growth continues: Katie Cameron steps in as Interim Chief of Operations
Vue Storefront's growth continues: Katie Cameron steps in as Interim Chief of Operations
As Vue Storefront continues its rapid trajectory of growth, it's essential to have a team that can navigate the challenges and opportunities of scaling. We've seen significant milestones under the leadership of Bart Roszkowski, our outgoing COO. His focused strategy has delivered immense value to our customers, addressing their needs at an unprecedented scale. His legacy includes an exceptional team of dedicated managers and a triumphant fundraising campaign.
But as the saying goes, "The only constant is change." And as we bid farewell to Bart, we're thrilled to announce that Katie Cameron will be joining us as the interim Chief of Operations. Katie's extensive background in operations leadership, which spans over 20 years, includes notable roles such as a Global Director of Operations at Facebook, Head of EMEA Operations for AWS, and COO for Ably.
Katie's experience with highly technical companies and products, especially her collaboration with GTM, product, and engineering teams, will be invaluable. As our core operations have been established, Katie's expertise will be instrumental in refining and enhancing them, ensuring Vue Storefront remains at the forefront of the headless commerce revolution.
"Vue Storefront has made a significant mark in the headless commerce space. As I take on this role, my focus will be on refining our go-to-market strategy, adopting a data-driven mindset, and ensuring our end-customers remain central to our actions. I'm eager to drive forward, knowing there's immense potential ahead for Vue Storefront." - says Katie
To Katie and the entire Vue Storefront community, there's nothing left to add but a heartfelt welcome. We're eager to embark on this next chapter together.
Vue Storefront Team 💚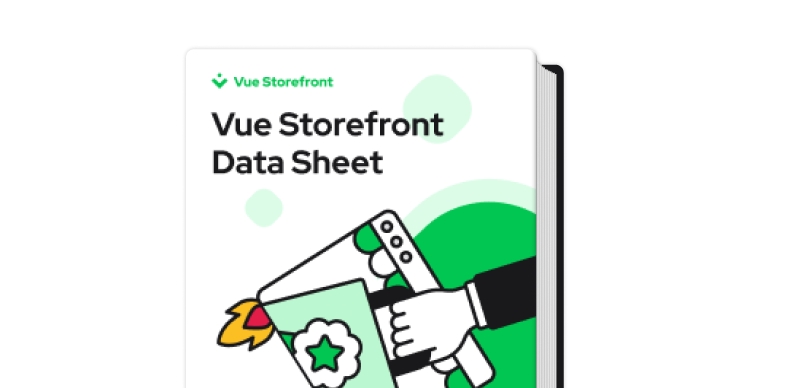 Vue Storefront Data Sheet
This datasheet provides an introduction to Vue Storefront's approach to building headless commerce Frontend as a Service