Vue Storefront joins Y Combinator
Vue Storefront joins Y Combinator
The investment came shortly after raising $1,5M in a Seed round. Vue Storefront is the 5th Polish startup participating in this, one of the best in Silicon Valley accelerators. How did it convince the decision-makers to put the money?
‍
Vue Storefront came from Open Source, therefore it has no-vendor lock-in (always giving access to the code), is fully flexible (everything is customizable), and has been trusted by more than 300 shops worldwide already.
Jared Friedman, Head of Software & Group Partner at Y Combinator
‍
What prompted such conclusions? Even though the VSF company was founded barely in December 2020, the Vue Storefront project was already broadly known in the open-source community. With over 8000 GitHub stars, it won the title of "fastest-growing frontend project on GitHub," and the enterprises' interest entailed.
It all started with open source. We had the idea with a couple of the first implementations going on, and clients seemed to be happy. We never planned to make a living by turning Vue Storefront into a real business. We just wanted to build great stuff and share it with other developers, and therefore, the best way was to open source our software and invite others to collaborate. Now I know that probably it was the best decision we could ever make, and I cannot express how grateful we are to the whole community.
Patrick Friday, CEO at Vue Storefront
‍
The main challenge was that Vue Storefront - as a Frontend Platform for Headless Commerce - didn't fit into any widely recognizable eCommerce trend. Early adopters already have started playing with that idea of decoupling the frontend from the backend, but "Headless Commerce" was not wildly adopted. However, this awareness gap turned out to be a blessing. Vue Storefront could have been developed freely as an R&D project without worrying about capitalizing on the ideas.
‍
Open-source made room for creativity. We could endlessly test the ideas and searching innovations while getting constant feedback from our community. Imagine the power, when you have more than 4500 developers giving you daily feedback on your ideas and work? This collective knowledge was why we grew so much and so quickly. The only things that we were focused on were the product and the community.
Filip Rakowski, CTO at Vue Storefront.
‍
It was a bit old-fashioned approach that worked well, as the problems caused by coupled, legacy eCommerce platforms started to be audible among developers. The most popular all-in-one platforms began to slow down the merchants due to technical debt, and developers had to craft custom-made patches to deal with it. That made their experience was simply very poor. Vue Storefront, as a tool aimed to make their lives easier, instantly grabbed their attention. Business people's interest followed as soon as it became clear that the eCommerce software needs to be more flexible and the front-end layer more UX-oriented to meet constantly changing customer's needs.
‍
However, to meet the increasing market demand, Vue Storefront had to boost the growth. It meant a spin-off from a parent company, gaining an independent business identity, building a team, and finding funds. It was already quite a pile when the pandemic raised the difficulty level even more. The product itself was, however, already on the right traction. Its proof of value was noticed by leading Polish Venture Capital funds, and Vue Storefront raised 1,5M dollars in the Seed round, soon after the company separated from its mother ship.
YC Combinator came right after and quite unexpectedly since the first attempt to get it was not a success.
We were in the middle of turmoil with all the business-related challenges, and no wonder our summer YC application was rejected due to a lack of in-depth details. Still, the story and general idea standing behind Vue Storefront were apparently remembered because, in fall, we were invited to try again. This time we succeed.
Bartek Roszkowski, COO at Vue Storefront
‍
‍
Join the Vue Storefront Summit 
During Vue Storefront Summit our Core Team will provide you with in-depth insights on how you can build Headless Commerce with Vue Storefront. Your entire team will have the opportunity to connect with experts, share your challenges with peers, and exchange best practices from your eCommerce journey.
Whether you are new to Vue Storefront or know the solution, join us on 20th April to learn more and connect with industry peers.
Fill out the form to save your spot today:  https://hopin.com/events/vue-storefront-summit-2021
‍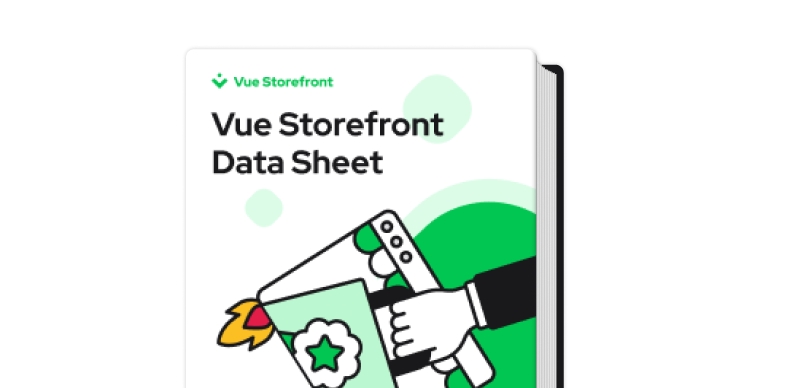 Vue Storefront Data Sheet
This datasheet provides an introduction to Vue Storefront's approach to building headless commerce Frontend as a Service