Heitor Ramon Ribeiro joins Vue Storefront team as Head of Open Source
Heitor Ramon Ribeiro joins Vue Storefront team as Head of Open Source
The recent year was crazy. We've finally become a separate company, launched the Vue Storefront enterprise version, entered MACH Alliance , raised $1,5M in a Seed round , doubled the team, kicked off Vue Storefront Summit (with 1800 participants from over 90 countries), joined Y Combinator… So yeah, a lot has changed, but one thing remains constant: our focus on the open-source community. Now, we can address it better and more professionally, and Heitor Ramon Ribeiro is here to make sure that will happen.  
Our community and our ecosystem are growing at a pace that we didn't dream about. The number of ongoing Vue Storefront 2 integrations doubled (and keep growing) compared to what we had within the Vue Storefront 1 ecosystem. However, as much as we do our best to provide constant support via Discord and GitHub, at some point, we realized that our resources are not enough to address the variety of issues related to ongoing projects. The number of community-created integrations with such prominent platforms as Magento, Salesforce Commerce Cloud, Spryker, Shopify, Saleor, Big Commerce, Sylius, WooCommerce, etc., makes it challenging. 
As open source is the greatest value for us, we need to do better and take our open source activities to a higher, more professional level to ensure every community member receives the support they need.
And that are not just hollow promises. On the contrary, we are determined to put it into practice. So, therefore, we created a brand new role - a Head of Open Source and convinced Heitor Ramon Ribeiro to take the wheel. We consider it a huge step forward, given Heitor's experience. He is a guy who needs no introduction among Vue.js community members.
Still, as we are a serious company right now, we'll do it anyway. And there is a lot to write about.
First of all, Heitor knows the eCommerce industry from the inside out. He witnessed all the massive shifts - from monoliths to Headless Commerce - that brought us where we are today. He started his career in 2005 by developing small and medium stores based on OSCommerce in Brazil, quickly switched to using PrestaShop, WooCommerce, and - finally - Magento, which ruled the eCommerce world back then. After that, he led the frontend teams at large-scale companies - Kovi, INTI & JET. In the latter, he was responsible for developing the template system of the NEO project and creating the initial stores. Now, NEO has more than 1000 clients and is a smash in Brazil, so it is safe to say that its foundation was solid. 
However, that was the enterprise level, and what about the open-source, that we were supposed to talk about? Again, Heitor's engagement is simply massive.  Besides small projects focused mainly on improving developer experience, he contributed to numerous projects such as Semantic-UI and Quasar-Framework, to name just the biggest ones. As a member of the Brazilian Vue.JS Community, he also focused on sharing knowledge about this JS framework, with two books about: "Vue.js 3 Cookbook" and " Building Vue.js Applications Graphql and Quasar-framework ." 
Last but definitely not least - Heitor is the person who built our Magento integration, and it is probably the most solid proof that he is the perfect fit for the role of Head of Open Source at Vue Storefront.
Heitor joining our team is a huge step for us. We were aware that we need a dedicated person who will make sure that our open source projects don't lose traction and we fulfill the promise we made to our community. Yet, we wanted to make sure that we find a developer who is part of the community and understands what needs to be done. It took us a while, but it is worth waiting for Heitor. He is that guy.
The Head of Open Source was a missing element in our growing structures. We all know that it is easy to lose focus chasing the business, and we wanted to make sure that it will not be our case. Heitor came here to help our community expand,  that is obvious. But he will also keep us on the right track, making sure that we never lose sight of what is essential for us, and open source has always been and will be in our DNA.
Joining the Vue Storefront team was a dream opportunity, here I can help the community to improve their codebase, at the same time, develop a better codebase in the core code. Working in a company that embraces open-source makes me very grateful.
He will identify and maintain strategic relationships, set expectations regarding projects, creating standards, provide support, train, and advise the community. Generally,  he will make the community a friendly environment, in which every single member will be welcome and none of the questions will remain with no answer.
Let's the new chapter begin!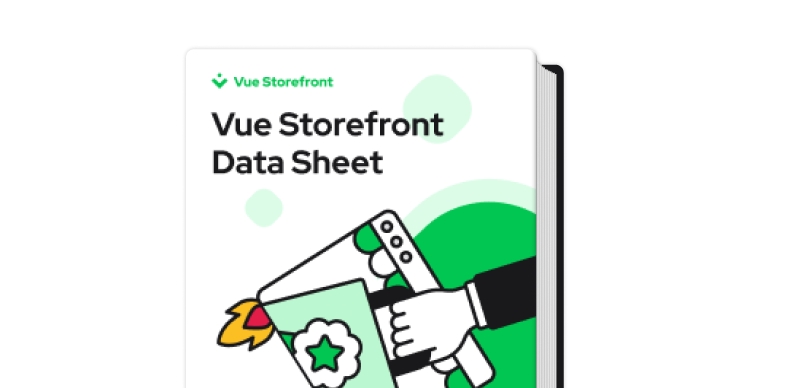 Vue Storefront Data Sheet
This datasheet provides an introduction to Vue Storefront's approach to building headless commerce Frontend as a Service