Vue Storefront and Bloomreach join forces to make online shopping a meaningful, personal experience
Vue Storefront and Bloomreach join forces to make online shopping a meaningful, personal experience
Bloomreach , the API-centered platform focused on increasing digital experience for eCommerce, which just recently was valued at $900 million, became our official partner! Together, we will support eCommerce businesses in making them more experience-led direction and cater to consumers. 
With a set of goals in common, collaboration was inevitable. As a Frontend as a Service , Vue Storefront aims to gather the best-of-breed services under one neat umbrella. Bloomreach, being one the most praised and recognized players in the eCommerce world, was - so far - the missed element in that puzzle. We needed to fix it.
The timing couldn't be better, as pandemic-caused changes in customers' online behaviors forced or - to be precise - accelerated shifting thinking of eCommerce technology. Once monolithic, trying heavily (and unsuccessfully) to deliver everything in one code-base, eCommerce systems are now becoming focused more on fulfilling individual business needs.
Read more: future of eCommerce
The times when merchants had no other option than to choose one particular tech vendor and rely on the promise that he is good at everything ended with the rise of theThe collaboration between Vue Storefront and Bloomreach was a matter of time because it brings real value both for devs and business users. Devs seek a tech stack that will accelerate their work but won't limit possibilities; business people want tools that are easy to use. Vue Storefront and Bloomreach will be their go-to direction.
This MACH-oriented approach allows composing software from the variety of different services that are needed at the time. They can be added and removed at any time according to whatever the current customers want. 
And that level of personalization is at the heart of what Bloomreach has always done. The company has long been focused on helping brands and retailers increase revenue by providing them with content tools, advanced search capabilities, marketing automation, and web optimization mechanisms that are powered by data and built for commerce. It is a lot, but - in a nutshell -  Bloomreach is all about personalizing customer experiences based on data. 
At Bloomreach, we're focused on ensuring businesses have the tools they need to optimize the experiences they deliver, and a growing number of businesses are turning to API-first, headless architectures to deliver fast, nimble digital experiences. An important component of that is fast and easy to use front-end hosting and experience acceleration, which is why we are excited to partner with Vue Storefront. The combination of Bloomreach and Vue means clients can leverage modern agile development strategies, best-in-class site performance, great tools for merchants and marketers, and powerful AI to drive personalized and optimized experiences that convert.
With Bloomreach, retailers using Vue Storefront will fully utilize the potential of personalization to deliver an exceptional shopping experience for their customers.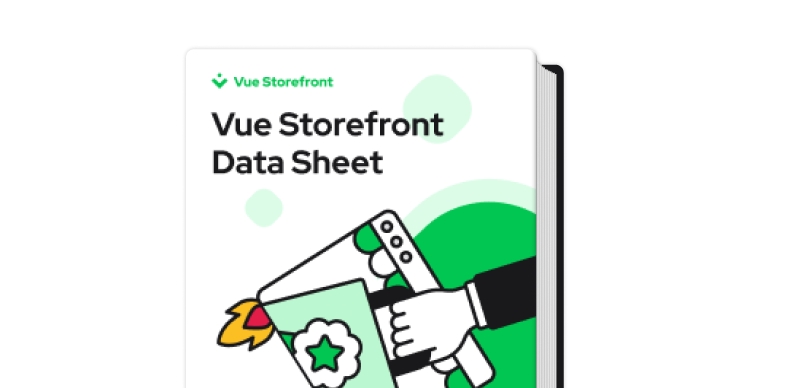 Vue Storefront Data Sheet
This datasheet provides an introduction to Vue Storefront's approach to building headless commerce Frontend as a Service