Vue Storefront raises $1.5M to turn the fastest growing open source eCommerce project into a business
Vue Storefront raises $1.5M to turn the fastest growing open source eCommerce project into a business
Vue Storefront, broadly recognized by open-source enthusiasts as the leading PWA eCommerce solution, has just become an independent company and raised $1.5 million in an early-stage round led by SMOK Ventures and Movens VC. The company will invest the funds in the further development of the cloud-native storefront that enables eCommerce enterprises to improve their site's performance without limiting their customization options. 
Vue Storefront, currently used by over  250 e-stores  and over  100 partner agencies , started three years ago as an R&D open-source project aiming to explore the modern "headless" approach to software development. The platform-agnostic frontend quickly became an open-source smash praised with more than 7900 stars, which gives it the title of the fastest-growing frontend project on GitHub. 
Two leading Polish Venture Capital funds - SMOK Ventures and Movens VC - quickly noticed the potential behind these numbers. Both of them have a robust investment portfolio in technology start-ups, and so they couldn't miss the promises made by this early stage proof of value. 
Our investment in Vue Storefront was based not only on the quality of the team and the value of the clients. It was also about the speed at which the community gathered around Vue Storefront grew. Over the past year, open source package usage increased by 300%, to 40k downloads per month. We believe that the company can be one of the fastest-growing startups with the OSS model globally.
Artur Banach, Partner, Movens VC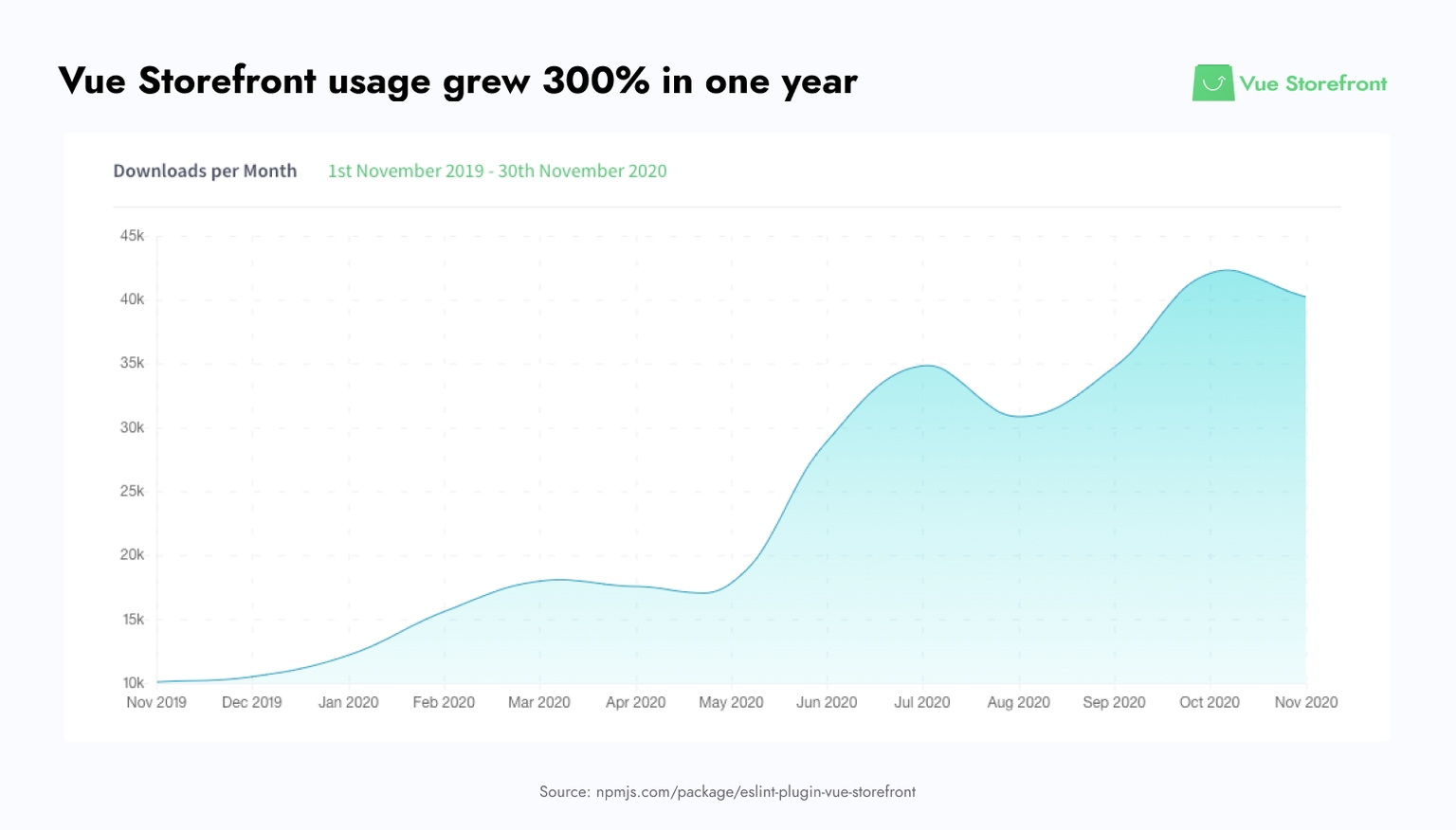 ‍
We strongly believe in the company and the whole team, and it is not just a hunch. As an open-source project, Vue Storefront has already achieved project-community fit and has excellent first traction in the product-market fit.
Borys Musielak, Managing Partner, SMOK Ventures
‍
Worldwide, partner agencies quickly started investing their time and resources in extending Vue Storefront integrations with new backends and third party services, recognizing that Vue Storefront may be the fastest way to narrow the so-called mobile gap. The majority of eCommerce clients, despite having a higher proportional audience reach among mobile users than desktop, struggle with lower sales generated via mobile. 
Vue Storefront, a platform-agnostic PWA frontend designed to connect every needed service under one hood, enables merchants to freely plan and manage every stage of a customer's journey, no matter what device he uses. The API-based flexibility delivered by Vue Storefront in combination with its default mobile-first features are the reason why enterprise companies have become interested in it. 
Vue Storefront grew from an R&D project hailed mainly in the open-source community to a mature technology used by household names such as 
Patrick Friday, CEO, Vue Storefront
‍
‍
The changes seem to be genuinely significant, and - moreover - not limited to the frequently repeated story about eCommerce acceleration due to pandemic turmoil. What is more relevant specifically to Vue Storefront is that businesses realize that technology - instead of making false promises that it can foresee the future and prepare businesses for WHAT comes next - must provide businesses with the agility to get them ready for WHATEVER comes next. Changes in eCommerce are happening too fast and forecasts in terms of users' behaviors made by tech moguls are more of a justification for choices already made than an indication of what choices would be good to make in the future.
The traditional, all-in-one platforms that dominated the enterprise market for over a decade are simply too stagnant to keep up with everything that is going on in real-time, and this has sparked the transition from these sluggish monolithic systems to so-called microservices or, more broadly, composable commerce. 
The trend didn't start overnight but has recently gained impressive traction. Where is Vue Storefront placed in all this? It connects with any given back-end and third-party services, giving merchants full control over the customer experience and further development of their platform.
‍
Until recently, the eCommerce landscape was divided into open-source solutions that provide businesses with flexibility but require time and knowledge to be implemented, and SaaS platforms - easy-to-use but with limitations in customization. Vue Storefront, thanks to its API-focused approach, blurs this line. We deliver a frontend that gives merchants full control of the customer experience but doesn't force them to code everything from scratch.
Filip Rakowski, CTO, Vue Storefront
‍
The funds Vue Storefront has gained will be invested in maintaining and developing its open-source products and its cloud-native Enterprise version to make its use even more convenient for non-techies, as well as business-oriented employees. 
SMOK Ventures  is a Polish/American venture capital fund that bridges Poland to Silicon Valley and Asia. SMOK invests between 50k and 1M USD in early stage startups in the CEE region with a focus on gaming and software startups run by serial founders who think global market domination.
Movens VC  is an early-stage, Warsaw-based fund investing in tech companies with global potential. The fund's capitalization is EUR 14M with the involvement in one company up to EUR1 M. We support the most ambitious Polish/CEE founders in the first stages of building European and global technology diamonds on a partnership basis.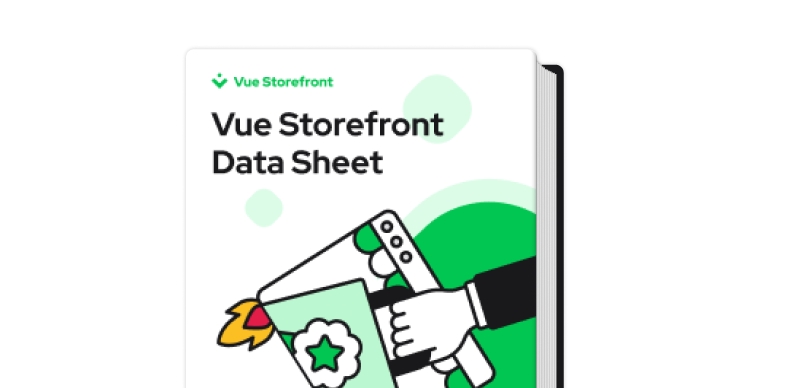 Vue Storefront Data Sheet
This datasheet provides an introduction to Vue Storefront's approach to building headless commerce Frontend as a Service