Tamron Europe
Building a highly-performant composable commerce store with Frontend as a Service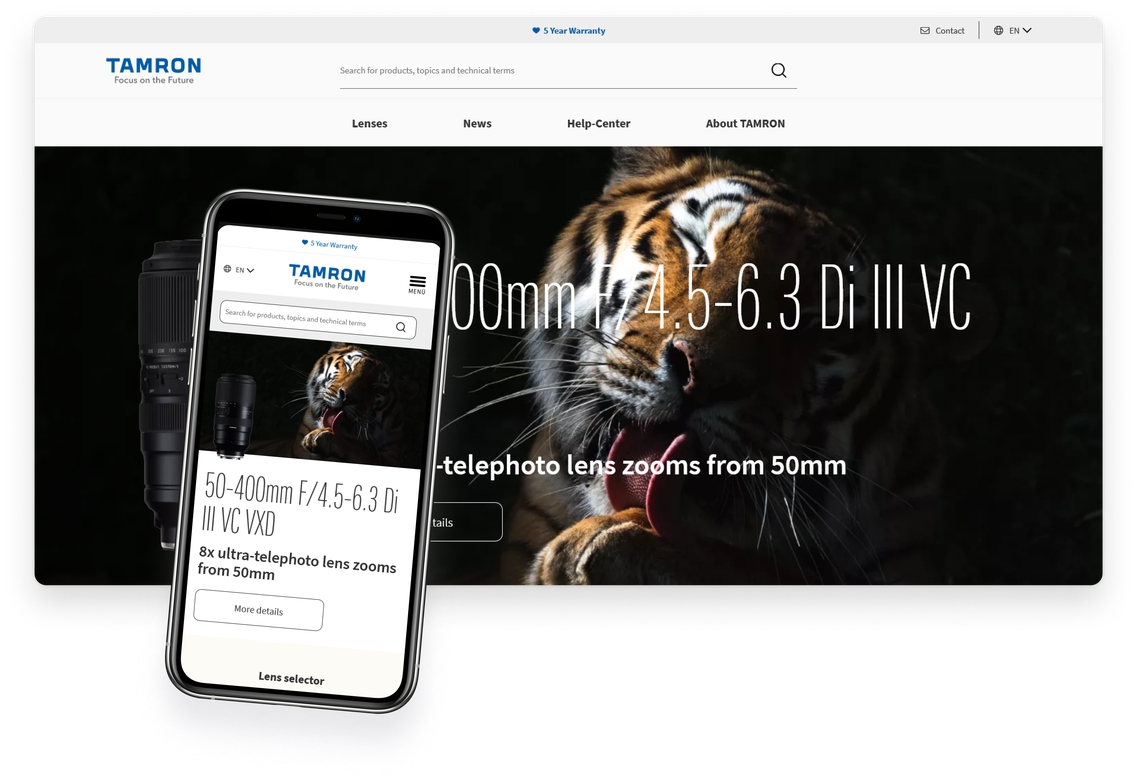 About Tamron
Founded in 1950, Tamron is one of the world's leading lens manufacturers. The company offers its customers around the world high-quality products for a wide range of industries and applications. Tamron Europe is the Group's European headquarter with over 70 employees, located in Cologne, Germany.
The Challenge
Tamron Europe's business leaders saw an opportunity to reduce the distance between the company as a manufacturer and the consumers. They wanted to reach customers in the best possible way and sell their products directly to end users. This desire was the driving force behind a deep exploration of the customer journey and leading trends.
About two years ago, Tamron Europe concluded that the future of retail also belonged to eCommerce, and its rapid development was inevitable. It was not only because of the pandemic but also because customers demanded it. The crucial thing for the company was that buyers search for the lenses directly on the manufacturer's web page. Meanwhile, Tamron's website couldn't provide an opportunity to make a direct purchase. It contained only general information about the company and its business activities.
"As eCommerce continued to grow, we became aware of a significant problem. At the moment, our website is a place where you can find all the information about our products, but not where you can buy them. We can see that the market in Germany and Austria belongs to the dealers and Amazon. We have strong dealers with good online shops on one side and Amazon with its strong business model on the other. Therefore, we decided to offer customers the opportunity to buy TAMRON lenses directly from the manufacturer's website also."
Sven Diegel
Marketing Manager, Tamron Europe GmbH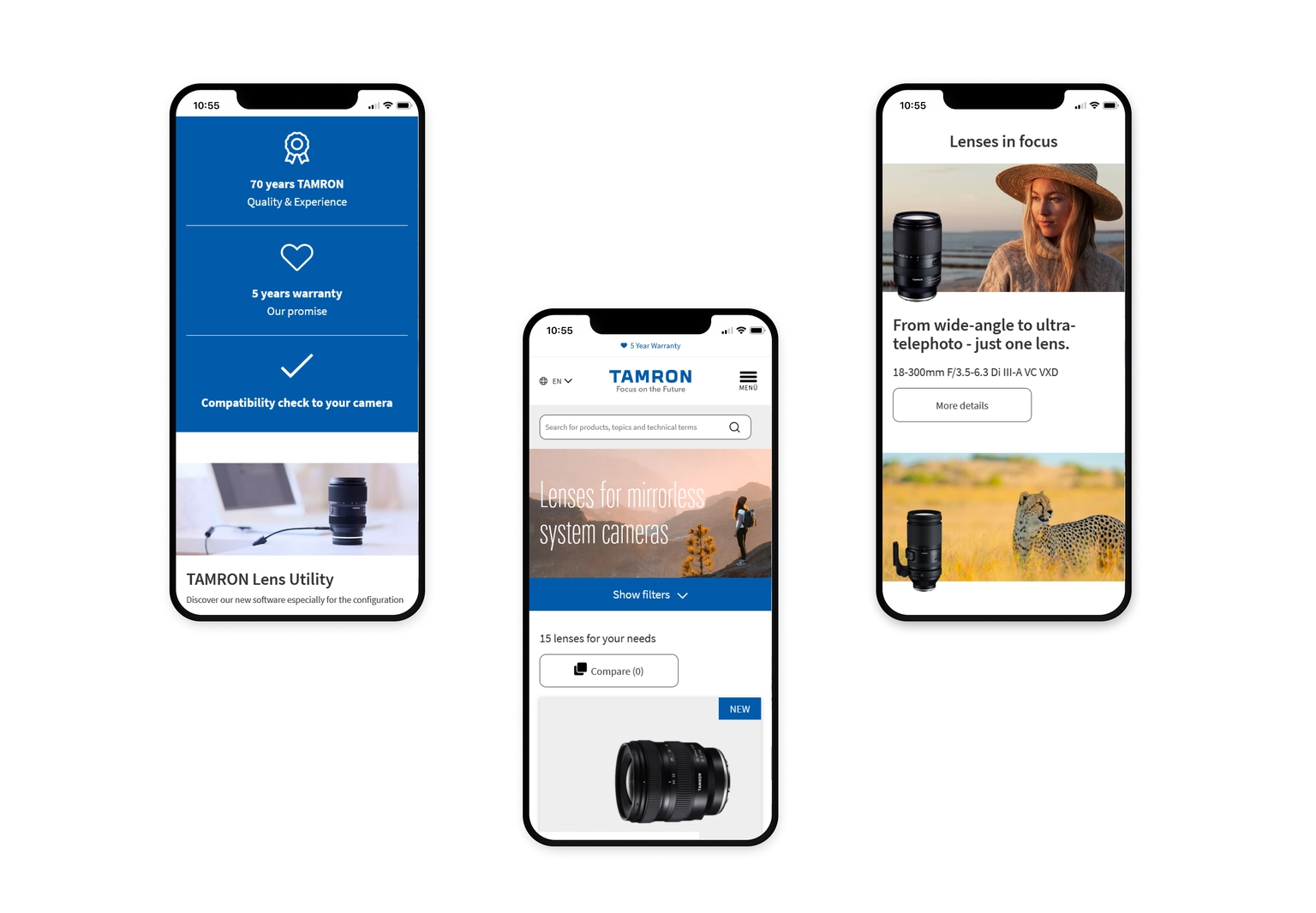 Solution
That decision made Tamron Europe business leaders think about embedding the eCommerce part into an existing website. Moreover, Tamron Europe has a vast network of proven distributors and launching an online store could cause the company to lose reliable partners. 
Therefore, the manufacturer opted for the step-by-step approach that directly involved their partnering distributors. The company decided to embed eCommerce parts to the German and Austrian websites and add new countries with time. In the future, distributors should be able to change general content on the website to tailor it to specific locations.
"The webpage we are building right now is for Europe, and the eCommerce business is the first step for Germany and Austria. But it's planned to roll out to other countries in the future. The agency builds a platform that allows distributors in other countries to be part of this experience. It's planned that they will add the content to the website to engage customers in regions."
Simon Rabente
Director Digital Business, Webmatch GmbH
Tamron Europe trusted this project with the Webmatch team, which did a great job regarding choosing the tech stack and the development itself. The agency advised Tamron Europe business leaders to opt for composable architecture since it can provide limitless flexibility and opportunity for scaling.
"We wanted to integrate an eCommerce solution within a website. So for all our future plans, we decided to go to a composable tech stack because of the flexibility it gives. Composable architecture makes it easier to combine storytelling, huge amounts of brand content, and the eCommerce part."
Simon Rabente
Director Digital Business, Webmatch GmbH
Consequently, Webmatch chose custom eCommerce solutions: 
Vue Storefront Frontend as a Service (FEaaS) to build highly-performant storefronts
commercetools eCommerce platform as a robust backend base for composable commerce 
Storyblok CMS to conveniently create and manage content across multiple touchpoints
"It is a huge step forward for us to have this web shop. It will be deeply integrated into our website. The setup we have been using for the last ten years would have made it very difficult to integrate a web shop, so we had to move to the latest technologies. We have a huge to-do list for the next few years. The combination of systems that we are now using will help us to deal with all the future tasks in an effective and fast way".
Sven Diegel
Marketing Manager, Tamron Europe GmbH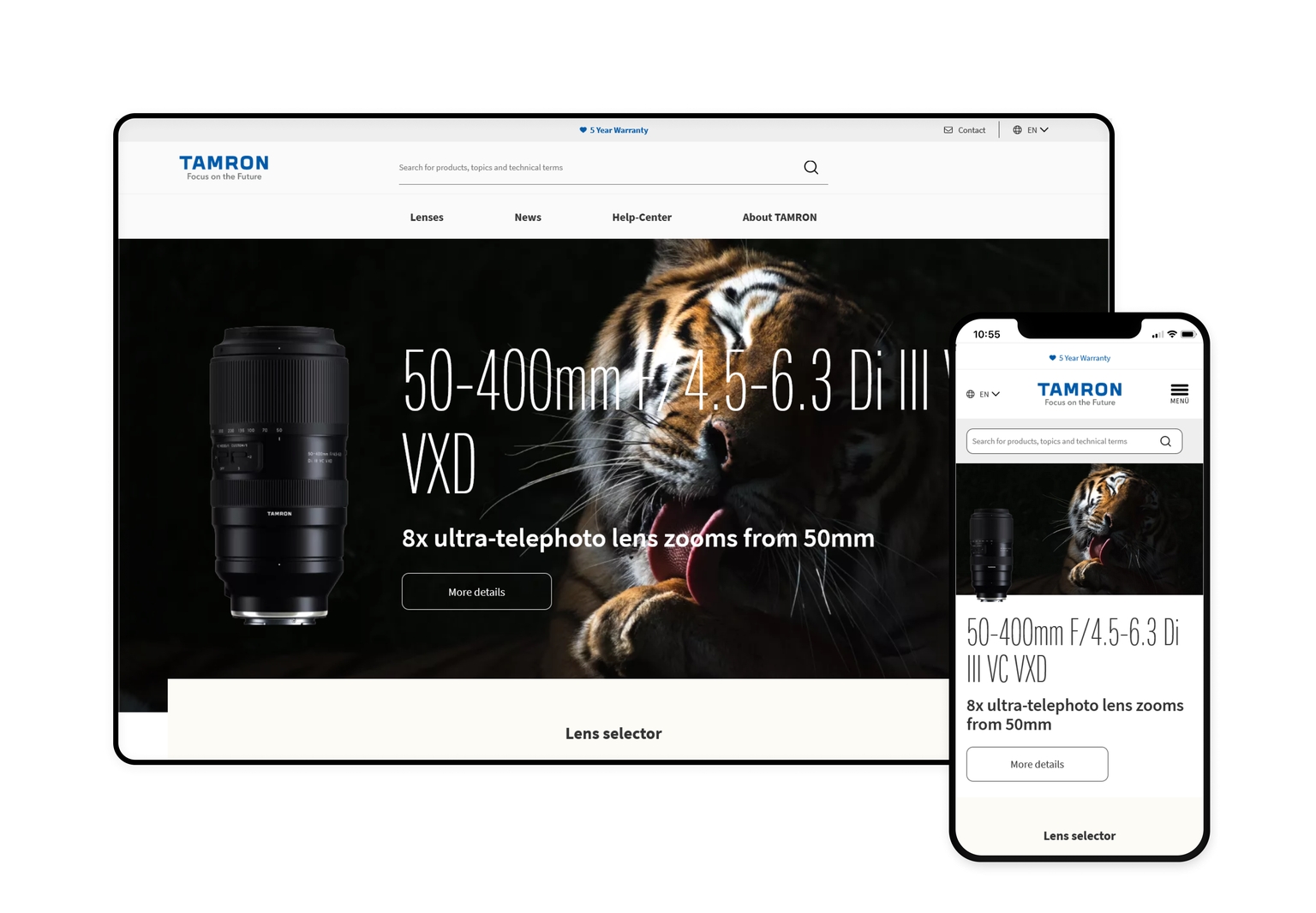 Vue Storefront became part of this tech stack for several reasons:
It offers pre-composed setups with best-of-breed eCommerce solutions: eCommerce platforms, headless CMS, search and payment solutions, and more.
Vue Storefront is a Frontend as a Service that delivers custom storefronts at the fraction of cost and time, and with lightning-fast page loads to achieve better conversion rates and higher revenue.
"The main reason we opted for Vue Storefront was its commitment to the philosophy of MACH. Like other chosen vendors, the company is a member of the MACH Alliance. It was crucial for us since all the technologies used have something in common. Meanwhile, we have a harmonized tech stack."
Simon Rabente
Director Digital Business, Webmatch GmbH
At the beginning of the year, Webmatch switched Tamron Europe's website from TYPO3 to Storyblok CMS and used Vue Storefront as a frontend engine. The last project step at the moment is launching an eCommerce functionality with commercetools.
The new headless website with Storyblok and Vue Storefront was released in September 2022. In this case, the agency's approach is another proof that the composable commerce journey should start with the frontend. 
Results
Since the project is still in progress, it's too early to share results. But Tamron Europe and Webmatch are convinced that FEaaS is the perfect solution for this webstore. The interim evaluations show it can drive mobile-first experience, high web performance already now, and increased revenue in the near future.
"Vue Storefront shows promising results. Before starting the project, we measured the web performance and page load to create KPIs based on them. Before the relaunch, the Google performance value was 22. Now it is 76, with best practice even 100. I can confidently say that FEaaS storefronts are lightning-fast."
Christina Uthmann 
Project Manager eCommerce, Webmatch GmbH
Ready to dive in? Schedule a demo
Get a live, personalised demo with one of our product specialists.