SKYdeals
A leading in-flight marketplace for airlines lauches 4 storefronts and achieves a 60% boost in homepage load speed with Vue Storefront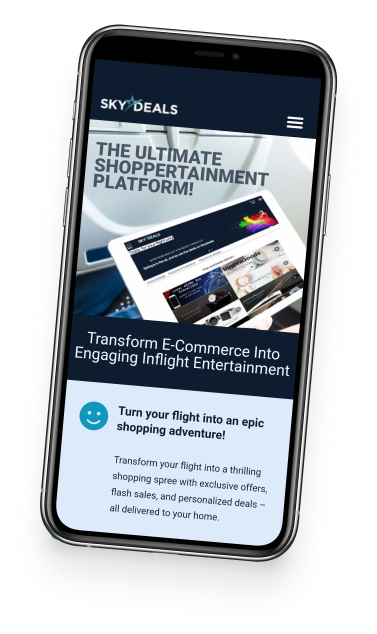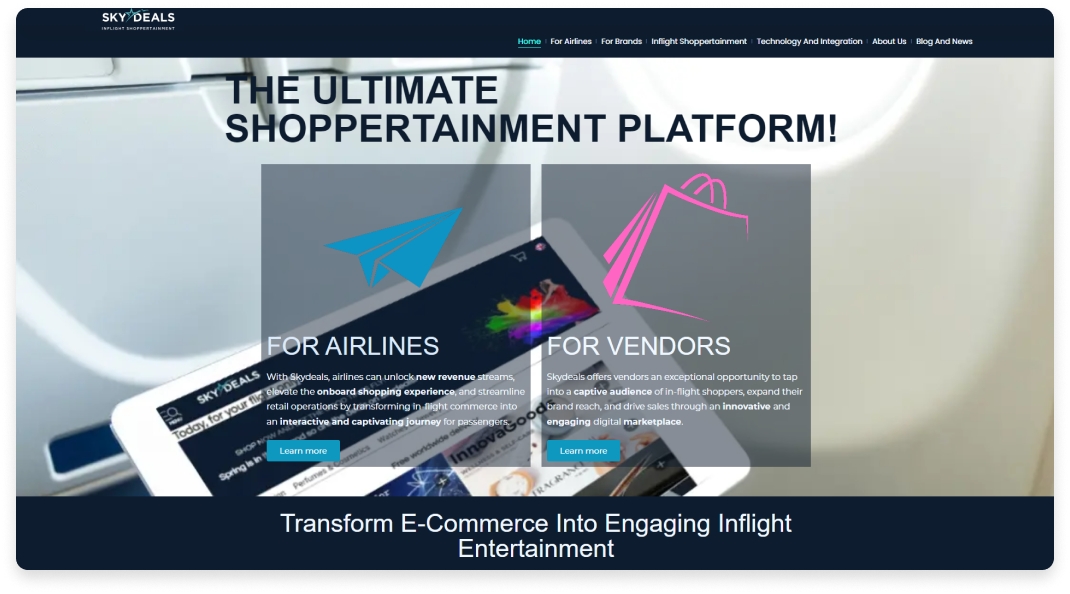 New storefronts launched

4

Page load speed

+60%
Revolutionising Inflight Shopping with Vue Storefront: The SKYdeals Success Story
SKYdeals has redefined the art of shopping in the sky. Since launching in France in 2017, the company has introduced the concept of "inflight shoppertainment." The company's dynamic, interactive digital marketplace is designed to transform passengers' time onboard into an unforgettable adventure. With strong partnerships forged with over 200 prestigious brands, SKYdeals offers a curated selection of products that cater to clients' every desire. Operating on flights by renowned airlines including Air France, Etihad, and Lufthansa, they've carved a niche at the intersection of convenience, luxury, and entertainment.
Watch the full interview with Julien Sivan, CEO and Co-Founder at SKYdeals, talking about SKYdeals's composable commerce journey assisted by Vue Storefront:
The Challenges
Transforming Inflight Shopping
Performance Constraints
Complex Integration Demands
As inflight shopping becomes ever more dynamic, SKYdeals faced a pivotal challenge – transforming traditional inflight shopping into an exhilarating shoppertainment experience. As the CEO and Co-Founder, Julien Sivan recognised the limitations of their initial version, built on PrestaShop, particularly in terms of performance. With operations confined to planes and users grappling with low-bandwidth environments, slow connectivity led to frustrated users abandoning the platform. This posed a unique hurdle for the engineering team: how to significantly enhance frontend performance in the face of sluggish internet connections.
Adding to the complexity was SKYdeals' dropshipping model, where inventory is not owned, and partners merely fulfil orders. Seamless integration with multiple partners was paramount to maintaining accurate and up-to-date product information. "The first version wasn't as flexible as we wanted when it came to integrating with external APIs," noted Julien.
The Solution
In the process, SKYdeals:
re-platformed to Vendure, and started using Vue Storefront for the frontend,

integrated with external systems through APIs, including getting real-time product information from partners,

started using Stripe for payment,

decoupled the frontend from the backend,

easily managed multiple frontends depending on the airlines
Julien's team embarked on a transformative journey, adopting a headless commerce architecture by transitioning to Vendure while employing Vue Storefront for frontend development. Vendure and Vue Storefront were the perfect mix for them because it was full Typescript, so they utilized the same language on both the backend and frontend. "We had a young team of developers that are fond of changes. They really like new technologies and modern stacks," Julien said. "In the long run, going headless was much easier than single stack."
This strategic shift empowered SKYdeals to seamlessly integrate with external systems through APIs and effortlessly connect with partners using real-time product data.
Decoupling the frontend from the backend marked a turning point, providing unparalleled flexibility to tweak the user interface, introduce new features, and reimagine the experience, all without disrupting the underlying systems. This approach enabled SKYdeals to manage multiple frontends tailored to different airlines, all anchored to a central backend. Vue Storefront emerged as the catalyst for these transformative changes, perfectly aligned with their requirements for flexibility and performance.
"Vue Storefront ticked all our boxes for these flexibility and performance issues."
Julien Sivan
CEO and Co-Founder, SKYdeals
This decision to partner with Vue Storefront was driven by the platform's track record for empowering businesses to achieve their goals. Vue Storefront's compatibility with SKYdeals' headless eCommerce architecture, alongside its seamless API integration capabilities, made it the clear choice to unlock the full potential of its transformational journey.
Vue Storefront enabled SKYdeals to navigate through challenges and changes with unparalleled agility. This strategic alignment not only elevated the client's user interface and introduced innovative features but also streamlined the management of diverse frontends tailored to various airlines. Vue Storefront proved to be the catalyst that seamlessly bridged the gap between SKYdeals' vision and reality, offering a matchless blend of flexibility and performance that was essential to their groundbreaking evolution.
Achieving Remarkable Results
The impact was profound. SKYdeals launched 4 in-flight stores and achieved a 60% boost in homepage load speed, right out of the gate, thanks to Vue Storefront . 
This lightning-fast experience facilitated the rollout of innovative features like Group Deals (which allows passengers on the same flight to group themselves to unlock great deals on board) and Flyover offers (deals that are available only while flying over certain countries), enhancing user engagement and driving higher revenue.
"With a headless e-commerce stack, it's quite easy to add these kinds of features. Because we needed to build these features from scratch, Vue Storefront enabled us to develop faster than any other technology."
Julien Sivan
CEO and Co-Founder, SKYdeals
Moreover, SKYdeals' mobile-first approach was seamlessly supported by Vue Storefront's Progressive Web App (PWA) frontend, aligning with users' inclination to explore via smartphones.
Conclusion
Through the strategic integration of Vue Storefront and Vendure, SKYdeals not only overcame their challenges but redefined the inflight shopping landscape. The transformation from inflight shopping to shoppertainment was realized, with performance and flexibility taking center stage. 
As SKYdeals soared above and beyond expectations, their partnership with Vue Storefront became a beacon of innovation in the realm of inflight shoppertainment.
Ready to dive in? Schedule a demo
Get a live, personalised demo with one of our product specialists.