Pukka Herbs
Organic teas and supplements merchants launches fours storefronts and achieves 94 Lighthouse performance score with Vue Storefront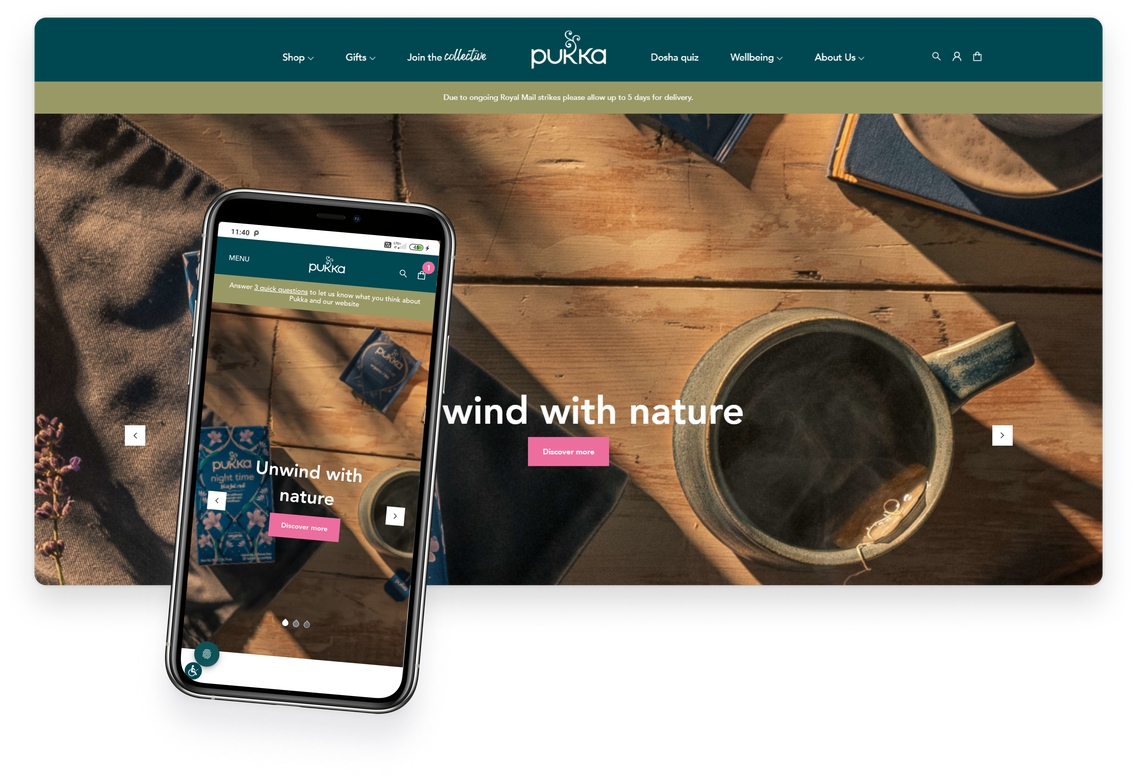 Storefronts launched

4

Lighthouse performance score

94
About Pukka Herbs
Pukka Herbs was established in 2001 to ensure healthier and happier lives through organic plants and high-quality products. The company is a part of Unilever and a well-known brand in the Food & Beverage industry, working for a sustainable future. 
Pukka Herbs is famous for its customer-oriented approach. Along with high-quality products, it offers well-being advice considering a unique mind-body type to ensure the well-being its buyers deserve. Together with Vue Storefront, Pukka Herbs achieved a 94% Lighthouse performance score and launched four websites to deliver a smooth customer experience for buyers in various locations.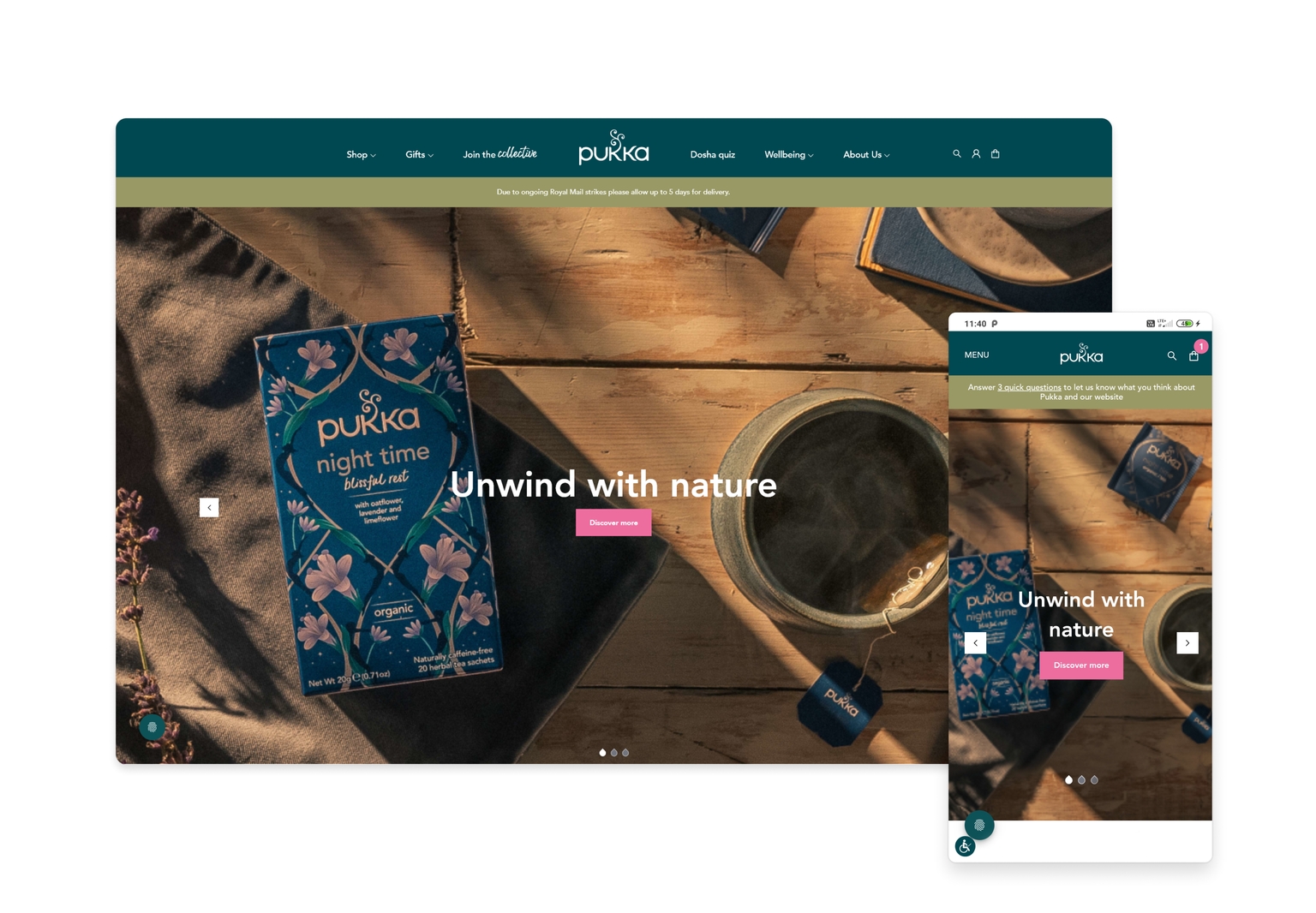 The Challenge
With a customer-oriented approach in mind, Pukka Herbs aimed to deliver excellent digital experiences in various locations from the US to Australia. That goal required business maturity and flexibility, which can be achieved with a modern eCommerce stack. Therefore, after evaluating options, Pukka Herbs decided to start a composable commerce journey.
A composable approach became the only way to focus on business logic instead of development from scratch. The company believes composable architecture cut their time-to-market and allowed developers to achieve business-oriented goals faster.
"Composable makes it easy to integrate with any existing backend platform. It is less code, so we will not worry about writing many code lines. Then we'll focus on optimization of distinct scenarios like performance, like Google, but it's SEO related. We have gone for this composed base framework so that we can focus on other things than writing code for the integration."
Shyam Ji Tiwari
Software Analyst, DigitUp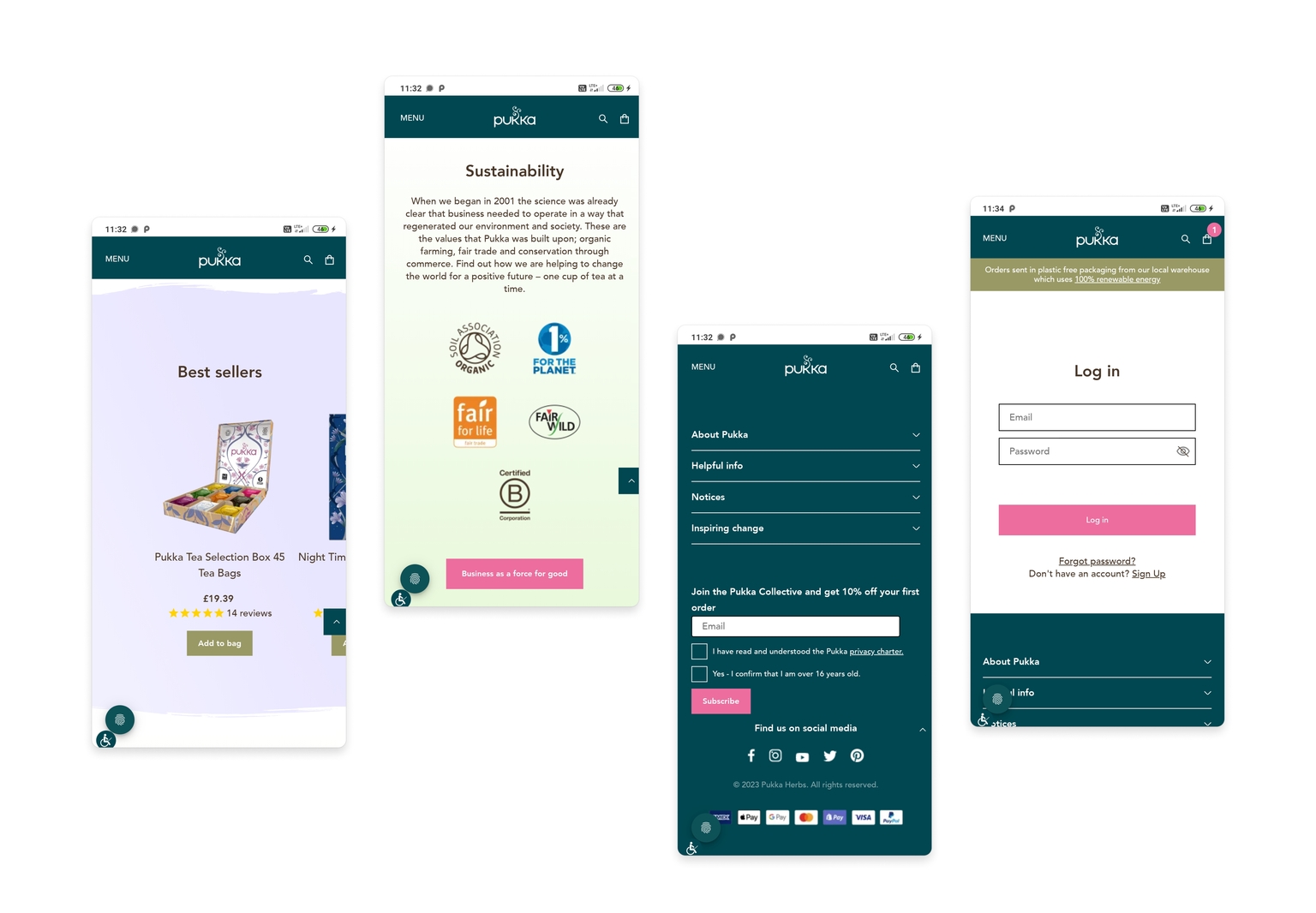 Solution
Pukka Herbs started moving towards composable commerce supported by a robust eCommerce stack. The company chose best-of-breed technologies: Vue Storefront on the frontend side, Shopify eCommerce platform on the backend, and Contentful as CMS. The set of solutions wasn't random since proven integrations between them make the development process easier and faster. The company entrusted the development process to Digitup agency to create a digital experience that delights.
78-score mobile performance drives customer experience and online sales
The company's research showed that increasing mobile performance could engage more users and drive high revenue. Therefore, precisely improving the mobile-first digital experience became the company's primary goal. 
"The final goal of any business that enhances its digital presence is to get more conversions and increase revenue. Similarly, Pukka Herbs is also targeted in the same way. But we did the calculations that showed that if we improved the mobile performance of the website, it would allow us to get more people on the website. Therefore the company decided to start with providing a mobile-first customer experience and chose Vue Storefront for this purpose." 
Deepti Mishra
Senior Manager-Operations, Digitup
Four web stores with Vue Storefront to ensure a smooth customer journey
Another reason Pukka Herbs opted for Vue Storefront was a multi-store feature allowing the company to expand internationally by launching and managing multiple webshops on one codebase. It was the most reasonable choice considering that Pukka Herbs aimed to deliver smooth digital experiences focused on audience locations. Consequently, together with Vue Storefront, the company rolled out four websites: for Europe, the UK, Australia, and the US.
Proven hosting to provide data security
The company uses Vue Storefront Cloud capabilities along with other Frontend as a Service features. This way, it ensures highly-secured hosting and data safety. Managed hosting became the most convenient way to control web store operations properly, proactively detect and resolve issues round the clock, etc. Vue Storefront specialists became Pukka Herbs' allies in this process.
Results
Pukka Herbs is a fast-growing business that chose the right direction by implementing composable architecture. Owing to its cooperation with Vue Storefront and other market-proven vendors, the company achieved:
94 Lighthouse performance score for desktop

78 Lighthouse performance score for mobile

1,743s speed index
Moreover, the company successfully launched four versions of its web store to engage buyers from various locations, such as the US, UK, Europe, and Australia, and deliver an excellent customer experience.
Ready to dive in? Schedule a demo
Get a live, personalised demo with one of our product specialists.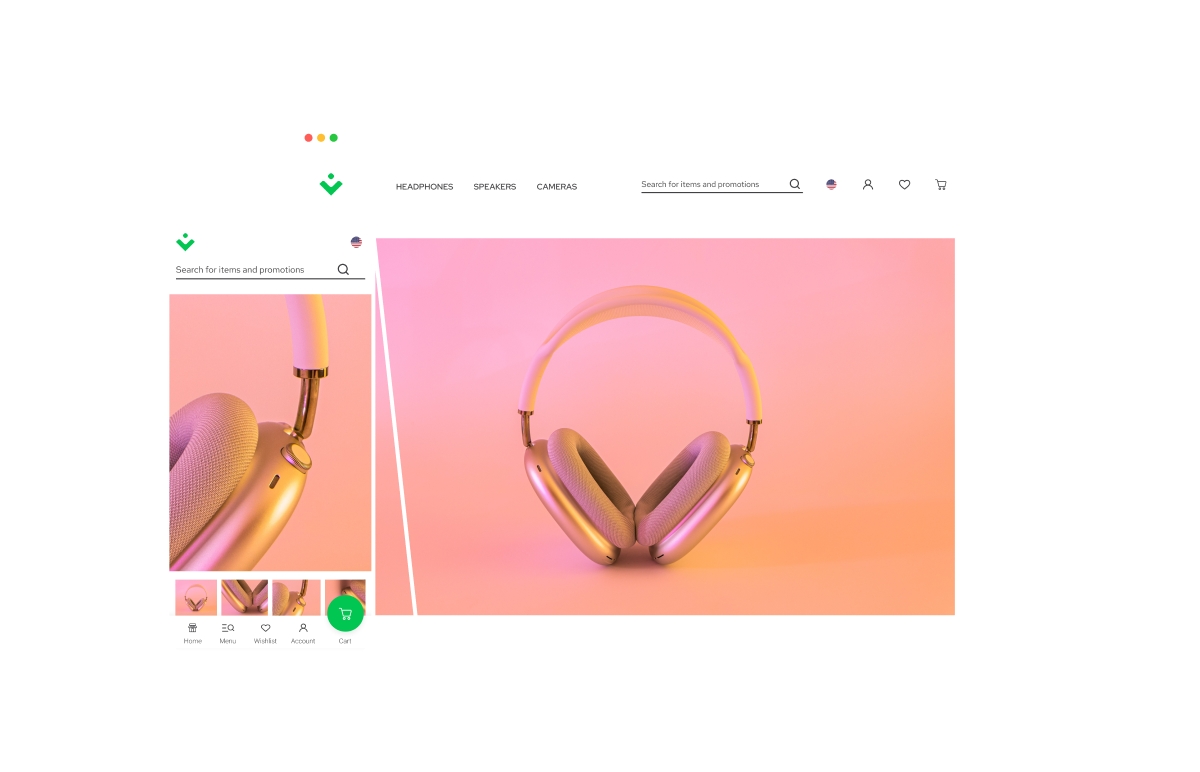 Explore more Vue Storefront case studies