eCommerce business in a downturn economy
Download the eBook to find valuable insights for 2023 from top eCommerce solution providers and integrators such as Bounteous, VAIMO, GPMD, Kontent.ai, Constructor.io, Storyblok and Divante.
What is the current state of the economy and its impact on eCommerce?

What steps and actions can help you thrive in a downturn economy in 2023?

Why is composable commerce the best alternative to monolith applications in the downturn economy?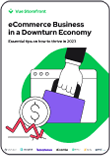 What our Clients say about us
In combination with Storefront UI, Vue Storefront is a quick way to start your eCommerce project.
Chief Technology Officer

Vue Storefront has an amazing team. Technically savvy, strong industry knowledge and enabling a great accelerating point for storefronts.
Vice President Solutions

Fantastic product, great staff and community. Platform agnostic approach to commerce. Speeds up the route to market.
Frontend Practise Lead