Open-source vs. Enterprise: Vue Storefront Offer Comparison
Get a clear understanding of Vue Storefront open-source and enterprise features to choose the best plan for your business needs.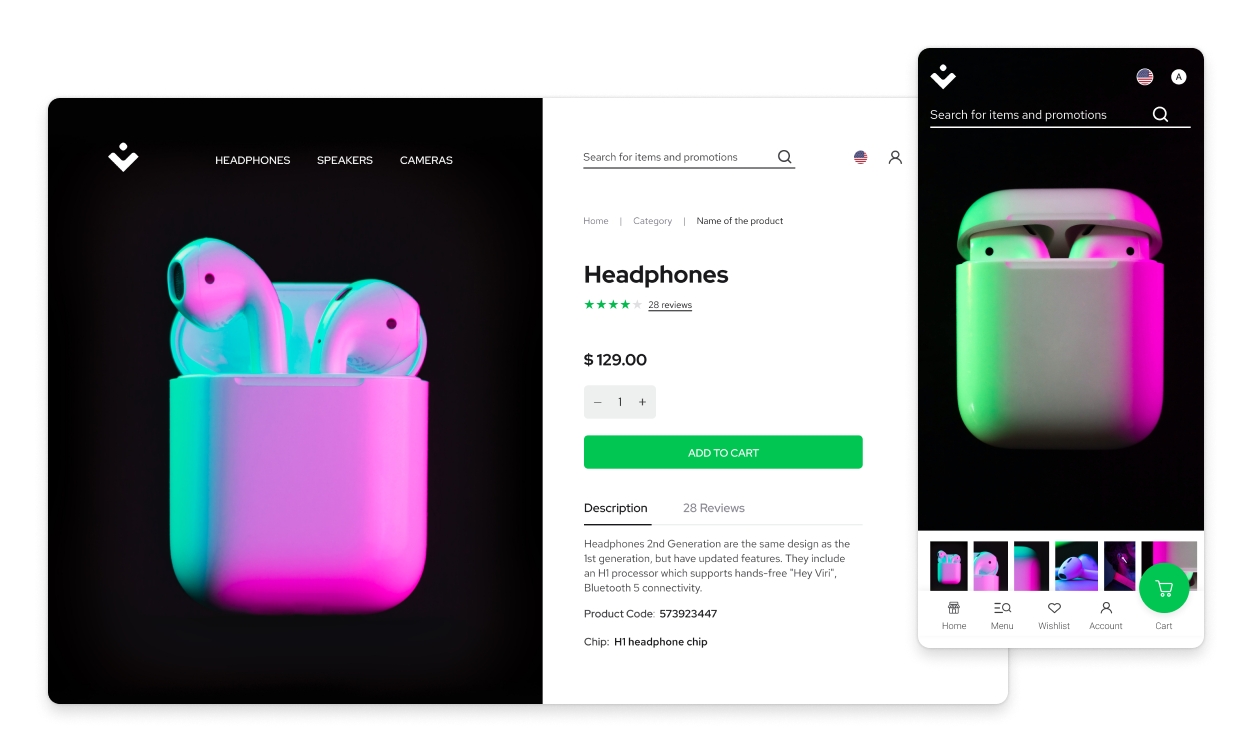 Compare to choose the right plan
| | Open-source | Enterprise |
| --- | --- | --- |
| Integrations | Only open-source | All |
| Frontend Components Library | Included | Included |
| API Orchestration | Only for open-source integrations | Included |
| Requests per month | - | Up to 100M requests |
| CDN | - | Included |
| Mutli-region deployment | - | Included |
| Domain | - | Included |
| Environments | - | 3 out-of-the-box or unlimited |
| Storage | - | 0,5 CPU for production0,25 CPU for non-production
environments |
| Uptime SLA | - | 99,9% |
| Security: | - | Included |
| 24/7 Monitoring | - | Included |
| IMPACT Services | - | Included |
Open-source and Enterprise: Two sides of the same coin
Vue Storefront has both open-source and proprietary services. Originally developed as an open-source project, it quickly evolved into an ecosystem of tools and integrations suited both for open-source and enterprise customers.

For Magento, Shopify and Sylius: Open-source
The open-source version of Vue Storefront is the core product in an entire ecosystem of solutions, including Vue Storefront 2, Storefront UI and several ready integrations. If your store operates on Magento (Adobe Commerce), Shopify or Sylius, the open-source version is for you.
Vue Storefront 2

Vue Storefront 2 is the second generation of highly extensible framework with an ever-growing list of integrations and plugins, which attracts a vibrant community of developers and eCommerce brands.

Storefront UI

Storefront UI is an open-source Vue.js design system and UI in Figma for composable commerce. The frontend library provides 50+ ready, mobile-friendly UI components, which are fully open for customization.

Open-source Integrations

Open-source integrations with popular eCommerce solutions like Magento (Adobe Commerce), Shopify, Sylius or Shopware, are built and maintained by an extensive developer community of more than 10,000 members.
Open-source integrations








Enterprise offer for enterprise commerce
Vue Storefront proprietary services include a range of enterprise integrations, which are connected under a single API to ensure faster page loads. It comes with guaranteed 99.9% uptime, monitoring, support with SLAs, and hosting.
Enterprise integrations
Connected with best-of-breed solutions, Vue Storefront provides a pre-integrated setup that helps to speed up the time-to-market and lower your TCO.
API Orchestration
Merge all eCommerce services under a single API. Connect any services to your frontend and do it fast.
IMPACT Services
IMPACT Services provide holistic guidance and support throughout the journey with Vue Storefront to achieve outstanding performance, customer conversions, and smooth frontend operations.
Pre-optimized Cloud
As a cloud-native solution, Vue Storefront provides an optimized cloud environment with multi-region availability, auto-deployment, and auto-scaling.
24/7 Monitoring
All our instances are monitored 24/7, and the team intervenes whenever needed.
99,9% SLA
Benefit from support with SLA to quickly solve Vue Storefront-related issues and minimize the impact on your operations.
IMPACT Services: Holistic guidance and support
IMPACT Services deliver guidance to develop a performant, future-proof frontend application that provides outstanding customer experiences. Our services include:
Performance and tech stack consultation

Vue Storefront team assists you to choose the best combination of composable vendors and help you avoid the pitfalls in the process.

Implementation and setup

During the building phase, you will work with Vue Storefront Solution- and Frontend Architects, who will perform code audits to make sure your frontend is performant, and that you are making best development and technology decisions.

Support and growth

You will partner with assigned Solutions Architect and Customer Success Manager on a dedicated Slack channel, in recurring meetings, tech sessions, architecture reviews, and in Business Reviews.
Enterprise integrations
Enterprise offering provides a much wider ecosystem of fully supported, and regularly upgraded integrations with best-of-breed eCommerce Platforms, headless CMS, Search and Payment solutions, all to enable quick composition of your ideal composable stack.
Integrated eCommerce platforms





Integrated headless CMS








Integrated Payment solutions








Integrated Search solutions & more




Still unsure?
Get a live, personalized demo with one of our product specialists and choose the plan which suits your business needs best