Vue Storefront wins best eCommerce startup at top European tech awards
Vue Storefront wins best eCommerce startup at top European tech awards
Vue Storefront, a frontend as a service that delivers custom storefronts at the fraction of cost and time, was crowned a winner at The Europas Tech Startup Awards 2022 , picking up the prize for hottest eCommerce & Retail tech startup.
One of the most high profile technology awards in Europe, The Europas recognize the continent's most ambitious and successful startups. Already in its fourteenth year, previous winners include Spotify, wise, SoundCloud, Deliveroo and Starling.
Vue Storefront CEO, Patrick Friday, said: "We're honored to receive this award and take our place among such illustrious previous winners. It's testament to the hard work of our talented team and shows that, as a company, we're moving in the right direction. 
"Thanks to our investors for believing in our vision, to our customers and partners for trusting in our product, and to our huge global community of developers, who have been with us since day one — driving us to continually improve our technology."
Borys Musielak, Partner, SMOK Ventures, said: "As Vue Storefront's first institutional investor, it's thrilling to witness its growth and the successes of the founding team. That it has been named the best e-commerce startup in Europe is no surprise at all. This is a company that will help define digital commerce in the coming years and its potential for growth is unlimited."
In October 2021, Polish-founded Vue Storefront raised $17.4 million in Series A funding, at the time one of the largest rounds in Polish startup history. Both the name of the company and the software, Vue Storefront is a composable commerce solution currently used by over 1,400 shops around the world.
Read the full release here .
For more information, contact Rob Szmigielski, Head of Communications, on +48 570 054 990 or rob@vuestorefront.io.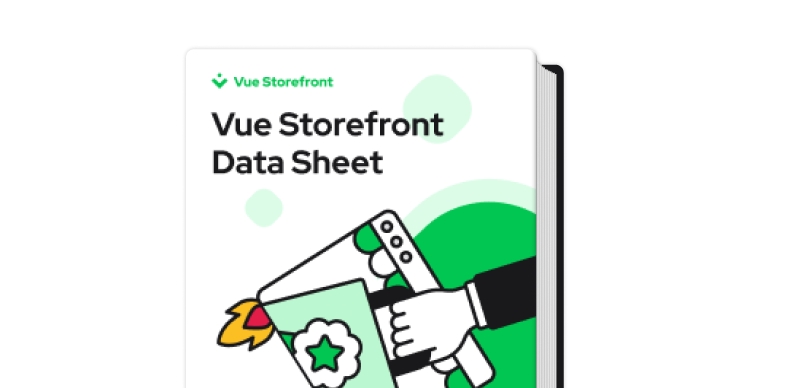 Vue Storefront Data Sheet
This datasheet provides an introduction to Vue Storefront's approach to building headless commerce Frontend as a Service