Vue Storefront is proud to announce new partnership with Webscale
Vue Storefront is proud to announce new partnership with Webscale
"By partnering with Webscale, we provide the most performant PWA solution that gives developers the flexibility to create differentiating customer experiences in a fraction of the time, to increase conversion rates and revenue."
Webscale's CloudEDGE PWA needs no introduction. They are known and trusted by eCommerce developers and business leaders for their security, stability, speed of delivery, and accelerated deployment of PWAs. 
This partnership brings going-to-market with a headless commerce experience on par with an 'out-of-the-box solution' for eCommerce stacks using for example Magento as the main eCommerce platform. It combines the best of both worlds with Vue Storefront's well-documented and widely adopted enterprise and open-source software solutions coupled with Webscale's rapid onboarding, security, scalability, and 24/7 support. 
The Webscale partnership with Vue Storefront's PWA frontend increases flexibility for developers and reduces complexity for business decision-makers. It creates a great extension for Webscale clients using Magento, and we are happy to officially call them Vue Storefront partners going forward. 
Vue Storefront's PWA storefront part is quickly becoming one of the most popular ways to build digital commerce experiences for B2B, B2C, and retail customers. This design architecture allows businesses more flexibility and quicker time-to-market with their products while also providing an engaging user experience that will keep consumers returning.
Developers want a tech stack that speeds up their work but doesn't limit the potential they can achieve. With Vue Storefront's pre-built UI components and an architecture optimized for performance, they are able to easily bypass mundane tasks and can focus on customizing instead of building from scratch. 
Webscale's CloudEDGE PWA is an enterprise-ready, end-to-end delivery solution that enables the rapid deployment of any PWA framework. It enables merchants anywhere to quickly launch purpose-built websites on the modern frontend of their choosing. 
With the Vue Storefront and Webscale partnership, developers are set to get what they asked for.
"Webscale is the de facto standard to deliver monolithic, headless, and composable commerce worldwide, and this relationship is an affirmation of our leadership in cloud delivery for the fastest and most secure storefronts. Vue Storefront's composable, well-documented, open-source, and rock-solid headless delivery capabilities, coupled with Webscale CloudEDGE PWA, eases the delivery burden and helps modernize and accelerate their business."
With the power of Vue Storefront + Webscale, you can now have a flexible system that's easy to manage. This is an excellent solution for Webscale clients who want to improve their frontends. 
All teams gain productivity while the website gains a competitive edge with Vue Storefront's PWA, and the business keeps running smoothly. It's a win-win solution all around.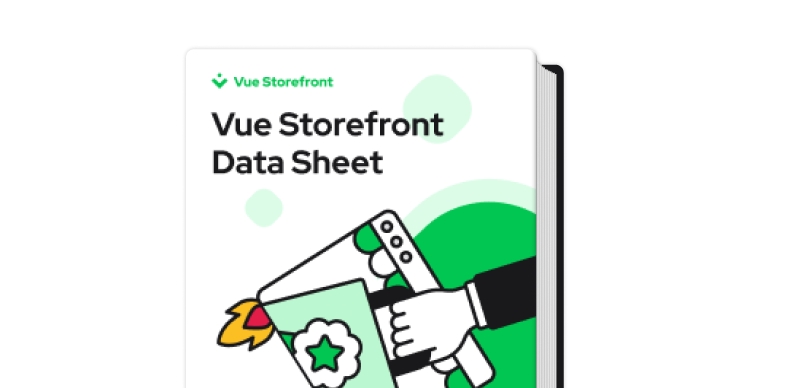 Vue Storefront Data Sheet
This datasheet provides an introduction to Vue Storefront's approach to building headless commerce Frontend as a Service