Vue Storefront launches major product release including React support
Vue Storefront launches major product release including React support
Vue Storefront, a  Frontend as a Service  (FEaaS) that delivers custom eCommerce storefronts at a fraction of the cost and time, today rolled out support for React as part of an extensive suite of product improvements that will help enterprise businesses build quality customer experiences even faster.
The upgrade comes just days after the Frontend as a Service confirmed it had secured $20 million in a new equity round led by London-based Felix Capital, and welcomed its new chief technology officer, Tim Drijvers, onto the team.
The new Vue Storefront release provides a number of JavaScript agnostic integrations, including React, for commercetools, SAP Commerce Cloud, Contentful and Contentstack. It also includes Storefront UI 2, a brand new library of open-source frontend tools for developer teams working with both Vue.js and React.
"This important product upgrade is the result of many months of hard work by our talented engineering teams, and represents a firm step in Vue Storefront becoming a fully framework agnostic Frontend as a Service," says Vue Storefront CTO, Tim Drijvers.
"We're delighted that our technology is now broadly accessible to the US enterprise market with our support for React, offering retailers a future-proof tech stack with lower TCO that gets them to market faster — a real competitive advantage in the current economic climate. Storefront UI 2, meanwhile, now also enables React developers to build fast, accessible, and beautiful storefronts much more quickly. We can't wait to see the results."
React support: more connectivity and scalability
Vue Storefront's flexible and agnostic frontend technology allows eCommerce businesses to connect with any backend service — whether content management system, payment system, search provider and other third-party service — and swap them when needed. The new release offers easy connectivity for custom-developed APIs and means that architectures built on React now also have access to out-of-box integrations for commercetools, SAP Commerce Cloud, Contentful and Contentstack, with more to come later this year.
It also tackles headaches around scalability with the provision of managed hosting, auto-scaling and multi-store support. Even if businesses decide to move away from Vue Storefront, by continuing to own the code developed by their teams, the frontend is not locked in.
Storefront UI 2: Better performance and developer experience
Vue Storefront released the first Storefront UI four years ago, since then it has been downloaded 700,000+ times for eCommerce projects. Based on developer community feedback and learnings taken from thousands of live stores, the new version focuses on better developer experience, website performance and customization. 
Among others, Storefront UI 2 contains an eCommerce Design System for Vue.js and React eCommerce applications, offering high performance on mobile and desktop. Its source code access provides fully customizable base components, with a matching Figma kit helping developer-designer collaboration. 
For more information about this release, click here .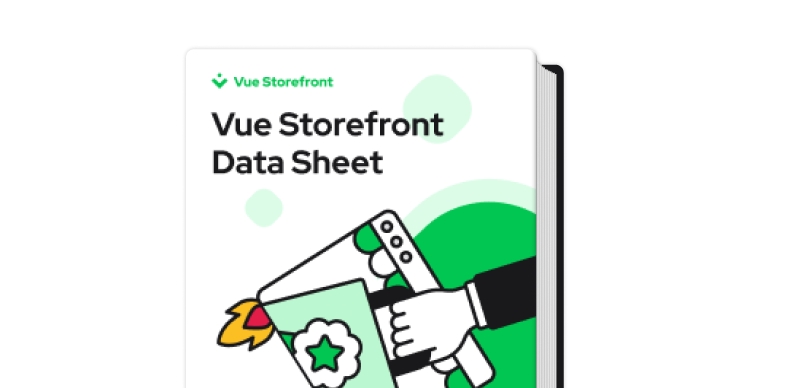 Vue Storefront Data Sheet
This datasheet provides an introduction to Vue Storefront's approach to building headless commerce Frontend as a Service