Vue Storefront launches Console for streamlined eCommerce website hosting and cloud management
Vue Storefront launches Console for streamlined eCommerce website hosting and cloud management
Console helps eCommerce businesses tackle technical, security issues faster
Intuitive tools enable development teams to manage hosting in a few clicks
Launch follows Vue Storefront's release of React support and Storefront UI 2 
Vue Storefront, a  Frontend as a Service  (FEaaS) that delivers custom eCommerce storefronts at a fraction of the cost and time, today released Console, its new cloud-hosting platform that cuts the time spent on managing and operating storefronts and lets businesses maximize the potential of their frontend development teams.
Merchants using the Vue Storefront's cloud infrastructure can now resolve technical issues faster, improve website performance and handle security incidents more efficiently, among others. 
The launch of Console follows the Frontend as a Service's recent major product release which included React support and Storefront UI 2, a brand new library of open-source frontend tools for developers building online stores with Vue Storefront.
Tim Drijvers, Vue Storefront's chief technology officer, said: "Reducing operational burden is undoubtedly the biggest gain for retailers with our release of Console, which provides a tailored eCommerce cloud-hosting solution for enterprises.
"The intuitive, user-friendly interface and administrative tools lets merchants manage hosting in only a few clicks. This gives development teams more time to focus on what's most important for businesses: enhancing customer experience and boosting sales."
Frontend cloud hosting, uptime monitoring and alerting
Console provides developers with a number of features, including visual analytics that make it easy to keep an eye on key metrics, like memory and CPU usage, request latency, or response codes. 
Detailed logs detect patterns in website traffic and usage that could affect performance —  with reports pin-pointing areas where a website can be improved and made more efficient.
The new platform also helps identify and manage issues quicker, with alerts raising the alarm when things go wrong in any environment. 
Console also functions as an administrative tool to manage frontend hosting, enabling users to easily set security measures, set up custom domains, CDN, add new users, and more.
For more information, check out our blog post .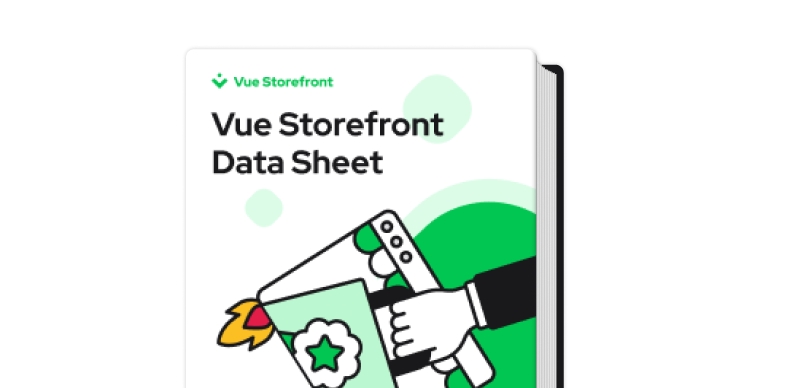 Vue Storefront Data Sheet
This datasheet provides an introduction to Vue Storefront's approach to building headless commerce Frontend as a Service