Vue Storefront crowned Best Tech Startup at international business technology awards
Vue Storefront crowned Best Tech Startup at international business technology awards
Third top industry prize for commerce frontend technology pioneer in 8 months
Award follows launch of US enterprise product upgrade and $20M equity round
Vue Storefront drives customer experience and sales for 2,200+ online retailers
Vue Storefront, a Frontend as a Service (FEaaS) that delivers custom eCommerce storefronts at a fraction of the cost and time, has won the prize for Best Tech Startup at the Global Business Tech Awards .
The awards celebrate tech developments that have tangible benefits to customer experience, management systems, marketing and sales information storage and data tracking across multiple industry verticals.
Vue Storefront received the award from the panel of tech industry experts for, among others, establishing a leading position among competitors and demonstrating significant evidence of performance and investor trust.
The Global Business Tech Award is Vue Storefront's third industry prize of the last 12 months, during which it also received Poland's top startup prize and won Hottest Tech Startup at The Europas — where previous winners included Spotify, wise, SoundCloud, Deliveroo and Starling. 
Patrick Friday, CEO and co-founder, Vue Storefront, said: 
"We're delighted to be recognised among the best technology solutions from around the world, especially at such an early stage in our journey. It demonstrates that, despite a difficult economic environment in the tech industry, our hard work and commitment continues moving us the right direction. 
"Thanks to our customers, partners, developer community and investors for their support in our company and product — and shared understanding that it's the frontend of an eCommerce website that drives the customer experience and sales."
Carving a new market segment
Vue Storefront is a cloud-based enterprise software for eCommerce businesses. A frontend website technology used to create fast, modern and high-performing online storefronts, it connects with a large number of eCommerce platforms, headless CMSes, payment systems, search providers, and other third-party services. 
Vue Storefront's growth has been fuelled by its Frontend as a Service, a new market segment it is pioneering, offering the most integrations with backend components in the entire composable commerce ecosystem. 
It has enjoyed a successful 12 months, increasing revenues more than 300%, raising $20 million of equity in a new funding round, and opening its enterprise product to US commerce . The company scaled globally to over 100 people in 10 countries, and collaborates with over 130 industry partners and a 19,000-strong developer community. 
Over 2,200 retailers use Vue Storefront to power their online stores, including Orgill, Tally Weijl and Zenni Optical.
For more about the benefits Vue Storefront offers merchants, click here .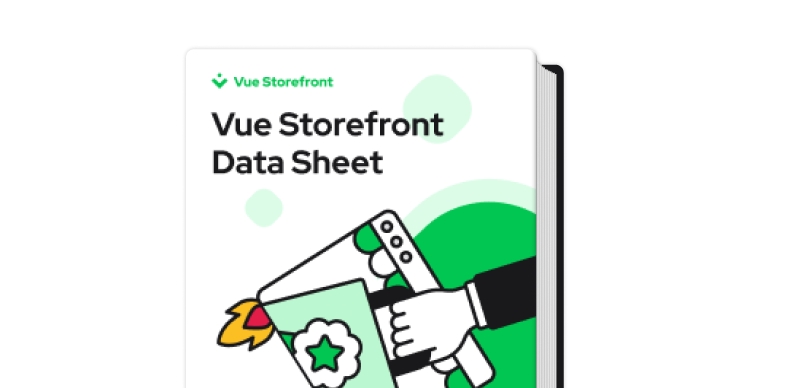 Vue Storefront Data Sheet
This datasheet provides an introduction to Vue Storefront's approach to building headless commerce Frontend as a Service