Peter Van de Voorde joins Vue Storefront as VP of Community Growth
Peter Van de Voorde joins Vue Storefront as VP of Community Growth
Last year, after gaining substantial investment support , we focused heavily on building the solid foundations that will allow us to serve our community better. It is an iterative process of growing and evolving, which is only becoming more crucial to success. Not long ago we welcomed Marc, our first developer advocate , and today we are thrilled to share that as of May 2022, Peter Van de Voorde has joined Vue Storefront as VP of Community Growth!
The role of community at Vue Storefront
The community has always been the biggest asset of Vue Storefront. Close cooperation with our community members is what makes us different from other eCommerce projects and we are determined to keep engagement going. 
As our company is constantly growing and maturing, we want the same for our community. Our goal is to strengthen this collaboration, take our community to the next level and professionalize it by setting up guidelines and standards. Having Peter in the team ensures that. 
This is how we plan to empower the Vue Storefront community
Peter's goal at Vue Storefront is to grow our community and the integration ecosystem, as well as make sure that our community benefits from open source contributions. He will empower developers by providing a better, easier and more rewarding way of participating in the Vue Storefront ecosystem. He will also make sure everyone who needs help can find it and will know where to go next. 
What are the exact plans for community development at Vue Storefront? 
Developer Experience –  Better tooling around Vue Storefront to make developers' lives easier and makes working with Vue Storefront more enjoyable
Education – We are currently launching our first large-scale educational program and we plan to keep creating high-quality educational materials
Open Source - We want to find new ways of supporting Open Source maintainers and integrators to make sure they are properly rewarded for their work and at the same time help them grow their projects 
Ecosystem - We want to grow our ecosystem of Open Source integrations to be a key growth engine for Vue Storefront projects
Better link between business and the community - We want to provide better value for our community and we want the community to participate more in shaping the product vision
More help - Ultimately we want everyone in the Vue Storefront community to feel that they have someone they can ask for help and to feel that they are never left alone
Peter Van de Voorde and his story
Peter has always been interested in building communities. In fact, he took the very first steps of building an online community at the age of just fourteen! Being part of a community never left Peter, even though he chose to be a Java developer at the beginning of his professional path, he always felt that coaching and mentoring were his true calling.  
He joined several local and international communities and helped organize community events in Belgium. It was then that he realized that he loved helping other developers excel at what they do. For Peter, the best way to do that is through community and developer activities. That's why he became an active member of the community and started speaking at developer conferences around the world (JavaOne, Geecon, Devoxx, CraftCon, and others). 
Eventually, these efforts enabled Peter to turn community and developer advocacy into a career path. At Atlassian, he was responsible for building out the ecosystem community. Peter helped establish an online and offline presence, and supported many members of the community as they built multi-million dollar companies. Peter's next professional step was joining MongoDB, where he focused on re-launching their community programs around the world, both online and offline, helping developers excel globally. At both companies, Peter created and led online communities, user groups, and events for developers.
These years of online engagement, refining his own skills, and supporting developers through community activities are now crossing paths with Vue Storefront. The fact that we share not only a strictly professional approach but also values means the Vue Storefront community has gained another valuable member. 
Values are very important to me, I wanted to join a company with values that are aligned with my own. And from my first conversation with VSF, everything just felt aligned. The focus, the values, the purpose, and the passion of all I spoke with are what made me choose Vue Storefront. I feel there is a great opportunity to grow and learn, but also to give back and once again help developers excel.
We have nothing left to do but give Peter a warm welcome to Vue Storefront! 💚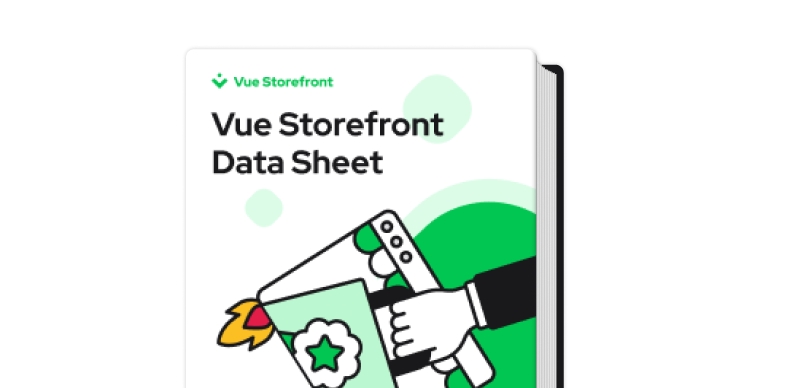 Vue Storefront Data Sheet
This datasheet provides an introduction to Vue Storefront's approach to building headless commerce Frontend as a Service