Jeffrey Domingos takes over Partnerships & Alliances at Vue Storefront
Jeffrey Domingos takes over Partnerships & Alliances at Vue Storefront
Vue Storefront's growth is accelerating , and with new roles and strategic positions , we head towards ambitious goals. As of December, our vital area of Partnerships and Alliances will be led by Jeffrey Domingos, former Director of Strategic Accounts at BORN group. 
Exiting the first stage of innovative formation requires a sharp outlook on the global market. In that statement, Vue Storefront encapsulates its approach towards bold headless transformation. With over 100 strategic partnerships, Vue Storefront aims to establish a reliable and firm setting for our Solution Integration Partners . 
As the headless transformation blossoms in ever-widening circles, shimmering with new features and demands, it becomes a challenge, one hand, to provide explicit support and, on the other hand, to keep the iterative product development that corresponds with the market calls. 
As an active partner and supporter of the headless commerce transformation, Vue Storefront understands the importance of partnerships and their influence on effective collaboration in the tech and business areas. We note more and more inquires from Agencies willing to implement Vue Storefront into their portfolio. As for that, we want to provide top-class conditions for deploying our open-source solution. 
The future "to be or not to be" of Vue Storefront strongly relies on the approach and the foundations we build today. In search of yet another sharp mind, we were lucky to catch up with Jeffrey Domingos - a creative and strategic mind shaping the new business experiences. 
Jeffrey Domingos has vast experience in diverse business areas. Rooted in the creative environment, Jeffrey exposes a unique approach to tech-business relationships. And this blend of not-so-obvious at first glance qualities is what the innovative market desires, and Vue Storefront harbors.
Jeffrey's background covers a track record of successfully forming a technology partner ecosystem with solutions or innovation programs and a strong network across global technology companies in eCommerce. 
As of December 2021, Jeffrey Domingos takes over the area of Partnerships and Alliances at Vue Storefront. He will take responsibility for overseeing all partner-related activities globally. It is aligned with Vue Storefront's goal to provide strong implementation allies in every region, EMEA, NA, APAC. Jeffrey's blend of unique skills will upgrade the partner's go-to-market activities and Vue Storefront's position on the market as a top open-source headless organization.
Being aware that swimming in the pool of innovations and vastly changing conditions requires open-mindedness and strategic kick-offs, Jeffrey boldly joins the VSF to orchestrate the new tech-business reality yet again.
There's nothing left to add. Giving a warm welcome, we look forward to working together!
Vue Storefront Team 💚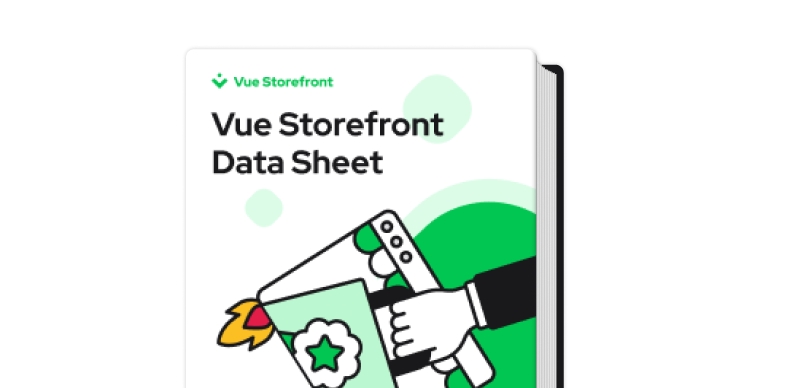 Vue Storefront Data Sheet
This datasheet provides an introduction to Vue Storefront's approach to building headless commerce Frontend as a Service