G, Gordana Vuckovic, joins Vue Storefront as Chief Revenue Officer
G, Gordana Vuckovic, joins Vue Storefront as Chief Revenue Officer
Having gained steadfast support and upon completing essential brand alterations , Vue Storefront is now thrilled to announce that since November, we reinforced our headless board with a new role - Chief Revenue Officer. Vue Storefront is even more excited to share that the new function has been accepted by Gordana Vuckovic, former EVP Global Sales & Partnerships at Contentstack. 
The headless commerce market continues to accelerate, and our unique solution is increasingly getting noticed in a vastly expanding pool of headless options. For Vue Storefront, it quickly became obvious that we needed to establish a dependable foundation for continued growth. 
Entering a new stage of development means aiming high. However, at the same time, a rapidly evolving startup needs to remain agile in adapting to each stage of growth. The goal is to keep an iterative development path without disrupting the business, all while ensuring proper support of the process. Innovating in the headless eCommerce market requires a fresh look, a dose of experience, and a constructive look back to draw the right conclusions quickly. All in order to shape, and advance, Vue Storefront's position in the market.
Being aware of the growth opportunity ahead, Vue Storefront was lucky enough to cross paths with G, Gordana Vuckovic. A highly experienced and innovative enterprise thinker with a strong IT background and successful B2B SaaS business execution. Operating globally and with a diverse team, Vue Storefront pays special attention to the values potential partners demonstrate. Partnering with G, a proponent of diversity, and an advocate for women in leadership ties perfectly with Vue Storefront's commitment. 
G has helped many global market players such as Burberry, LEGO, Blizzard/Activision, SAP, Levi's, and American Outfitters in their digital transformation journey. Her two decades of experience can be reflected in startup revenue figures, as well as numerous awards she scored for customer focus and sales execution.
Furthermore, G's natural ability to go big, as well as her dedication to shaping the future of headless commerce, is confirmed by her early MACH Alliance involvement as a Growth Council Lead. This gives us all the confidence that we are aligned with the aim of freeing the eCommerce scene from monoliths.
G's broad portfolio also covers another headless area of expertise. She brought a new headless digital content management SaaS solution into a crowded CMS market. She was responsible for forming the GTM strategy and helping raise $89M in VC funding. The commercial success was reflected in a triple-digit year-over-year growth.
Last but not least, G's superb skills and experience, along with her keen eye on headless commerce evolution highlights our collaborative approach and a special spot we all see for Vue Storefront. A developers tool, seamlessly working with the headless platforms, headless CMSs, and any 3rd party while securing performance and smooth workflows for tech and business.
Now, at Vue Storefront, with the position of Chief Revenue Officer, G will look over Sales, Partnerships, Customer Success and Enterprise Marketing and help unite these key customer-focused functions to raise the bar on delivering a market-leading product and a superb experience our customers are used to receiving from us. 
Speaking for the entire team, we are thrilled and happy to have G on Vue Storefront's board. 
Cheers to the new chapter!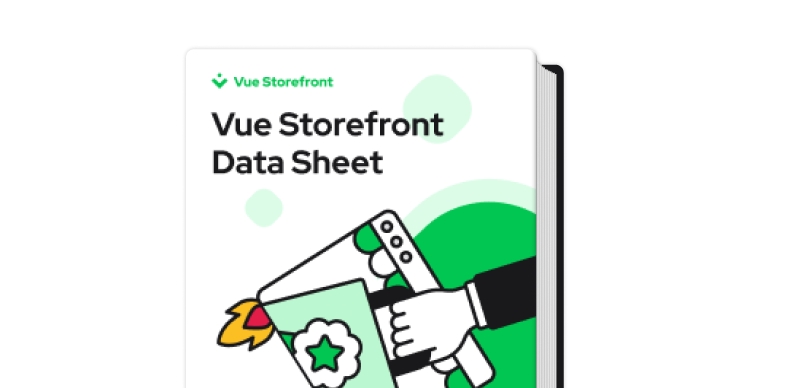 Vue Storefront Data Sheet
This datasheet provides an introduction to Vue Storefront's approach to building headless commerce Frontend as a Service