Vue Storefront joins forces with Elastic Path
Vue Storefront joins forces with Elastic Path
Elastic Path is a headless and API-first eCommerce system, allowing enterprise-scale merchants to integrate it into their chosen best-of-breed solutions, and has just joined the growing family of Vue Storefront partners. We couldn't be prouder to join forces with such a high-profile company and are certain that together we can bring even greater value to our clients.
Elastic Path needs no introduction. The company is a household name in the Headless Commerce industry, recently named a "Visionary" in eCommerce applications by Gartner. With numerous high-profile clients in their portfolio, such as Intuit, Pella, Deckers Brands, and T-Mobile, Elastic Path has a proven track record in boosting the revenue of eCommerce businesses who seek the ultimate in flexibility and business agility.
Its flexible enterprise eCommerce system enables merchants to scale, implement a full omnichannel sales strategy , and smoothly integrate with any external platforms and tools; all of it with the aim of creating a complete digital customer journey that maximizes engagement and drives conversion. 
Elastic Path has helped global brands in many industries - manufacturing, telecoms, publishing, software, and retail - generating $100B+ billion in over 170 countries while giving them flexibility and allowing them to freely shape the customer experience. 
Elastic Path has developed one of the most advanced API-first Headless Commerce platforms, and for us - as we are a "head for headless" - this partnership was just a matter of time. We both believe that the headless trend is about to reshape eCommerce as we know it and open limitless possibilities for merchants. Together, we will be an active part of the conversation.
Elastic Path's approach, even though it is dedicated to enterprise-scale businesses, was always clear: a software system needs to support business growth, not limit it. Elastic Path's engineers believe that software cannot be too complicated even if it has to embrace extremely complicated business logic, because "overwritten" code always, at some point, turns out to be a blocker. Meanwhile, the software has to embrace the pace of the market, keep up with ever-changing customer needs and enable companies to scale and expand. 
Digital differentiation is increasingly becoming a key driver of online revenue growth. Consumers' expectations continue to soar and cookie-cutter experiences have become insufficient.
Brands are embracing a Composable Commerce approach to quickly launch and continuously optimize unique digital experiences by leveraging multiple best-of-breed vendors. Vue Storefront is a perfect complement to our composable, API-first, headless commerce solution, and our partnership makes embracing a Composable Commerce approach even easier.
After closing $17.4 million in Series A funding , Vue Storefront is accelerating its efforts to be the frontend standard in Headless Commerce, and developing integrations with eCommerce platforms is one of its main goals.
Elastic Path is one the first, but not the last. 
Stay tuned!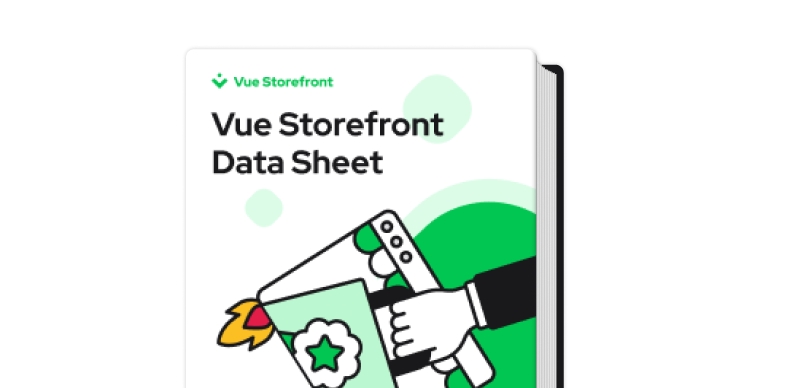 Vue Storefront Data Sheet
This datasheet provides an introduction to Vue Storefront's approach to building headless commerce Frontend as a Service