Vue Storefront proudly announces partnership with Contentstack
Vue Storefront proudly announces partnership with Contentstack
Contentstack, the company that delivers a headless, enterprise-dedicated CMS platform, doesn't need an introduction. Anybody familiar with MACH-oriented trends in eCommerce knows this already household name. This CMS is one of the brightest and most appreciated stars on the newborn "headless" tech scene, and already brought the attention of the most notable eCommerce businesses and VC funds. And we mention it also for a self-publicity reason because Contentstack is now our official partner. 
Contentstack was a pioneer in API-first, headless CMS technology seeing in it the most straightforward way to implementing the omnichannel strategy in eCommerce. Its software significantly accelerates and simplifies content management across all digital channels, including web, mobile, and IoT. Content - no matter what kind of - is delivered with the push of a button and optimized for every designated device. 
A "no-frontier" approach of Contentstack is something that instantly caught our attention. 
We had no second thoughts that VueStorefront should partner with Contentstack as soon as possible. As a Front-End-as-a-Service (FEaaS), designed to enable eCommerce businesses to add any 3rd party tools, we want to make sure that merchants can choose from the best-in-class ones. So the native integration with Contentstack was just a matter of time.
Contentstack allows the sellers to be up-to-date with today's consumers' needs: it delivers a content management system that - with no training or technical competencies - enables content creators to take full control of the content delivery process via every single touchpoint. Moreover, it moves all content management processes to the cloud, and - by eliminating database bottlenecks and automatically adjusting infrastructure to match demand - uplifts their efficiency and performance. 
Since Vue Storefront is all about performance and flexibility, Contentstack, with all the above-mentioned advantages and its decoupled architecture, is simply a perfect fit for it. 
The Contentstack integration is part of a comprehensive VSF integration with commercetools. It is aimed to combine all the benefits delivered by these platforms: the back-end stability, the flexibility of the frontend, and the easiness of delivering eye-catching content with Contentstack.  
It is a must-have because consumers' attention is scattered over many devices, and their time is at a premium. Merchants can't afford to wait for them to come to their site. They must actively follow them wherever they go instead.
A headless CMS and composable architecture offers customers a modern approach to using best-of-breed solutions. To help fulfill these advantages, Contentstack's Catalyst ecosystem includes industry-leading products and services for digital assets, commerce, campaigns and marketing automation, A/B testing, SEO, and analytics. As a Catalyst, Vue Storefront provides all of that under one neatly-build umbrella, which is a great short-cut for merchants who don't need to develop a custom-made storefront.
Both Vue Storefront and Contentstack are the MACH Alliance members, the association established by companies dedicated to advocating the "composable commerce" trend. 
The Vue Storefront partnership with Contenstack is the first chapter. To be continued... ;)
Get in touch to learn more about the future of eCommerce.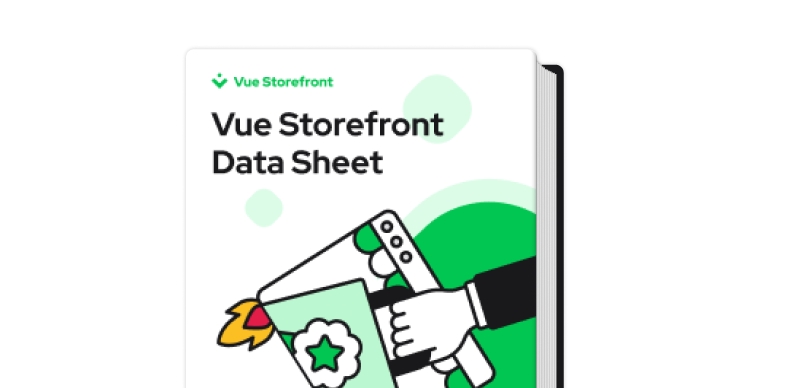 Vue Storefront Data Sheet
This datasheet provides an introduction to Vue Storefront's approach to building headless commerce Frontend as a Service