Vue Storefront becomes commercetools Tech Partner
Vue Storefront becomes commercetools Tech Partner
Cooperation between Vue Storefront and commercetools has been going on for some time, during which Vue Storefront became a part of commercetools Accelerator as a recommended frontend . Now it is time to make it formal: we are now officially a Tech Partner of commercetools, a platform that was recently identified by Forrester as a "Leader" in B2C commerce B2C commerce .  
Commercetools was praised in The Forrester Wave™: B2C Commerce Suites, Q2 2020 report for "setting up developer-friendly APIs backed by cloud-native microservices in a multi-tenant architecture". And we couldn't put it better. This company, unlike other competitors with a "headless claim" on the banner, is the one with a genuinely headless approach from the very beginning. It is basically a tool kit to solve all challenges that eCommerce brands are faced with. Traditional all-in-one commerce platforms which once dominated the industry became too complex to update, which is why API-center architecture started to come to the fore. Appreciation for solutions such as commercetools was just a matter of time but it is astonishing how fast it came.
"commercetools from modest 'Contender' in 2018 literally skyrocketed to a 'Leader' position in just two years. It is proof that microservices are the future of the eCommerce industry and we are on the verge of a great transformation."
Being a Tech Partner of the company that will probably lead us to the new era is both a huge privilege and pleasure—particularly as we share the same belief in headless architecture.
"The API-focus approach represented by commercetools attracted our attention some time ago and immediately it was evident to us that Vue Storefront and commercetools would be great together. Their emphasis on the quality and speed of the APIs dovetails with the strengths of Vue Storefront, which makes us confident that the backend will not limit the customization possibilities that we are promising shop owners."
Forrester, named commercetools "the next-generation commerce software company," confirming what we already knew. And the praise came at just the right time: the desire of brands to provide the best possible experience in the shortest possible time, and with limited costs, is accelerating—and commercetools with Vue Storefront are the best way to make it happen.
Read more about Vue Storefront involvement with commercetools Accelerator: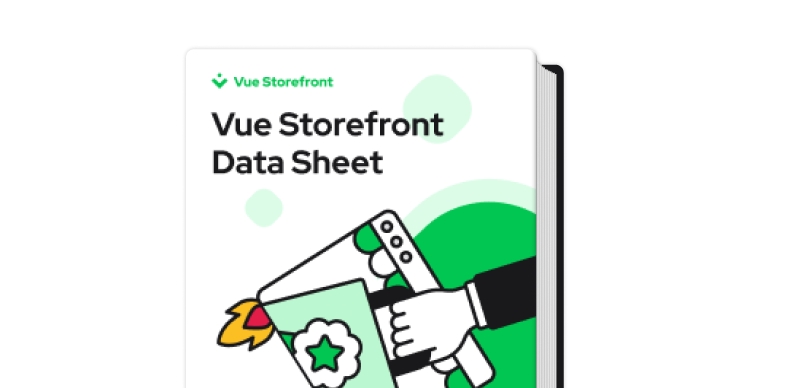 Vue Storefront Data Sheet
This datasheet provides an introduction to Vue Storefront's approach to building headless commerce Frontend as a Service