Vue Storefront & Checkout.com partnered up to deliver a lightning-fast and seamless checkout experience
Vue Storefront & Checkout.com partnered up to deliver a lightning-fast and seamless checkout experience
Checkout.com , the series C global payment provider, which has recently raised 450 million dollars and reached a 15-billion valuation, is our official partner. Given the company's format and our first payment partner, we can say we nailed it. 
Checkout.com empowers businesses to adapt, innovate, and thrive with the connected payments they deserve. The company's technology makes payments seamless. Flexible solutions, granular data, and instant insights help global enterprises launch new products in new markets and create outstanding customer experiences. They provide the fastest, most reliable payments in more than 150 currencies, with in-country acquiring, world-class fraud filters and reporting, through one API. And they can accept all major international credit and debit cards, as well as popular alternative and local payment methods. Sounds familiar? Those are basically the same assumptions we made when we started working on Vue Storefront. 
The rising popularity of checkout.com came as no surprise for us. The company is made of everything modern eCommerce merchants are now looking for, and we were sure that our partnership is a must. checkout.com completes our offer with absolutely critical elements in generating conversions as customers still very often give up their purchases at the last stage of their journey. We couldn't be prouder to announce our official partnership.
Together with checkout.com 's long standing profitability the funding further strengthens the company's resilience as a regulated entity in numerous markets and as the financial partner to its merchants. It also allows their business to continue to make strategic investments and drive innovative product developments, like the Checkout.com Payouts solution, which saw exponential growth in Europe over the last year, to ensure that they can deliver the future of digital payments for our merchants.
Vue Storefront, which aims at providing the merchants with the front-end, enables them to add any 3rd party services, couldn't miss the opportunity to include integration with checkout.com. It is the best service in its class, and - moreover - the mutual benefits of cooperation were field-tested.
We had a chance to work together during the LoveCrafts migration, and we have seen a notable benefit to our customers' checkout experience and look forward to the partnership ahead. It is pretty simple that together we can do more, especially since the 'all-in-one" approach is no longer an option.
"From our first conversation to going live with LoveCrafts, the Vue Storefront team have been the epitome of what a true partnership should be. Close collaboration on integrating our technology through to hands on support to the LoveCrafts team. I am excited for what the future holds for us "
Both Vue Storefront and checkout.com wrote themselves into the newest trend tidy named Gartner as "composable commerce." The term is a general name for solutions that, rather than providing everything "all-in-one," provide business-oriented entities that can be combined through an API.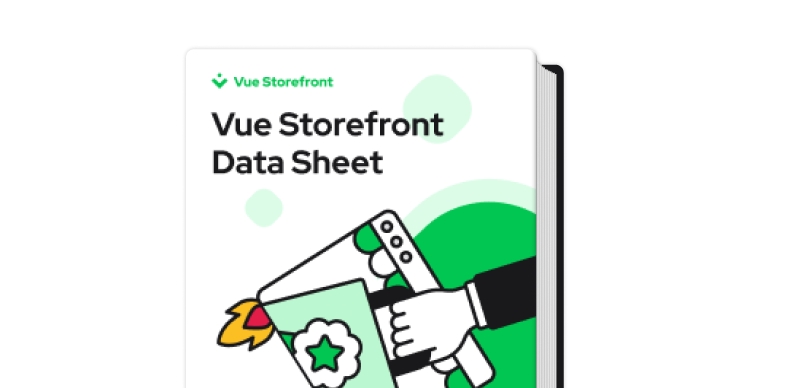 Vue Storefront Data Sheet
This datasheet provides an introduction to Vue Storefront's approach to building headless commerce Frontend as a Service