New Integration Alert: Amplience and Vue Storefront integration is now live!
New Integration Alert: Amplience and Vue Storefront integration is now live!
We are thrilled to announce that our integration with Amplience is now live!
Why Amplience?
Merchants need to be agile and responsive to the ever-changing needs of their customers. One of the primary challenges they face is delivering content promptly without being bogged down by IT dependencies. 
We believe that every team should have the freedom to select a Content Management System that aligns perfectly with their objectives and vision, and that's why we're continuously expanding our ecosystem of CMS integrations to provide marketing teams with the best tools to succeed.
By integrating Amplience into our ecosystem, we're taking another step towards empowering merchants to move at the speed of their customers.
What Can You Expect?
Available for React & Vue.js: Utilize a ready-made Vue Storefront SDK module specifically designed for both React & Vue.js. 
Tailored Frontend Components: The integration comes with a set of frontend components that are styled using Tailwind CSS. These components are perfectly aligned with the content model in your CMS. Once you've copied them into your project using our CLI, you have the freedom to tweak their code to match your specific requirements.
Dynamic Content Creation: Building dynamic pages with Amplience starts with creating content types for your components. Vue Storefront's default setup offers content types for all frontend components. This includes popular components like Banner, Grid, Hero, and Scrollable. This structured approach ensures that you can quickly and efficiently set up dynamic pages tailored to your audience.
Live Preview Support: Known as Visualizations, this feature allows users to see changes in real-time, ensuring that the content looks just right before going live.
Take a look at our documentation to learn more about how to integrate Vue Storefront and Amplience.
Keep an ear to the ground because we have some exciting updates in the pipeline for this month.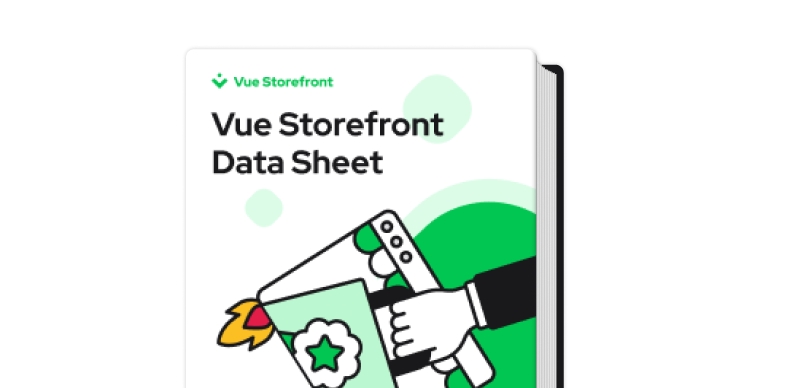 Vue Storefront Data Sheet
This datasheet provides an introduction to Vue Storefront's approach to building headless commerce Frontend as a Service