Vue Storefront and Adyen teamed up to fuel the growth of eCommerce businesses
Vue Storefront and Adyen teamed up to fuel the growth of eCommerce businesses
Adyen , a Dutch fintech platform focused on delivering payments to business (among its clients are such prominent companies as Uber, Spotify, and H&M), has officially partnered with Vue Storefront. The collaboration is aimed to equip merchants with tools that will smooth out the payment processes in their e-stores and accelerate their growth.
Adyen is one of the brightest stars in the fintech scene. The company went public on the Amsterdam stock exchange in 2018, and its IPO was one of the most high-profile tech offerings in Europe. Since that time, Adyen is continually soaring. Today, the company's value, estimated at 65 bln euros, exceeds even some traditional European banks.
Adyen was in our spotlight for years. We have been observing how this company was evolving, taking payments to an entirely different level: combining a data-driven risk assessment with smooth UX. It is precisely the balance that modern eCommerce needs to maintain, and it is the partner we wished for.
The Dutch company's focus on the eCommerce industry isn't new. Still, during the pandemic, the demand for flexible payment solutions skyrocketed and eCommerce stores had to adapt to shifting payment trends. This played right into one of the core strengths of Adyen's platform. The company enabled eCommerce entities to add new payment methods and react to the new normality quickly.
However, it is hard to ignore the fact that recently the shift to cashless payment accelerated. Adyen - the company that was in the business for a while - was obviously appreciated by merchants willing to improve their eCommerce entities. 
Adyen's efforts to help merchants adjust to the digital world are not limited to implementing digital-only payment. The company sees things in a big picture, noticing the potential in seamlessly combining the on- and offline worlds. Therefore, Adyen supports payments across all sales channels to let shoppers use their preferred payment types, via a personalized checkout experience, online, in-app, or in-store.
Superior payment experience and lightning-fast performance are the crucial factors driving conversion via mobile, making our collaboration with Vue Storefront pitch-perfect. Together we can take care of superb UX better than individually, and so it was a no-brainer for us to join forces to leverage our advantages.
With natively integrated Adyen, retailers using Vue Storefront will be able to add most major payment methods to checkout, effectively manage the risk by implementing modern risk systems, store cards, and provide customers with their preferred payment methods.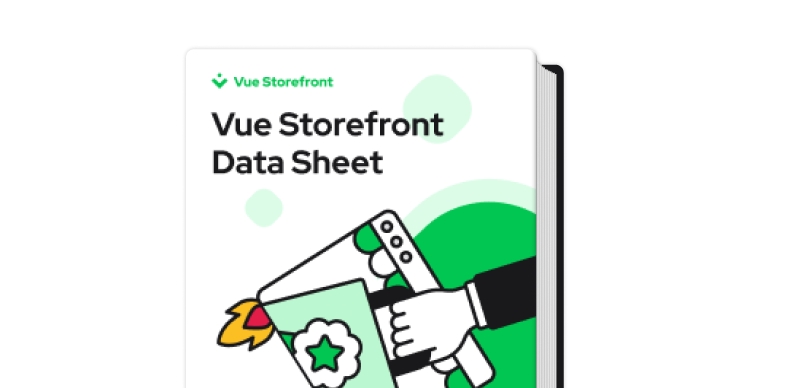 Vue Storefront Data Sheet
This datasheet provides an introduction to Vue Storefront's approach to building headless commerce Frontend as a Service