Vue Storefront closes $17,4 million Series A financing to become a standard Frontend Platform for Headless Commerce
Vue Storefront closes $17,4 million Series A financing to become a standard Frontend Platform for Headless Commerce
After raising $1.5 million in the early-stage investment round, Vue Storefront has just closed $17,4 million in Series A funding led by Creandum followed by Earlybird Venture Capital and Paua Ventures. The company will invest the funds to scale up its business and expand its reach to merchants from the SMB sector.
The last round of Vue Storefront investments was sealed in January 2021, when the project was supported by Polish Venture Capital funds - SMOK VC and Movens Capital, but - since then - a lot has happened.
The number of stores that used Vue Storefront has tripled to 700 stores worldwide. Among those using Vue Storefront, there are - besides such household names as Regatta, DeWalt, Converse, Peregrine, also smaller stores that chose Vue Storefront looking for the easy way to upgrade the customer experience they provided.  
Thanks to these increases, Vue Storefront defended its position as "1st eCommerce Frontend Framework" on GitHub, and the company - as a member of the MACH Alliance - managed to attract the attention and partnered with such eCommerce tech vendors like commercetools, SAP, Salesforce, BigCommerce and top agencies like EPAM, Valtech, and E2X to name a few. 
The track couldn't be missed by - this time - global investors. Creandum and Earlybird Digital East - Venture Capitals that support the "companies of tomorrow" alongside the Business Angels such as Evan You, Vue.js creator; Mathias Christensen & Christian Bach, Netlify founders; Paul St John, ex VP of Sales at Github and Heini Zachariassen, Vivino founder.
"It's clear that headless is one of the largest trends in e-commerce infrastructure. While a lot of headless commerce development has been focused on the back-end side, the opportunity on the frontend side is still open. We believe Vue Storefront can become the go-to solution in this space. The team really excited us by providing the most flexible solution that can sit agnostic on top of any backend and saving significant cost and time for developers. We were impressed by their focus on developer experience and the strong open source community traction they gained. We're thrilled to partner up with Patrick, Bart, Filip and the team."
Peter Specht, Partner at Creandum.
‍
Booming e-commerce and increased customer expectations force merchants to continuously improve their software stacks to offer better experiences. Coupled with the proliferation of cloud-based and API-first paradigm in software development, this makes way for a rapid shift towards a headless architecture in commerce software. This trend has already been apparent in the market with a wave of well-funded companies focusing on backend modules rapidly gaining market share. We believe Vue Storefront is well-positioned to become the market standard for the frontends of such headless commerce stacks and we are excited to support Patrick, Filip, Bart and the team on this journey.
Mehmet Atici, Partner at Earlybird Venture Capital
‍
VSF aims to become a go-to frontend solution that satisfies the needs of both SMB merchants and Enterprise-scale businesses, and - to do that - the company decided to develop its core product in two parallel lines: open-source and enterprise. 
The first one is focused on delivering a fully flexible, adaptable, and easy-to-use tool that "glues" eCommerce platform and 3rd party services (including Headless CMS) under one umbrella, giving merchants the possibility to shape the CX the way they need. VSF will continue to develop integrations with OS platforms such as WooCommerce and PrestaShop to cover all the most popular backends in the SMB sector and develop tools enabling merchants to quickly and risk-free setup Vue Storefront-based projects.
Besides flexibility and adaptability delivered by the open-source core code mentioned above, the latter will be extended to provide more unique B2B features and marketplace capabilities to embrace the most complex and unique business logic in the fastest possible way. The main focus for Vue Storefront is to develop integrations with Magento, BigCommerce; in the long-term company wants to cover all significant enterprise backends. 
‍
We are proud of what we have achieved so far but also aware that it is just the beginning of our journey to become the standard frontend to Headless Commerce. We are a dev tool, but we want Vue Storefront to resonate also with the business needs as dividing these two worlds is not an option in this omnichannel and customer-driven model.
Patrick Friday, CEO at Vue Storefront.
‍
Vue Storefront is aimed to become a solution that - on the one hand - speed up developer's work while leaving them with a vast area of freedom to customize and extend the system, on the other - is become a business-friendly tool, that - via connecting with Headless CMS, payments and advanced search engines - will allow marketers to create unique UX by their own. We want to keep making Vue Storefront more and more accessible.
Bartłomiej Roszkowski, COO at Vue Storefront.
The working integrations with all major Headless CMS - Storyblok, Contentful, Contentstack Amplience, and Bloomreach, are already here, and the next ones are coming. However, there is no time to waste, as the Headless Commerce trend accelerated hugely in the last 12 months mainly due to the pandemic. 
The COVID -19 pandemic has transformed every stage of the purchase path, from how the customer relationship is established to the touchpoints that businesses should take advantage of to make their presence felt and leverage omnichannel sales. The flexibility and customizability that Headless Commerce offers enable eCommerce businesses to keep up with all these changes and there is a common agreement that there is no way back from that.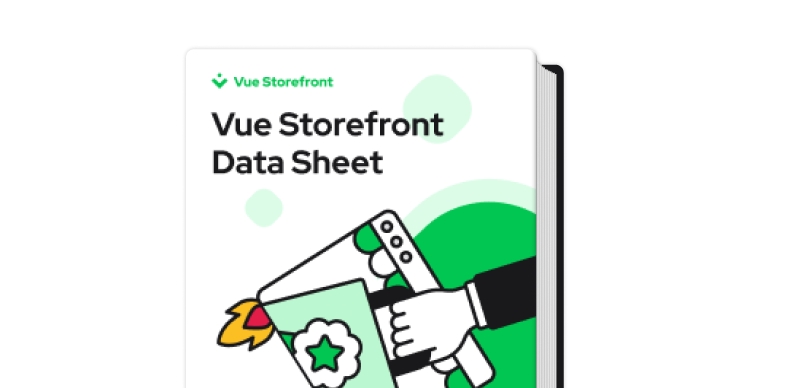 Vue Storefront Data Sheet
This datasheet provides an introduction to Vue Storefront's approach to building headless commerce Frontend as a Service