Go headless with Vue Storefront and commercetools
How can you build the best headless stack for your eCommerce? Check out the ultimate 'Go Headless' eBook, which showcases the perfect blend of Vue Storefront and commercetools – two headless solutions certified by MACH Alliance. Download and discover:
Why is Vue Storefront the perfect frontend for the commercetools platform?

The limitless possibilities of Vue Storefront and commercetools integration

All you need to know about the integration

Case studies on the use of Vue Storefront and commercetools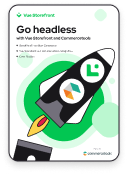 What our Clients say about us
In combination with Storefront UI, Vue Storefront is a quick way to start your eCommerce project.
Chief Technology Officer

Vue Storefront has an amazing team. Technically savvy, strong industry knowledge and enabling a great accelerating point for storefronts.
Vice President Solutions

Fantastic product, great staff and community. Platform agnostic approach to commerce. Speeds up the route to market.
Frontend Practise Lead
Frontend as a Service for Composable Commerce
Vue Storefront helps commerce companies to provide a great experience for their customers through a well-performing frontend while increasing revenue, and drastically cutting costs on development and operations.