Business Data Sheet: Vue Storefront & SAP Commerce Cloud
Fast, efficient and experience-focused. Decompose your monolith SAP Commerce Cloud ecosystem with Vue Storefront and enter the composable commerce journey without re-platforming. Download to learn about:
The scope of the Vue Storefront and SAP Commerce Cloud integration

Vue Storefront tools and integration ecosystem

Business benefits of starting your composable commerce journey with Vue Storefront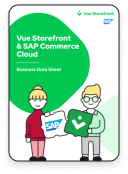 What our Clients say about us
In combination with Storefront UI, Vue Storefront is a quick way to start your eCommerce project.
Chief Technology Officer

Vue Storefront has an amazing team. Technically savvy, strong industry knowledge and enabling a great accelerating point for storefronts.
Vice President Solutions

Fantastic product, great staff and community. Platform agnostic approach to commerce. Speeds up the route to market.
Frontend Practise Lead
Frequently asked questions
Frontend as a Service for Composable Commerce
Vue Storefront is a Frontend as a Service that delivers custom storefronts at the fraction of cost and time, and with lightning-fast page loads to achieve better conversion rates and higher revenue.