Business Data Sheet: Vue Storefront & commercetools
Vue Storefront and commercetools have created a robust, pre-integrated software basis to make your headless commerce journey easier. This whitepaper provides an introduction to Vue Storefront's approach to building headless commerce front-end platform, including
The business benefits of composing your headless stack with Vue Storefront and commercetools

Vue Storefront tools and integration ecosystem

Case study of Vue Storefront & commercetools implementation

Brands embracing Headless Commerce with Vue Storefront & commercetools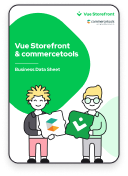 What our Clients say about us
In combination with Storefront UI, Vue Storefront is a quick way to start your eCommerce project.
Chief Technology Officer

Vue Storefront has an amazing team. Technically savvy, strong industry knowledge and enabling a great accelerating point for storefronts.
Vice President Solutions

Fantastic product, great staff and community. Platform agnostic approach to commerce. Speeds up the route to market.
Frontend Practise Lead
Frontend Platform for Headless Commerce
Lightning Fast Front-End as a Service for eCommerce. Built with a PWA and headless approach, using a modern JS stack, Vue Storefront provides shopping experiences like native apps and boosts site performance and customization possibilities. VSF is the fastest-growing frontend project in the world, supported by an active community of open-source enthusiasts.