TALLY WEiJL
TALLY WEiJL's path to meeting Gen Z's ever-changing expectations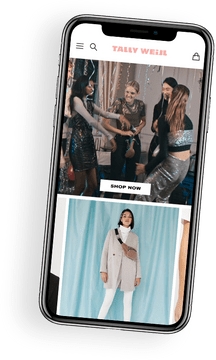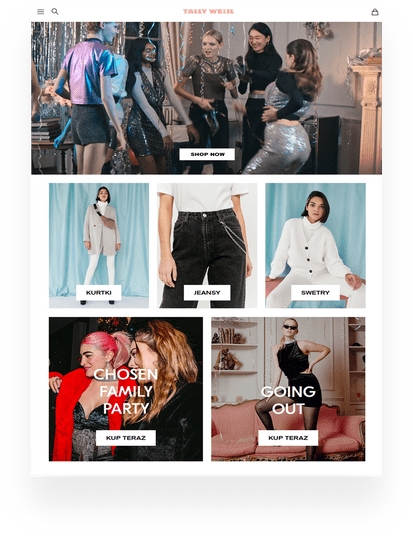 It was hard enough keeping up with Millennials, whose loyalty seemed fragile at best, but now Generation Z has thrown down an even more daunting challenge. These so-called Zoomers, whose share in the overall consumer population is expected to be up 40 percent by 2020, are even harder to please. However, TALLY WEiJL, the Swiss-born but globally operating fashion company, has taken up the gauntlet - and won.
About TALLY WEiJL
TALLY WEiJL, founded in 1984 in a small garage in Switzerland, carved its niche on the crowded fashion scene by constantly outpacing customers' expectations.
Tally Elfassi-Weijl and Beat Grüring, the co-founders of TALLY WEiJL, in pursuit of opening up access to the latest fashion trends, supplied garments to Swiss fashion houses and boutiques... from the back of their little Fiat. Despite the glaring difficulties implied by the logistics, they always managed to be "just in time", and the statement became the company's hallmark.
TALLY WEiJL, over a decade after their launch, started their global expansion, and by the year 2000 had over 50 stores across Europe. Over the next several years, TALLY WEiJL developed into one of the top international players in the fashion retail industry.
TALLY WEiJL needed to find a solution that would bring together both Gen Z's expectations regarding the look and feel of the online shopping experience and limit the time and resources needed for maintenance and future development of any additional CR boosters.
Matylda Kłoda
Senior Digital Manager, E-commerce, TALLY WEiJL
The Challenge
Today, the globally known brand made a step forward by investing in an omnichannel digital transformation. Although TALLY WEiJL has never neglected digital channels, running 14 Magento-based webshops, the continually changing internet landscape forced it to make further changes. TALLY WEiJL also had to find a way to capture the interest of Gen Z, which is easier said than done.
The sought solution needed to combine advantages that seemed to contradict each other: flexibility and ease of use. TALLY WEiJL didn't intend to turn their entire system upside down and rebuild it from the ground up. Operating in 14 locations using different currencies, with varied product ranges and, on top of all that, a tailor-made marketing and promotional calendar, all in sync with SAP and PLM systems right down to the finest detail, was a real blocker for a total, comprehensive rebuild. The company wanted to work smarter and find a solution that would allow them to make frequent, mobile-friendly updates on the UX layer without deep, risky changes to the backend.
PWA represents such a strategic innovation for TALLY WEiJL online growth and Divante demonstrated to be a reliable partner from scoping to development.
Marco Preda
Chief Digital Officer, TALLY WEiJL
Solution
TALLY WEiJL's desire to move away from "all-in-one", monolithic platforms wasn't unusual as the entire eCommerce industry is slowly moving away from this model which has dominated the market over the past decade. Why? Monolithic platforms deliver great possibilities "out of the box," but they come with drawbacks in shaping the UX layer. Improving the customer journey requires "patching" the platform's shortcomings with custom development for each and every improvement, which generates costs and takes time. That is a deal-breaker for most companies that target a young audience and strive to keep up with their changing tastes.
Divante , the agency chosen to get the job done, didn't have any second thoughts about the best way to achieve this goal. As a platform-agnostic framework delivering PWA features, Vue Storefront turned out to be the best option for TALLY WEiJL for two main reasons: From the business point of view, it focuses on improving performance and delivering mobile-first features, and its API-first architecture satisfies system stability, allowing frequent and meaningful changes to the customer experience without patching the backend. 
Betting on PWA technology turned out to be a homerun. Although Progressive Web Apps are not new, they keep gaining popularity at native mobile applications' expense. Native apps require more development time to implement and maintain, which is expensive. Moreover, they are no longer the go-to experience for users, overwhelmed with hundreds of applications competing for their attention.
PWAs providing users with a native-like UX, but eliminating the walled gardens of app stores, are growing into the next Big Thing in the tech world, according to " eCommerce Trends Report 2021 ", and TALLY WEiJL decided to leverage them.  What was it like working with Vue Storefront?
At first, setting up the infrastructure itself was quite tricky. The entire system development was changed, but in the end, Vue Storefront turned out to be very flexible, and it works well with Magento.
Szymon Kustra
E-Commerce Development Leader, TALLY WEiJL
Results
All that effort turned out to be more than worthwhile. Freeing itself from the limitations imposed by the coupled Magento architecture, TALLY WEiJL can count on delivering new features in time and more effectively answering both customer and business needs. Betting on PWA technology. The numbers already speak for themselves.
Mobile Revenue

+131%

Conversion Rate

+140%

Page Views

+45%
Ready to dive in? Schedule a demo
Get a live, personalised demo with one of our product specialists.