Rivoli Group
A leading luxury retailer achieves lightning-fast 3-second page load with Vue Storefront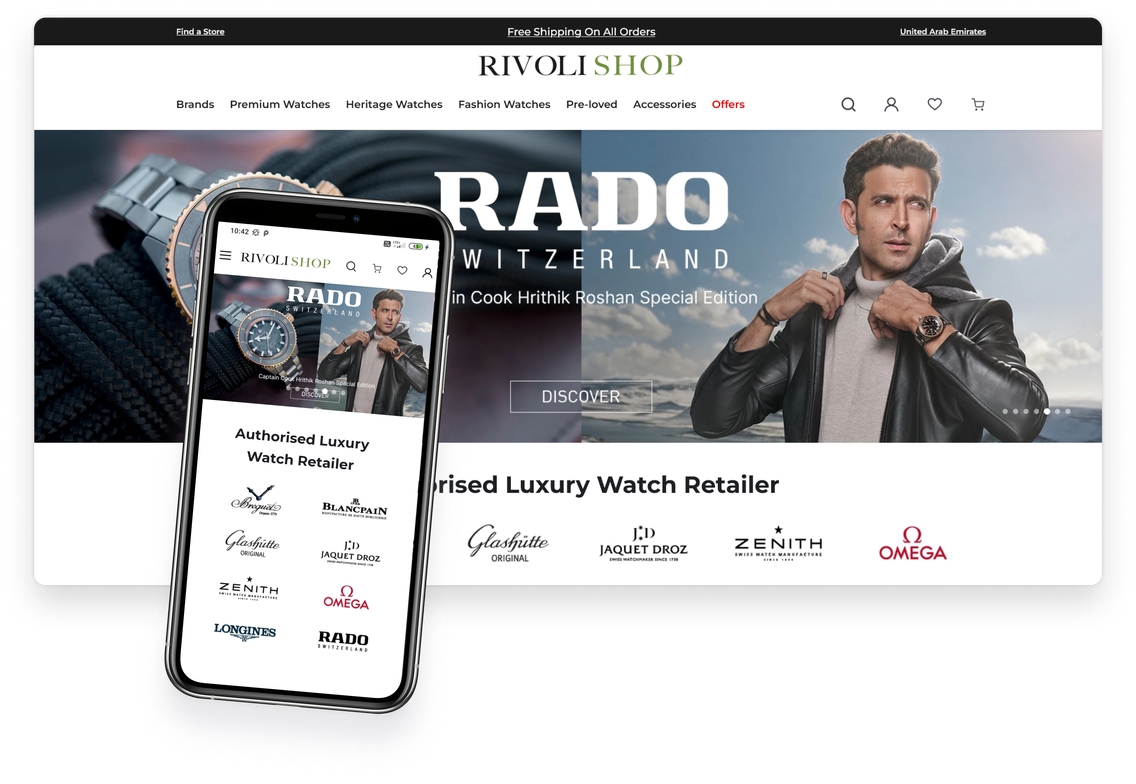 About Rivoli Group
Rivoli Group is a leading luxury retailer in the Middle East with a presence in four countries: the UAE, Oman, Qatar, and Bahrain. The company offers a diverse range of premium accessories, including watches and eyewear, from over 100 well-known brands, allowing customers to express their individuality and status. Rivoli boasts more than 400 outlets and employs approximately 1,900 professionals dedicated to providing an exceptional customer experience. Currently, the company is actively engaged in eCommerce development, having already achieved a page load speed of less than 3 seconds and high web performance with Vue Storefront.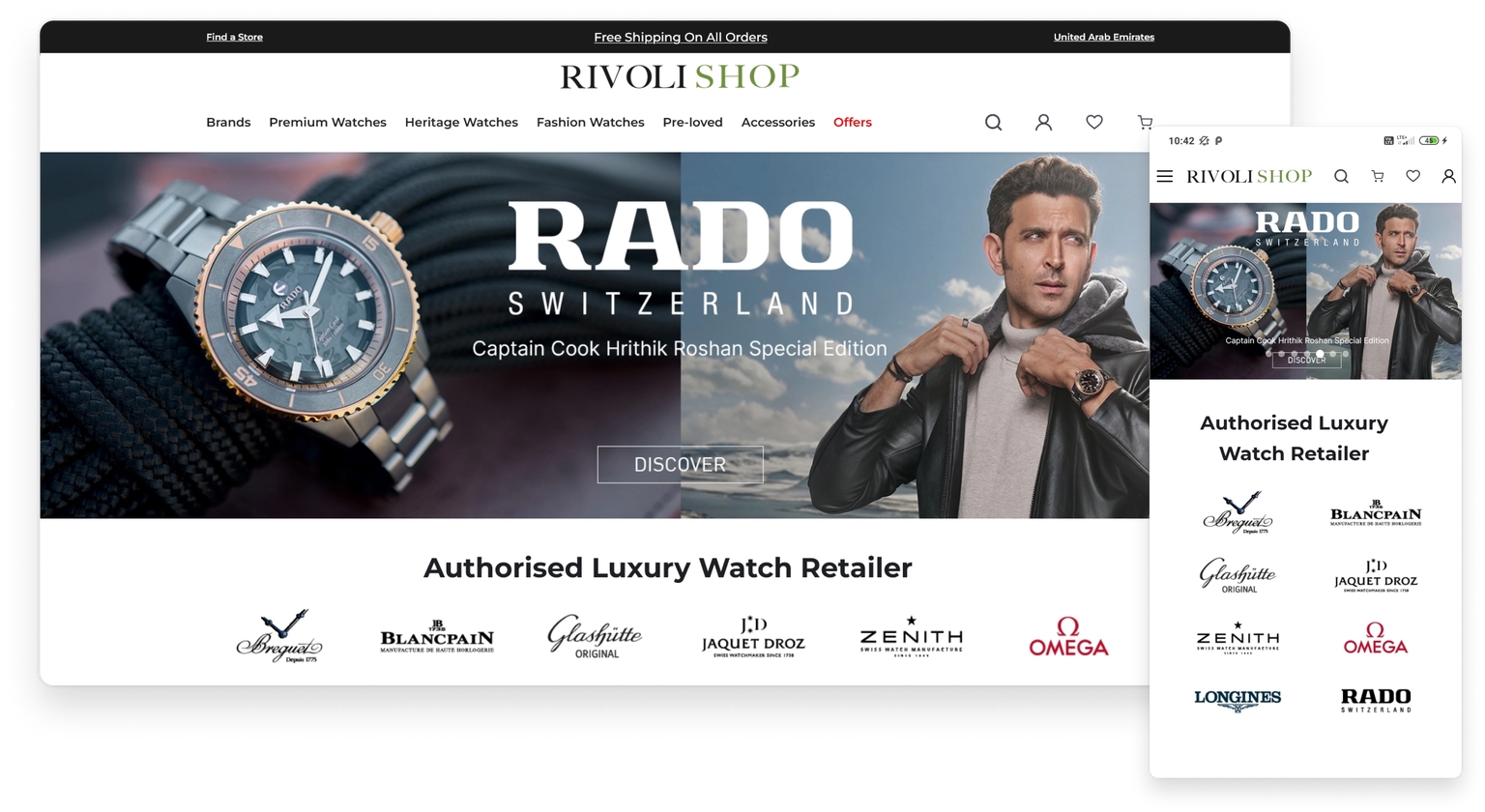 The Challenge
Rivoli Group has been providing a stellar offline experience since its establishment. Meantime, the growing role of eCommerce made the company revamp its approach to online sales to drive better business performance and sales.  
Before going composable, Rivoli's website had an all-in-one architecture based on SAP Hybris . This was a challenge since all websites the company built were hostages of the same monolith architecture.
"For any small changes on a monolithic architecture, you must go through a full deployment cycle. That deployment cycle can break your code which could cause issues and slow down go-to-market. Meantime, everything is much simpler with microservices. The components can be coded separately and deployed separately. No dependencies among each other. It is what we discovered when opting for a composable architecture."
Abhinandan Banerjee
Development and Product Manager, Rivoli Group
Another reason to change the eCommerce tech approach was to expand the assortment and turn their web stores into a marketplace. Such an ambitious initiative required quick improvements to make the online business highly scalable and flexible. Rivoli evaluated various options and concluded that microservice-based architecture provided by market-proven vendors would be the most reasonable solution. 
"Considering the situation and eCommerce market around, we thought of the flexibility and having the proprietorship of the codebase. We mapped various options on how to support eCommerce, from custom development to composable commerce. The main purpose was to make it highly scalable and flexible in a tight schedule. Since we are going to offer more product assortments and probably will tend to become a marketplace sooner or later, we needed to adopt a microservices-based architecture. Therefore, we chose to go composable."
Abhinandan Banerjee
Development and Product Manager, Rivoli Group
Solution
Extensive research allowed the company to explore that composable architecture built with MACH principles in mind will drive global eCommerce for the next several years. Close communication with companies in the market allowed Rivoli to choose from best-of-breed technologies and get the robust stack they needed.
Faster time-to-market with Vue Storefront UI components
The business opted for the commercetools eCommerce platform to ensure stable backend operation and build an entire composable commerce stack around it. The next step was searching for a suitable and highly-performing frontend.
Consequently, Rivoli decided to move with Vue Storefront because of:
pre-composed setup for commercetools 

out-of-the-box, fully customizable UI components

its proven tech stack
"Vue Storefront offers futuristic technologies, which will help grow and scale the system to a great extent. So the technology staff that worked with Frontend as a Service was impressed. Moreover, the out-of-the-box components provided were quite usable for us. Before opting for Vue Storefront, we thought, 'Well, a lot of things are already present here.' Then we saw the demo and really liked the product. The go-to-market speed promise made us happy as well."
Abhinandan Banerjee
Development and Product Manager, Rivoli Group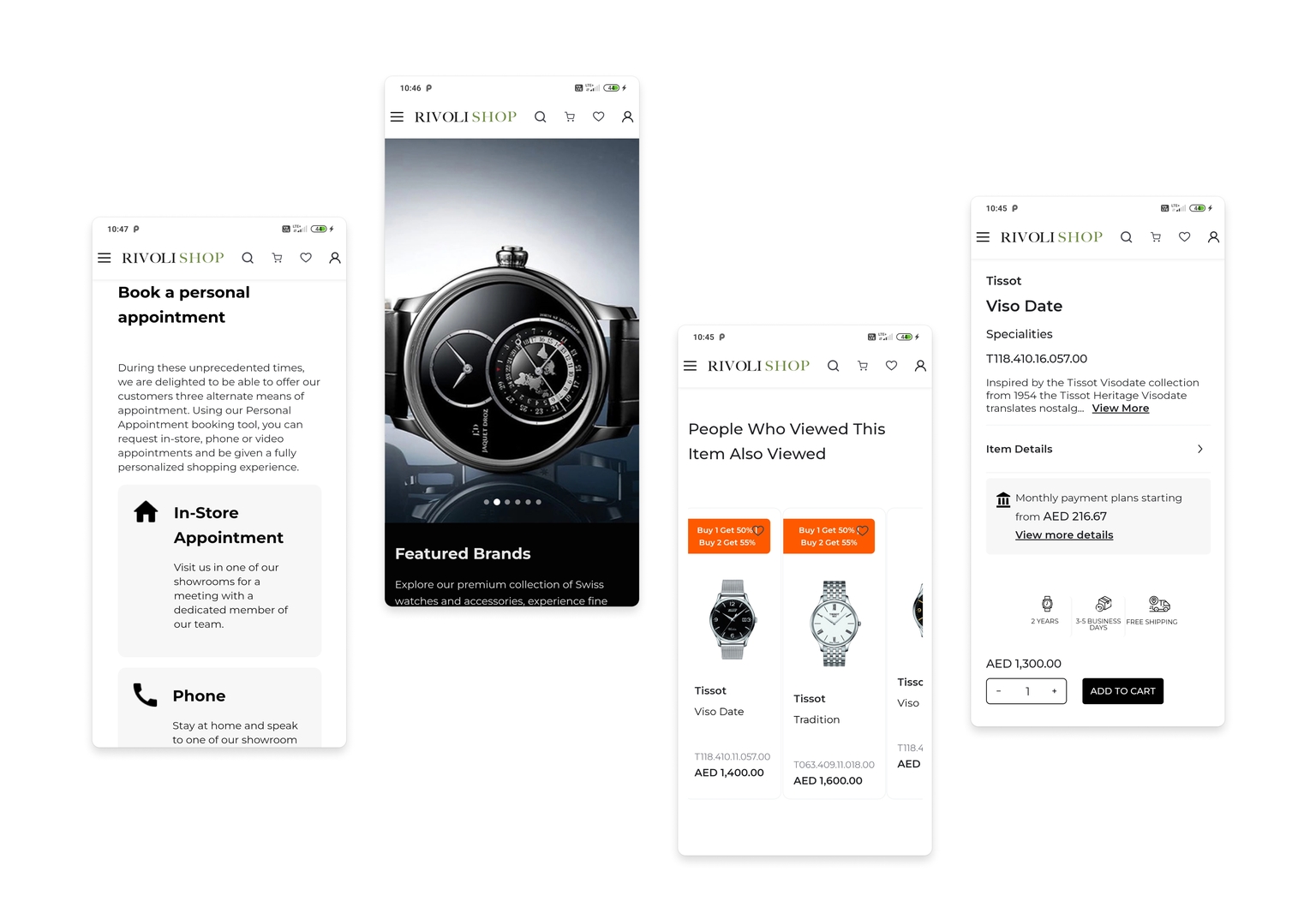 Support coming from the Vue Storefront team and community
Rivoli managed to master Vue Storefront in the short term because of the clear code and extensive knowledge base it provides. Meanwhile, the company was impressed with the high level of tech support and broad, open-minded Vue Storefront community.  
"In case of any issue, we contact Vue Storefront tech support and get a response immediately. There was no instance where we got stuck and didn't receive prompt support. Support is top-notch and we can vouch for that. Moreover, I should admit that Vue Storefront has a strong community which is helpful for us as well."
Abhinandan Banerjee
Development and Product Manager, Rivoli Group
Results
Rivoli Group is still in the process of improving its eCommerce platform since the market is constantly evolving. Meanwhile, the decision to adopt a composable approach with Vue Storefront has proven to be the right one, as the company has successfully managed to:
Get a 400-millisecond API response

Improve web performance by reducing page load time to < 3 seconds

Achieve unlimited flexibility and scalability needed

Speed up time-to-market

Integrate smoothly with commercetools and other proven solutions

Fulfill a massive backlog in a short term
"The project is in progress. Now, we are in a rapid customization phase where we are in the process of modifying/creating components and the layout of the website entirely. Vue Storefront empowers us to achieve this by using templates as per business requirements."
Abhinandan Banerjee
Development and Product Manager, Rivoli Group
Ready to dive in? Schedule a demo
Get a live, personalised demo with one of our product specialists.