Press Hall
50% faster Time-to-Marker with Vue Storefront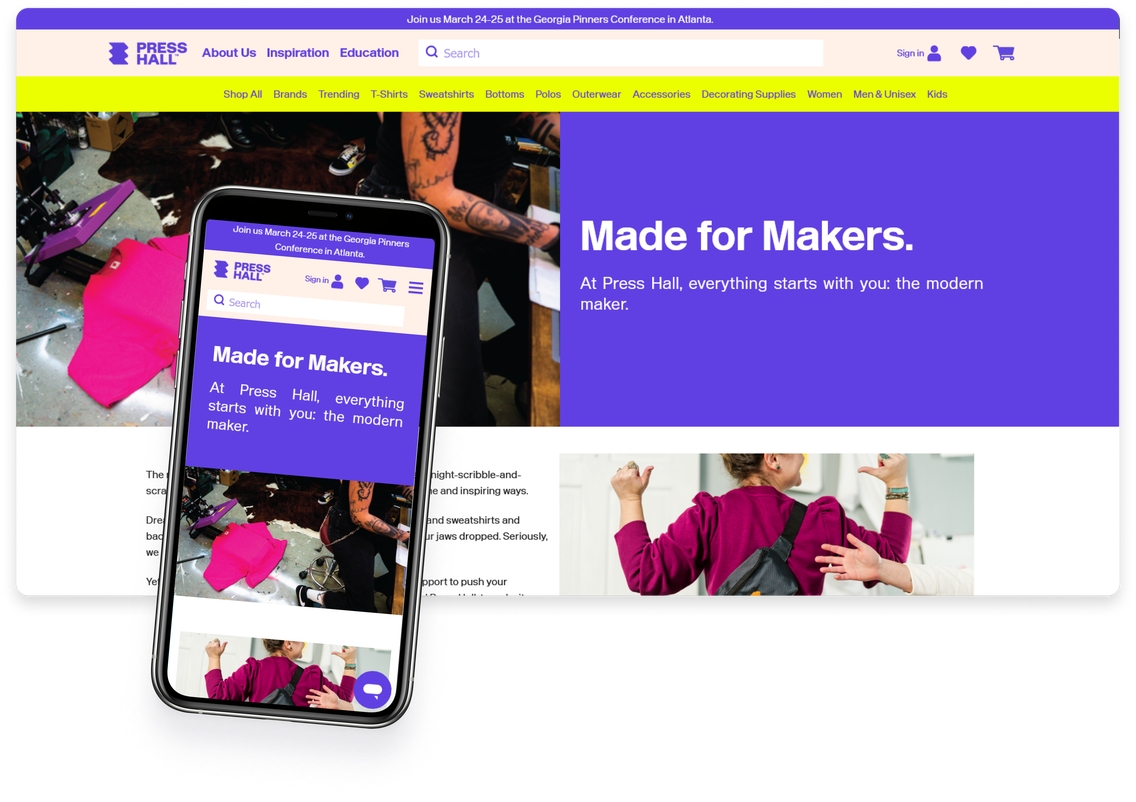 About Press Hall
Press Hall is a new blank apparel brand for US small businesses and makers. It sells blank apparel and offers extensive knowledge to help consumers create masterpieces with blank apparel. Press Hall eCommerce store is a destination for makers and an inspiring community of like-minded people striving to share their creativity with the world. 
The Challenge
Composable architecture for a flexible experience
Press Hall started its way with a clear understanding of tech innovations and trends' importance for further growth. Fierce competition made business leaders look for efficient solutions to drive customer engagement and speed up Time-to-Market for the web store. The brand wanted to own as little tech as possible, simultaneously getting a great scalable and flexible experience. Composable commerce seemed to be a solution allowing Press Hall to combine best-of-breed technology in a robust eCommerce stack and integrate them effortlessly, saving time and reducing manual effort.
Faster Time-to-Market was crucial
Avoiding frontend development for composable commerce from scratch was the main goal for Press Hall business leaders since it's a time-consuming and costly process. Meantime, faster Time-to-Market was a priority for the brand. 
The company looked for opportunities to: 
use tech with an extensive developer community 

apply out-of-the-box integrations with market-proven CMSes and search tools

benefit from managed hosting option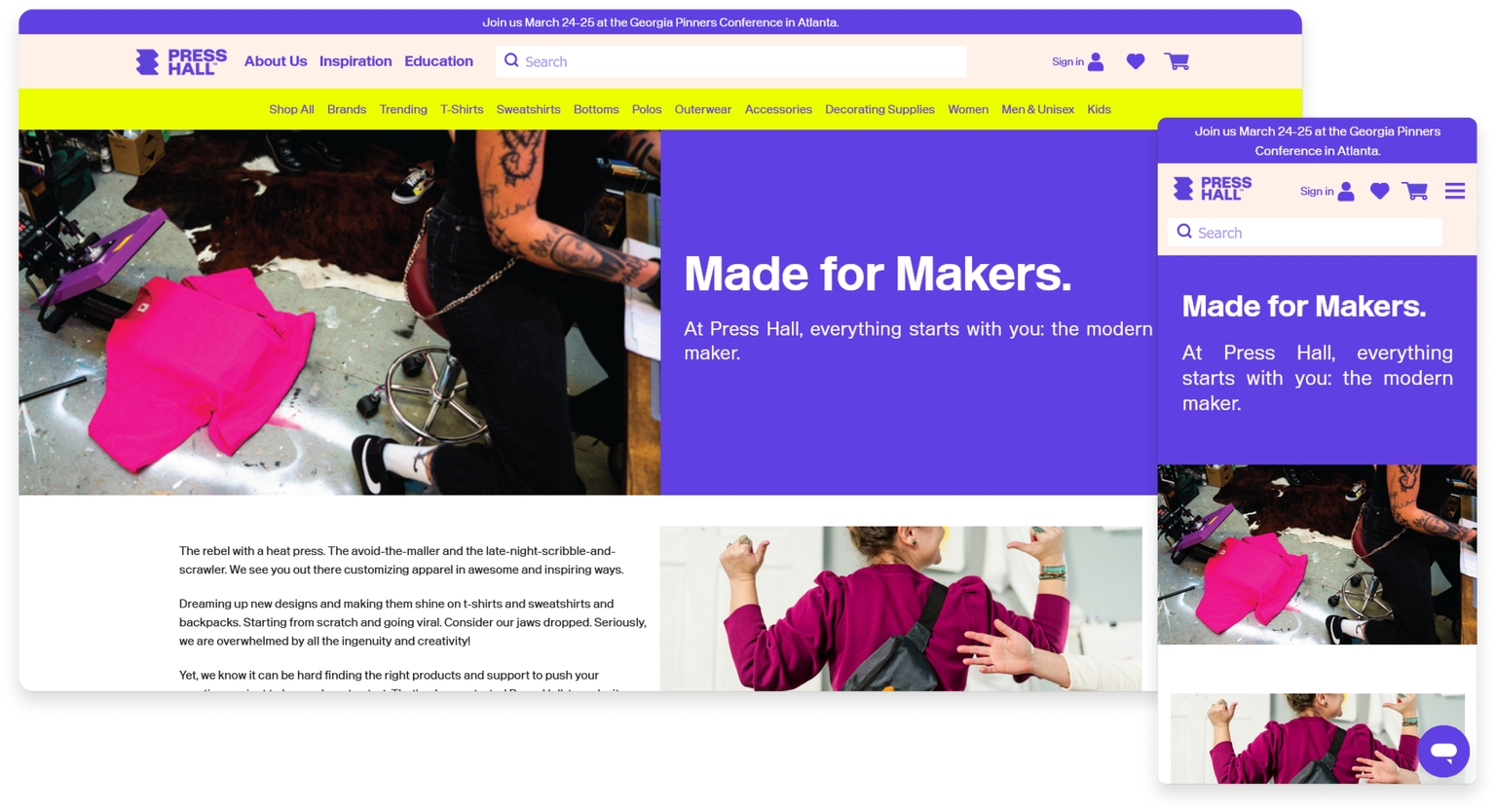 Why Vue Storefront?
The Press Hall team evaluated best-of-breed frontend solutions choosing between Salesforce Commerce Cloud, Shopify, and Vue Storefront Frontend as a Service (FEaaS). 
Consequently, the decision was made in favor of Vue Storefront because of its Vue.js base and seamless compatibility with the company's eCommerce stack components: 
commercetools eCommerce platform

Contentstack CMS

Algolia and Checkout.com payment methods
Another reason Press Hall opted for Vue Storefront was the provided API Docker hosting to ensure data security and smooth maintenance.
Solution
"Vue Storefront got us to market in 6 months instead of 14-16" 
For Press Hall, Vue Storefront became a starting point for providing a rich headless experience with enterprise-level services. A robust, ready architecture, out-of-the-box integrations with best-of-breed eCommerce solutions, and a fully customizable framework helped to achieve a 50% acceleration of the development process. Stephen Jacobson, VP of Engineering, admitted, "Vue Storefront got us to market in 6 months instead of 14-16." This excellent result proves that Frontend as a Service is the right choice for businesses striving to build frontend at a fraction of the cost and time. 
Vue Storefront support is a significant value: IMPACT Services
The overall support and attention from the Vue Storefront team were sincerely surprising for the Press Hall. Vue Storefront members solved various tech issues with the client shoulder-to-shoulder, starting with breaking changes in versions and ending with work on limited documentation. Press Hall gets full-fledged tech support via Slack channel every time they need which makes the cooperation efficient and transparent.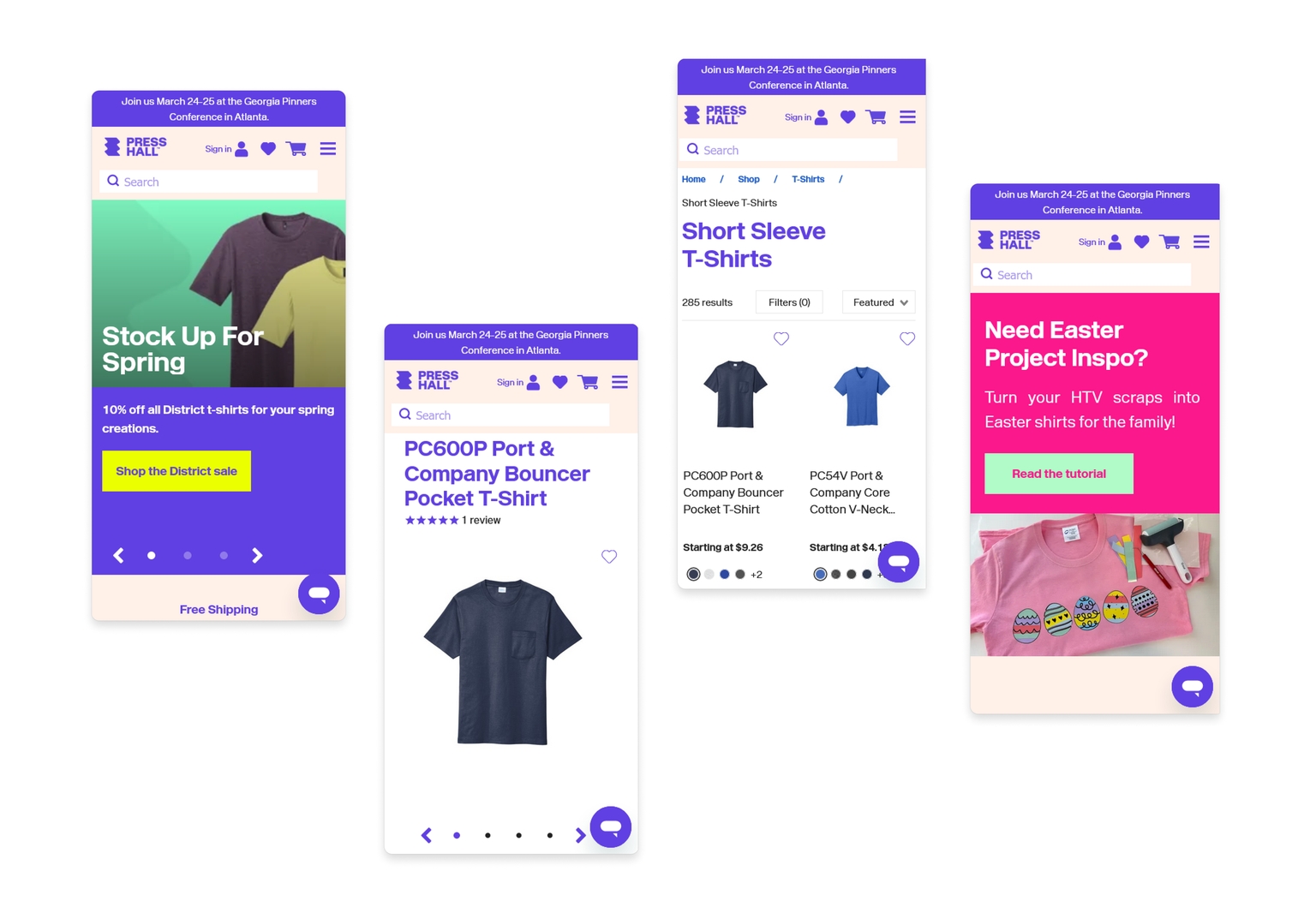 Results
Even though Press Hall is just at the beginning of its business way, the decision to go composable with Vue Storefront had a great impact on results. This digital transformation allowed the company to increase web performance, engage audiences, drive customer experience and mobile revenue, which was $133 263 in January-February 2023.
Consequently, Press Hall's composable commerce journey with Vue Storefront allowed the launch of the brand to: 
speed up Time-to-Market by 50%

achieved 4.22M page views in the first year

get to 3K new users a month from organic search 

reach a conversion rate of 4.39%

complete 22K+ transitions with an average time on site of 1m 35s
Conversion rate

4.39%

Monthly users from organic search

3K

Page views in the first year

4.22M
Ready to dive in? Schedule a demo
Get a live, personalised demo with one of our product specialists.