Impericon
Impericon.com: Chasing flexibility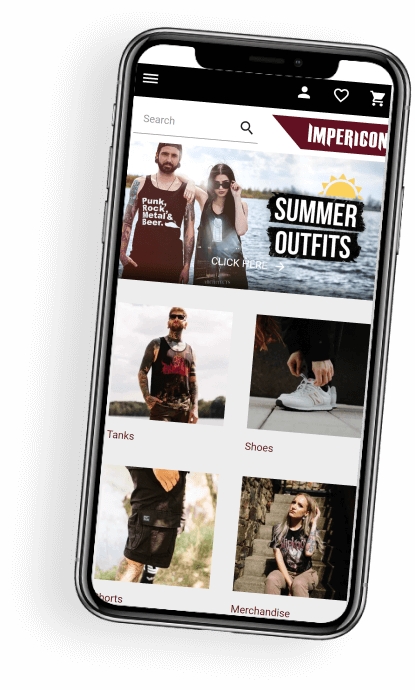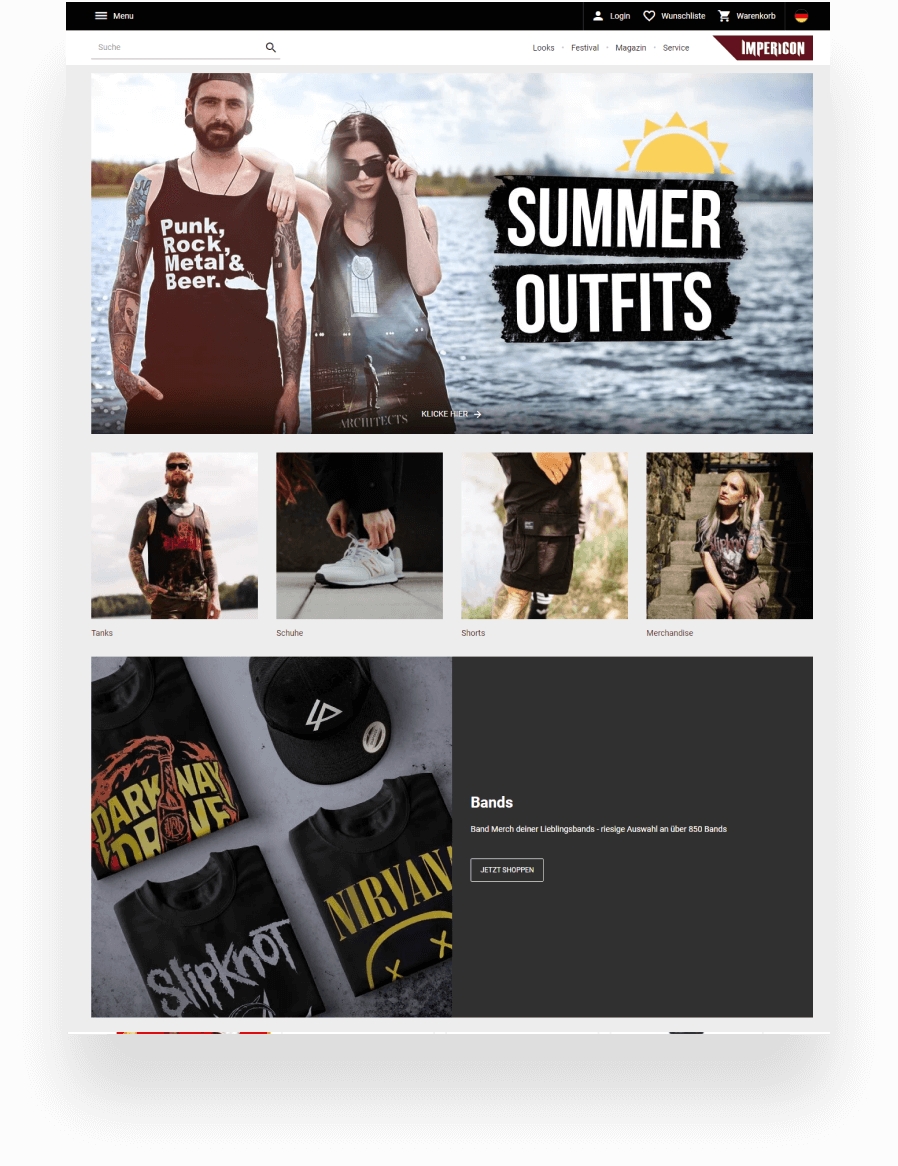 About Impericon.com
IC Music and Apparel GmbH have been one of the leading eCommerce companies in the music and fashion industry for more than 15 years. Started as a "garage company" to produce merch for American bands to sell on tour, nowadays its product range consists of merchandise and streetwear textiles, sound carriers, tickets, and accessories.
The company is not only a dealer but actively designs and produces merchandise assortments for artists. Thus, it can generate a significant share of the income with the merchandise products and sound carriers. Now, its assortment contains about 28.000 main articles in about 400.000 configurations, each containing 300+ attributes spread in 3.200+ categories and available in 16 store-views in the field of music, fashion, and lifestyle. ‍
The company sends about 300.000 shipments per year throughout Germany and Europe. In addition to streetwear products, merchandise, tickets, and media for music bands from metalcore, metal to rock, and indie are distributed. But it is not all. In addition to the merchandise and lifestyle platform Impericon, the company offers artists a white label solution for D2C eCommerce.
The Challenge
The product range, customer data, and feature pool were constantly growing, and - at some point - the company started to have troubles mapping this scale into our infrastructure. Based on an old version of Magento (despite constant updates), the system lacked significant improvements as technical as from an operational position. As a result, the application kept getting heavier and more difficult to host, scale or work with. Also, with the massive growth of product data, the company ran into issues during traffic peaks and with caching caused by the EAV data model of Magento.
We noticed that we needed a lot more time for improvements than competitors with a less monolithic eCommerce platform. Thus, our goal was to become more state-of-the-art again by updating our stack. To gain flexibility again, we needed to dispense our functionality into smaller applications and services, which are easier to maintain. 
Christian Ewald
Full-Stack Developer for IC Music and Apparel GmbH
The company decided to start with the frontend as it considered the performance issues harder to bear for the customer than for processes behind the scenes. However, decoupling the front end from the back end was just the first step for replacing Magento and gained more flexibility.
During the usual effort in performance- and UX improvements, we concluded that we couldn't depict our features and goals in the frontend as long as we use the same system as the backend. First, we needed a lot of hardware resources to run each entity of Magento performant, and second, we weren't able to rely on modern technology during the development. So it became less and less fun to work with. ‍
In the meantime, the stake of mobile users of Impericon.com overtook 50%, which forced decisions on which mobile approach the company should choose (PWA, mobile-first or -only). But again, the company didn't want to base this project on the current system.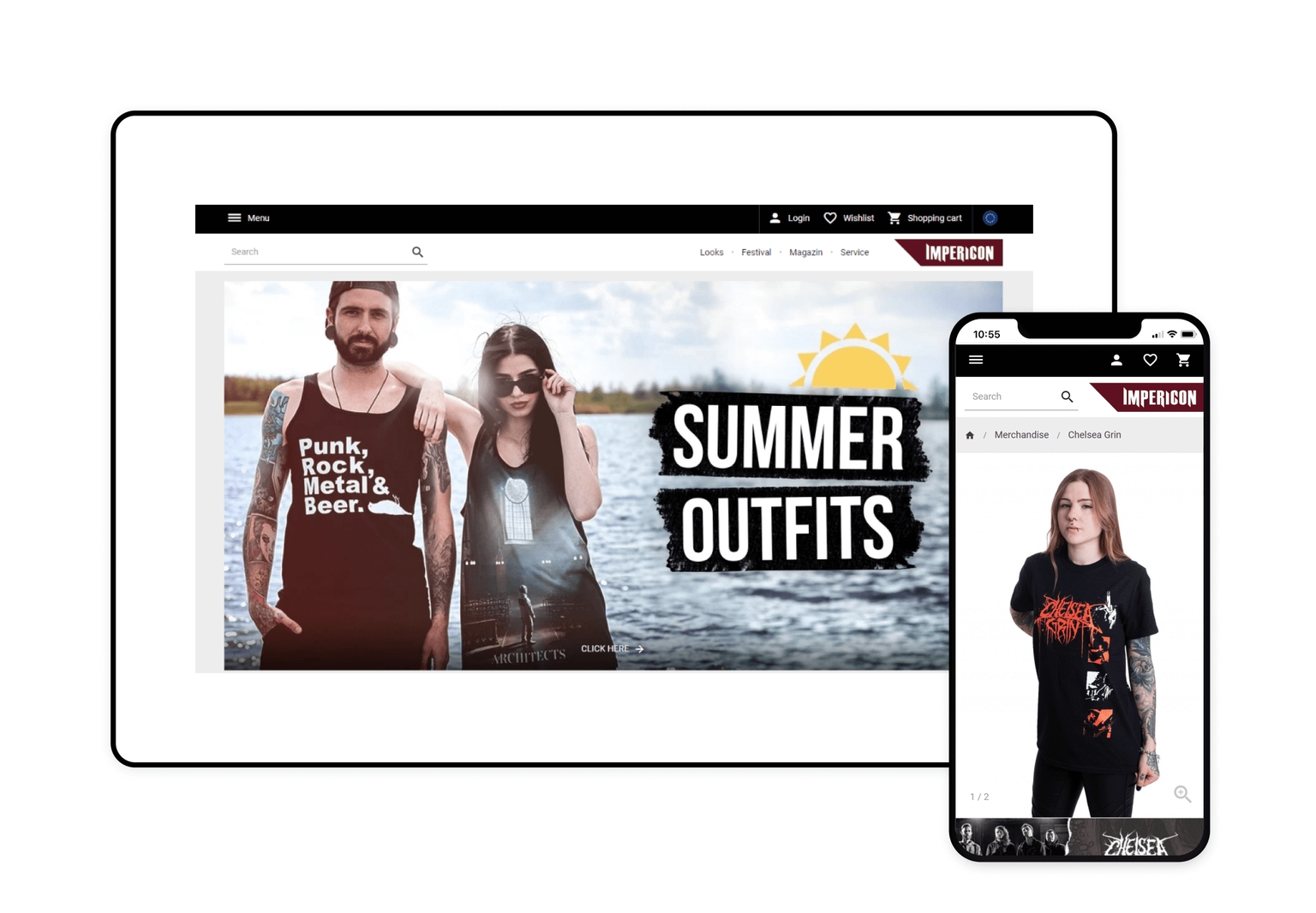 Solution
IC Music and Apparel GmbH was aware of the EOL of Magento and the urgent need to find a replacement, want to regain the ability to keep up with the market speed, and secure stability during traffic peaks.
We just did a proof-of-concept of how easy it could be to have a PWA with our catalog-data based on different headless eCommerce systems and finally decided that it can be done on our own and in a reasonable amount of time. ​Our dev team is entirely in-house and small, so we knew that we couldn't create dedicated apps for each platform and needed an all-purpose, multiplatform solution that led us to a PWA.
Christian Ewald
Full-Stack Developer for IC Music and Apparel GmbH
The company has been using Magento and relied a lot on the indexing process, which became very hard to handle and also took a long time to run.
We always struggled to have up-to-date product-data in the frontend. The full-page and application-caching we needed to stay fast also didn't help with that. By switching to a document-based data-model, we mostly ditch the indexing – we are on it ;) – and didn't need an FPC anymore. This way that leads we can have products online and offline in a short amount of time and also be able to customize the UX for each customer easily.
After the first proof-of-concept, it was clear that there was a lot that the VSF already took care of by offering the Magento indexer and bridge but still it was customizable enough to extend it by our extensive set of custom features we needed.
Christian Ewald
Full-Stack Developer for IC Music and Apparel GmbH
The company was searching for a customizable PWA solution that, at best, has a connection to Magento 1. It had no one specific contender, but - given the previous experience - the most wanted was a JS-based solution.  ‍
Vue Storefront was considered because of the vibrant community and significant online presence, but the research wasn't limited to those factors. IC Music's developers attended a hackathon in Berlin and Hannover, where they were able to test how working with Vue Storefront looks like in practice. 
IC Music and Apparel GmbH decided to go with Vue Storefront even though there were no this-scaled stores based on VSF, and only a few agencies were familiar with the solution. The bet was dicey, but - as it soon turned out - it was also worth taking.
We are becoming more flexible and faster during the development as we use a state-of-the-art stack of technologies. Because of the performance improvements, our caching-strategy can be less aggressive than before. This way, it's also much easier to deliver a custom user experience. We can make more complex and still performant queries against our catalog-data as we rely on a document-based database. Also, product-data is now displayed on time and up-to-date in the frontend. Thanks to the agnostic approach, it will be easier to switch or add another 3rd party services. And finally, it's possible to scale the applications up and down horizontally.
Christian Ewald
Full-Stack Developer for IC Music and Apparel GmbH
Ready to dive in? Schedule a demo
Get a live, personalised demo with one of our product specialists.