Zadig & Voltaire is accelerating its mobile-first strategy in France due to government restrictions on retail stores
Vue Storefront
•
Zadig & Voltaire, the French-based fashion company, has decided to launch a PWA with improved UX for mobile customers, in order to increase their chances of boosting revenues coming from online. 
The French government has just decided to impose a full lockdown in France, ordering citizens to limit social contact as much as possible. Only groceries, pharmacies, gas stations, and public transportation remain open; however, if society takes the threat as seriously as it deserves, these places will not suffer from crowds. Restaurants, cafes, movie theaters, and nightclubs are shut down entirely. Even though there are so many unknowns surrounding the trajectory of the spread of the virus, and it is impossible to predict the effects of the pandemic in numbers, it is undeniable that no sector will remain untouched.
Retail is no exception.
A Morgan Stanley note this week stated that total retail traffic fell by 9.1% last week, while apparel retail traffic fell 3.9% and luxury retail traffic declined by 14.7%. Source: Retail Dive
Amazon says it is out of stock of household items and deliveries are delayed. The issues are a result of a "dramatic increase in the rate that people are shopping online". Source: Amazon Blog
Apple will close all of its retail stores outside of China for two weeks. Source: NY Post
Could eCommerce be a life raft for the retail sector and fashion in particular?
Zadig & Voltaire choose Vue Storefront
French-based fashion brand Zadig & Voltaire chooses VSF to boost its eCommerce reach at pace. Yesterday, a Vue Storefront powered e-shop was launched for the brands' biggest market: France.
The company already bet on PWA, building the first PWA-based store last year and launching it on the Italian market. Since then, they have launched almost a dozen new stores. Now, in extraordinary circumstances, when eCommerce can offset losses in traditional retail, the brand has decided on a solution that enables it to launch new stores as fast as possible. 
Zadig and Voltaire is an amazing brand with a great team led by CTO Jonathan Ribas. Vue Storefront lets us ensure a short start time for new shops and we've seen new shops launched at about 2-3 weeks intervals. We're really happy that the framework we developed enabled such rapid adoption
PWA as a step to accelerate the online business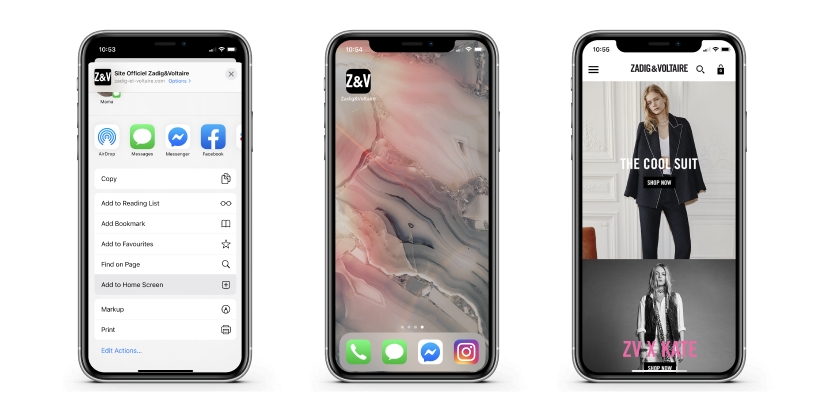 Progressive Web Applications, as a direct answer to mobile users' needs, allow businesses to build web solutions that work seamlessly on mobile devices. The mobile-first approach to UX makes shopping more comfortable and more enjoyable, as sites work at blazing speed and are available anytime.
The revenue for PWA shops is usually 20% higher compared to standard web shops. This profit growth should, and will, partially offset the potentially harmful effects of the current situation in brick-and-mortar stores.
Moreover, it is the most cost- and time-effective solution available in the market as it only requires knowledge of common web standards with JavaScript or modern JS frameworks at the center. 
Crises force changes in shopping behaviors
Crises, epidemics included, often speed up the adoption of new technologies and disruptive business models, just as the SARS outbreak was credited with the rise of Alibaba, as Harvard Business Review stated. 
The COVID-19 crisis will probably reconfirm these changes. More people will be looking at products, services, deliveries, and returns online with increasing speed and efficiency, and the best possible user experience. Sites will need to cover all of these crucial aspects in order to attract new users first and then convert them to buyers. To be available online is not enough today; it is necessary to provide users with the best possible experience. 
Ready to dive in? Schedule a demo
Get a live, personalised demo with one of our awesome product specialists.