Vue Storefront steps up in its frontend hosting game
Vue Storefront
•
Vue Storefront never sleeps. After the loud release of JavaScript framework agnostic integrations and frontend library Storefront UI 2, we are happy to announce that the cloud hosting platform Console is available. For proprietary service users, it's a way to make hosting management and monitoring a matter of just a few clicks. Read on to explore Console's core capabilities  and functionality, allowing you to streamline your frontend hosting. 
Meet Console - an innovative cloud hosting solution for your eCommerce storefront
After several months of hard work by the Vue Storefront team, you are now able to manage environments in the Vue Storefront Cloud much easier than before due to Console - a cloud hosting platform that works as your admin tool. The module was created to streamline the DevOps and SecOps work associated with front and hosting and get eCommerce businesses covered.
Console aims to work on your eCommerce business favor
The new cloud hosting platform's intuitive services help you improve website performance, and simplify security incident handling. With Console at hand, you'll be able to keep storefront hosting under control and improve it in the way your business needs.
React immediately: Console allows you to follow the most important metrics, like CPU, request latency, or response codes, using convenient visual analytics. Now you can prevent issues timely and get real-time notifications when things go wrong in any of your environments. 
Drive your web performance: Console's detailed logs help you detect patterns in website traffic and usage that could affect performance. Mitigating such issues optimizes the website's performance, drives sales and customer experience.
Handle security incidents: With the cloud hosting platform, you can review the accurate records provided to identify and investigate any security incidents you might experience, such as unauthorized access attempts or malicious activities.
"Vue Storefront Console tackles the complexity of composable commerce infrastructure head-on. With its streamlined management and insightful interface, it takes care of the heavy lifting, so you can focus on scaling your business."
Filip Rakowski
Chief Developer Experience Officer, Vue Storefront
Mastering the Console: Core Functionality & Capabilities
Frontend cloud hosting
The platform was created to help you manage your environments in the Vue Storefront Cloud, applying various options. You can enable your environments with CDN or add custom domains, restrict access to the instance by configuring a list of IP addresses, and more. User management functionality is also available: add users to Console and define their access role.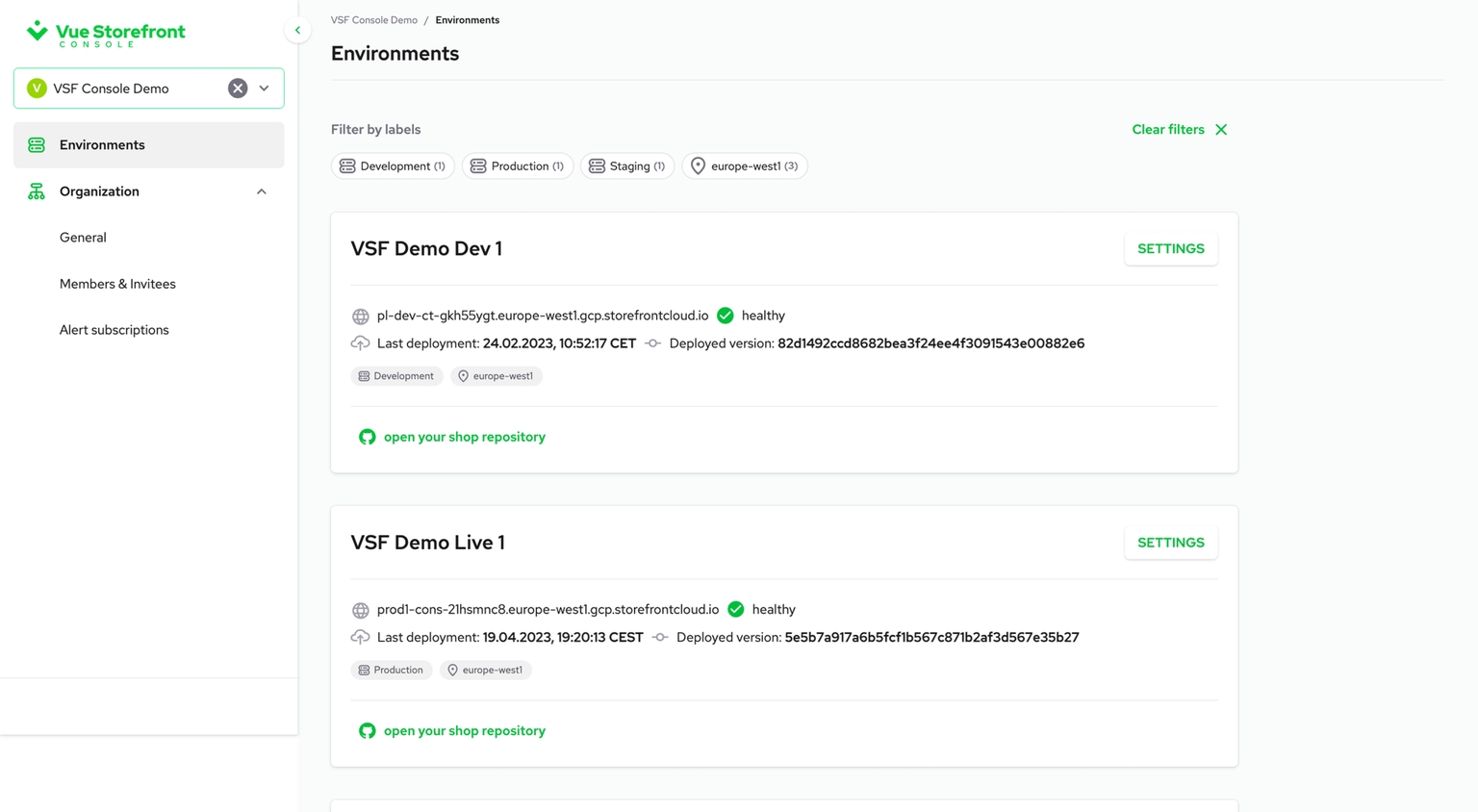 Uptime monitoring
With Console, you can get visualized uptime statistics that present a percentage availability of a given environment in different periods: from 24 hours up to 6 weeks. Uptime monitoring allows you to reduce resolution time with automated alerts in case of downtime.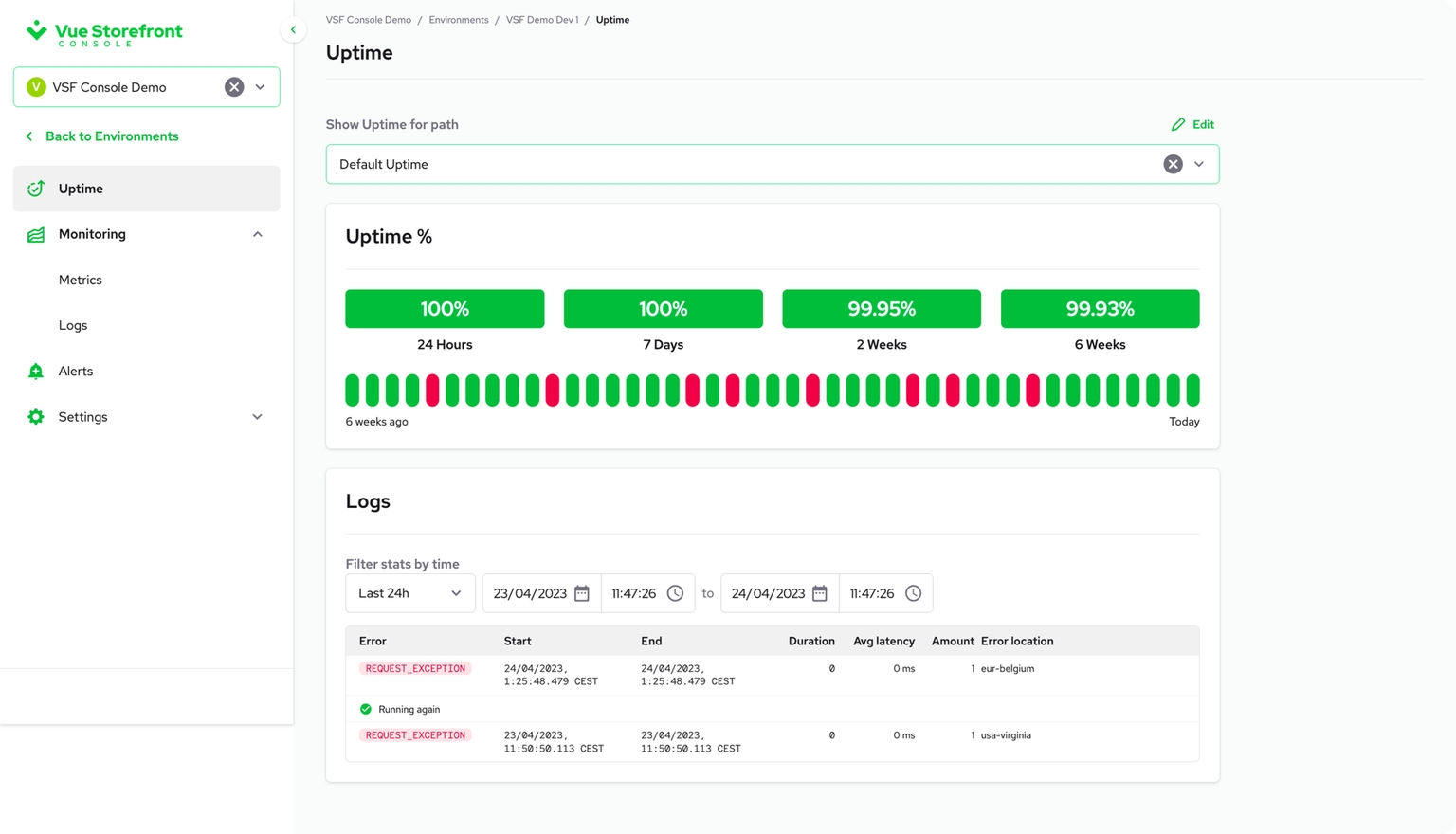 Alerting
In Console, you can configure three alerting policies: 
The alerting policy is based on two triggers: events and thresholds, monitored on an ongoing basis. This feature allows you to easily subscribe and remove users who should be notified via email in case of an alert.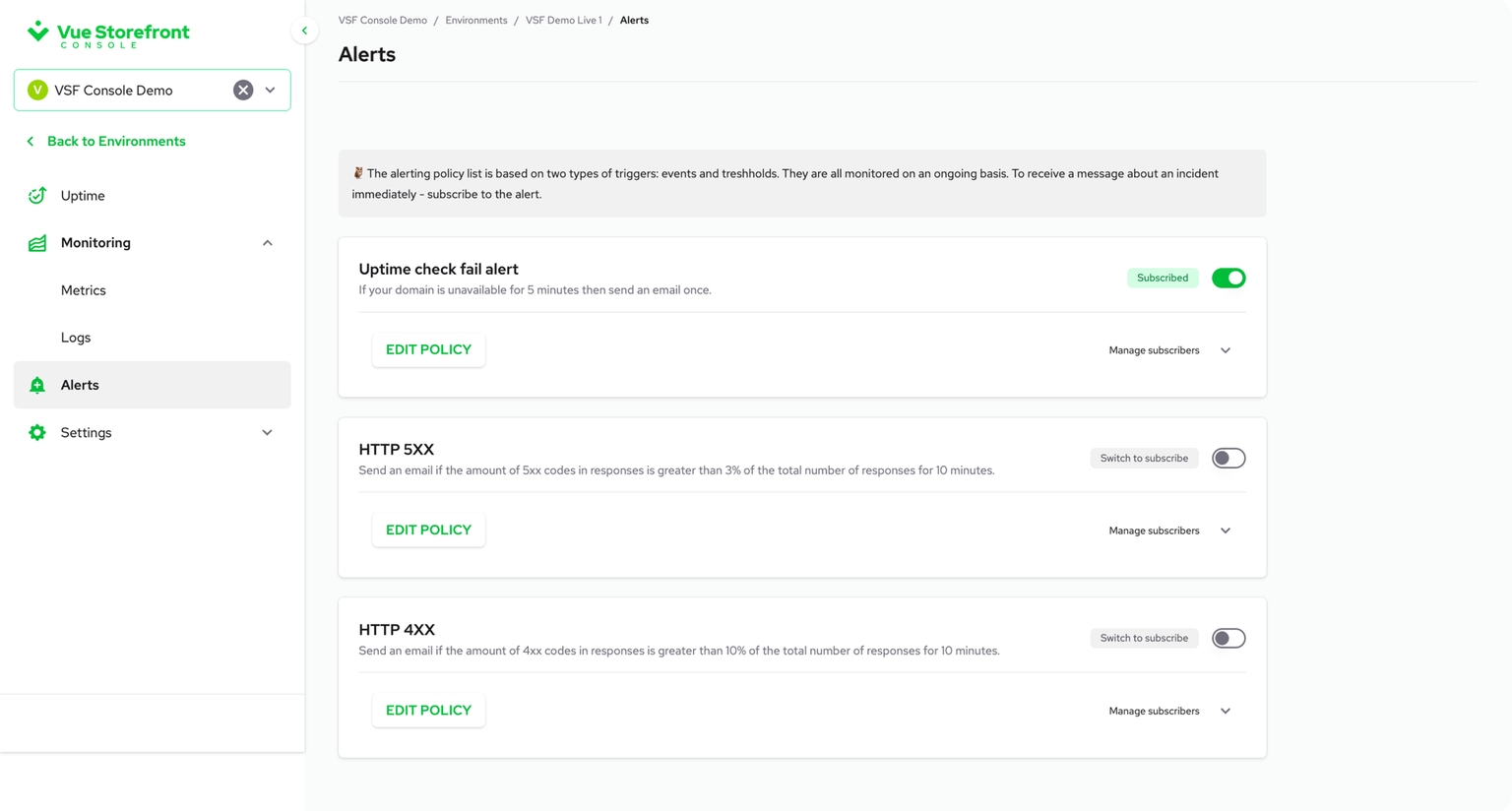 Metrics monitoring
Console comes with real-time visual analytics for Response codes, Request latency, Memory, and CPU usage to help users:
see anomalies in responses
detect problems with the application or the environment
respond immediately to cover any issues that arose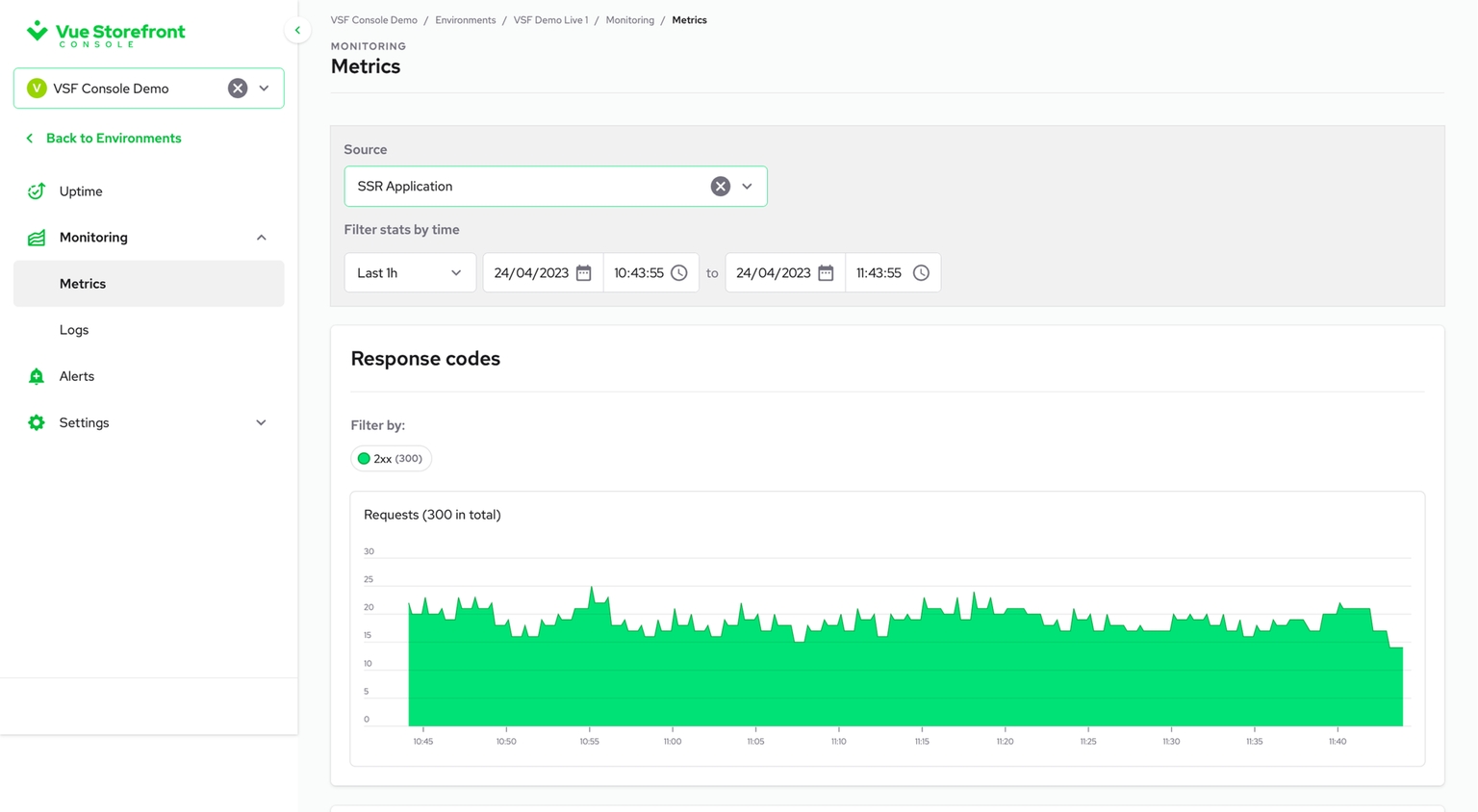 Logs
Console provides a detailed record of all server and website activity in the form of logs. They can help your team:
troubleshoot issues that may appear on the server or website
detect patterns and anomalies in website traffic and usage
define and investigate security incidents such as unauthorized access attempts
You can count on convenient logs usage since, in Console, they can be filtered by source and severity.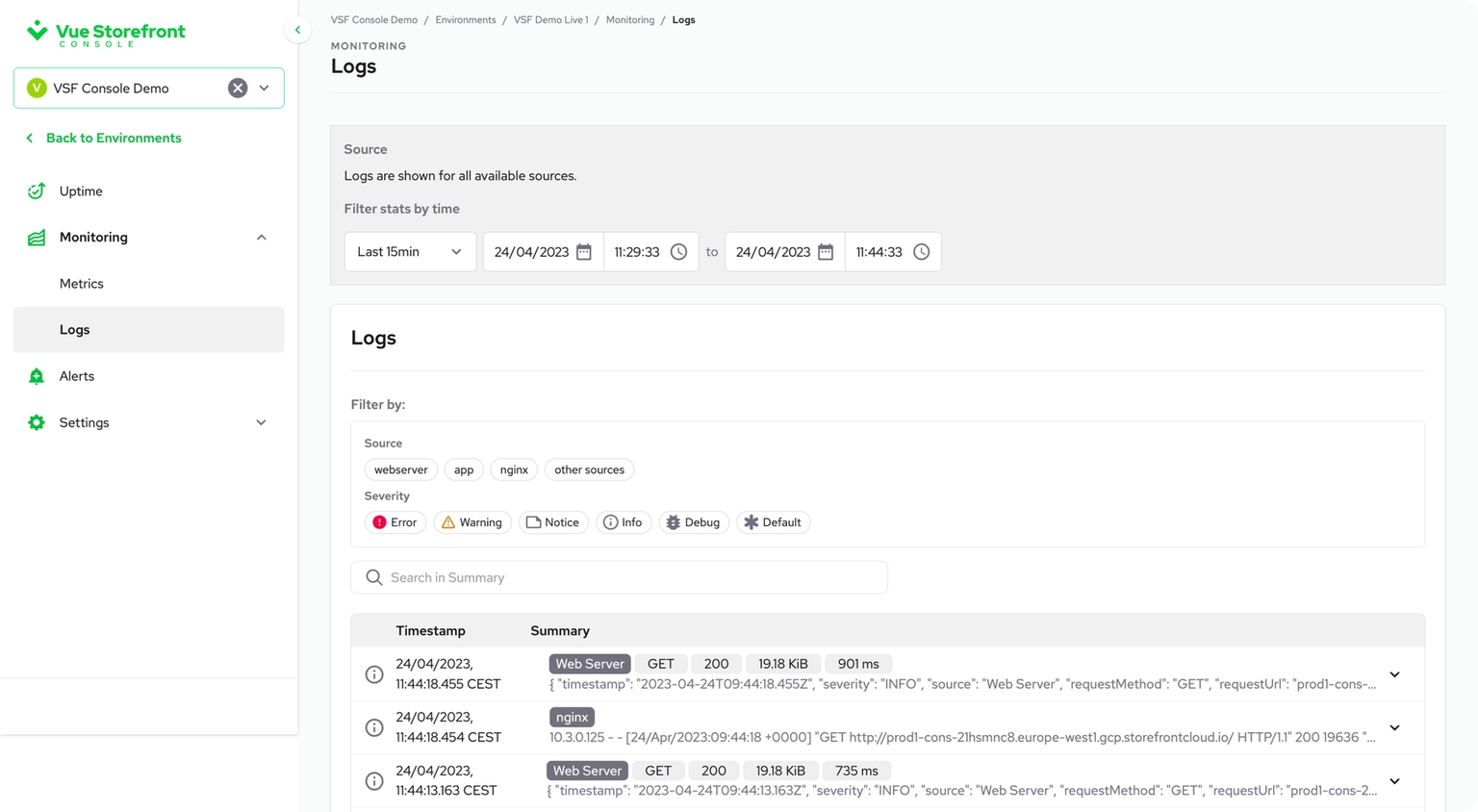 Easy cloud environment management and monitoring
Console is an easy-to-use cloud hosting platform with comprehensive services, such as infrastructure monitoring, logs, and alerting. This is a module you need to achieve seamless monitoring and management of environments in the Vue Storefront Cloud. Try the Console to drive your web performance, ensure 100% security and ensure your eCommerce business maturity.
Looking for more details?
Check out the documentation .
Ready to dive in? Schedule a demo
Get a live, personalised demo with one of our awesome product specialists.