Shopify with Headless CMS is a powerful combination
Shopify with Headless CMS is a powerful combination
Vue Storefront
•
Recently, Shopify is gaining more and more users due to its trendy development and has a huge chance to become a big winner in eCommerce. However - despite all its undeniable merits - not all its elements are equally praised. One of the pieces that might be faced with a more robust alternative is CMS. The Shopify default one can restrict certain activities. So it is worth taking a look at the headless options, especially that they can be easily combined with Shopify via API.
Shopify in partnership with TikTok 
TikTok, for quite some time, is aiming into the eCommerce pool, growing into one of the crucial players in a so-called social commerce trend. And recently, the company took a big swing announcing a new global partnership with the online commerce platform Shopify. The goal of the collaboration is to make it easier for merchants using Shopify to reach a younger TikTok audience.
Read more about the partnership between TikTok and Shopify on Techcrunch
Thanks to special advertising tools, products will turn into video feed ads. Sellers will tailor ads to their audience by gender, age, user behavior, and video category and track campaign performance with a TikTok Pixel.
Shopify and TikTok will provide Shopify-based merchants with product links that can be used to tag products in organic TikTok posts. TikTok community can choose to store directly from the merchant's storefront or click on a tagged product in a merchant's TikTok video, which will take them to checkout in the merchant's online store. Soon, Shopify merchants with a TikTok For Business account will be able to add a new "Shopping" tab to their TikTok profile and sync their product catalogs to create mini-storefronts on their profile.
The deal only strengthens the position of both TikTok and Shopify in the social commerce landscape, proving that it is not a short-lived trend but a direction desired by Gen Z. 
Social commerce represents a tremendous opportunity for almost every online store. Although this phenomenon is in its infancy in the Western world, China's example already proved it.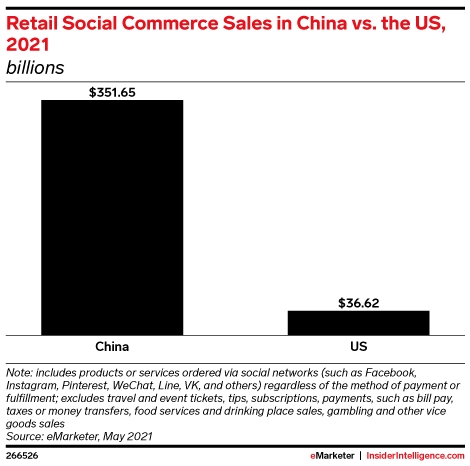 West is quickly catching up, as more and more people want to go shopping without leaving their favorite social media platforms. It is easier and more convenient, and no wonder that social media are introducing shopping features at such a rapid pace that it's hard to keep up. At the end of the day, what they want is our time and attention. 
Social players - like Instagram and TikTok - are poised to join the most popular online marketplaces and make money not only on ads. 
How does social commerce work? It can vary depending on the platform, but the key is that purchases can be made entirely, or at least in part, through a social platform.
Also, keep in mind that it's not the companies that own social media selling; it's the online retailers. Customers can buy products from retailers with no (or minimal) interaction with them.
Categories like fashion or beauty lend themselves best to social commerce, as most recipients are willing to buy clothing or cosmetics on social media. Moreover, the presentation of the product - on video, with reviews, when you can see materials or consistencies, can be even better than on the website. 
Still, other sectors can also be significant players in social commerce, considering the general statistics.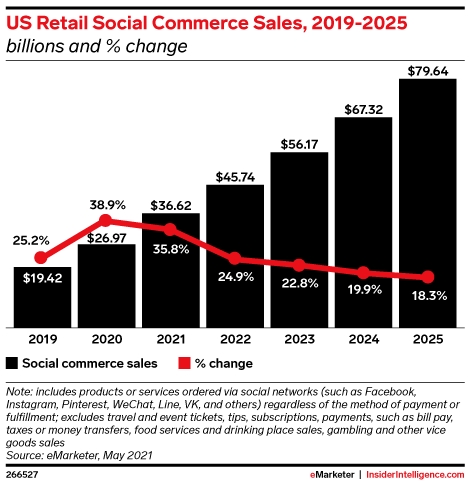 The average internet user spends an average of two hours and 22 minutes per day on social media, according to a 2019 report from GlobalWebIndex. Shoppers encounter the brand multiple times across multiple channels before making a purchase. 62% of socially engaged shoppers follow brands or retailers on social media. Furthermore, after increasing 25.2% in 2020, the number of social commerce shoppers in the U.S. is expected to grow another 12.9% in 2021.
Consumers are more comfortable shopping online and interacting with brands, retailers, and influencers and will store more frequently on social channels this year.
Shopify standard CMS can limit your marketing opportunities
Shopify default CMS can limit your marketing opportunities
Headless is still a fresh approach - especially with Shopify - but it brings a lot of benefits, and even Shopify-based stores can take advantage of them.
Shopify is not the obvious choice when it comes to complex headless implementations , as the tooling has not been developed in the same way as other platforms (e.g. API-first platforms like commercetools).
Shopify's limitation:
Limited control of the visual display of products
Content management processes are pretty basic
URL structure is set
Selling cross border (Its difficult to setup multi-language and multi-currency in Shopify out-of-box)
The headless approach can solve many limitations associated with Shopify - such as URL structure because you have full control and visual merchandising. After all, it can integrate with solutions that do not integrate directly with Shopify.
There are also some pretty big brands/stores doing this with Shopify right now. Overall - this approach is best suited for brands or retailers that are heavily focused on the user experience and are willing to compromise in other areas if necessary.
However, that does mean nothing can be done, and you are doomed to these limitations. One option that solves these problems is simply connecting to an external CMS system via the Storefront API. Many of the existing headless Shopify builds use content management (CMS) platforms.
Pure Daily Care, a Shopify-based beauty and wellness brand went Headless with Vue Storefront and Contentful. Read Pure Daily Care Case Study: Making Shopify flexible with Vue Storefront
Ready to dive in? Schedule a demo
Get a live, personalised demo with one of our awesome product specialists.