Progressive Web App in the mobile world
Vue Storefront
•
Mobile devices generate about half of global web traffic. In many growing markets, smartphones have already overcome PCs and became the primary devices used for online activities. Mobile devices are no longer just used for idle scrolling of social media platforms; the more time we spend on mobile, the more often we use them for more complex things, shopping included.  
Mobile internet dominance
The stats don't lie. The shift to mobile started years ago. According to Statista, it has been hovering around the 50 percent mark since the beginning of 2017. By 2022, it is expected to reach 77.5 exabytes per month worldwide. Given the hot trends such as visual and voice search, this seems a pretty solid forecast.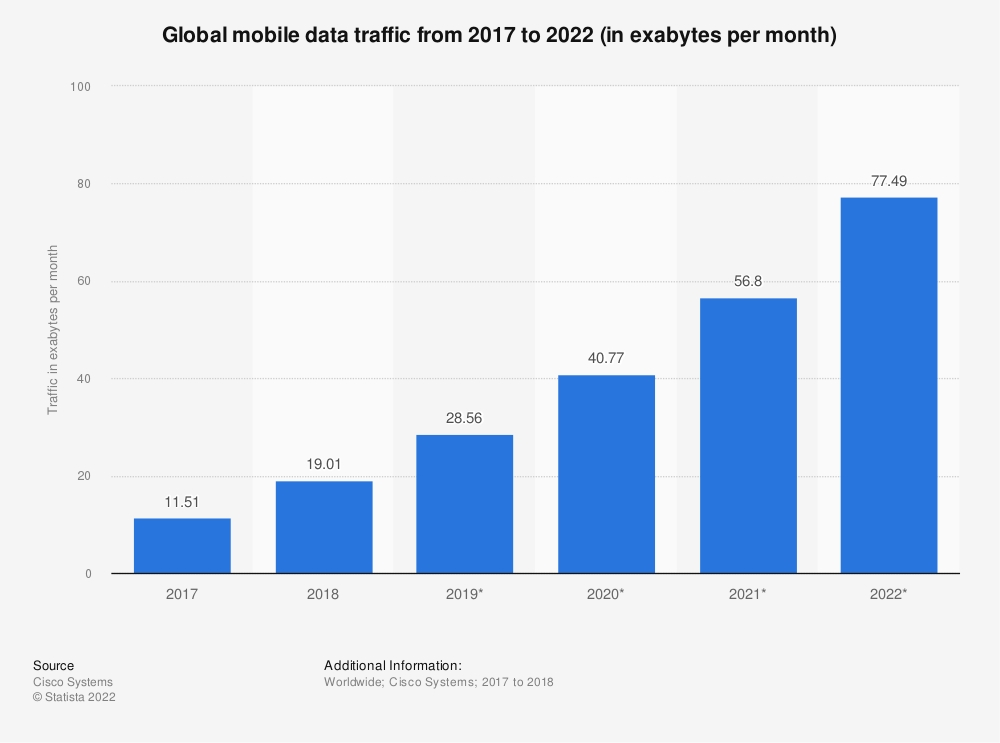 Source: Statista
Taking a mobile-first approach to creating online services seems to be even more important now that it is being openly pushed by Google. In 2010, Eric Schmidt made clear that the "mobile-first" rule should be the most important one to follow. Still, despite even that, many web owners stuck with the outdated mindset of continuing to make things that sometimes look beautiful but only really work on devices that consumers no longer use. 
Mobile users preferences
Users' preferences are evident and the scale of smartphone usage suggests we are all mobile nowadays. Many of us do still use desktops for more complex online tasks but this group is getting smaller, particularly in emerging markets.
In many Asian and African countries, where vast rural areas have a poor connection to power grids and there are regular blackouts in major urban areas, smartphones have become the primary devices that enable users to stay online. 
According to PewResearch, across the nine emerging economies surveyed, a median of 83% report owning a mobile phone, including nine-in-ten or more in Tunisia (90%) and South Africa (94%).
From the wealthy Western bubble, we might arrogantly "Why should we care?" Here it is why; despite the fact the purchasing power of citizens of African countries is on a lower level compared to Europe or North America, the continent's population is growing faster than anywhere else in the world. As China's example has proven, strength in numbers is not a factor that any growing business can ignore. 
China - these days the most desirable and expansive market - is already getting a foothold on African ground. Alibaba has field-tested its payment system there and WeChat collaborated with Kenya's M-Pesa on mobile money transfers. These moves strongly suggest the business potential of partnerships between China and Africa. 
However, the mobile shift is not limited to any one area. In the most fortunate parts of the world, it may be less visible, since waiting in the line to buy the newest iPhone is something that we fell in love years ago. 
The COVID-19 outbreak accelerated the shift to mobile even more. Faced with the necessity of social distancing, smartphones turned out to be the most handy tool for staying in touch with friends and family, gaining news about COVID, sending cheerful memes, and - last but not least - buying sweatpants, books, and DIY kits. 
According to Juniper Research's study, global mobile business messaging traffic will increase by 10% this year. 
The change in consumer behavior has forced brands to reprioritize marketing strategies. To stay relevant, they must adapt to the new market needs. Mobile-friendliness - or broader omnichannel presence - is one of the most crucial, as it supports the "contactless reality" desired by consumers nowadays. Many people are still not comfortable visiting brick-and-mortar stores, which sounds very reasonable in light of the second wave of the pandemic, not to mention that a large number of stores remain closed anyway.
According to Medallia 's study,  77% of consumers declare that the amount of in-person interaction required at a business will influence their decision to visit it in the future.
Though smartphones are becoming the main platform for connection, there are still many challenges. Retailers need to redesign the entire customer experience by providing flexible click-and-collect pick-up options and a variety of comfortable and safe payment methods, such as contactless mobile payments, self-checkouts, and mobile gateways. The customer that shuffles between various channels mustn't feel any friction while shopping; the journey has to be seamless and convenient but not come at the cost of any important functionalities This is a factor that will decide where the newbies in eCommerce will shop. 
The mobile shift in social media
The mobile tendencies that are now being embraced in eCommerce have already overtaken social media. In fact, it's no exaggeration to say that the rise in smartphone usage was the main factor that boosted their popularity. Already in 2016, 1 in 5 minutes of all digital media time was spent on social sites or in social media apps, and nearly 80% of all social media time was consumed on mobile.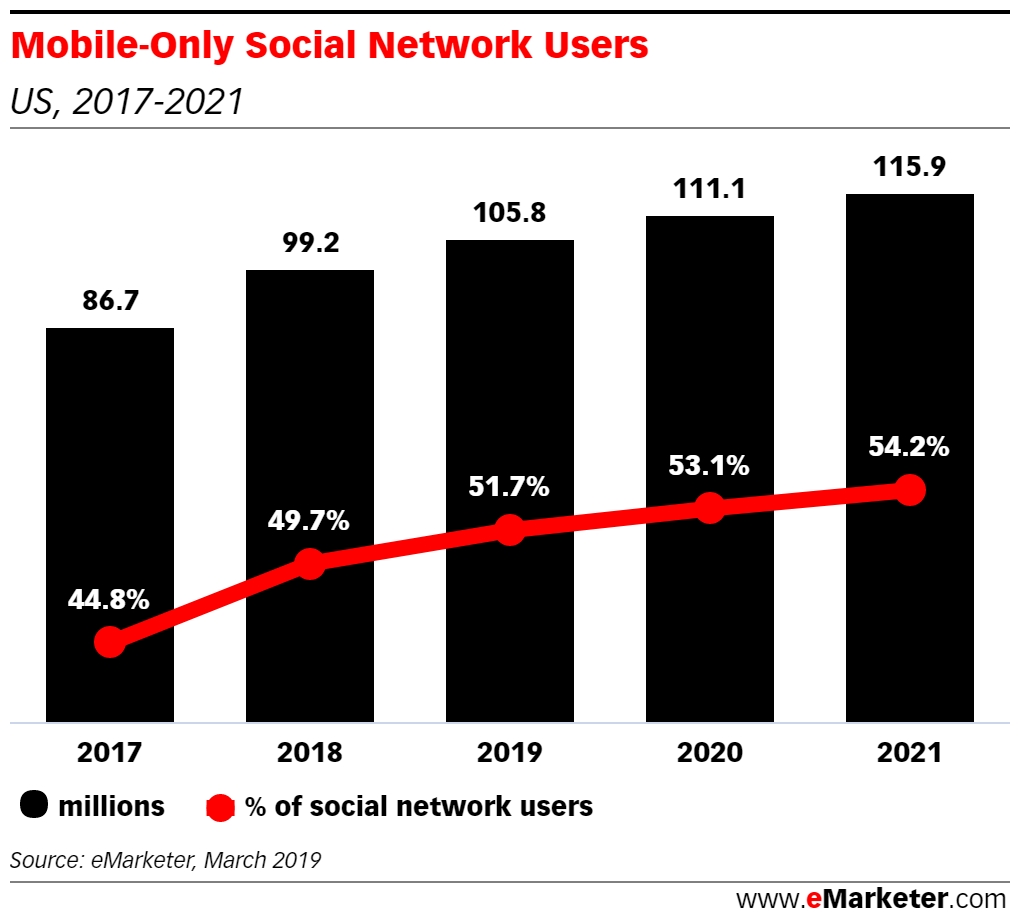 It is an accurate statement that social network users have been almost exclusively mobile for years. They may use desktops for educational or professional activities but smartphones are the tool for checking Instagram posts. 
The vast majority of social media traffic goes through mobile apps, making them the most popular apps worldwide. 
Social media platforms have refined user engagement to near-perfection. In fact, they are so good at it, that the word "addiction" seems to be more precise than "engagement". No wonder that mobile social apps are about 40% more engaging than desktop sites, and users are also 20% more likely to click-through. 
The stunning engagement stats from social media apps lead to obvious debate the whether it is a good or bad thing; however, for businesses entering the mobile world, the way users engage with these sites and the potential of the mobile channel should be an inspiration. 
Mobile gap in eCommerce
Unless you are an influencer, social media accounts are relatively easy to manage on a small screen. Most users are just scrolling, taping "like" from time to time, and occasionally posting more or less essential thoughts—it is basic stuff. 
Shopping on mobile devices is, however, a completely different story. It is complex, requires taking several steps, involves consent for using personal data, and requires users to make money transfers. For years, users were skeptical about filling endless forms and using not-so-friendly mobile payment systems on small-size screens. Product owners did little to change their minds. The mobile-first approach was considered a nice-to-have rather than a must; only a few product owners were willing to invest heavily in mobile-friendly technology. 
However, at some point, somebody did the math and discovered that the amount of time we spend with our smartphones does not match up with the number of transactions finalized on them. 
The so-called mobile gap became a growing challenge for retailers looking for a way of scaling their businesses.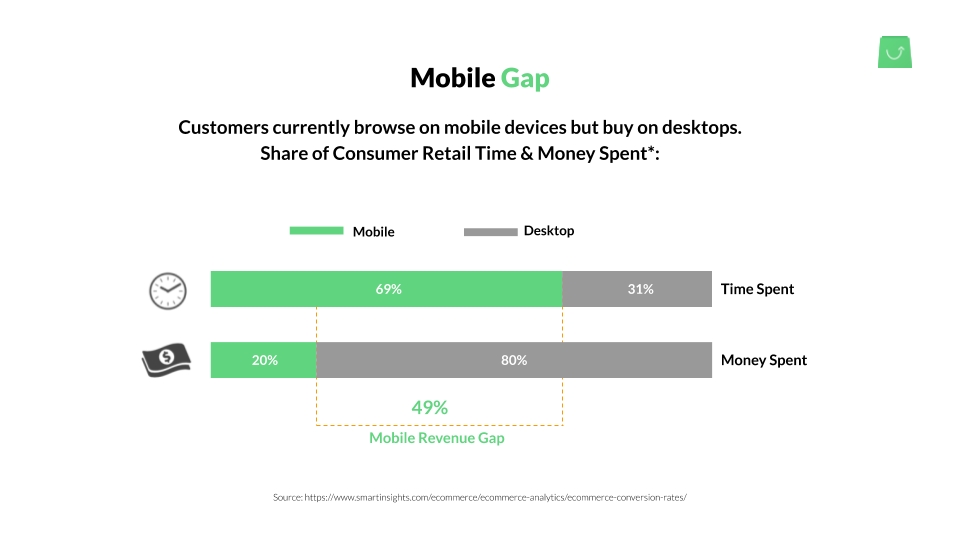 Adding mobile-first solutions became a priority for any eCommerce company as the mobile channel drives sales and brand loyalty, allowing them to get in touch with clients on a more personal level.
eCommerce becomes social
When social media platforms started to look for another way, besides ads, of monetizing their traffic, adding native eCommerce features on their platforms was only a matter of time. It was an obvious direction given the fast-paced dynamics of the market. Now, after some initial struggle, the trend called "social commerce" is gaining traction. 
Most social apps have developed features that allow retailers, that are actively using their platforms, to boost the sales by enabling users to shop without leaving the app. Facebook Shops, Instagram Checkout, Pinterest Shop, "shoppable" ad formats, in-app payments, CTAs and product tags…  these are all the ways to make shopping more fun, pleasurable, seamless, and more in line with current young customers' needs, especially taking into account the rising position of influencers.
Adding eCommerce features on social media platforms makes great sense, especially for small and medium businesses which struggle to keep up with UX trends. Facebook, Instagram, or Pinterest can smooth the customer journey on the behalf of an SMB… for a reasonable fee, of course. 
There are also other hidden costs. While money may not be the issue, some may question the reliability and honesty of the middleman. 
Also, remember that social commerce may be a necessary sales channel for many businesses but having your channels is a must, especially in the omnichannel reality. 
Google's drive to deliver mobile-friendly results
Google keeps trying to deliver us what we need, even if we think we don't want it! When it saw the rise in searches made via mobile devices, a critical update of its algorithm became only a matter of time. 
In February 2015, after the mobile breakthrough in search, Google announced its plan to change the way the search engine evaluated and presented mobile-friendly results. Mobile-friendliness became then one of the most important ranking factors, but that was just a beginning. The "Mobile-First Index" was supposed to be Google's next move to push publishers to treat the mobile channel more seriously. With it, Google announced primarily indexing mobile content: any additional desktop websites are supposed to be given minor importance. 
This and other UX-related changes, turned out to be very favorable for Progressive Web Apps . With Google's mobile-first approach, Microsoft and Apple's support of ultra-fast mobile pages came into the spotlight. 
PWA SEO Advantages
The most significant SEO benefit of Progressive Web Apps is that they speed up how an application is indexed. Since search engines like smooth, fast apps with limited retention, they reward them with a higher ranking. The higher the position in SERPs, the bigger the chance of winning the user's attention. The page speed positively influences the bounce rate, and this is also a metric that matters; along with the time spent on a site, it illustrates the user's engagement, which is a prime focus for Google.
Progressive Web Applications, in general, improve the UX of sites. They allow the web owners to use phone features such as localization and push notifications; they can also increase user engagement and conversion and are widely known for the smooth UX they provide.  
Ready to dive in? Schedule a demo
Get a live, personalised demo with one of our awesome product specialists.