Headless Commerce Cost: Is Headless Expensive?
Headless Commerce Cost: Is Headless Expensive?
Vue Storefront
•
When discussing the advantages of headless commerce with businesses, one of the most common questions is "How much does it cost?".
Unless a headless solution supplier knows a company's goals and vision, the response is nearly always, "it depends''. This article will describe what major factors affect headless commerce cost.
What is headless commerce?
Headless commerce is the generally accepted term for decoupled commerce software architecture, where the system's frontend layer is separated from the backend business logic.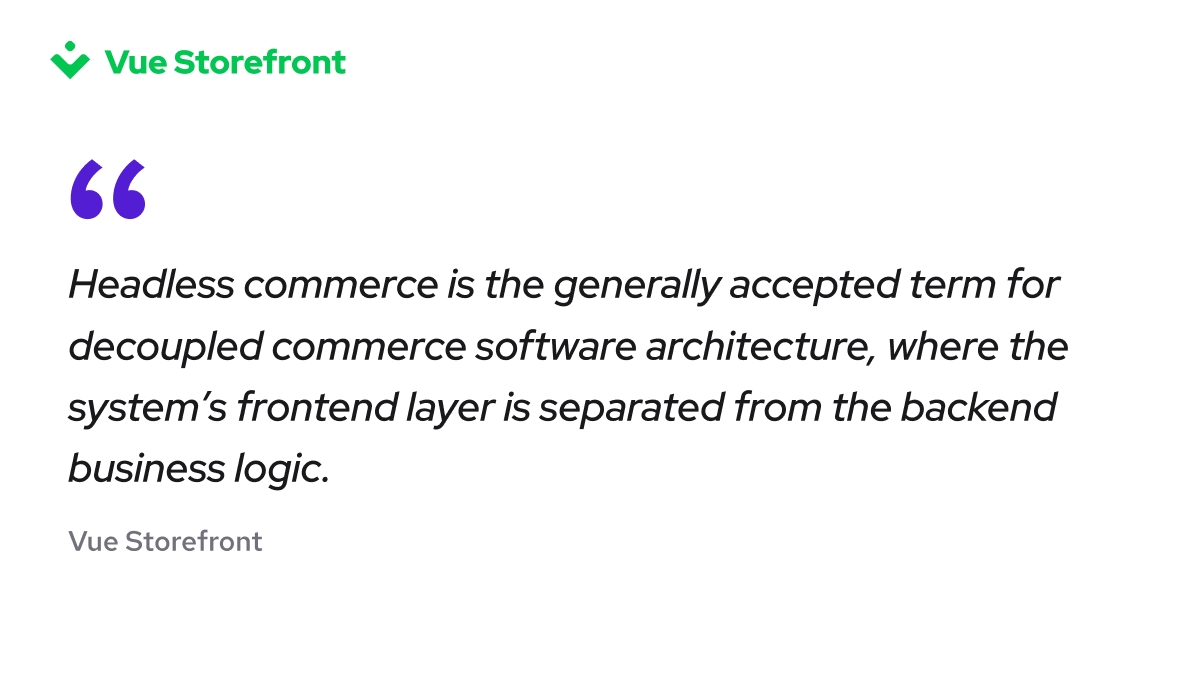 It is a part of the approach where an eCommerce platform, CMS, and other 3-rd party tools, such as payment solutions, analytical tools, loyalty programs, and search engine solutions, communicate via API-first logic. "Headless commerce" and " composable commerce " are often used interchangeably but the latter term is much broader. 
By decoupling all the components of the eCommerce system, a business can compile only the parts they need from a variety of best-of-breed headless applications. They can perfectly customize them, effortlessly and affordably make changes to the UI on the frontend, and optimize for UX without disruptions to the overall operations. 
Headless is a relatively new philosophy of building software systems. It focuses on providing businesses with the agility to prepare them for customer behavior changes.
Additionally, eCommerce stores built with a headless approach give merchants excellent flexibility. Thanks to API-first architecture, they can plug in and unplug particular headless elements enabling development changes and updates without interfering with the rest of the business operations.
What makes headless commerce cost-efficient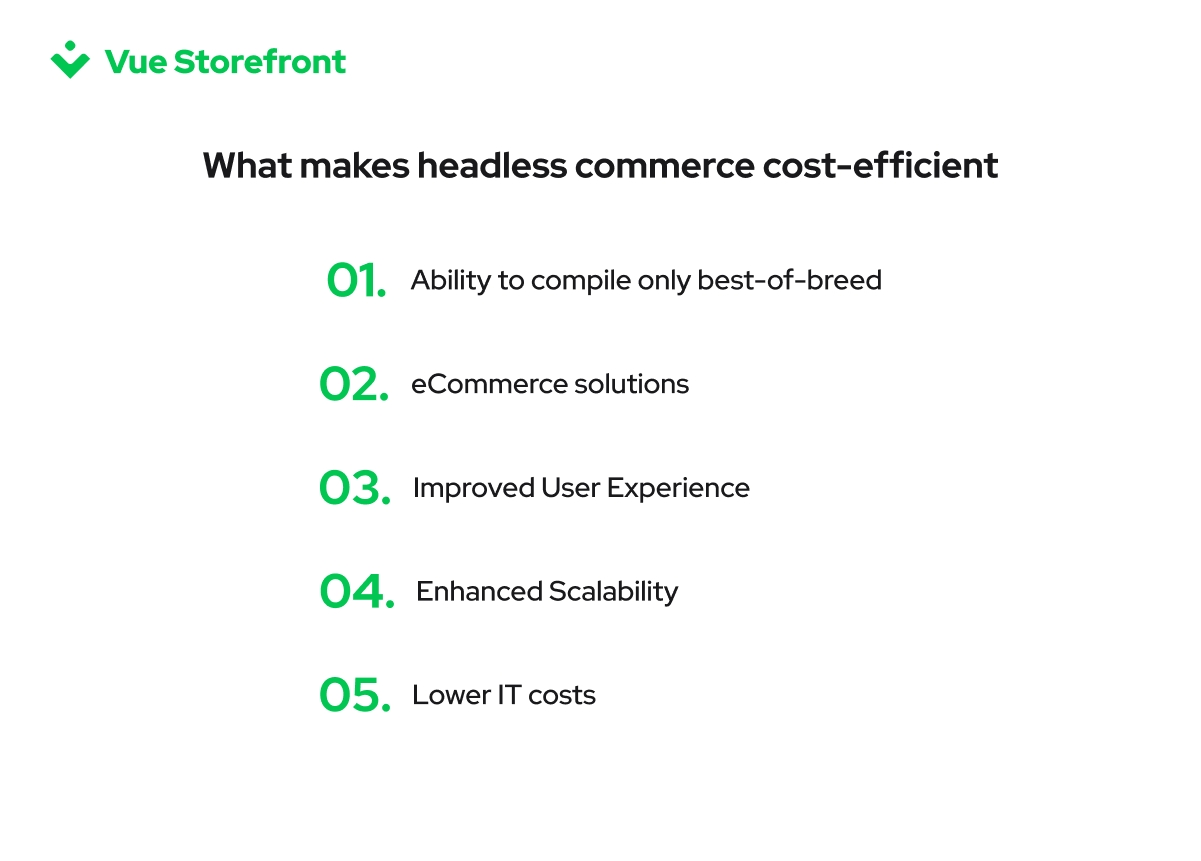 Headless commerce is gradually displacing monolithic software in eCommerce. There are multiple reasons why going headless is reasonable from an economic perspective.
Freed marketing teams and improved customer experience
When it comes to eCommerce speed, time indeed translates into money. Slow monolith websites lose orders to fast websites. Poor site performance directly affects your conversion rates and revenue. As an answer, headless commerce solutions deliver performance-oriented architecture with a strong focus on SEO (mobile and desktop) and conversion rates. 
Additionally, decoupling the frontend and the backend layer of the system gives business teams full freedom and flexibility to introduce changes to the presentation layer without the need of developer's support. This way they can update, test, and add new features answering to the ever-changing customer needs without delays, which usually translates to better customer experience and increased conversion rates (plus, you save on IT resources). 
Less time invested in building, upgrading, and improving a storefront naturally equals fewer funds spent on a lengthy development process. 
Enhanced scalability
Headless solutions provide seamless auto-scaling capabilities, and unexpected increased traffic is not problematic to the setup. A significant pain point for monolithic system users is the limited possibility of scaling an eCommerce business.
This limits expansion into new markets, developing of new product segments, launching new brands and stores, and generally slows the business. This is one of the most immediate and familiar pain points vendors aim to solve with a headless commerce approach. 
When an eCommerce business is growing rapidly, it needs a tech stack that will keep up with the speed and allow for changes on the go. This is precisely what headless commerce offers.
Headless architecture enables merchants to set up multi-store environments quickly. It gives them the ability and option to switch solution providers at any time should that be an urgent requirement. eCommerce legacy solutions block businesses from growing, scaling into new markets, building new brands, and developing new products and service segments. It slows down the growth and operations of the business.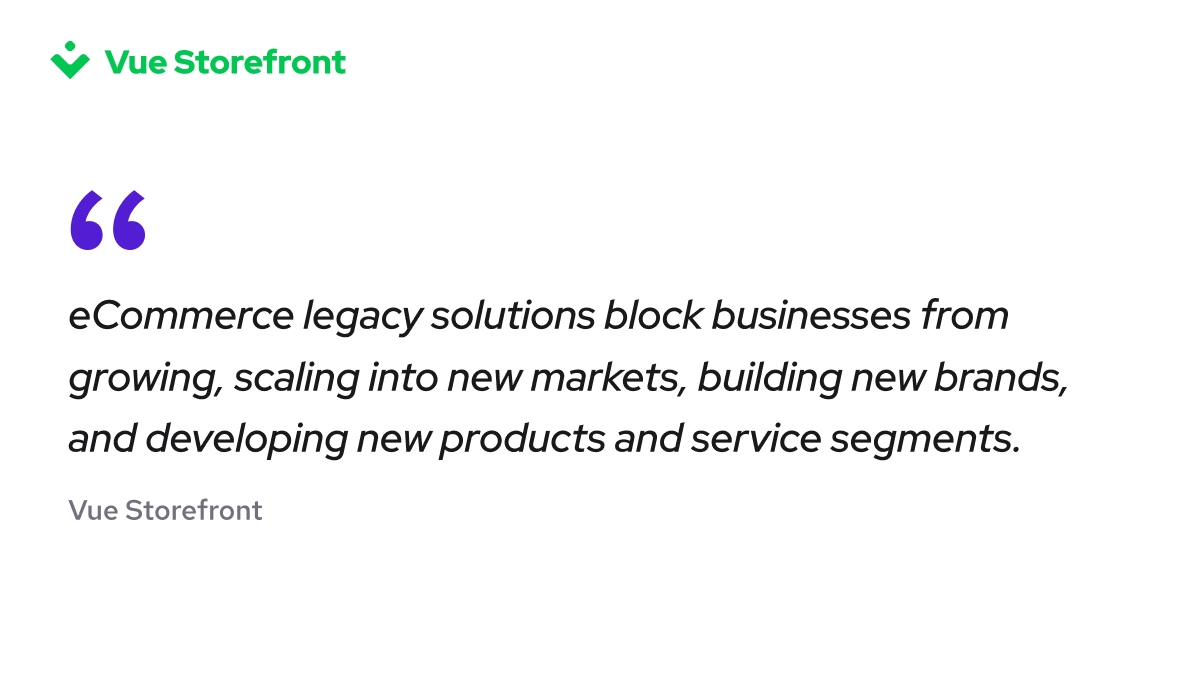 Lower IT costs
Headless commerce presents a decentralized architecture that splits the process of engaging the entire dev team simultaneously, thus reducing IT costs. A monolithic architecture engages the whole team as they have to deal with all the different eCommerce layers simultaneously.
When working on a headless commerce stack, developer teams can test, fix bugs, and develop separately without risk to the entire system. They don't have to wait for another team to finish specific tasks before commencing their own—saving loads of development hours.
The most significant advantage of headless developments is access to the best pre-built integrations. The time saved in development hours adds a massive chunk of operational expenditure to your bottom line. For example, Vue Storefront has more than 30 out-of-the-box integrations with best-of-breed eCommerce solutions, and the number is growing.
Ability to compile only best-of-breed eCommerce solutions
As great as the one-size-fits-all, out-of-the-box monolithic software solutions were to eCommerce a few years ago, they failed to grow as fast and efficiently as enterprise users need. The one-stop-shop software architectures became a significant drawback as the default monolithic features turned out to block and slow down business growth.
Consumer expectations for new features, the best UX, and super-fast page loads caused a course correction for eCommerce, moving it more towards choosing from a variety of the best interoperable solutions available in the market.
And this is where headless commerce steps into the spotlight! The API-first approach now gives businesses the freedom and flexibility to build and compile an eCommerce stack with their preferred best-of-breed CMS, eCommerce platform, payment providers, search, loyalty, rewards programs, and legacy platforms.
Is headless commerce pricing higher than monolith pricing?
The notion that headless technology is more costly than full-stack solutions arises from the misconception that developing a headless commerce system is a lengthy procedure. The premise is that greater complexity and development time negatively impacts the headless commerce pricing. However, building an eCommerce stack with headless solutions can take less time than with full-stack solutions. 
Headless commerce websites save costs during development, launch, and hosting. Let's look at a few elements contributing to lower development expenses.
Headless commerce websites require fewer licensing and hosting fees than legacy software
Headless commerce solutions offer a unified eCommerce experience without the upfront license costs or recurring high-cost hosting expenses that come with traditional full-stack platforms.
Traditional eCommerce platforms provide storefronts that are predefined and leave limited space for modification. Both frontend and backend cost a great deal for small businesses attempting to build their eCommerce website. This is also a significant price issue for established companies wanting to rebrand. 
A headless commerce ecosystem can grow with the company
Headless commerce pricing systems are much more appealing right from the start. Despite the endless opportunities and multiple headless vendors available on the market, you can start with a basic setup.
In fact, you can go headless without replatforming by adding a composable frontend on top of your monolith platform. By starting with the frontend you significantly accelerate time-to-market, improve web performance and customer experience from day one, which ensures fast return on investment. With time, you can keep adding other headless solutions as needed. 
In contrast, traditional approaches provide a set price for strict infrastructure builds. Traditional eCommerce websites include more capabilities than you need upfront, and vendors justify the cost by claiming that the business will grow over time.
However, traditional eCommerce platform solutions are usually seen as quick investments since developers know that modifications will be required.
What makes up the cost of headless commerce?
Cost structures for headless commerce suppliers are generally similar. While they differ significantly among providers, customers typically do not consider these a major factor when deciding which headless commerce solution is best for their requirements.
Subscription license
Typically, the cost of a subscription license is determined by the amount of products in a shop. Costs centered around Gross Merchandise Volume (GMV) have become the norm. Based on the contract, they vary from a fragment of a percentage point to just a few percentage points (0.3% - 3%) of GMV. Usage-based pricing is not revolutionary; other SaaS systems, such as cloud computing, use a similar concept.
The other option for quantity pricing is based on the amount of orders handled. This option is less prevalent because the average order value varies greatly between brands.
The most important factor in deciding which eCommerce solution to choose is evaluating headless commerce pricing. Headless commerce is typically much more affordable than a traditional monolithic platform such as Magento, Salesforce Commerce Cloud, or Shopify – especially in the long run.
Third-party solutions
Aside from the subscription license fee for your primary solution provider, buying third-party services might be costly. With current headless commerce solutions that use a modular approach, companies may choose the third-party services they require to meet their commerce objectives. Connecting the main commerce system to third-party Search, Content Management Systems (CMS), Order Management Systems (OMS), and payment methods are common examples.
Each of the above will have different fees. Finally, the overall cost of third-party services will be determined by the backend solution it needs to connect with.
Headless commerce is a low-cost solution
One of the most enticing characteristics of headless commerce solutions is the decreased post-launch load. It is simple to begin small and scale your eCommerce website as your company expands.
Furthermore, many businesses will remain on a sluggish platform for years simply because they need more capacity to transfer elsewhere. This ultimately costs a company more in the long term due to the loss of revenue and brand value.
Businesses may improve existing eCommerce infrastructure with headless commerce solutions like Vue Storefront without beginning from scratch or investing in a new, pricey full-stack website.
How to cut headless commerce costs
Business leaders typically understand headless commerce as an eCommerce solution that stores, manages, and delivers content without the frontend delivery layer. They believe that the only option to go headless is to build a custom storefront—which can take months and is very expensive to develop.
Fortunately, this is not the case with Frontend as a Service solution like Vue Storefront at their disposal. Frontend as a Service (FEaaS) is a one-stop-shop solution for creating performant storefronts at speed.
A comprehensive FEaaS solution enables eCommerce developers to build, test, and distribute engaging frontend experiences faster, better, and cost-effectively. Optimized, well-tested, performant, and consumer-centric interfaces are delivered to the market without spending months on developing a custom-built frontend.
Scalability, web performance and customer experience all depend on the frontend technology. Frontend, which is the HEAD in a headless commerce stack, is where all the logic must collaborate while delivering optimal results to secure increased conversion rates. This is why your headless commerce journey should always start with the frontend layer.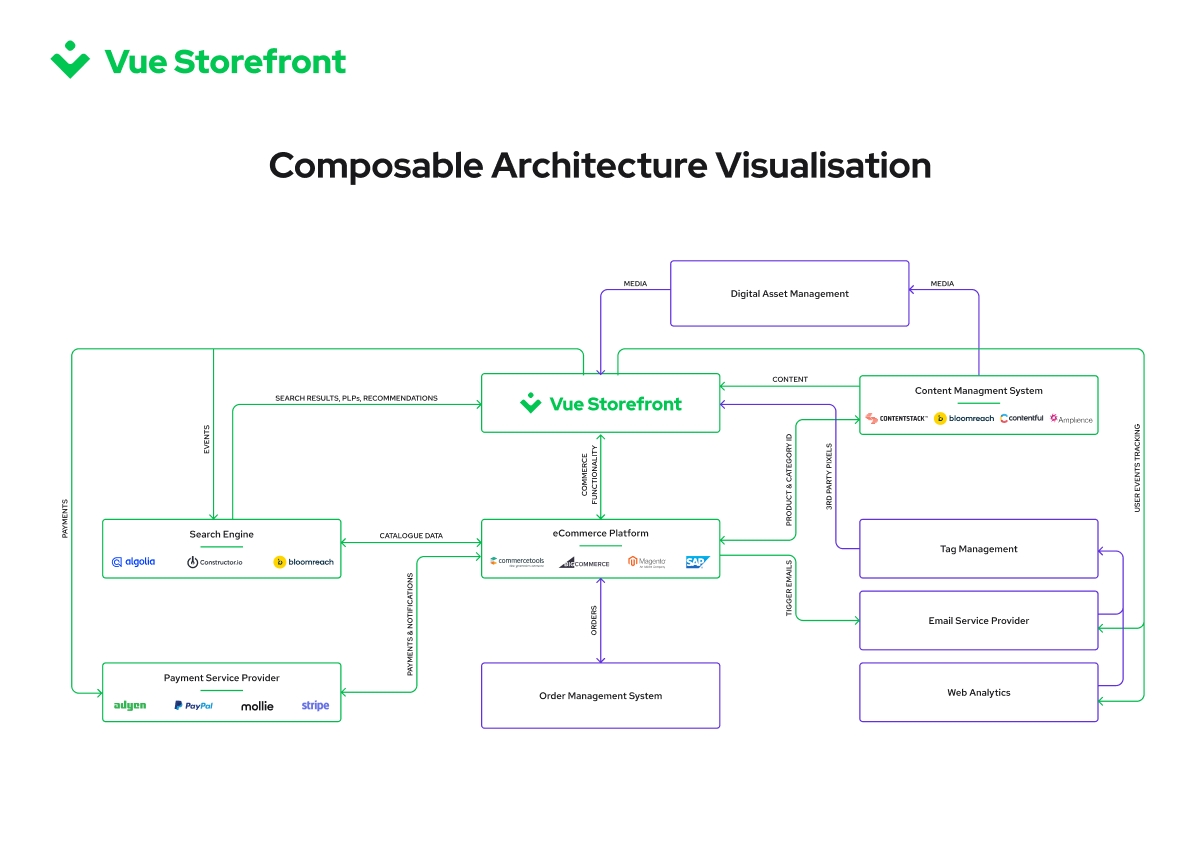 Start your headless commerce journey with the frontend
To make a swift shift to headless commerce, merchants can apply a cost- and time-effective approach, and instead of full-blown re-platforming, start with replacing just a frontend.
Reasons to start your headless commerce journey with the frontend:
Frontend drives customer experience. Most of the digital customer journey happens on the frontend. This means you need a fast, mobile-first and customer-focused frontend to drive conversions. By choosing frontend as the first step towards a composable approach, you start with your customer needs.
Frontend drives performance. Only ultrafast frontend architecture can deliver outstanding customer experience. Legacy monolith systems cripple page speed and the entire customer experience. Instead of costly point solutions, you need an entirely new underlying frontend technology optimized for web performance and SEO out-of-the-box.
Vue Storefront allows easy and smooth migration for quick ROI. With Vue Storefront Frontend as a Service you can easily take the first step towards composable commerce and decouple fast without replatforming. Contrary to the common approach, you don't need to build your storefront from scratch – with Vue Storefront you can assemble your presentation layer with pre-built blocks optimized for performance, and customize them according to your needs.
Download the whitepaper to learn how Vue Storefront can help you create a fast, mobile-first headless frontend to drive conversions and revenue.
Sign up for our newsletter
Sign up to get business updates from the headless commerce world
Ready to dive in? Schedule a demo
Get a live, personalised demo with one of our awesome product specialists.