How to Ensure eCommerce Experience That Brings Profit
Vue Storefront
•
For retail businesses, simply having a properly working website is no longer sufficient. Today, customers expect fast, engaging, and mobile-friendly shopping from browsing to checkout. 
This article will dive into the eCommerce customer experience and discover how to improve it in order to boost conversion and revenue.
What is eCommerce experience?
The eCommerce customer experience includes all customer interactions with an eCommerce business. It includes everything from the first time a customer hears about your brand to the minute they make a purchase.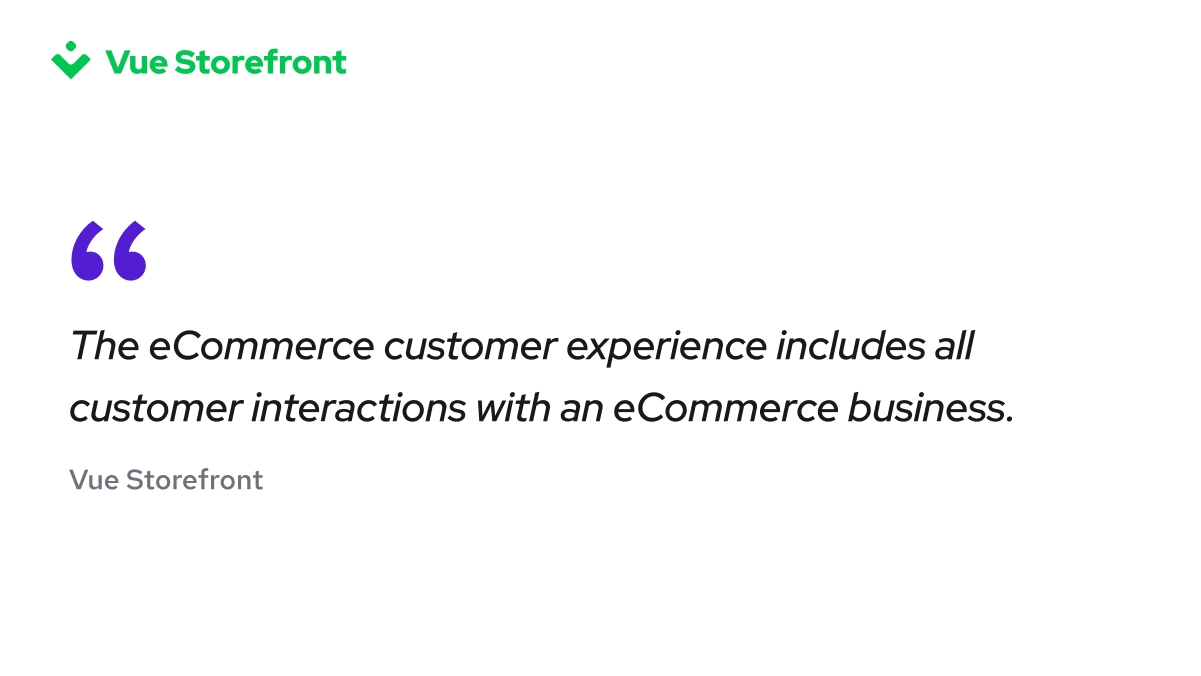 Why is it crucial to invest in customer experience in eCommerce?
Here are some statistics that demonstrate why investing in a customer experience for your eCommerce store is a good idea:
CX climbed to the top for marketing budgets, with 20% allocated to getting CX right. (Digital Trends by Adobe) 

You can increase your revenue by almost 70% by improving CX. (Temkin Group) 

73% of customers confirmed that their overall customer experience determines whether they check out or abandon their sales. 

43% of all customers tested in the US said they would pay more for exceptional CX. 

65% of customers considered a top-notch experience more vital than advertising and branding. 

According to another consumer report by Temkin, investing in CX can double your revenue in 36 months.
What do buyers expect from eCommerce customer experience? 
Any online retail business must prioritize the customer experience. There are some ground rules to follow. 
Fast experiences 
As the page load time increases from 1s to 5s, the likelihood of a bounce increases by 90%. The client online shopping experience can be influenced by a 0.1s change in load speed. According to Deloitte , a 0.1s improvement in speed results in a 10% increase in client expenditure. Also, 70% of consumers acknowledge that page load speed affects their willingness to shop from retailers.

Mobile experiences
Rising customer expectations and increased smartphone usage are driving the need for mobile speed. The competitive gap will widen between brands that provide great mobile-first lightning-fast experience and those that fail to deliver it. Mobile conversions require a smooth, agile mobile experience. Slow loading times and a lack of mobile-first architecture cause mobile shoppers to spend more time and less money.
Simple shopping interface
Thr absence of a tidy interface with the shopping cart that is visible is usually one of the primary reasons for an abandoned cart. For example, Amazon is a user interface design champ. The consumer is guided through their purchasing journey from search to checkout by the minimalistic and uncluttered design.
Visual appeal
Aside from a strong focus on checkout, buyers gravitate towards appealing layouts. The adoption of integrated design is an emerging trend in mobile commerce. A growing number of applications rely on animation and card layout design to persuade users to interact in whatever way they see fit. 
Extensive search
The more extensive your product catalog, the more crucial website search is to your eCommerce business. While it is uncommon to encounter an eCommerce website without a search box, it does occur, even among a few of the most well-known companies. The usability of search results is also crucial. Customers anticipate segmented navigation to filter results further by category, price, star ratings, color, size, etc. 
Customer reviews
Customer reviews have been shown to boost conversions by up to 270%, with most customers (82%) looking for negative feedback. Word of mouth is essential, and buyers seek it out and trust it.
Personalization
Given the amount of competition in the market, brands must distinguish themselves by providing distinctive experiences. Individualized buying, usually linked to social media, is becoming popular among online customers. Customers are attracted by product suggestions that are specially customized to their purchase history.
Payment methods
Give your clients a wide variety of payment options. Different payment methods, such as digital wallets from Apple, Google, or Samsung, are preferred due to their touchless nature. Also, the BNPL (Buy Now, Pay Later) alternative from vendors such as PayPal and Klarna is a developing trend in mobile payment. BNPL provides a more comprehensive payment solution for consumers on a tight budget who want to purchase expensive things.
How to improve customer experience in eCommerce?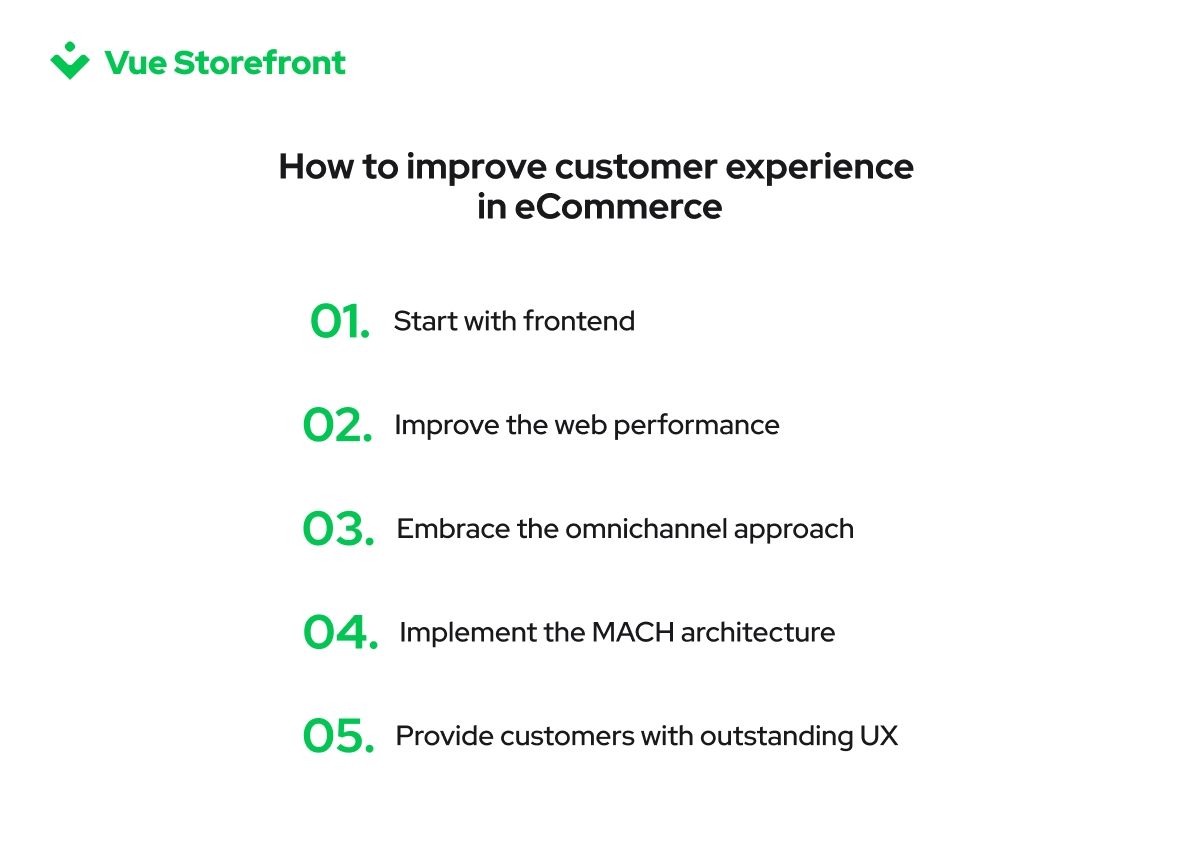 Below you'll find the ground tips to help you improve your eCommerce customer experience.
Start with frontend
The frontend is where the customer experience takes place. And, because customer journeys happen on your website's presentation layer, you need a super-fast mobile-first frontend to boost conversion and revenue. The frontend of your website is where users interact with it directly. This encompasses the general layout, design, and user experience. Creating a seamless, intuitive, and pleasurable frontend experience is critical for keeping customers satisfied and returning for more (CRR).
Improve the web performance
A high-quality consumer experience begins with quick page loading. To stay ahead, you must boost the speed of your website. Adopt a mobile-first approach and improve website loading speed regularly. Composable commerce solutions are a fantastic choice since they provide performance-oriented architecture with a primary emphasis on SEO (mobile and desktop) and conversion rates.
Embrace the omnichannel approach
Channels are the means via which a brand communicates with its clients. These include websites, social media, mobile apps, and various marketing channels. An omnichannel approach integrates all channels to provide a consistent customer experience regardless of the channel the customer uses. A smooth omnichannel shopping experience reduces the friction of traveling between different touchpoints, making it easier for the client to finish their purchasing journey.
Implement the MACH architecture
The MACH approach focuses on composability and allows you to create a robust IT environment that aligns with business requirements. MACH architecture enables you to make one modification at a time. That means you can address your most pressing issues right away. And, as your business expands and customer needs change, the MACH architecture makes it significantly easier to integrate new solutions and procedures to improve your CX further.
Provide customers with outstanding UX
The importance of user experience in establishing an exceptional CX cannot be overstated. Customers will most likely move on to the next online store if they are unable to interact easily with your eCommerce site.
Things to focus on when improving UX:
Mobile optimization. Customers nowadays use multiple mobile devices during their purchasing journey. As a result, you must ensure that they can interact with your site regardless of device.
Intuitive site architecture. It would be best to strategically structure your product catalog to guarantee users can easily navigate your website.
Fully-functional search feature. AI-powered eCommerce plugins can improve the user experience by providing real-time search suggestions
How to analyze the customer experience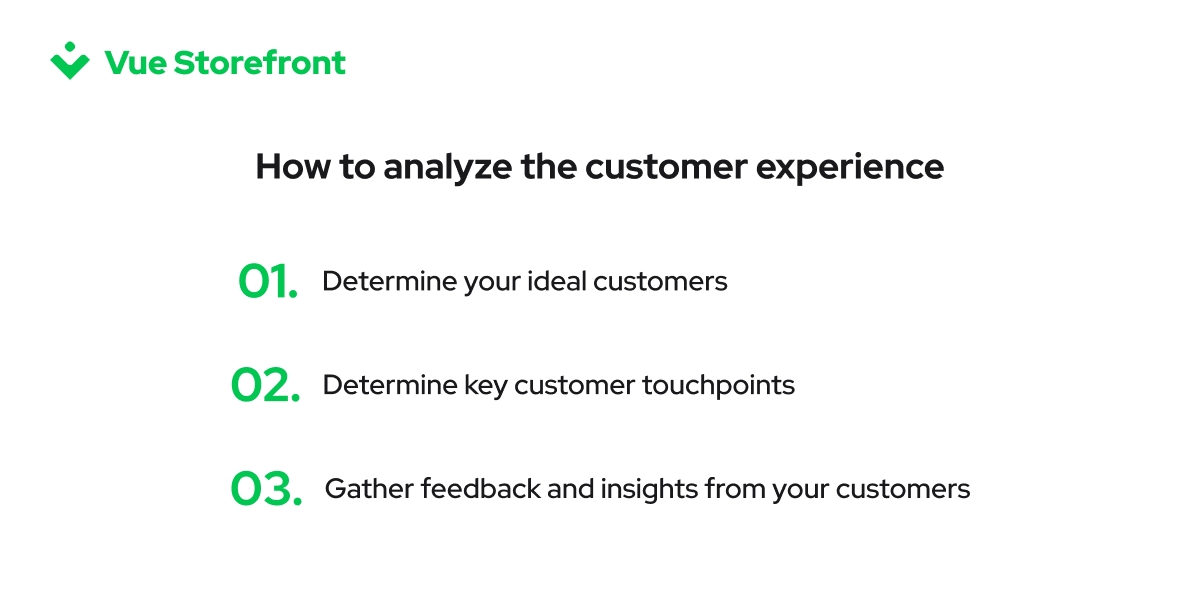 There are three things that you should do to analyze the customer experience:
Determine your ideal customers

Determine key customer touchpoints

Gather feedback and insights from your customers
Determine your ideal customers
The ideal customer profile (ICP) describes environmental, and behavioral characteristics of clients that are projected to be the most valued customers for a company.
If you're not certain who those consumers are, you can identify them by conducting a simple on-page survey in which you question your site visitors about who they are, what they do, and how they engage with your products or services. You can then focus on the clients who make the most purchases and spend the most money.
Once you have a general notion of your ideal consumers, you can begin diving deep and creating the user personas that will lead you through the remaining processes.
Determine key customer touchpoints
Specific touchpoints require extra attention (even if your clients do not identify them as trouble areas). For example, these touchpoint could be:
Onboarding of new customers

Deals that were lost

Order cancellations by customers

First-time visitors to a website
Gather feedback and insights from your customers
There are various methods for gathering feedback and ideas from your customers—here are three:
Conduct unscripted interviews
Interviews need more work than setting up an on-page poll on your website. But talking with some of your ideal clients and listening to their individual stories might provide you with some insightful information. You're very likely to come across unmet needs, motivators, and barriers to purchase.
Explore your web analytics data
Web analytics is used to gather, report, measure, and analyze website data. You can use it to map out your complete website environment and observe overall customer activity on the website. Web analytics will provide you with a ton of contextual knowledge, but it is not about gathering input. You may determine whether customer experiences represent more extensive patterns by looking at Google Analytics page views, drop-off rates, traffic patterns, and traffic sources.
For instance, if one customer complains that ordering a particular product was difficult, you can check the order page to discover how many more customers abandoned the order.
Track user sentiment
Sentiment analysis can be used to determine how customers feel about your brand. Using Natural Language Processing (NLP), sentiment analysis may categorize public sentiment as positive, neutral, or negative at its most sophisticated level. The simplest form entails maintaining a spreadsheet journal of the feedback you get (enterprises uses dedicated software for that). You will analyze the data later to identify the items and operations affecting your customers' experiences.
eCommerce experience metrics to track
You can combine several CX metrics to gain a complete picture of the customer's journey with your brand.
Let's take a closer look at 7 crucial metrics.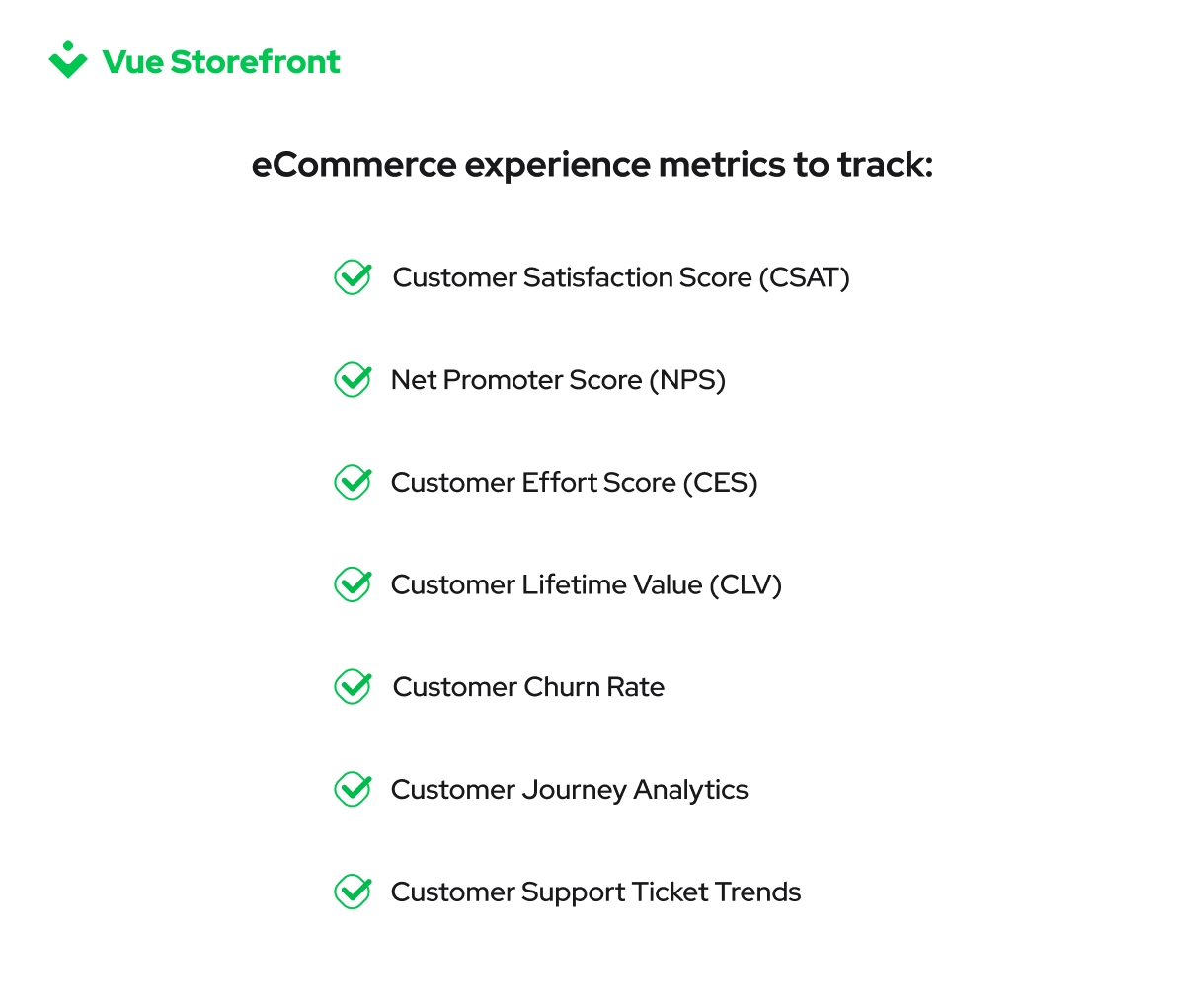 Customer Satisfaction Score (CSAT)
The Customer Satisfaction Score (CSAT) is one of the simplest ways to assess customer experience. While often utilized as a customer service metric, CSAT also offers insight into the customer experience, as support interactions are a significant component of CX. This introductory survey determines how happy a client is after interacting with your company.
For instance, after speaking with a live representative through online chat, a consumer can rate the support agent's response depending on how satisfying or useful the solutions are. Alternatively, if a client acquires a product or service, you might inquire about their satisfaction with it.
Net Promoter Score (NPS)
Net Promoter Score (NPS) is a popular way to assess customer satisfaction. Your NPS will tell you the percentage of customers that adore, are neutral towards or dislike your brand.
The net promoter score represents the proportion of customers who would recommend your brand to others. NPS may be measuredYou  by asking customers to rate how likely they are to refer your eCommerce brand to others on a scale of -100 to 100.
Customer Effort Score (CES)
A Customer Effort Score (CES) survey can be used to ask customers to rate their interactions with a business or its services and goods as easy, neutral, or difficult.
To calculate CES, add together your customer effort scores and divide them by the total number of survey replies.
If clients rate a product as difficult to use, you should consider new approaches to make it more user-friendly. For example, if your site's menu is difficult to find, you'll need to revamp it or adopt a cleaner template to enhance the CX.
Customer Lifetime Value (CLV)
Customer Lifetime Value (CLV) indicates how much a single customer has contributed to a company over the course of the relationship. This means how much they "cost" a company. The formula also considers how much a company spends to retain a customer.
It's a valuable customer experience statistic since you can see whether a customer is satisfied and making more purchases over time or is dissatisfied and spending less with your company.
CLV is calculated by multiplying the customer value by the average customer longevity.
Typically, the higher the CLV, the better the CX. However, if you notice the consumer spending less over time, you can figure out why and devise strategies to increase the CLV.
Customer Churn Rate
The percentage of customers who abandon or do not renew their subscriptions over a specific period is the churn rate.
While churn is unavoidable, it is critical to understand why it occurs in your business so that you can decrease it. To calculate your churn rate, pick a time period and sum the total amount of clients you've gained as well as the number of clients who left throughout that time period.
Then, to get your churn rate, divide the amount of clients who left by the total amount of clients gained and multiply that number by 100%. This measure should assist you in determining why consumers are departing.
Customer Journey Analytics
Another method for measuring eCommerce customer experience is using analytics to examine the client journey.
Customer motivations, needs, and pain areas can all be addressed through your customer journey map. It will also assist you in comprehending all of the touchpoints a consumer encounters during their journey. 
To begin analyzing the client journey, you should certainly take data from your social media, advertisements, website, corporate events, product evaluations, emails, and surveys. Next, on your customer journey map, add a page or tab devoted to reporting the metrics of your touchpoints to analyze your customer experience.
Customer Support Ticket Trends
You could also examine your customer support tickets to identify trends affecting the client experience.
Are there reoccurring issues that cause your consumers pain? If this is the case, try to address them as they arise. Based on the tendencies you found, you may decide that you need to provide more straightforward directions, explanation films, or product changes.
How can Frontend as a Service improve your eCommerce CX? 
Frontend as a Service offers eCommerce businesses a solution for creating customer-focused shops in a single place using a single tool.
To provide an exceptional customer experience, you need a fast and mobile-optimized frontend that is not tied to a monolithic system . With FEaaS, you can create, test, and deploy features more quickly than ever before.
Vue Storefront is a Frontend as a Service (FEaaS) that enables lightning-fast page loading, resulting in improved conversion rates and revenue. Vue Storefront's out-of-the-box integrations and customizable templates help significantly reduce development time and expenses while providing endless customization.
Vue Storefront enables commerce businesses to provide an outstanding customer experience through a high-performing frontend while increasing revenue and substantially reducing development and operational costs.
Download the technical whitepaper to learn how Vue Storefront can help to deliver top-class customer experience and drive the revenue!
Sign up for our newsletter
Sign up to get business updates from the headless commerce world
Ready to dive in? Schedule a demo
Get a live, personalised demo with one of our awesome product specialists.