A Deep Dive into eCommerce Customer Experience
Vue Storefront
•
Customer experience in eCommerce is not just a trend or a buzzword. Getting your eCommerce customer experience (ECX) right can improve your conversion and revenue, so the stakes are quite high. In this article, you'll find out what eCommerce customer experience is, why it matters, and how to improve it.
What is the eCommerce customer experience?
eCommerce customer experience encompasses all the interactions customers have with an eCommerce brand. It spans everything from when customers first hear about your eCommerce brand to the moment they make a purchase.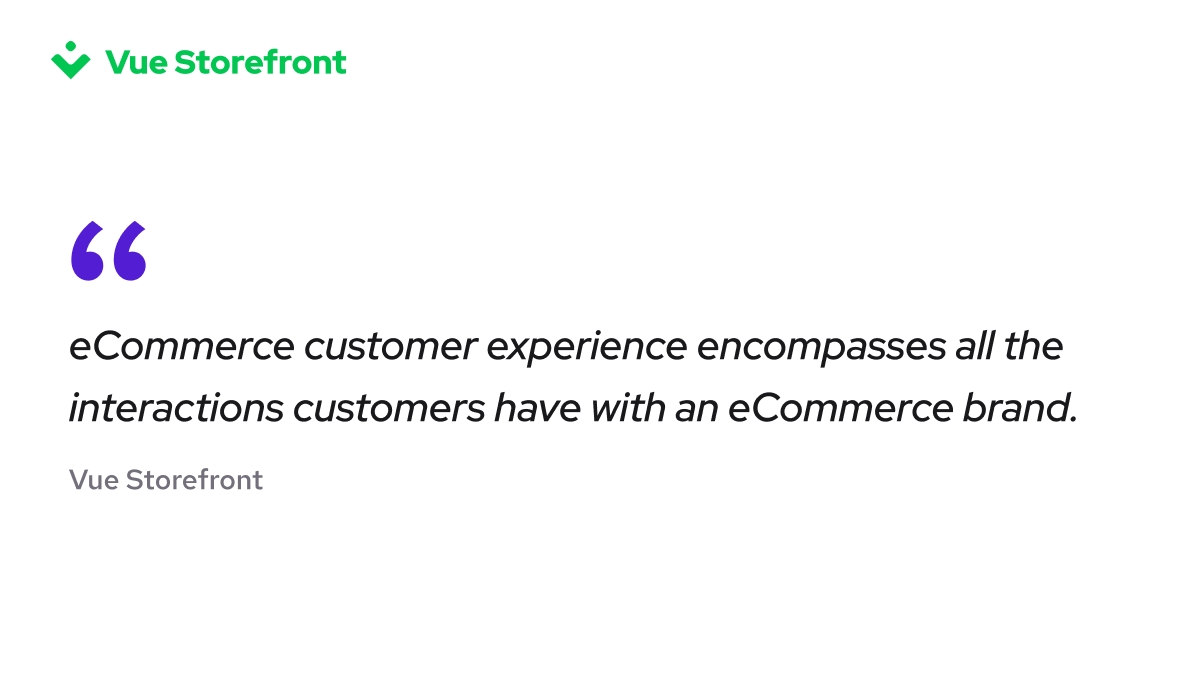 Pre-Purchase eCommerce customer experience
The eCommerce customer experience starts long before a person becomes a paying customer.
The essential goal of the pre-purchase ECX is to show your brand's significance to mildly-interested customers. And you can do that by providing them with relevant information about your brand. For example, what you offer, what is so special about your products, and how customers will benefit from their purchase.
Pay attention to what works best for your target audience, and deliver that information in a way that would engage your customers.  
Shopping eCommerce customer experience
The next part of the eCommerce customer experience is the shopping process.
What you need to do here is to keep your customer informed about product pricing, availability, and transactional policies.
Please note that without it, the customer experience might end before they purchase. Ensure the buyer can finish the purchase as expected with as little hassle as possible.
Post-purchase eCommerce customer experience 
The post-purchase eCommerce customer experience starts after a customer has made a purchase. At this point, you should focus on persuading customers to return to your eCommerce brand.
The fundamental goal of the post-purchase ECX is to have your customers buy more and more of your company's products. For this to happen, you need to maintain communication with your customers.
To achieve this goal, you can do the following things:
Provide regular updates, announcements, and offers across multiple channels.
Create events to deliver value to your customers. For example, you can open a pop-up shop.
Obtain feedback from satisfied and dissatisfied customers, and implement their suggestions to improve CX.
Customer experience vs User experience. What's the difference? 
Is customer experience the same as user experience? Not really. Before diving into the specifics of eCommerce customer experience, let's clarify the difference between those two concepts.
Let's highlight it one more time: eCommerce customer experience is about the relationship between a customer and your brand. The UX, on the other hand, refers to the functional structures and aspects of that overall experience, like navigation.
Examples of good UX:
Users can easily find the exact product they're looking for
Users can access and digest branded content
The process of making purchases and other transactions is convenient and easy for users
Components of eCommerce customer experience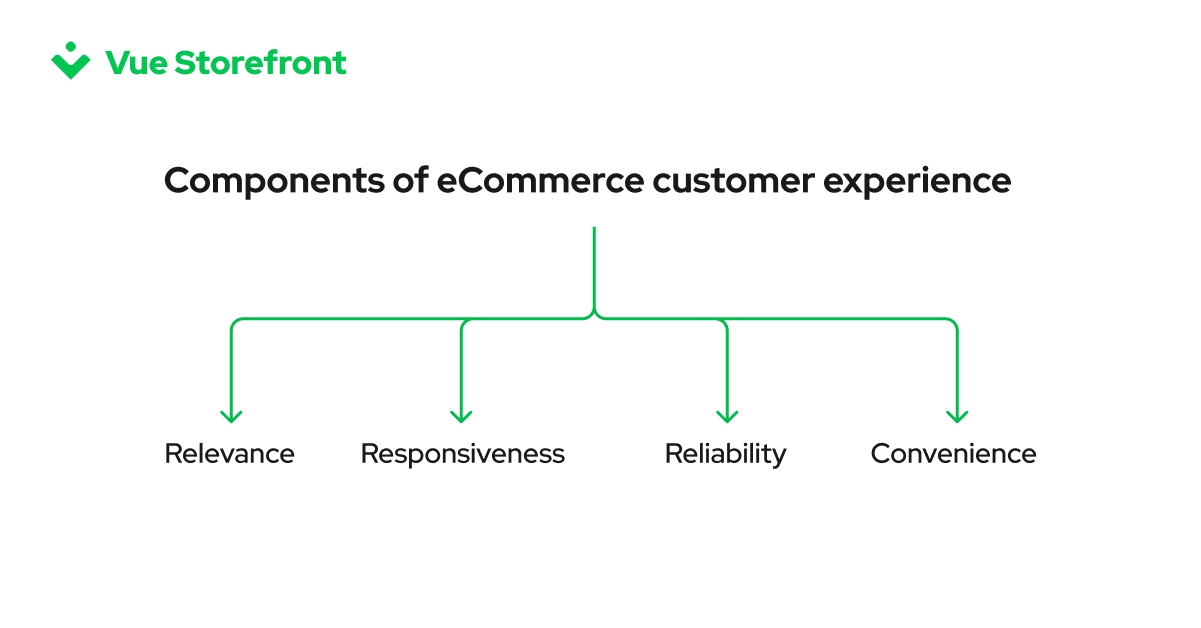 Let's find out what are the main components of eCommerce customer experience.
Relevance. To deliver a fantastic customer experience, you need to understand customer expectations that modify as the market evolves and keep up with those changes.
Reliability. Customers rely on recommendations from people they know. You need to comprehend your customers' expectations and be transparent with your processes. 
Responsiveness. Be responsive to dialogue with your customers, but also be responsive to your customers' changing needs. Lack of responsiveness will influence your customers' trust and belief that your company will serve their needs.
Convenience. Time is valuable in a modern community. You should understand your business processes from your customer's point of view and learn how to make them more convenient.
Why does customer experience matter in eCommerce?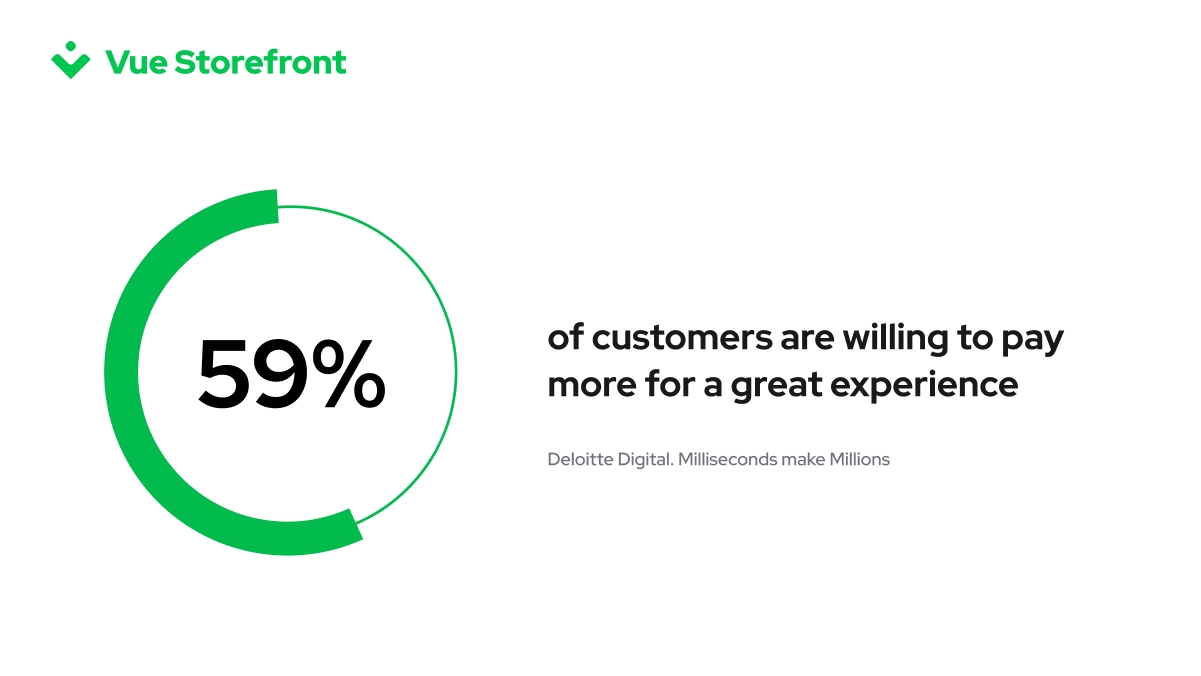 The customer experience stakes have never been higher. 59% of customers are willing to pay more for a great experience. That is why eCommerce businesses should look for new solutions to provide their clients with an outstanding customer experience.
The eCommerce market is expanding at a tremendous rate. According to Insider Intelligence, "We expect US eCommerce sales will cross $1 trillion for the first time in 2022. Before the pandemic, we did not forecast eCommerce reaching this milestone until 2024." 
As a business owner, it's critical to understand the importance of your site's CX. But keeping track of the next big thing that determines your eCommerce success can be daunting. 
If your core focus remains on placing your customer at the heart of every decision you make for your eCommerce store, you will automatically start making right decisions.
Here're some statistics that show why it is a good idea to invest in a customer experience for your eCommerce store:
CX climbed to the top for marketing budgets, with 20% allocated to getting CX right. (Digital Trends by Adobe) 
You can increase your revenue by almost 70% by focusing on improving CX. (Temkin Group) 
73% of customers confirmed that their overall customer experience determines whether they check out or abandon their sales. 
43% of all customers tested in the US said they would pay more for exceptional CX. 
65% of customers considered a top-notch experience more vital than advertising and branding. 
According to another consumer report by Temkin, investing in CX can double your revenue in 36 months.
Tips on how to improve customer experience in eCommerce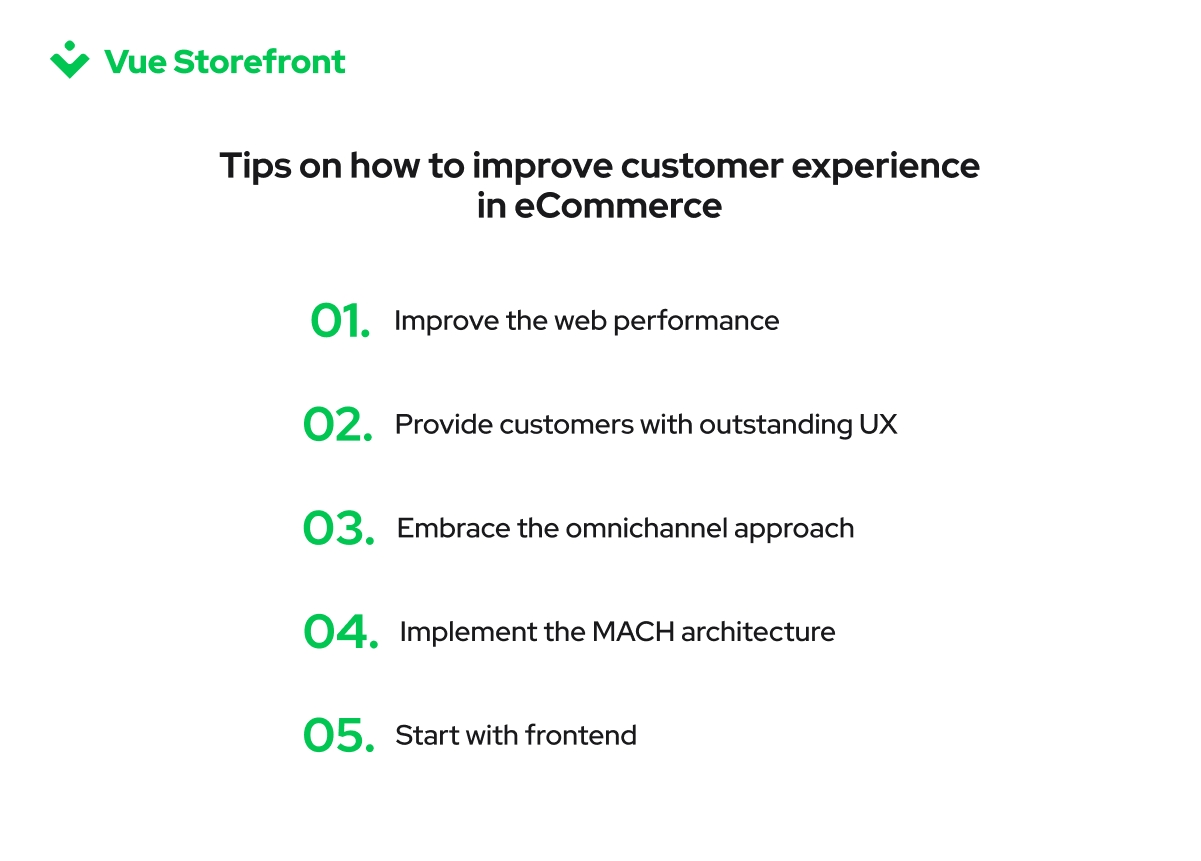 Below you'll find the ground tips to help you improve your eCommerce customer experience.
Improve the web performance
High-quality customer experience starts with lightning-fast page loads. We live in a mobile, customer-centric digital economy where customer experience (CX) drives commerce. In this world, performance is more critical to your customers than ever. 
Here are some statistics from the Deloitte study that shows that web performance has a crucial impact on the customer experience:
In the US, latency is the top reason consumers abandon mobile sites, with 10% blaming slow loading as a reason not to make a purchase.
70% of consumers acknowledge that page load speed affects their willingness to shop from retailers.
The probability of bounce increases by 90% as page load time goes from 1s to 5s.
Speed improvement of 0.1s translates into 10% more customer spendings. 
To stay ahead, you need to prioritize your website's speed. Adopt a mobile-centric mindset, implement new performance-focused solutions, and continuously optimize the website loading speed.
Composable commerce can be a suitable solution for enhancing your website's performance. The composable architecture splits the UI (frontend) from the business logic (backend). It lets you select the best-of-breed technologies to assemble a flexible eCommerce stack. The software communicates via API, and the particular solutions can be substituted without affecting other system parts.
Composable solutions deliver performance-oriented architecture with a strong focus on SEO (mobile and desktop) and conversion rates.
Embrace the omnichannel approach
Channels are media through which a brand communicates with its customers: websites, brick-and-mortar stores, billboards, product packaging, and all kinds of marketing channels. 
An omnichannel approach connects all the channels to create a seamless customer experience no matter which channel the customer is using.
According to The Harvard Business Review , around 73% of customers prefer shopping through different channels. This indicates that embracing an omnichannel approach is essential for enhancing customer experience.
A seamless omnichannel shopping experience eliminates the friction of moving between various touchpoints, making it easier for the customer to complete the buying journey. For example, a buyer can begin a query on one channel and quickly move it to another without starting over.
To build an efficient omnichannel strategy for eCommerce business, you need to:
Implement content-driven sales across all channels
Embrace the mobile-first approach
Use coherent loyalty strategies across channels
Implement the MACH architecture
MACH stands for Microservices, API-first, Cloud-native, and Headless. This approach focuses on composability and lets you build a comprehensive IT ecosystem piece by piece to align with business requirements.‍ 
MACH architecture allows businesses to integrate new technologies without starting a major re-platforming project. MACH enables merchants to choose the best tech on the market to create the eCommerce ecosystem suited to their needs, with every element scalable and replaceable.
Moreover, MACH architecture allows you to implement one change at a time. That means you can improve your most significant pain points straight away. And as your company grows and customer needs shift over time, the MACH architecture makes it much easier to add new solutions and processes to improve your CX further.
Provide customers with outstanding UX
User experience is crucial for creating an outstanding CX. If customers can't use and interact with eCommerce sites with ease, they will most likely move on to the next online shop.
When it comes to UX, the first thing you should focus on is mobile optimization. Today customers use numerous mobile devices on each purchasing journey. Therefore, you must ensure they can conveniently interact with your site, no matter their device.
The second thing you should pay attention to when optimizing the user experience is providing customers with intuitive site architecture. To ensure users can navigate your website effortlessly, you should strategically organize your product catalog.
Another essential part of a good user experience is a fully-functional search feature that lets your customers quickly find the products they need. Furthermore, you can boost the UX with real-time search suggestions through AI-powered eCommerce plugins.
Overall the ultimate goal when creating an outstanding UX for your eCommerce website is to simplify your customers' on-site experience. 
Start with frontend
When we think of customer experience (CX), the first thing that springs to mind is the user interface's (UI) modern and slick appeal. It's not that far off from the truth but entails a more in-depth understanding of the significance of your frontend in eCommerce. 
Simply put, customer experience happens on the frontend. And as the customer journeys take place on the presentation layer of your website, you need a super fast mobile-first frontend to drive conversion and revenue. 
The frontend is the part of your website that users interact with directly. This includes the layout, design, and overall user experience. Creating a seamless, intuitive, and enjoyable experience on the frontend is essential for keeping customers happy and returning for more (CRR). 
But creating this level of performance and personalization on the frontend can be almost impossible if you're still stuck on a monolithic tech stack. Migrating or re-platforming to a composable tech stack with a PWA frontend will give you more control over your customer experience and instantly increase your site's web performance and SEO metrics.
How to measure customer experience
eCommerce customer experience is not an easy thing to measure. Still, there're a few metrics that can prove helpful.
Customer satisfaction (CSAT). CSAT calculates customer satisfaction with a particular product or service. To measure this metric, you can use multi-question surveys. This way, you can learn more about your clients' thoughts about customer support, shipping, or product quality.
Net promoter score (NPS). The net promoter score is the percentage of customers who would recommend your brand. You can calculate NPS by asking customers to rate, on a scale from -100 to 100, how likely they are to recommend your eCommerce brand to others.
Customer retention and loyalty. To calculate customer retention and loyalty, you can use metrics like purchase frequency, loyalty program participation, and average order value.
How can Frontend as a Service improve your eCommerce CX? 
Frontend as a Service provides eCommerce businesses with a one-stop solution for building customer-oriented storefronts in one place with one tool.
To deliver an outstanding customer experience, you need a quick and mobile-optimized frontend decoupled from a monolithic system. With FEaaS, you can design, test, and roll out features faster than ever before. 
Vue Storefront is a Frontend as a Service (FEaaS) that enables lightning-fast page loads to achieve better conversion rates and higher revenue. Unlike custom frontend developments and low code solutions, you can get the best of both worlds: Vue Storefront helps to drastically cut down on development time and costs while providing limitless customization thanks to its out-of-the-box integrations and customizable templates.
Vue Storefront helps commerce companies to provide an excellent experience for their customers through a well-performing frontend while increasing revenue and drastically cutting costs on development and operations.
Download the whitepaper to learn how Vue Storefront can help you create a fast, mobile-first headless frontend to drive conversions and revenue.
Ready to dive in? Schedule a demo
Get a live, personalised demo with one of our awesome product specialists.