How do we empower our Developer Community at Vue Storefront

Inês Barros
•
Developers are at the heart of almost everything we do at Vue Storefront. When we're thinking about our product and its roadmap, our space in the market and where we're heading as a company, building something that developers like to work with is always at the center of the discussion.
Even when it would be easier to pick a different route, we stick to our core belief: if we build the product that allows developers to have the best experience working with it, we'll have win their hearts and minds. And developer's retribution has been loyal throughout the years and the thousands of shiny-new dev tools that appeared in the market: the best product eventually becomes market standard.
But what determines what the best developer experience is? If we believe that all software will have bugs and, ultimately, will also always be improvable- which product isn't?-, it's got to be something beyond that.
And, frankly, so often we see that products with seemingly much simpler and straightforward capabilities, when compared to more senior alternatives in the market, get picked up by new developer communities due to the fact that they fill gaps other versions wouldn't: they are more transparent in the way they're built; the team behind them provides top-notch support; the community rooting for it is vibrant; the vision is inspirational; etc.
It could be different things for different products, but it provides great hope for builders out there: there is always space for something whose experience is the greatest.
So, what do we do at Vue Storefront to empower our developer community? For the sake of this article, we'll focus on the initiatives ran by our Developer Experience and Community team. Let us know on the comment section if you'd like to read a similar one with our Engineering and Product team's perspective 😉
Let's picture a typical developer journey 💭
Step 1. You come across a new product
You check their on-demand materials: the docs usually are the first thing you pick up. Do they have a trial or an open-source version you can check? What about their content? Do they have tutorials available? An academy? How friendly are their tutorials ? This step of the journey is what we internally call 'autonomous learning'; most people these days would prefer to do some digging on their own before they speak to a sales person, and this is regardless of whether they're a developer or not. Here are the resources we have in place to help empower developers to learn more about our product:
Our Documentation (which, by the way, just got a new face). Check them here 👉 Vue Storefront Docs
Our Youtube channel, where most of our videos live: here you can find product announcement videos, tutorials, guides, etc. Check it here 👉 www.youtube.com/@VueStorefront
Our blog and dev.to , where we post a bunch of content, from product announcements, written how-tos, education about headless, e-commerce, web performance, and many other topics. Check them here 👉 blog & dev.to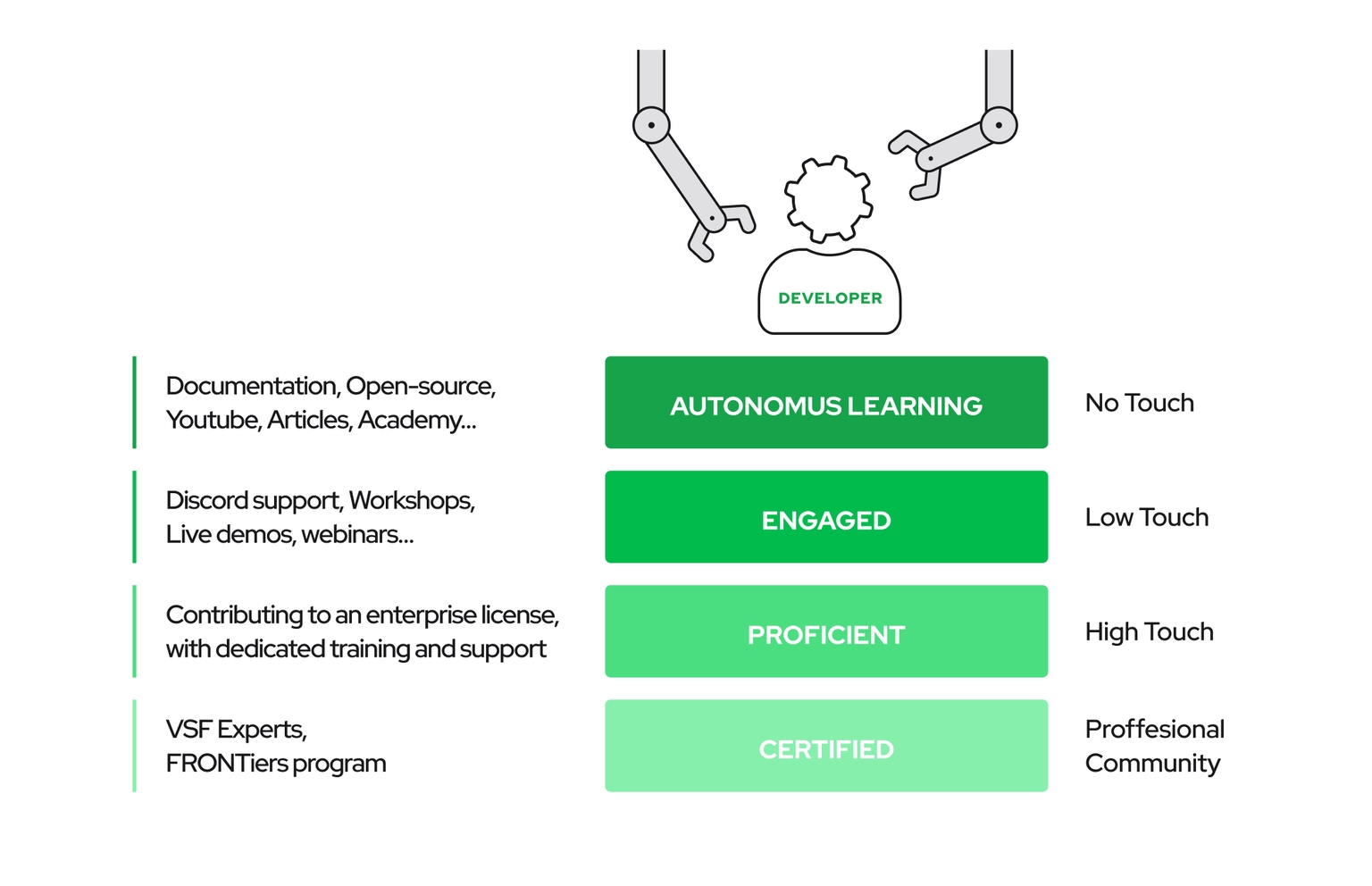 And soon ✨ our academy ✨ : the team is currently working on a Vue Storefront Academy, featuring a Vue Storefront Essentials course and followed by different training tracks which will cover different avenues of our product. We are aiming to ship it over the upcoming 2 months.
Step 2. You are ready to engage
You go beyond the autonomous learning path. This might mean different things for different people: you may have a technical question and you need a real human's help. Or, the agnostic training paths provided by the on-demand materials are not enough anymore, so you'd like a live-training. Or you'd like to see a demo. Either way, here are the different initiatives we have in place to support you:
Book a demo with our team and see our product in action 👉 Request Demo of Vue Storefront
Live workshops, guided by a dedicated trainer. We have a Basics workshop, ideal for developers with little to no-experience with Vue Storefront, and an Advanced workshop, perfect for Vue Storefront developers who are already somewhat familiar with what we do. Check the dates and the agenda 👉 Vue Storefront Workshops
Discord for technical support and community mingling: Join the Vue Storefront Discord Server!
Step 3. You are actively contributing to an enterprise license
You and your team have chosen Vue Storefront as the main tech-stack to build your eCommerce frontend - great choice 🤩
Depending on your license, you will have a dedicated Customer Support Engineer and Customer Support Manager working alongside you and your team. You'll get access to dedicated training and help from a team of eCommerce experts who have been there, done that. If you'd like to know more, we encourage you to book a demo .
Step 4. You are a true Vue Storefront Developer
You've built one or several projects using Vue Storefront; you know the product left and right and you would actively evangelise for it. Here are the main initiatives we have in place to support these group of valuable champions:
Certification program: we're always working on improving it and adding more certifications.You can get certified (free of charge!), get a personalised diploma and promote your achievements on your linkedin or other social media accounts. Check it here 👉 Vue Storefront Certification Program
FRONTiers program: our FRONTiers are a group of passionate Vue Storefront adopters, varying from CTOs, Architects, Developers and others, who have been pioneers within the eCommerce space and successfully brought our technology to their companies. They are an inspiration to everyone in the field who strives to take their businesses forward by allowing end-users to have better experiences with online shopping.
-
Last but not least, who is the team behind most of this programs? Meet them 👇

Follow us on twitter (or should we say X?) - we have an ever-going raffle for the first person to guess who our twitter admin is 🤫 . See you around!
Ready to dive in? Schedule a demo
Get a live, personalised demo with one of our awesome product specialists.