Click and Collect for Headless Commerce
Click and Collect for Headless Commerce
Vue Storefront
•
With Click and Collect, products are ordered from an eStore or app and then collected conveniently from the specified collection point, usually a physical store. The pick-up is even possible within a few hours of the order being placed. Given that speed of delivery is a critical part of the overall customer experience, the Click and Collect model is growing into essentials in modern eCommerce, yet, without a tech stack being extendable and flexible, it is easy to make severe mistakes while implementing it. How to avoid them and get what is best from the Click and Collect format?‍
The rise of Click and Collect popularity due to pandemic
Pandemic reinforced Click and Collect model popularity. Even though the number of internet users who shop online was growing year by year before the outbreak, their needs were particular while it was going. The social distance rule made the method of delivery offered by given eStore became crucial and often determined the choice of a particular online retailer.
‍
The popularity of the option of online shopping with pickup at a physical store (BOPIS - buy-online-pickup-in-store) skyrocketed.
‍
Before the pandemic, eMarketer analysts had estimated that $50.66 billion in sales would be processed through the click-and-collect format this year. After the pandemic, the number jumped to $58.52 billion, a 15.5% increase from the previous estimate. eMarketer's forecasts are in line with others. According to Salesforce Shopping Index data, sales at stores offering the shopping model with the BOPIS option increased 27% in the first quarter of this year, compared to a 13% increase at stores not offering it.
‍
Before the pandemic, we estimated $50.66 billion in sales would transact via the click-and-collect format this year. We now forecast that figure will be $58.52 billion, an increase of 15.5% over our previous estimate (source: eMarketer)
‍
The vast majority of online businesses implemented the Click and Collect service at some point; however, the Food sector deserved to be mentioned specifically. This industry has never been very digital-navvy, but the coronavirus was a real game-changer. At the beginning of lockdown, grocery store owners were almost overnight forced to carve new ways of reaching out to their customers. Home delivery and - later - in-store pickup became a great competitive advantage.
‍
Click and Collect became an essential element of the buyer journey
‍
Click and Collect service is not a passing fad; it's almost a must-have element of e-commerce these days. Customers treat this element as an integral part of shopping, linking the online and offline worlds.
Buyer Journey is not linear
Customer (or buyer) journey is now highly unpredictable. They contact brands when visiting websites, using mobile applications, checking e-mail, sending texts, scrolling social media platforms, reading magazines, and walking past the billboards. Moreover, they often switch between devices before making a final purchase decision, spread the shopping process over time, and go back and forth... All of it makes their motivations very hard to read through the typical attribution models.  
‍
Times when buyers made purchase decisions based on thorough price or product comparisons are partially gone. Today's online shopping is based more than we would like to admit on snap judgments. We buy clothes, shoes, or interior furnishings in the way we buy candy bars in a convenience store—on impulse, when we saw it on somebody's Instagram Stories, sometimes even without leaving the app.
‍
Modern shopping has to be easy, quick, and frictionless. It is a definition of a good customer experience that has a significant impact on the conversion rate. No matter if we talk about the traditional stores or online. Customers' frustration never pays off, and customer satisfaction builds imperia.
‍
Amazon has realized a direct correlation between the customer experience and the bottom line and mastered managing to perfection. By investing in customer experience improvements on- and offsite, it went from a book-selling startup to a global retail leader
What started with the "one-click buy" button went way further, boosted by technical improvements such as AI-fuelled recommendations, chatbot assistance, dynamic pricing, visual and voice search, same-day delivery, extended return policies, body scanning, the whole social commerce fuzz, live shopping included and so on.
‍
The common denominator of all these improvements focuses on customer experience, which cannot be limited to onsite activities. Yes, eCommerce is blossoming, but post-pandemic desires for breaking social distance rule will drive people back to stores, making these two - on- and offline - channels complementary.
‍
The time when we should stop dividing shoppers exclusively for on- and offline officially started. Pandemic was a game-changer.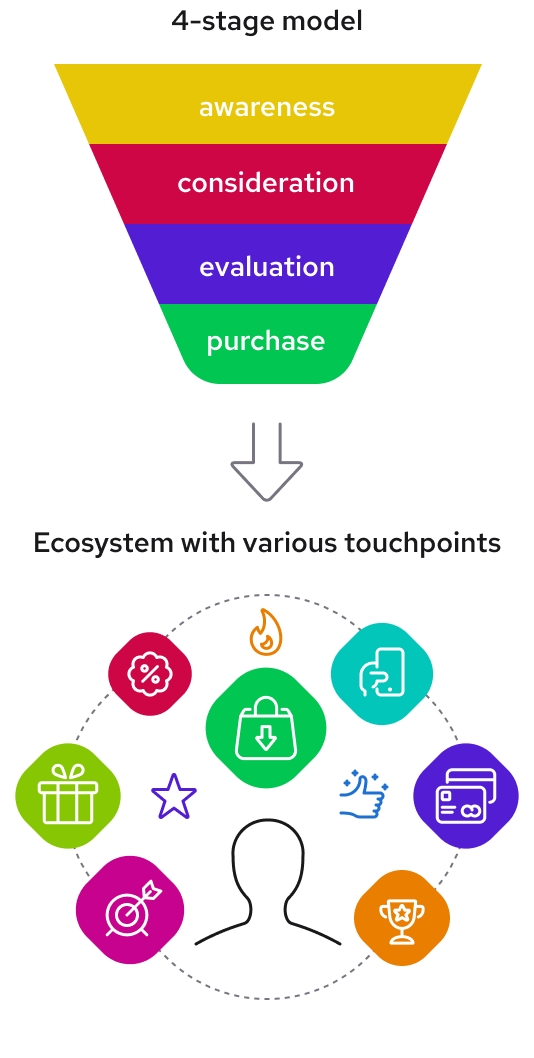 Omnichannel sales
‍
Omnichannel  's general idea is simple: it is about building a solid customer relationship with a brand through all possible channels in the name of improving the overall customer experience.
‍
In practice, it may look like this: the customer receives a newsletter with information about a sale in his favorite store, then visits an online store via mobile, selects the items in the shopping cart, and leaves without finalizing a purchase. Then he can go back to this time via desktop version, re-check the cart, add or remove something, make an online purchase, and then collect the items in the physical store within a few hours.
Although its ultimate goal is sales increasing, omnichannel can be perceived more as a customer retention strategy.
‍
Customer retention refers to activities aimed to make the current customers stay in touch with the company and return to buy its products or use its services. The ability to retain customers is related not only to its product or services themselves but also to the quality of CX that ensures that customers will not seek any alternatives.
‍
Why do we talk about it here?  Click and Collect format is the most popular embodiment of omnichannel strategy. By blending the offline and online world, it simply extend the choice retailers can give their customers.
‍
Click and Collect benefits
Increasing sales by up-selling and cross-selling - 24% of Europeans who use Click and Collect have purchased an additional item in-store when picking up their order ("JDA & Centiro Customer Pulse 2017 - Europe")
‍
Increasing brand awareness  - a visit to a physical store allows customers to familiarize themselves with the brand's entire product range
‍
Reducing the number and costs of returns - customer can try on the product and exchange it for another if the original product does not meet their expectations
‍
Reducing the risk of damaging goods - click and collect model is also ideal for retailers selling perishable items, such as florists or bakeries. With it, there is no risk of damage in transit in-store pickup
‍
Increasing customer satisfaction - tech-savvy and mobile-first customers can shop online and opt for home delivery even on their way home. Those who are used to more traditional methods of shopping can blend the offline and online experience
‍
Click and Collect challenges  
Introducing a new way of selling is a major organizational challenge and brings many changes to the purchasing process. One of the biggest challenges is the logistical handling of such orders and thus the adaptation of the IT systems and the implementation of personnel to support the new sales channel.
‍
The biggest challenge is deciding where to pick up the merchandise to fulfill the orders with quick pickup. Most stores that combine brick-and-mortar and online sales have one or more central warehouses that distribute products to stores and customers.
‍
When choosing an eCommerce technology partner, whether they offer a Click and Collect delivery service is worth looking at. The user of the online shop needs to see which goods can be ordered with a quick collection.
‍
Click and Collect processes always require the implementation of proper processes and systems to support them. In retail chains, they require changes in network warehouse management, logistics, changes in-store processes, creation of proper procedures, storage locations, collection points, and implementation of appropriate IT systems.
‍
Sometimes it happens that some orders cannot be fulfilled due to product shortages. In such situations, employees must be able to mark in the system which orders are partially fulfilled and which products are missing. To reduce the percentage of such orders, it is worth implementing special algorithms that, for example, block the addition of products with low inventory to shopping carts.
‍
How to extend the Commerce Platform by adding Click and Collect
‍
Click and Collect is a dynamic method and requires such a technical background as well. Receiving and delivery conditions can change, and you need to respond quickly. The headless approach is ideal for this because it is extremely flexible.
‍
Click and Collect needs to be automated, but on the other hand, effective communication with customers needs to be personalized and happen on any given channel. This leads to headless CMSs.
‍
What is a Headless Content Management System (CMS), and why should you replace traditional with it?
‍
Headless CMS  s make content management work much easier and streamlined for both marketers and programming teams. Content managers can make the necessary changes without interfering with the current look and feel of the website. In addition, content marketers have predefined containers for content that they can customize within certain limits, and developers can create flexible views themselves and retrieve data via API.
‍
Content entered in the administration area can be displayed on many devices and in many systems. For example, the same product information can appear in a blog article, on a product page in an online store, and in a mobile app. Managing content in one place allows for quick updates on multiple channels and adding a new device with the same information as in other systems.
‍
With Headless, merchants can freely build their systems by adding any services they need at a particular stage of their business growth, thanks to the APIs available. The desired "future-proof aspect" is achieved by being prepared for constant changes instead of predicting them.
‍
Another head-scratching element that plays a role in the design of the Click and Collect process is the selection of a back-end tool. By using tools like commercetools, you also gain much more scalability and accessibility.
‍
Even if the front end receives many requests, it does not affect the back end as much because they are no longer so tightly coupled. You have the freedom to experiment and can implement new interfaces and new functionality faster. Development becomes much more efficient as teams can work in parallel. Due to the nature of this solution, UI changes can be implemented without having to test all the logic in the backend.
‍
As a   frontend platform  , Vue Storefront fits into the Composable Commerce trend of allowing companies to try the best from a single vendor without licensing restrictions. The bodiless frontend combined with Headless CMS opens a path to omnichannel sales. It enables retailers to capture the entire, highly complex Buyer's Journey and deliver a consistent commerce experience regardless of where and when the customer interacts with the brand.
‍
To bring the e-store to life, retailers need a front-end and a back-end, but - in most cases - these decisions are not the last to be made.
‍
Choosing a headless backend and combining it with a bodiless front end makes it possible. This set opens up numerous possibilities for adding any third-party services. It does not matter if they are already available on the market (in which case we offer native integrations) or if they need to be custom-built.
‍
‍
Click and Collect in REWE's use case
‍
Demand for online groceries has skyrocketed in the wake of the pandemic, and no other company in Germany is capitalizing on this trend as much as REWE. The company has quickly created numerous new stations for click-and-collect online orders to meet customer demands.
As a short-term response to the outbreak, REWE has developed a unique pop-up version of Click and Collect in addition to the regular pick-up stations in its stores. ‍
- With the new pop-up short-term pick-up service counters, for example, we do without structural measures in the stores and use simple displays, temporary signs, and pragmatic solutions to offer even more customers the opportunity to shop as quickly as possible with fewer contacts and in just a few minutes - said REWE One Gero Hennesen, Head of click and collection at REWE Digital.
‍
Initially limited to six months, many pop-up services will later be converted into regular REWE pickup services. ‍
Quick pickup orders seem to be a must in a world where companies are constantly looking for new ways to provide their customers with the most convenient shopping experience possible. Today's pace of change means that maintaining a competitive edge requires great flexibility and responding quickly to new consumer needs. ‍
The coronavirus pandemic's current situation seems to prove that today is the best time to embrace the Click and Collect service. Both customers and stores benefit from fast collections. ‍
Still, it's a major organizational and logistical challenge. If you want to turn this opportunity into a success, you should prepare well and carefully consider the implementation plan and strategy.
‍
VSF Click and Collect for Headless Commerce
‍
VSF Click and Collect - a result of the close cooperation between commercetools and Vue Storefront - is a toolset that enables merchants to implement the Click and Collect approach into their marketing strategy.
‍
As a mobile-first, cloud-native, and API-focused solution, VSF offers advanced out-of-the-box integration with the commercetools backend and enables the addition of various other tools, such as headless CMSs, search engines, and payment systems. All under a straightforward cloud license.
‍
Adding the Click and Collect feature to the existing   Headless Commerce  system is no problem. With Vue Storefront - thanks to the UI layer built on top of Storefront UI - it is possible to freely customize it to their branding and design the user experience they want.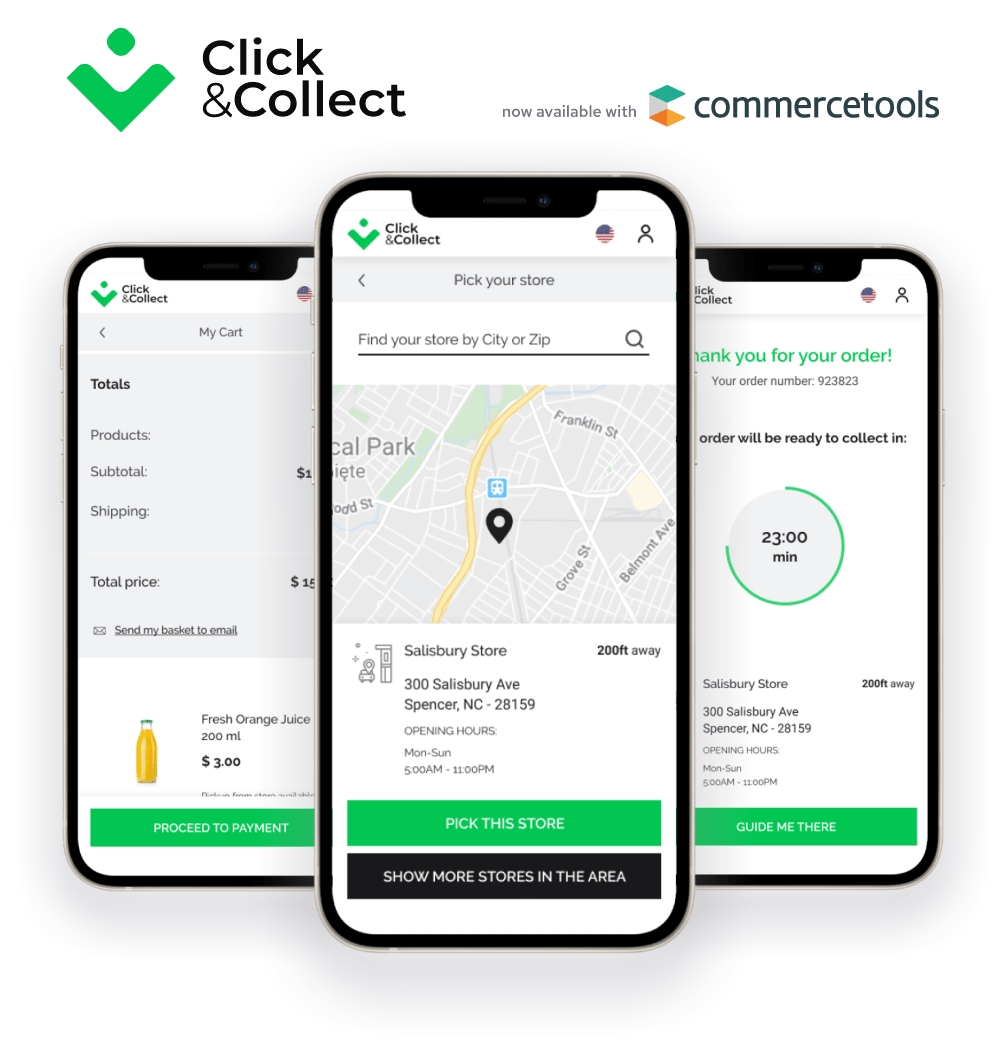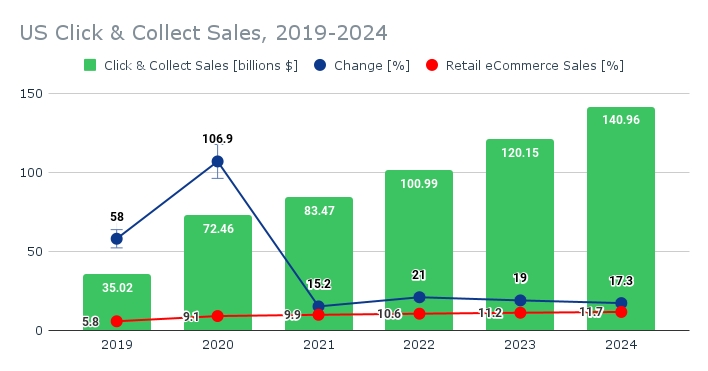 Ready to dive in? Schedule a demo
Get a live, personalised demo with one of our awesome product specialists.