How to Break the Resistance to Change: 8 Business Reasons to Go Composable
How to Break the Resistance to Change: 8 Business Reasons to Go Composable
Vue Storefront
•
Companies, like people, can be resistant to change. When a firm's bottom line is on the line, the prospect of future uncertainty may be terrifying. Despite this, change is sometimes unavoidable, and businesses should know to make these changes at the right time.
One highly debated area of change in eCommerce boardrooms currently is whether or not to make the move from a monolithic platform to a composable architecture.
Executive leaders must reinvent their thinking to regard change as a well-trusted tool for business resilience and development rather than a threat. Despite constant uncertainty, eCommerce businesses can rapidly adapt and develop when they welcome composability into their digital business architecture. 
"Cloud-native platforms will serve as the foundation for more than 95% of new digital initiatives by 2025 — up from less than 40% in 2021."—Gartner
This article delves into the core principles of the *MACH approach to composability and aims to simplify the tech talk by explaining the why and how in straightforward business terms. It will assist business leaders in understanding how composable thinking will thrive in a modern, more turbulent, and constantly evolving eCommerce environment.
*The MACH Alliance is a non-profit cooperation of technology companies helping enterprise organizations navigate the complex modern technology landscape. It believes in and advocates for the business advantages of open tech systems that are: Microservices, API-first, Cloud-native, and Headless. 
The business benefits of opting for a composable setup
Although most business leaders are exploring and embracing this total shift in the industry, many are left wondering as most of the actual  benefits of headless commerce  are lost in translation between the tech and business teams. 
To try and bridge this gap, you'll read some of the most frequent statements made by  composable commerce  ambassadors and representatives and the reasons behind these bold claims. So, let's jump right in.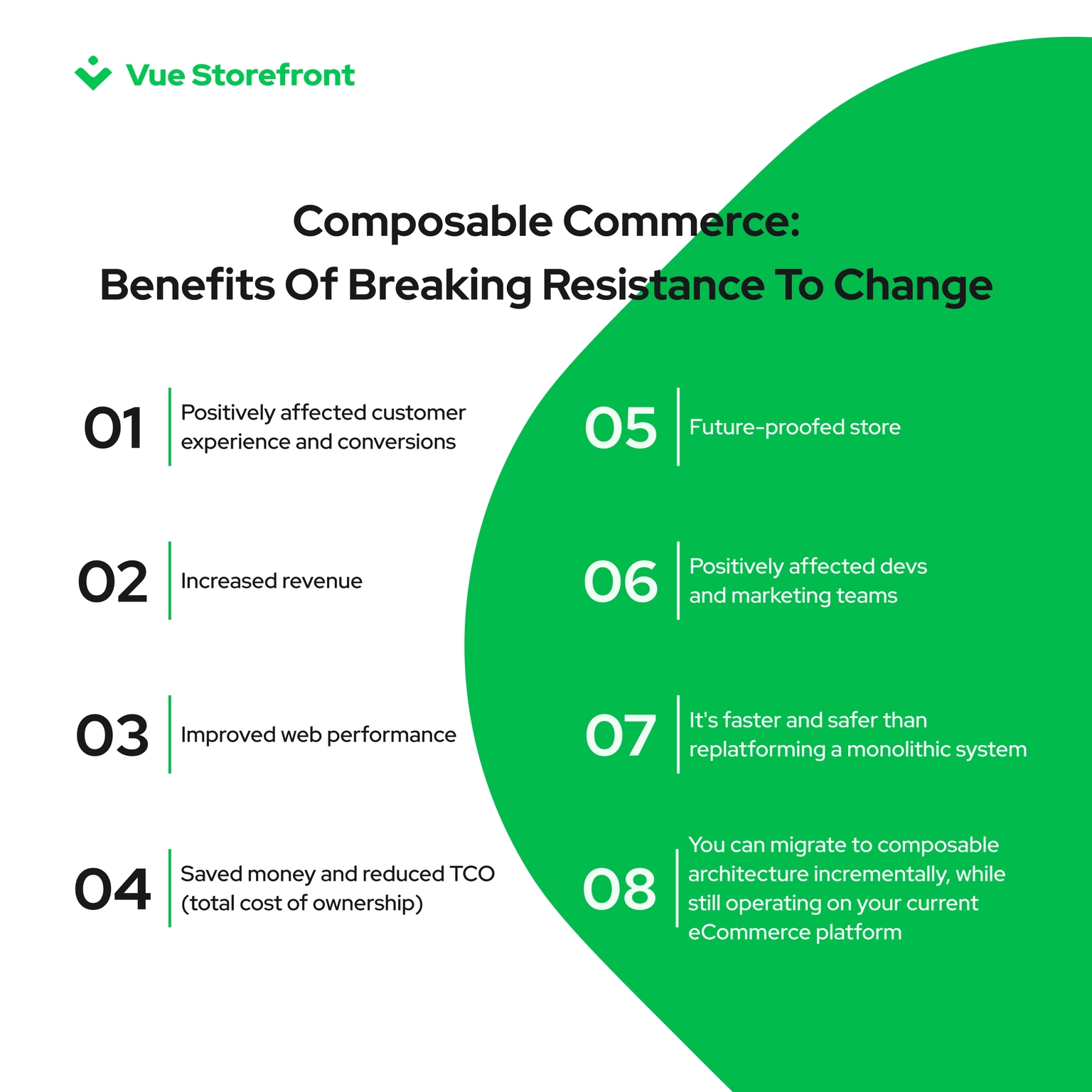 1. Composable approach positively affects customer experience and conversions
In a recent interview with  PYMNTS.com , Julie Mall from Elastic Path explained it well by stating,
"The 'composable commerce' approach uses a slew of top vendors, 'composed together,' to give retailers and brands a range of prepackaged solutions that allow enterprises to craft their own customer experiences. Those capabilities are made available through application programming interfaces (APIs), giving a plug-and-play aspect to crafting the end-to-end customer experience."
One of the great benefits of the MACH approach to composable technologies is that you can find 'out-of-the-box' microservices and integrations with ready APIs. They are highly customizable to create unique customer experiences and journeys. These applications focus on delivering an omnichannel shopping experience by focusing on technologies like PWAs, at speeds older monoliths can't compete with.
Onsite speed is the #1 driving force behind moving your customer from being a mere browser to a loyal and repeated conversion in your sales funnel. The performance-optimized omnichannel capabilities of composable commerce apps are undeniably essential to future-proof your eCommerce business.
According to a recent survey by  Unbounce , 
Customers are less likely to buy from an online retailer with each second that passes after the page loads. 
For every additional second of load time, conversion rates drop by 4.42 percent on average. Almost 70% of consumers agree that page speed affects their desire to purchase from an internet store.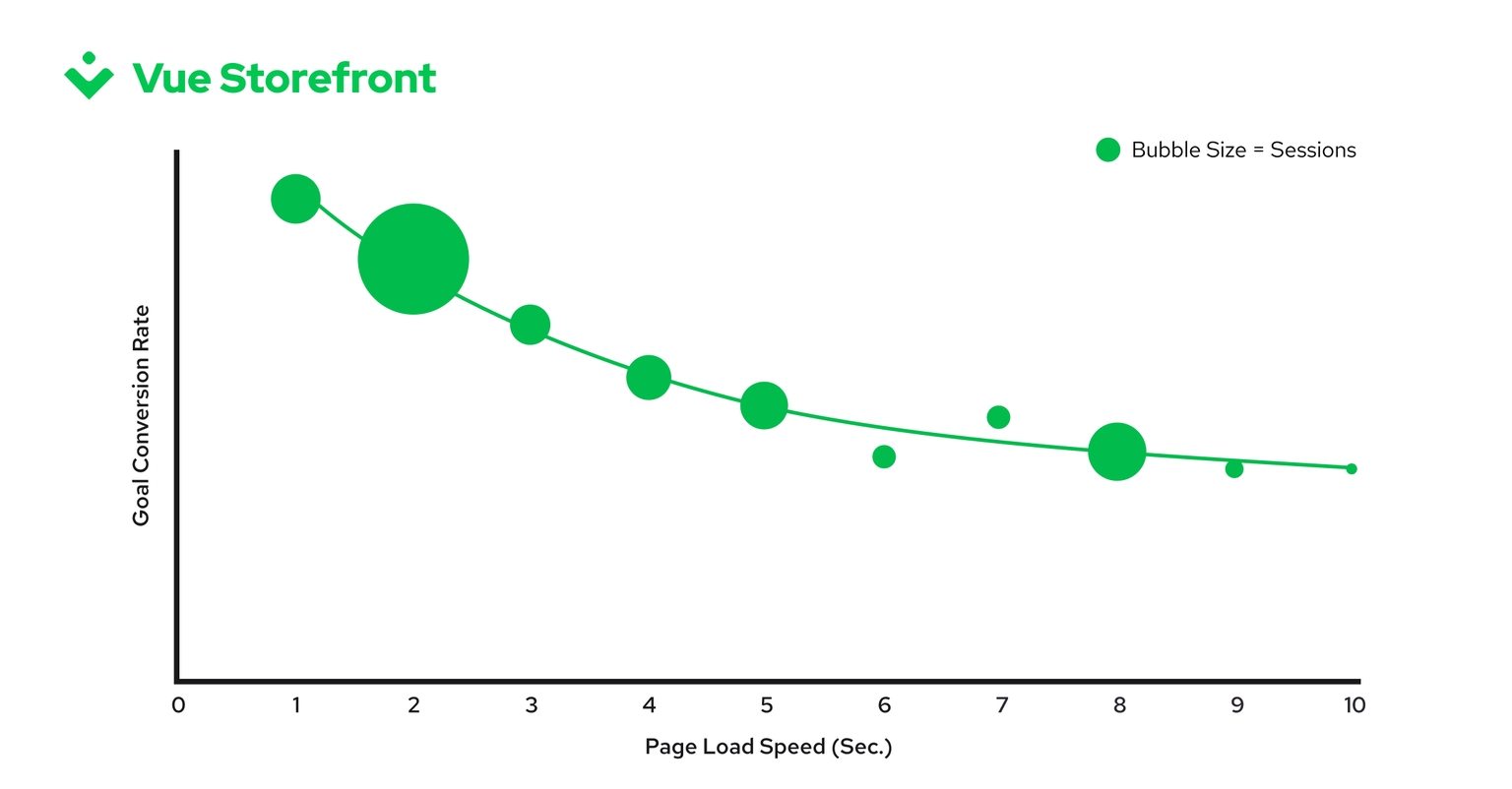 Slow page speed affects conversions and puts customer experience at risk. The percentage of consumers who express irritation rises to 54% as the load time of a company's mobile website increases, with 80% of clients reporting slow sites to be more aggravating than crashed ones.
Moving to a composable tech stack lets you create a unique and differentiated customer experience. Businesses can easily customize their online store experiences using a composable commerce platform to better meet their target customers' needs. This can result in increased customer satisfaction and loyalty, and higher conversion rates.
2. Composable approach increases revenue
Composable commerce allows retailers to create a super-fast and seamless shopping experience across all channels, including online, mobile, brick-and-mortar, and social media. It also strongly emphasizes web and mobile performance, which is increasingly critical to your eCommerce success. 
Faster websites ➨ better performance ➨ increased conversions ➡ higher revenue
So how much does composable commerce affect revenue for eCommerce retailers? In recent  case studies , we saw some retailers making significant gains. Some as much as +131% increased mobile revenue and +140% in conversion rates.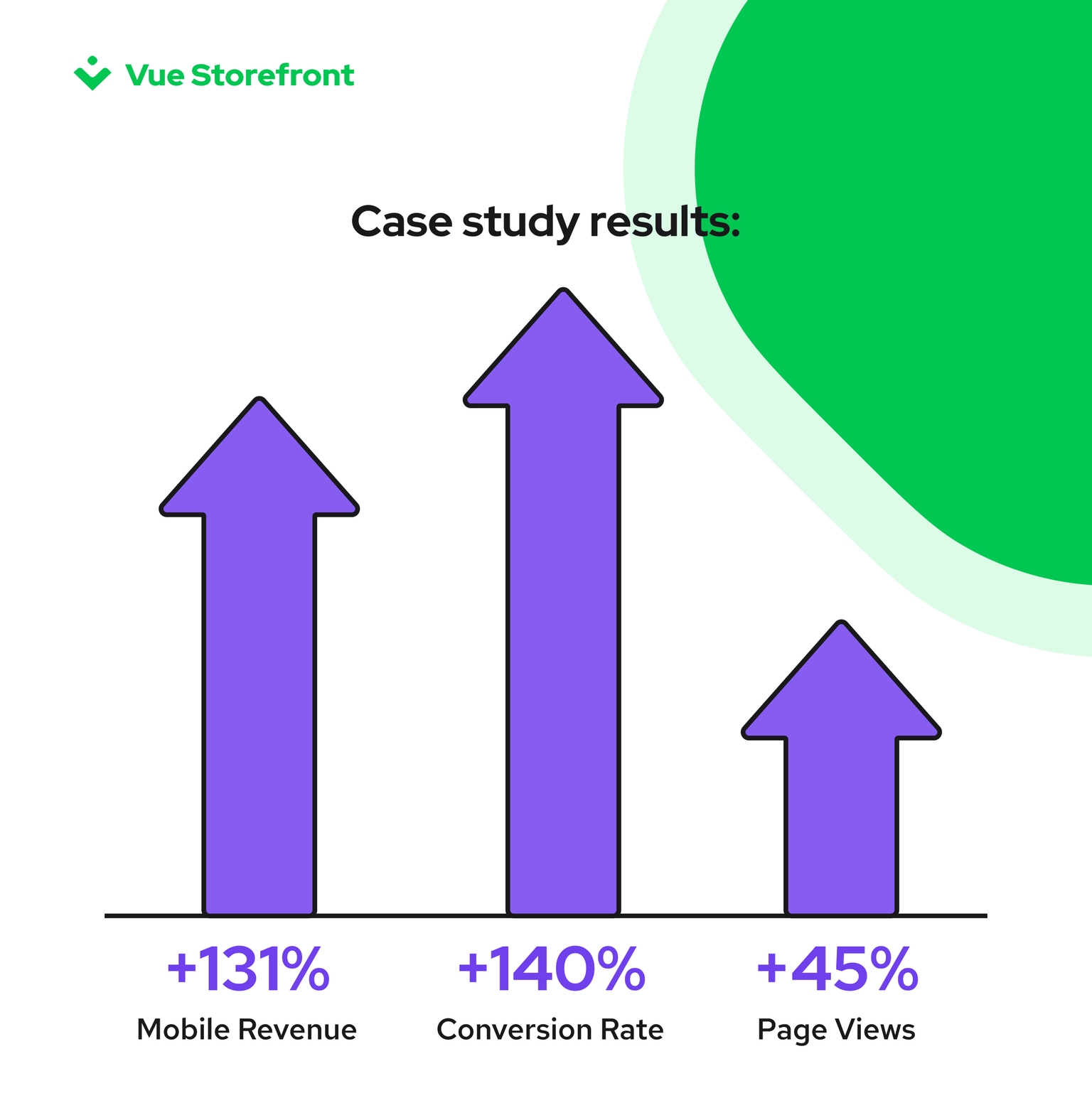 Moreover, we found that the benefits of composable architecture extend beyond online sales. Retailers who adopted this approach also saw an increase in offline sales and in customer loyalty and satisfaction.
3. Composable commerce improves web performance
As mentioned above, composable applications are built to perform. With a strong focus on delivering super-fast solutions that already meet the stringent requirements made by search engines and consumers alike, it lightens your burden to optimize. 
Composable developers focus on creating solutions that already meet Google's Core Web Vitals speed rankings. The Core Web Vitals report measures how your pages perform, based on field data (real-world usage data). 
According to  Google  "Page performance matters because longer page load times have a  severe effect on bounce rates . If page load time increases from 1 second to 3 seconds, the bounce rate increases by 32%. And if page load time increases from 1 second to 6 seconds, bounce rate increases by 106%."
4. Migrating to a composable tech stack will save you money and reduce TCO (total cost of ownership)
The cost of ownership is not a simple, straightforward calculation. Businesses frequently focus on certain types of expenses and lose sight of the total expected cost in the long run. The fees associated with altering and enhancing your commerce stack are one of the most often overlooked expenses. 
Businesses often make plans for the present, but when times shift, companies must undergo significant changes that are expensive to manage within a pre-determined budget. In addition, if businesses wish to stay up to date with the fast-paced consumer trends, improvements and updates will be unavoidable, making it critical to predicting what these expenditures will be in the future.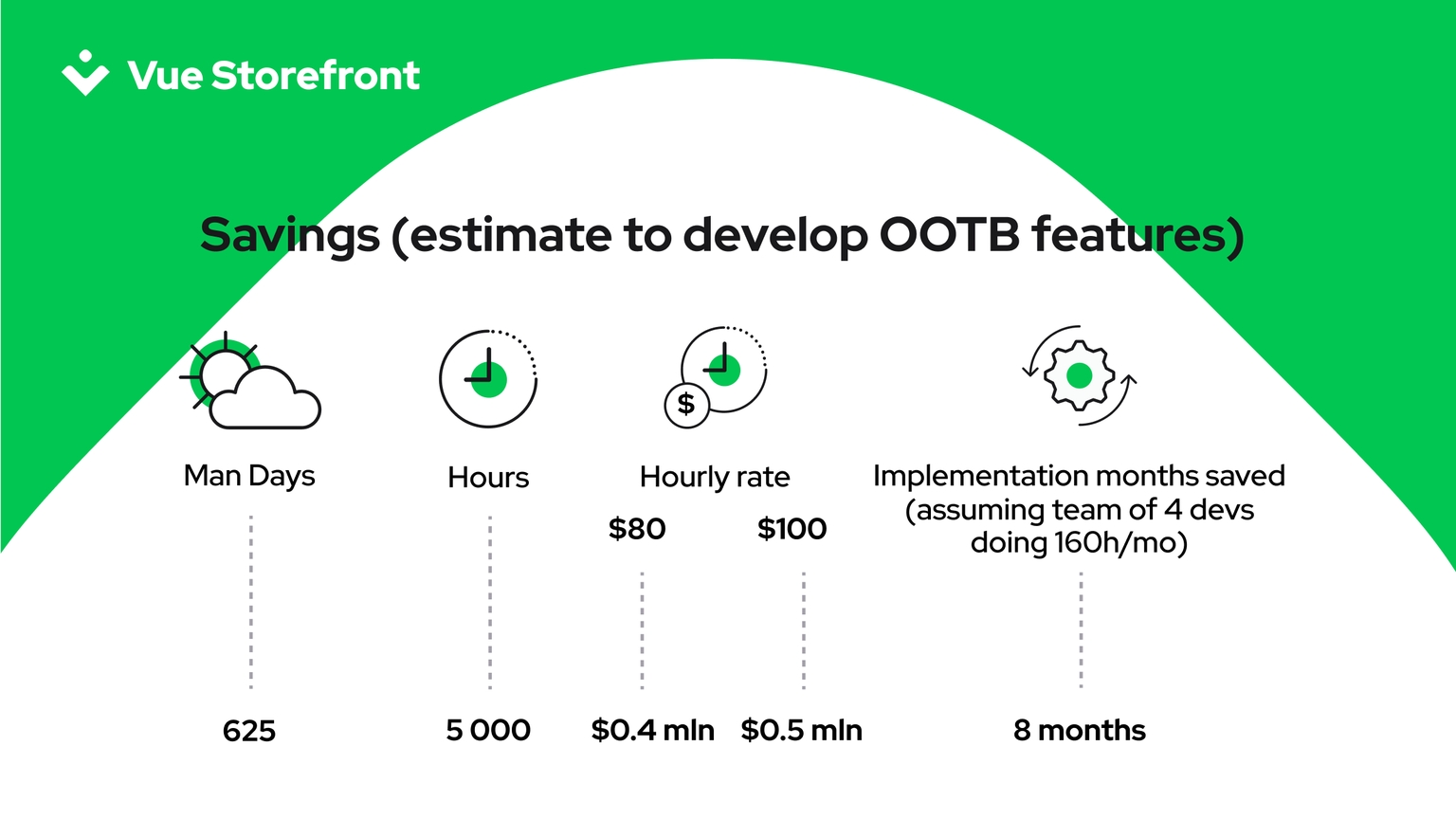 Businesses should be prepared for the following changes:
Enhancements to the eCommerce system
Maintenance
Third-party technology partners' upgrades or changes
Backend changes to satisfy the company's needs
To keep up with the client demands, you should develop new user experiences.
These adjustments might be pricey with conventional legacy platforms since their rigid architecture makes modifications more complex, thus raising development costs. On the other hand, composable solutions offer more adaptability and reduce the overall cost of change by about  40%  compared to inflexible legacy platforms.
Using comprehensive composable solutions, like the Vue Storefront Frontend as a Service solution, can save your business up to 8 months in development time and $500K in costs to get to market.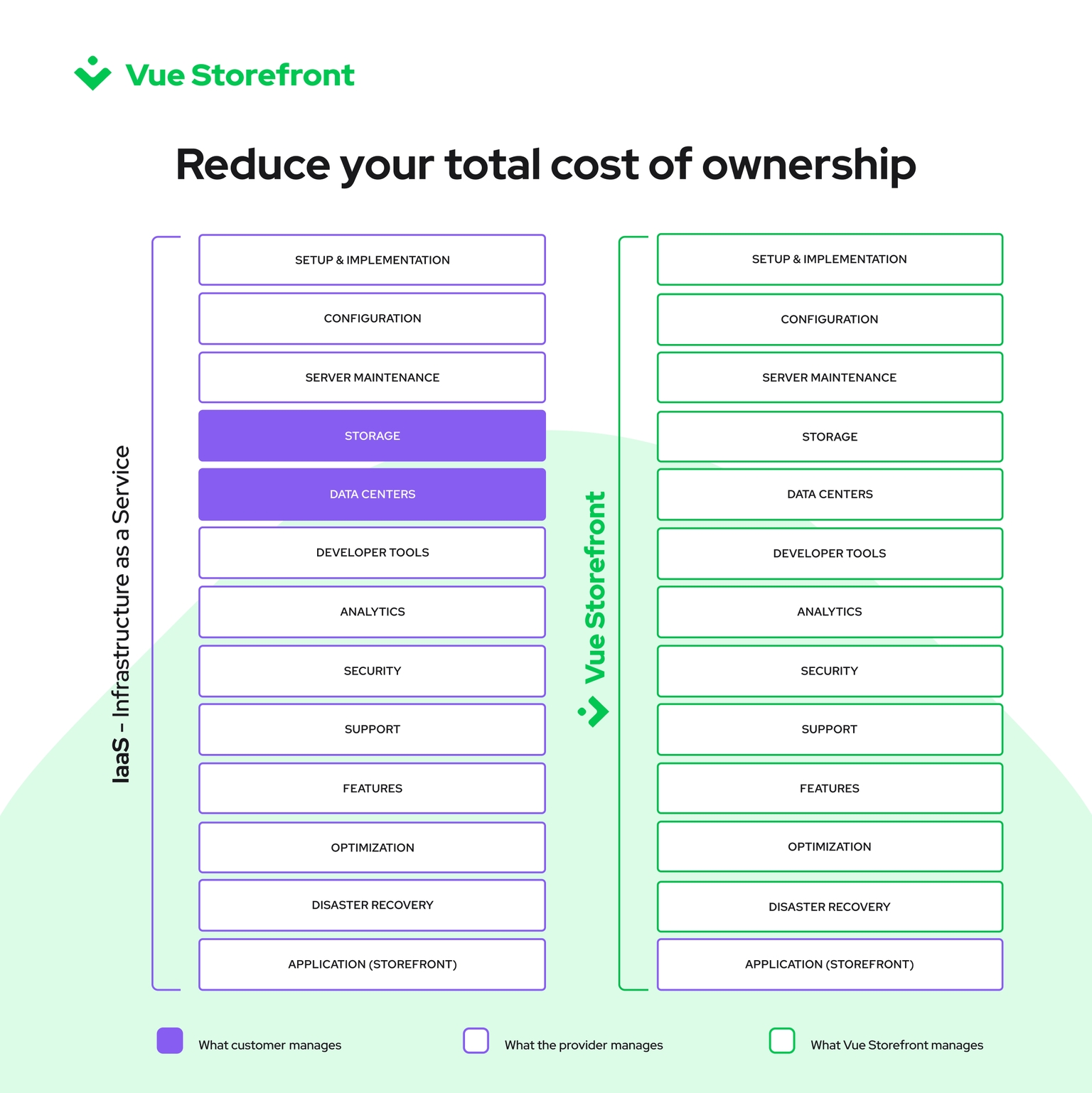 As mentioned above, getting a new site live is not the total sum of calculating TCO. Ongoing maintenance and upgrades during its lifetime significantly determine precisely how much you are paying for your solution.
This is where high-code composable solutions (Vue Storefront out-of-the-box frontend) truly make a difference to your bottom line in the long run. The vendor will continuously improve their product and performance, freely flowing down to your tech stack.
5. Composable setup will future-proof your store
Composable commerce uses a headless architecture that decouples the frontend UI (presentation layer) from the backend business logic (eCommerce platform).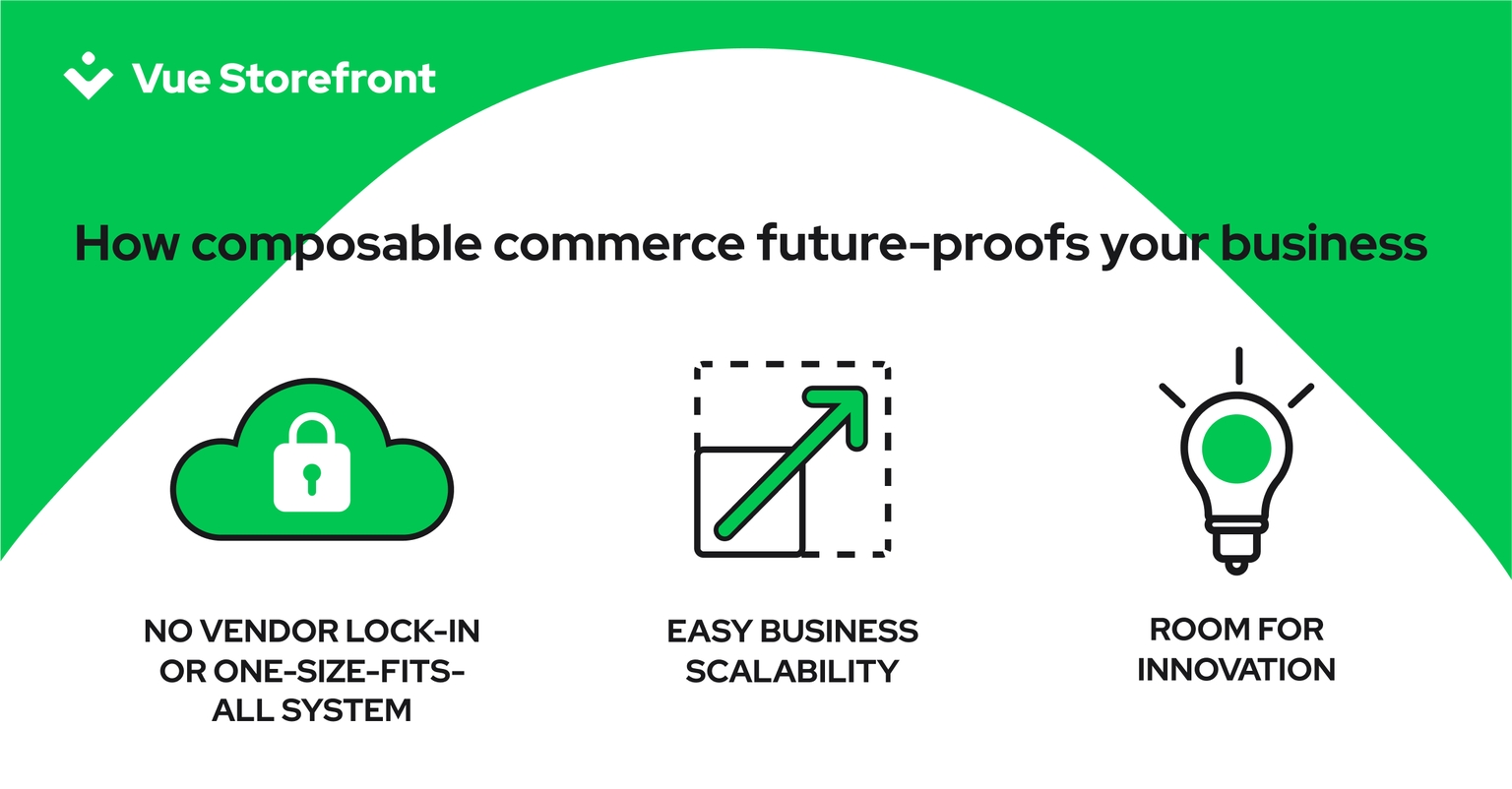 You can then use only the components you require to build your entire technical infrastructure out of a variety of best-of-breed solutions dedicated to smaller, specific tasks that communicate via APIs. These include individual apps for your UI, content management, payment, search, and more.
Going composable allows you to:
Future-proof your store by remaining agnostic: You have complete freedom to pick and choose the applications you need, and there is no vendor lock-in or a one-size-fits-all system. You can customize your store from the UI to hosting and retain ownership of your customizations.
Increase operational efficiency: A composable commerce platform can help businesses streamline their operations by making it easier to manage inventory, orders, and other backend processes. This can lead to reduced costs and improved profits.
Stay ahead of the competition: By quickly adapting to changing market conditions and customer preferences, businesses that use composable commerce can stay ahead of the competition.
Enter new markets: With composable commerce, businesses can quickly launch and manage multiple online stores in different countries or regions. This can help them expand their reach and grow their customer base.
Drive innovation: Composable commerce provides businesses with the flexibility to experiment quickly with new ideas and technologies. This can help them drive innovation and stay at the forefront of the eCommerce industry while retaining the best talent. The best developers enjoy working with the latest technologies.
6. Moving to composable architecture positively affects your dev and marketing teams
The most successful businesses know how to retain the best talent. 
Developers at the forefront of the latest technologies love what they do, and this is precisely what composable commerce offers them. It allows them to be agile and flexible while focusing on design, content, customizations, and optimizations. Developing your store's UI on top of a high-code solution also increases their sense of ownership over the product, as any customizations are owned, not rented.
On the other hand, your marketers will experience a sense of independence as composable architecture allows them to freely update and customize features on the frontend without interfering with the backend business logic. This also inevitably improves customer experience as the latest content is continuously updated without any potential downtime of your site.
7. Migrating to a composable architecture is faster and safer than replatforming a monolithic system
Your main reason for considering replatforming is the potential gains from switching to a different technology solution. That said, the main deterrent for most online businesses is the time it takes to migrate their platforms, which is generally lengthy. But, this process can be shortened (and safeguarded) by using technologies uniquely suited to composable commerce, like the Strangler method. 
The Strangler method is popular for architecting and constructing a composable store. The objective is to "strangle" the old monolithic application over time by replacing it with smaller, more controllable microservices, step-by-step. This allows for a phased approach to moving from monolithic to composable architectures which means you can control your risk and expenditure. It also allows you to track improvements to your performance for each individual application.
If you are highly risk-averse, this approach is perfect, which brings us to the next point.
8. You can migrate to composable architecture incrementally, while still operating on your current eCommerce platform
Using methods like the Strangler makes it simple to  migrate your eCommerce store  to a new architecture without having to rebuild it from the ground up in one move. If you want to improve the customer experience and increase performance quickly, replacing the frontend of your legacy system is a good place to start. 
With the UI (frontend) migrated to composable applications, you'll see improvements in SEO, CX, and UX metrics right away. You can continue using your current eCommerce platform and business logic while improving and personalizing the presentation layer (UI).
It's time to break the status quo 
Overall, a composable tech stack is a flexible and powerful way to run your business. If you're not already using one, now is the time to make the switch. Designed to make your life as a business owner easier, the advantages of migrating to a composable tech stack far outweigh your reasons for resisting change. 
By using the best tools for each job, you can avoid the headaches that come with trying to use one platform for everything. And if something goes wrong with one component, you can simply replace it without having to redesign or rebuild your entire store.
Let's talk! About how your eCommerce business can migrate to a composable tech stack without skipping a beat and immediately improve your performance and customer experiences.
Ready to dive in? Schedule a demo
Get a live, personalised demo with one of our awesome product specialists.