2021 Recap by Patrick Friday, CEO at Vue Storefront

Patrick Friday
•
2021 was a fantastic year for Vue Storefront. When you are in your first operating year as a startup, you have no historical data to prepare goals for a particular year. And 2021 went way beyond our expectations. But let's start from the beginning.
How did it start?
Vue Storefront has two lives: before & after the spin-off. For those of you who do not know the story, I did a Keynote about it. 
Vue Storefront started as an internal project within an agency, mainly doing Magento implementations in. We struggled with optimizing the Magento frontend. Customers would keep coming back complaining about their performance, ability to make quick changes, mobile experience, conversion rates… The list is long. 
Because my background focused on native iOS & Android apps, I followed many trends on the web, and PWA got my attention. Therefore, I suggested giving it a go. 
We made a POC in Vue & Nuxt (funny enough, first we did it in React, but developers thought it was too complex and time-consuming). We wanted this to be a Storefront, so figuring out the name was not a problem. We decided to open source it right away as we knew that there was no way we would build a good product as a single agency, and we knew that there must be people out there struggling with the same thing we were.
The Open Source growth surprised us. None of us was an OS expert back then, and community building was a completely new thing to us. In an agency, your business model is simple: you make money from services. And this is how the agency was monetizing Vue Storefront. Together with the agency, many other partners joined early on. 
There were no plans to expand to different backends, and there were no plans to monetize an actual product.
That all changed when large merchants, solution integrators, and technology vendors started to contact us with questions like: "Hey, can I use this with commercetools? Do you have integration with Salesforce? Can we work on a Shopify integration with you?"
When we looked at our architecture and started to consider it, we knew that our product had too much focus on Magento. If we wanted to go the very direction the market wanted us to go, we simply could not do this under the agency's wings anymore, as we would never get enough resources to focus on a product and stop thinking in a "services" way of growing the revenue.
Spin-off & Company Setup
That is when we started discussing the spin-off possibility with the agency founders and their investors. After getting a green light in December 2019, we started the fundraising process under one quite critical condition: we had to find a Seed Investor.
As you can imagine, having an Open Source product (which is entirely free), no revenue at all, and a need to spin-off from an agency (cap-table-situation), is not a straightforward thing to many investors out there. On top of that, two weeks after we started doing outreach to the investors, Covid-19 hit the world, bringing much uncertainty to everyone, including VCs.
Finally, we found those that believed in our team, our vision, and our ability to execute it – Movens Capital & SMOK Ventures . The Vue Storefront company was officially set up as a new entity on November 25th, 2020. It had to happen before we signed a final investment agreement.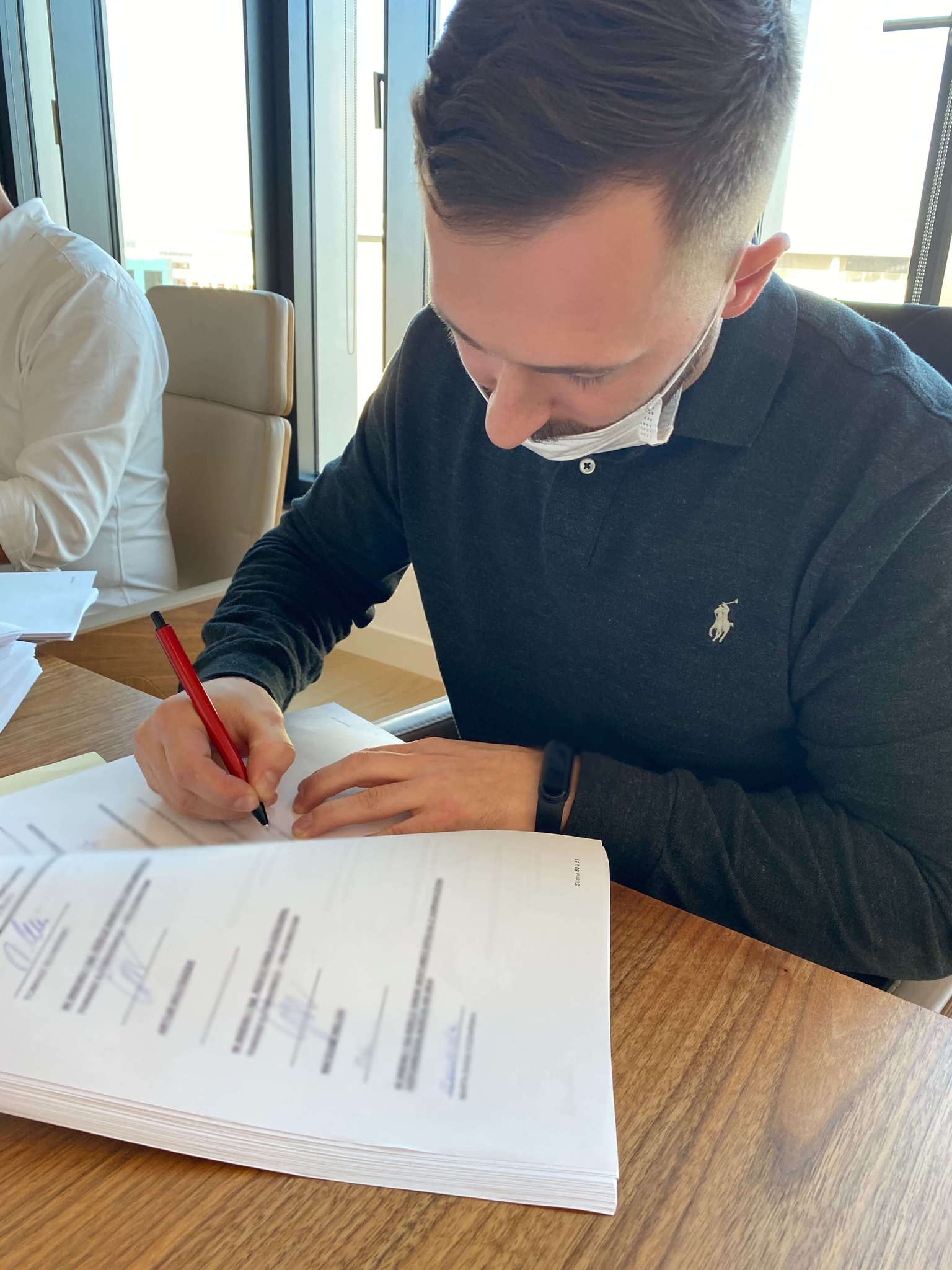 December 1st, 2020 at noon was when we signed a final investment agreement. We secured $1.5M, and that month we were supposed to have money in our bank account. This meant that from January 1st, 2021, we were ready to go, and we could start hiring.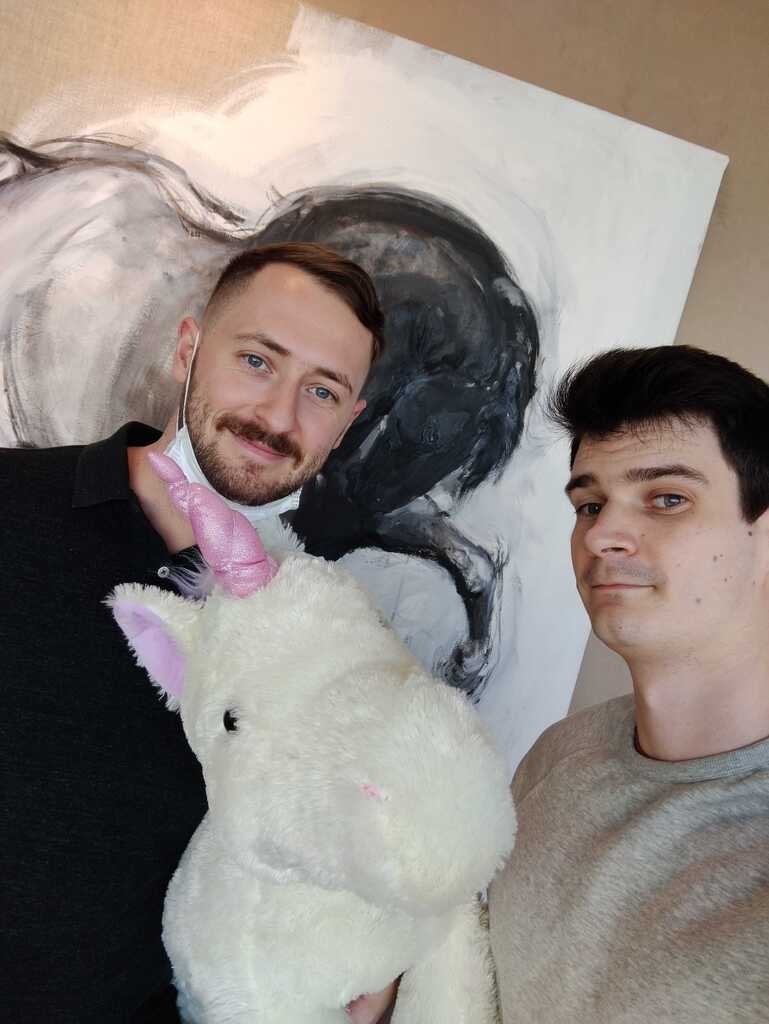 However, the very same day, we got a surprise email from Y Combinator, saying that they would like to schedule a call with us in the evening. We jumped on a call with them just after coming back from the previous meeting, where we finalized the deal with VCs. To our surprise, it turned out that Vue Storefront also got into Y Combinator W21 Batch , which kicked off in January 2021.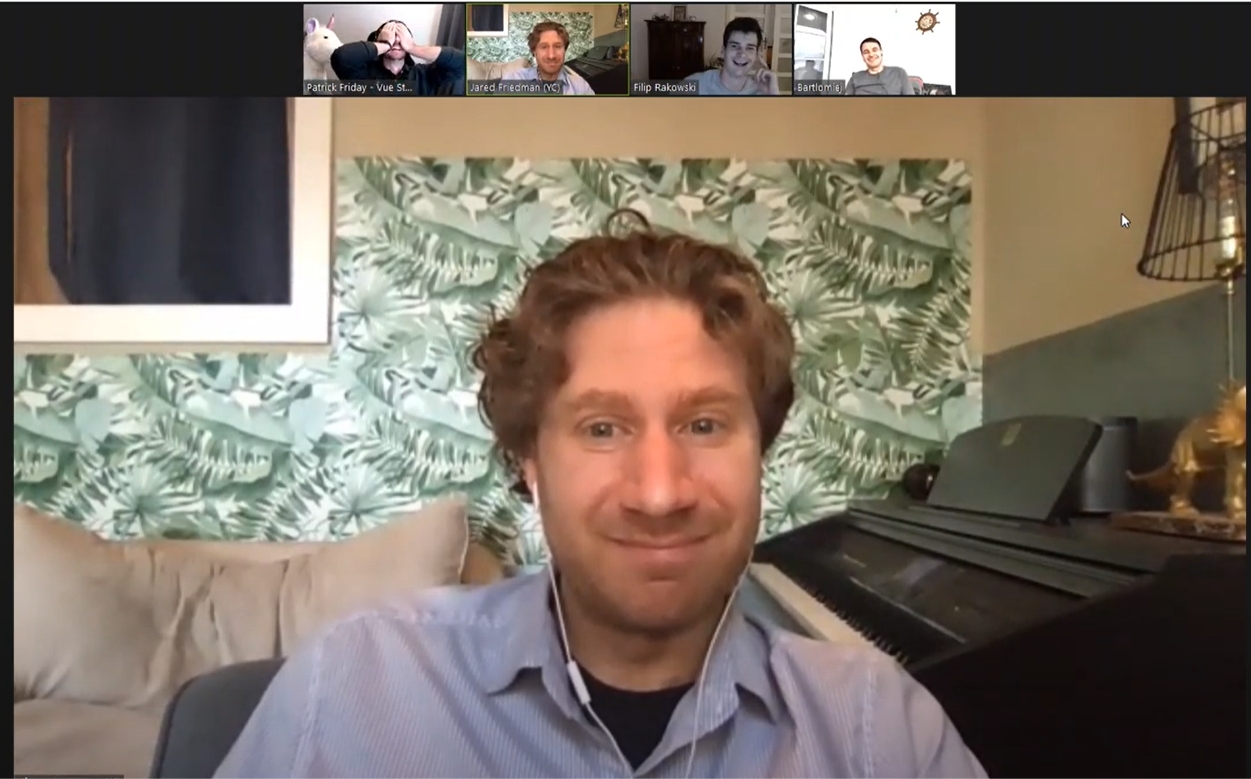 Team Growth
We started in January 2021 with 7 people on board, including the founders. It quickly became obvious that this was not enough, so we started with the recruitment as soon as we had the money. 
The Founders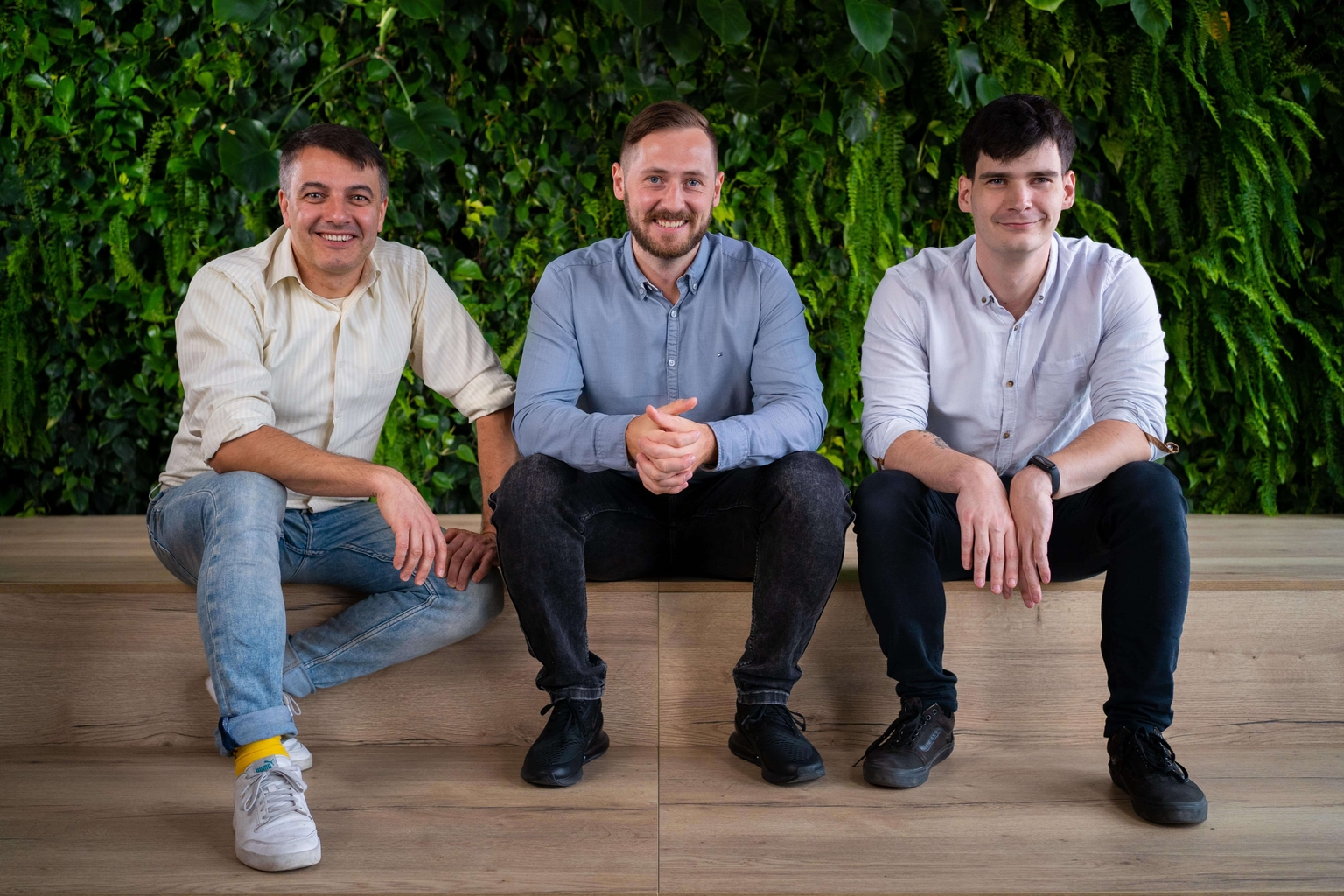 But before I go further, it is important to highlight the complementary skills of the founders. When we started back in the agency, it was Filip Rakowski and myself. I was building the whole new PWA / Headless business unit, closing deals, and generating revenue from services for the agency – this was all while promoting Vue Storefront, an Open Source project which was an amazing lead magnet.  
At the same time, Filip, who was a frontend developer at the time, shifted heavily towards market education and evangelization about PWAs, headless and going away from "old" ways to build frontend, basically saying: "There is something better and let's build it all together". 
This is how we started getting traction from our awesome community. However, when we decided on the spinoff, we were missing one key person, someone that could run all of the company operations, someone with past experience in doing so. 
This is when Piotr & Tomek Karwatka (the agency's founders) introduced us to Bart Roszkowski, a serial entrepreneur with three exits behind him and more than 15 years of experience in running companies. At the very beginning, he helped us separate the 3 main pillars of the company between the founders: Patrick – Go-To-Market, Bart – Operations, Filip – Product & Community.
Community representatives join the company 
Being an Open Source company has its benefits – there is this fantastic community of developers who know your product and make contributions for free. So what happens if you tell them that they can do this full-time and get paid? They join the company! 
The Vue Storefront culture was very developer-friendly from the very beginning. After all, it is natural when at least 85% of your team consists of developers for the first couple of months. Even now, at the beginning of 2022, developers make up 70% of the staff.  
Well, Razer has this saying "For Gamers. By Gamers". At Vue Storefront, we build products for Developers by Developers. And their good experience is and will be one of our most crucial priorities.
Now, what happens when you hire great talent, and they realize that what you had promised them during the recruitment process are not just empty words? They bring more great talent because they know for sure that this is an excellent place to work. 
Great minds create amazing things together, which we strongly believe in. This is why we are all about people. What also makes a difference is that we, as founders, have hired every person that joined so far.
Go-To-Market team
We did not hire our Go-To-Market team until post-series A, which only happened in October 2021.
We had the all-hands-on-deck approach, and our product team was heavily involved in the series A .
Post-Series A, I focused on building an excellent Go-To-Market team. It was very important because having a product team so much involved in the Go-To-Market strategy was not good in the long run (lack of focus).
Then the question was, where do we start? Is it enough to hire more reps, Solution Engineers, Partnership Managers, and we are good to go? But who will manage them? You can only go so far with individual contributors. As a Founder and CEO, I have to wear many hats. But leading the whole GTM was simply not going to work, mainly because I had never done that before.
Together with other co-founders, we decided to start building a GTM team from the very top, and I must say, this is one of the best decisions we made last year.
Soon enough, my paths crossed with G (Gordana Vuckovic), and I learned that she had just left Contentstack, our great partner. And she was not planning to join a new company. She was taking a break to think about what should do next. We met for one call to share our experiences and to chat about the place we are in. Then we did another, and one more.
We had so much in common, and most importantly, we fully agreed on the way we would like to approach the GTM strategy, so in the end we decided to start working together. G became the CRO at Vue Storefront – the first new member on the C-Level.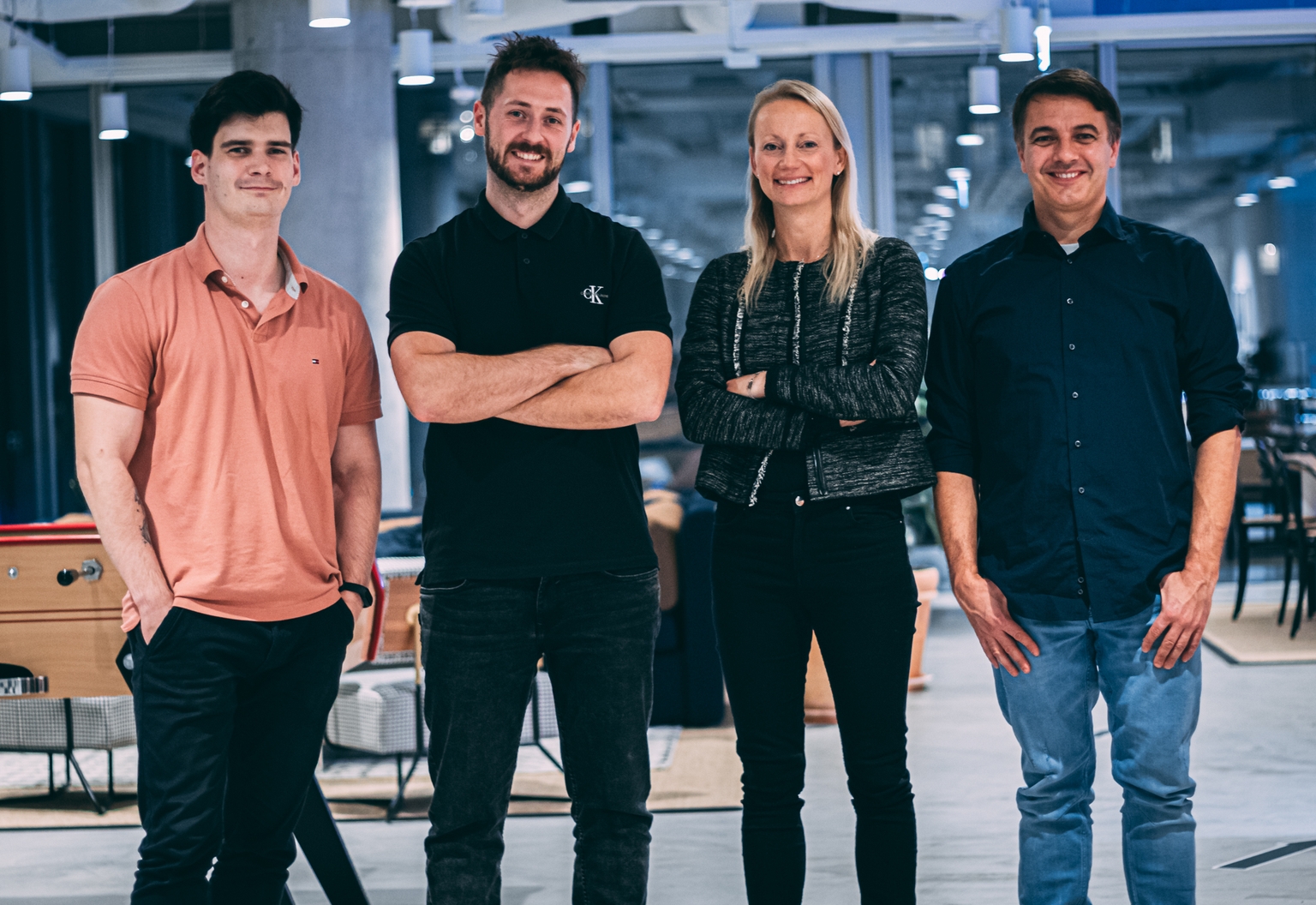 Soon after that, we prepared a long list of recruitments for our GTM team, including VP of Alliances & Channels. One of our Angel Investors introduced me to Jeffrey Domingos, and it just clicked. Both me and G said "That is the guy", and Jeffrey joined us soon after . Our GTM team has been growing since then. We are adding people to Solution Engineering, Customer Success, Account Executives, and Partnership teams.
I won't go into more details because I am already crossing over to 2022, but remember I told you there were only 7 people on board in January 2021? Let me just say that we closed a year with 75 amazing people on board. That is a number we NEVER talked about in our plans when we started a year ago.
I am incredibly proud that a whole team became recruiters when they had to. It would not happen without each individual that helped us grow the team.
Remote-first
There is a difference, when the company says they are remote-first because they closed their offices and let people work from home because of covid, and a company that never had an actual office and was operating in the covid era from day one. 
Many of our candidates ask about this during the recruitment process. People ask: "Are you really remote-first or you're just trying to be because it's cool now?". This year was all about proving that we work 100% remotely, and we live by this. It is simply a part of our culture and our everyday life. 
Building a culture for a company where employees do not see each other live very often is an entirely different story than when it's a typical office-style culture. Working remotely was always a goal that I have set for myself, and Covid simply accelerated that. I cannot imagine myself going into the office every day right now, using the time to commute when I can use this time for myself & my family. It is much easier to create healthy routines. However, I also see the dark side of it – some people get completely isolated, and it's hard for them to cope with that.
We highly encourage our people to spend more time with their friends and family, and not treat remote work as an occasion to work more. It is not about that.
Also, being remote-first does not mean that people should never see each other. We create various activities for people working from specific locations and for the whole team.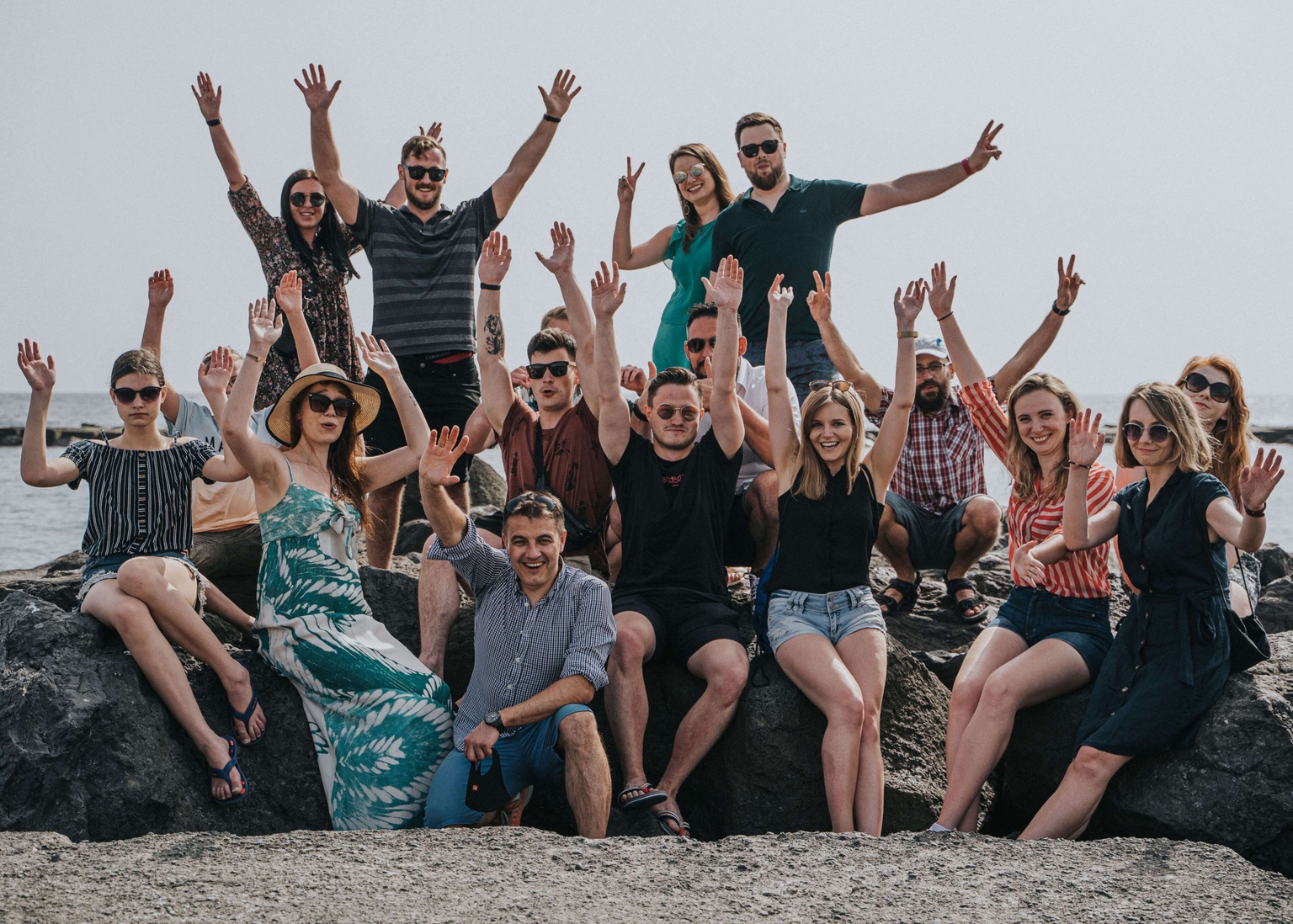 In May, we took everyone who wanted to Tenerife (Canary Islands) for two weeks. What is more, everyone was able to take their family or friends with them. Because again, life is not only about work – life is about living it and having great people around you. You can watch the movie from our trip – I believe it shows what is the Vue Storefront culture.
Vue Storefront Summit
Vue Storefront Summit was the event that our community wanted us to put on, and we do listen to them very carefully. However, with limited resources, we did not plan to make anything big.
We wanted to have excellent quality content, though. And most importantly – we wanted it to be about our community, our partners. We expected a maximum of ~300 people to join us online simultaneously and ~600 people joining in and out for different sessions. 
What we ended up with was astonishing:
1810 registrants and joined in & out through sessions
680 people attended the the Keynote live
We had people joining from 95 different countries
Average time spent per registrant amounted to 4 hours 
We got an NPS of 8.3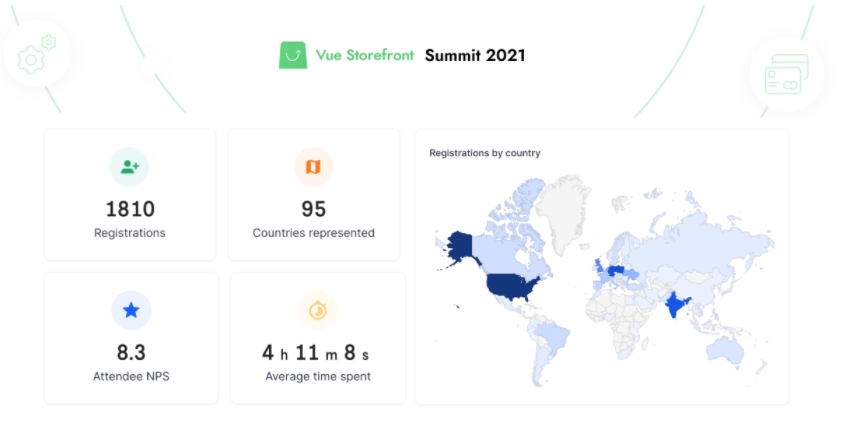 Enterprise Offering
At the Vue Storefront Summit we announced our Enterprise Offering, which included our first integration based on a new architecture. We offered out-of-the-box integration with commercetools , covering all of their features and providing massive acceleration at the start of the project. But this was not all of it. We became a glue for a headless commerce stack, making it extremely easy to go headless. Why?
When going headless, having just a backend platform is not enough. You need a headless CMS , Search, Payment, and other tools. Therefore we decided to provide integrations with industry best stacks, all in our cloud-native environment, ready to go from day 1.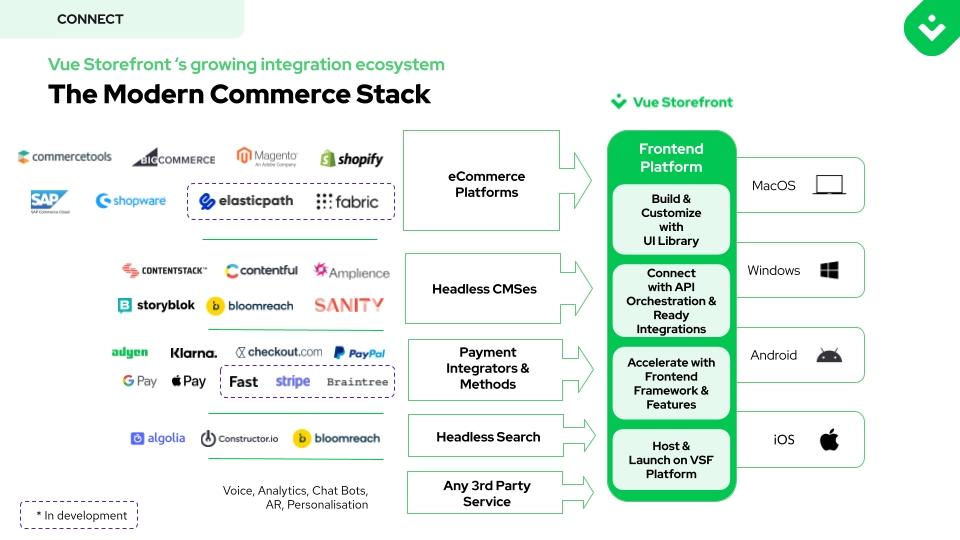 When we took a look at the implementation budgets, where everything is built from scratch on top of headless backend platforms. It's very often that just the integration piece alone would make up for 40-50% of the total estimated cost.
For us, it did not make sense that every single merchant had to write the same integrations as everyone else around them, then do the maintenance of it, and increase their TCO. For what reason? All while not being able to differentiate from their competitors. 
This is why we decided to help our customers shift the integration budget toward frontend customizations as this is where they can be different from their competitors and build the advantage. We now enable our Solution Integrators to construct a much better business case for those implementations and lower the entry barrier for a headless approach to many eCommerce businesses out there. 
If you look at the below architecture chart combining various 3rd party vendors, ask yourself, what is the best place to deliver orchestration?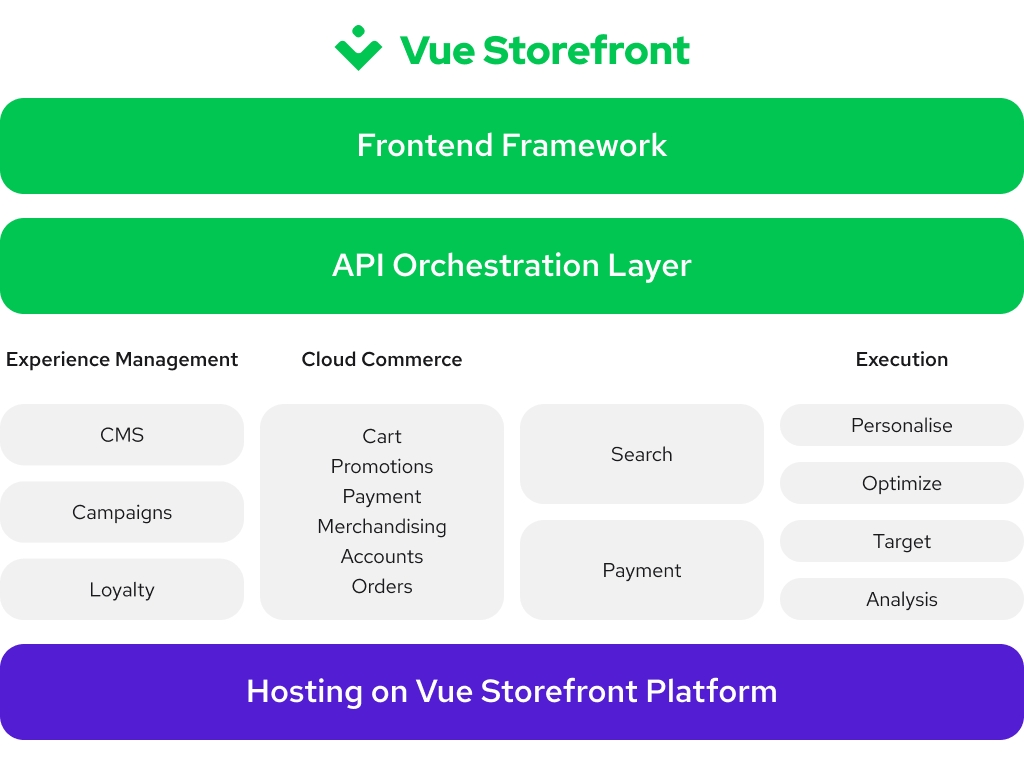 Vue Storefront is now recognized as a leading developer tool on the market to build a Frontend Platform (head) for headless commerce. We are not a low-code or no-code solution. You do need developers to work with Vue Storefront, but this is exactly what is required to be able to innovate and gain the flexibility & freedom that headless is all about - don't let anyone put you in their box.
Partnerships
While we were still a part of the agency, which is an SI, it was difficult for us to form further partnerships because at the end of the day other SI's were simply agency's competitors. This changed when we finalized our spin-off. At Vue Storefront, we are all about partnerships because this is also what headless & composable commerce is about. We are good at one thing, but we need our partners to deliver the rest. Since Vue Storefront is not providing any implementation services, we needed to build a network of excellent SI's to help us provide Vue Storefront projects to customers. We now have more than 100 Partner Agencies globa l ly implementing both Open Source and Enterprise projects. Besides that, we have a lot of fantastic technology partners that are providing solutions complementary to ours. As I said earlier, Vue Storefront cannot exist on its own, we are "just" a head, and we need the whole "body" to function correctly. As a proud member of the MACH Alliance , together with allied companies, we educate the eCommerce industry that there is a better approach to online retail – the MACH Approach to eCommerce , and we explain how to Go Headless with us & our partners.
Most importantly, partnerships are about people, and I am happy to say that I & the Vue Storefront team made many new, great friends last year. Unfortunately, because of covid we were doing this mostly remotely. But we are slowly catching up, and I hope that sooner or later we will be able to meet all of you in person, over beer, drink, breakfast, lunch or dinner, anything works as long as it will be with you!
The Market - Headless Wave
There are two types of waves: those that are created by wind, and those created by an earthquake. Back in 2011/2012 headless was making its baby steps in eCommerce – this is what I would call soft waves, over the lake, a nice chill wind, but impossible to have a good surf on it. People tried and failed. It was too early but they didn't give up.
The time between 2012 and 2016 seemed to be the time when brave "Headlessers" started to look for the perfect wave. And then something happened, an earthquake. From 2016 until now, many new companies have been born. They saw the massive wave coming that could turn into a tsunami. Those that started back in 2011/2012 and never gave up, were the first in line with a lot of momentum ahead from anyone else.
Vue Storefront joined that wave in 2017, with that tiny project at the agency (currently our Enterprise Partner). But to be honest, we did not know what kind of wave we were getting on.
In 2020, a couple of months after Covid hit, it was clear that eCommerce would get even more wind behind it and the waves would get even bigger, but that was not all of it. Large organizations realized that they were not able to react in a timely manner to the fast-changing market, influenced by users that changed their behavior and expectations "overnight". 
Those who tried to implement Click & Collect while having huge, monolithic architecture, know exactly what I am talking about. Then in June 2020, the MACH Alliance was formed and we were one of the very few members that signed up right away. The amount of market education that has been done since then, coming from all of the "Headlessers" out there, is probably 3 or 4 times bigger than between 2012 and 2020.
Having a great product, team, organization, and culture is one thing, but how many companies have failed because of the wrong market timing? We already see acquisitions going on in the headless market, simply because some of the other companies came in too early and did not manage to surf the wave long enough. Non-headless companies are now following this path as well, which is a clear signal to all of us that this wave is huge.
Summary
This year was a rollercoaster, but I am quite sure 2022 will be too as will the years that follow as we grow and move forward. Surfing on a huge headless wave is challenging, but fun and I believe we will get very far. We have self-driven people on board, we are keeping our vibe and focus, and if we never stop doing what we all believe in, we will be just fine.
Dear 2022, here we come, and to all of our fantastic partners – let's accelerate global commerce together, the headless style. 
Key Metrics we are proud of:
Seed & Y Combinator & Series A within 12 months
We grew our team from 7 to 75 in 2021 alone
We have reached more than 1100 live stores using Vue Storefront across 30+ countries
#1 live Headless & PWA implementations globally
9k+ stars on Github (#1 eCommerce frontend platform on Github)
Ready to dive in? Schedule a demo
Get a live, personalised demo with one of our awesome product specialists.