Frontend Drives Customer Experience
Because the customer journey happens on the frontend, you need a fast, mobile-first presentation layer to drive conversion and revenue.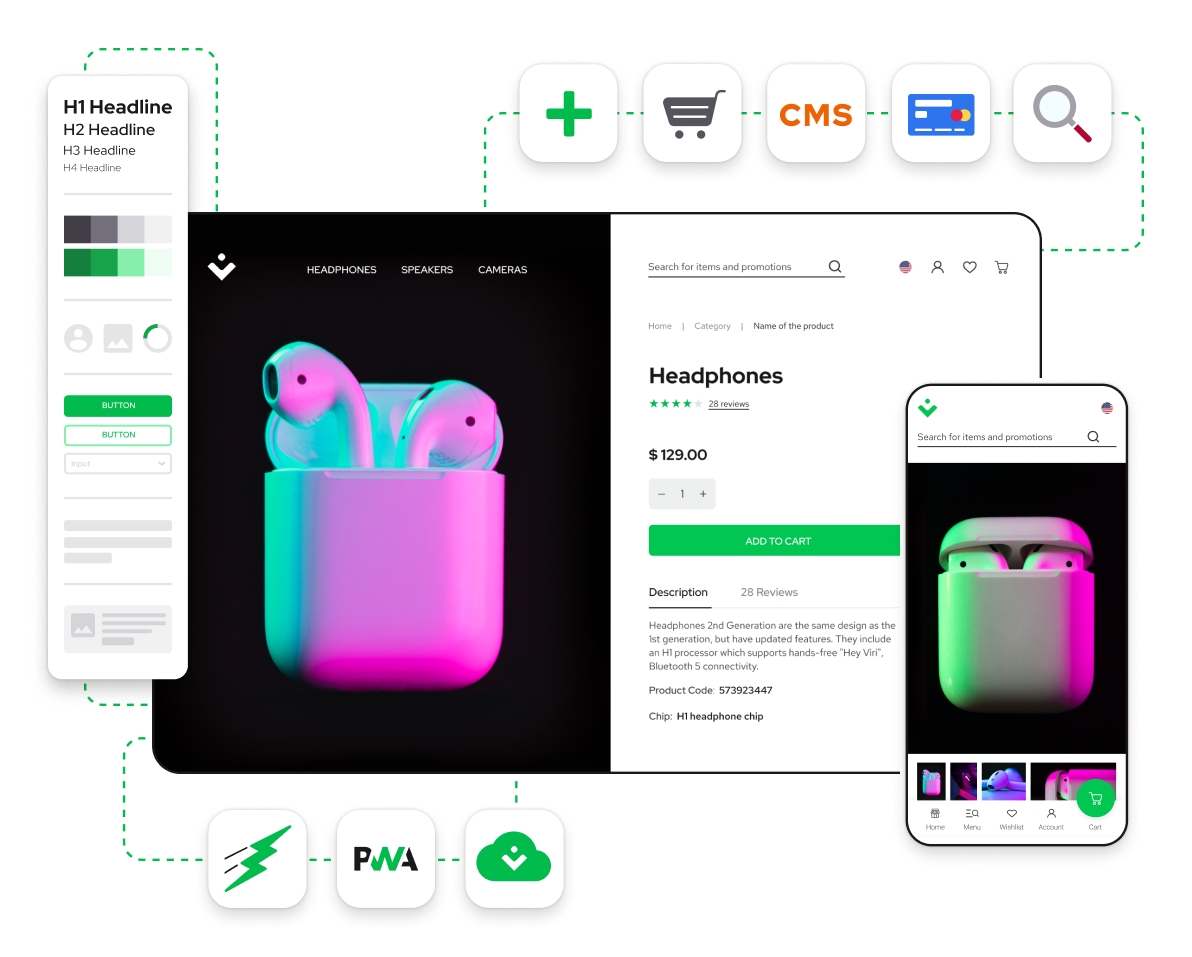 New: JavaScript framework agnostic integrations and frontend library
Vue Storefront releases React support for commercetools, SAP Commerce Cloud, Contentful, and Contentstack, and the brand new Storefront UI 2 frontend library that helps eCommerce businesses build better customer experiences faster.
Fix your frontend to fix your performance and conversion
Experiment, design, test and roll out features faster than ever before
Conversion happens on the frontend

Frontend technology underlying an eCommerce website impacts the performance of the entire buyer journey

Break free from legacy tech slowing down your performance

All-in-one monolithic software blocks you from innovating at the speed of your customers and affects your conversion rates

Supercharge customer experience with a new storefront

To deliver world class customer experience you need a fast and mobile-optimized frontend, decoupled from a monolithic system
Develop customer experiences faster, with no framework dependencies
From UI to API Orchestration and Hosting. At Vue Storefront it's all included.
Framework agnostic: Vue & React

Flexible and framework agnostic approach to frontend development allows you to connect with any service, and swap them when needed.

30+ out-of-the box integrations

Pre-built integrations now for Vue and React, and easy connectivity for custom developed APIs speed up your time-to-market by 5 times.

Open source frontend library

Fast and accessible design system for Vue and React with ready base components. Customize it and scale it in any direction you choose.

Hosting Platform

Optimal environment for fueling your frontend performance and cutting much of your DevOps costs.
Use the same integrations across multiple frontend frameworks to futureproof your eCommerce tech stack
Vue

Choose Vue.js to build a fast and scalable eCommerce frontend. Use 30+ pre-built integrations and a ready Design System that has been downloaded over 700k times.

React

Is React your framework of choice? Use ready integrations with top composable solutions and build your frontend fast with a new open-source frontend library.
Start with the storefront, then choose and move things in and out
With an agnostic ecosystem of integrations and API Orchestration Layer you can easily pull together your whole composable stack in one place. Starting with your frontend, you start where the customer experience happens.
Integrated eCommerce Platforms
Integrated Headless CMSes
Fast, open-source library for Vue and React
Storefront UI 2 is a frontend library that helps developers to build fast, accessible and beautiful storefronts much more quickly. It contains an eCommerce Design System for Vue.js and React eCommerce applications that works great both on mobile, and desktop.
By becoming framework agnostic, we enable developers to pick and mix their frontend framework and backend of choice. This is the only way to develop best-in-class, future-proof, and fully customized eCommerce solutions.